Many would agree that it takes a village to raise a child and more than 200,000 people in Singapore are part of over 550 Singapore-centric parenting groups. The today's digital kampungs have a wider reach, they are more diverse and create new ways for Singaporeans to rally and support one another especially this period with many being affected by COVID-19. 
The Singapore Parenting Facebook Groups represents a new digital kampung Facebook Groups that are helping parents on their parenting journey. These Groups are creating new ways for mothers and parents to rally and support one another, especially during the pandemic, showing our Singapore kampung spirit is alive and thriving. The three such Facebook groups that help parents to share resources and provide support are: 
1) Young Mothers Of Singapore – an open support platform for mothers young at heart
2) Human Milk 4 Human Babies – breast milk donors and beneficiaries share milk in a system of ultimate trust
3) SG Mummies United – Support for mothers hit hard by Covid-19
In this three-part series, our team speaks to the founders of the three Singapore Parenting Facebook Groups where they will share more about their Facebook groups, parenting tips and more.
Singapore Parenting Facebook Groups that Incorporates The Kampung Spirit Series Part 1, we have Renny Izzatie binte Abdul Rahman, 30, the lovely mother who has two daughters (aged five and two) and founder of Young Mothers Of Singapore. She started the group in 2015, a month after she gave birth to her daughter. None of her friends had kids then, and couldn't really understand or relate to how she was feeling (eg. morning sickness, post-partum recovery). That's when she realised she needed friends who were going through pregnancy and motherhood, and decided to start the group. She felt that being a mother has changed her priorities, and she wanted to create resources for others to use. Renny is also a freelance tutor and owns a small online business on Instagram, that produces educational resources for children.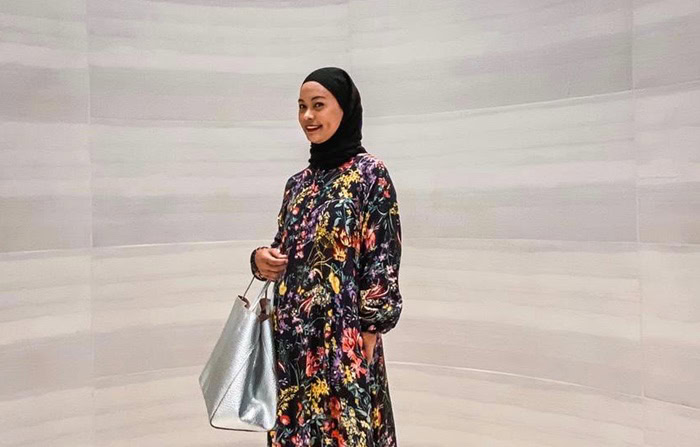 Exclusive Interview with Renny Izzatie binte Abdul Rahman, Founder of Young Mothers Of Singapore
1. Please share with us more about your background and your motherhood journey?
Renny: My name is Renny Izzatie binte Abdul Rahman. I am 30 years old this year. I am married to a wonderful fire rescue specialist for 5 years and counting. We have 2 amazing girls. They are Raja Kattaleya Medina (Turns 5 in November) and Raja Kattarina Nayely (aged 2)
My pregnancy with Medina was tough. I had morning sickness, all day long. I could not eat or tolerate any fluids without running to the toilet after. I lost weight, and was very miserable. It lasted until I was 20 weeks in. I had a traumatising birth where I got myself induced at 39 weeks and 2 days because I was 3cm dilated with no signs of labour pain, which ended up me taking an epidural 2 hours after my water bag burst. I did not know I was being cut during my delivery which took 2 weeks for me to recover, and I was struggling with breastfeeding where I used my cousin's milk who delivered 6 months before me. However with Nayely, my pregnancy was a lot smoother. I only puked once a day, but it also lasted until I hit 20 weeks. I learned more about birthing naturally with the helpful tips of the members and only went to labour ward when my contractions were nearer. I was 8cm dilated when I reached the labour suite and delivered 1 hour 15 minutes after, with no medical intervention. I was up and walking the next day. Breastfeeding came naturally to me.
I left teaching in 2018 to be a freelance tutor to have more time. I also own a small online business, K by Katts, which runs primarily on Instagram. It started out as a clothing line, and we now produce educational resources for children. During this pandemic, I even worked with different SAHM to sew and sell masks. I started creating these resources as I felt being a mother has changed my priorities and I wanted to create fun resources for my girls and others to use. Having my business and passion operate online on Facebook and Instagram, has helped me connect with many of my customers, who have turned into online friends.
2. What inspired you to set up Young Mothers Of Singapore and how did you set up the Facebook group?
Renny: I started Young Mothers of Singapore (YMS) back in December 2015. It was a month after I gave birth to my first daughter, Raja Kattaleya Medina. I was 25 years old then and I realised that my friends were either married with no kids yet or they were not married. My friends tried to understand me when I went through a rough pregnancy with 20 weeks of morning sickness or when postpartum recovery was tough, but they had no idea what I was feeling or talking about half of the time. That's when I realised that I needed friends who were going through pregnancy and motherhood, like me.
3. What are the challenges that you faced when setting up the Facebook group and how did you overcome them?
Renny: One of our challenges was naming our group. We realised that everyone had a different perspective of the age that would qualify as young so we had to explain that young is not just small in number but also those who are young at heart. In Singapore, we constantly have new mothers or mothers who got pregnant again in their late 30s and early 40s.
Another challenge was getting our group name out there. With so many available parenting groups, what makes Young Mothers of Singapore different from others? Why would someone join our group over a group that has existed before ours? So, to help raise awareness, me and my team of admins would regularly share about it on our personal pages. We also encouraged members to invite their friends to the group. Surely but steadily, it grew in numbers. It was really amazing seeing how Facebook was also a platform for us, as individuals, to help spread the word about this cause that we're so passionate about and that there were so many other like-minded people out there as passionate as us.
Lastly when we first started out playdates on a large scale, it was hard to coordinate because my team of admins are mothers who are volunteering their free time to help out. Therefore I did not want to overwork them so I oversee the small and the big details. I started a Facebook Event page to share updates with guests, instead of having to message everyone individually. This turned out to be super helpful because the businesses and speakers that were participating in our playdates would share our posts, which in turn got us even more attendees! I also forked out money to pay for logos, posters, renting of event space and even Facebook Adverts to target the audience we wanted. But the playdates got better than the ones we did before. Each playdate had something we could do better.
4. After setting up the Facebook group, how do you create awareness for Young Mothers Of Singapore, build up the community, connect with mothers and foster friendships?
Renny: I think for YMS it was mainly word of mouth. If I remember correctly, we hit 500 members within our first month. Members of the group kept adding their friends who fit the criteria, and it has been growing since then.
Many of us here on YMS became friends on Facebook after commenting on another's post; finding someone who shares the same sentiments and humour or even pain as you. Some members who post anonymously, will find comments on their post by the members that end with, "If you need someone to talk to, send me a PM." Being on Facebook gives us the power to build communities, bridge the distance by staying connected with friends and family, and find support by sharing and expressing what matters to them.
Recently I just connected a mother who was TTC (Trying To Conceive) for 7 years and did IVF with a member who posted up anonymously asking about IVF procedures because her husband was recently diagnosed with cancer and they were looking into expanding their family although they conceived naturally before his diagnosis.
5. What can mothers expect and look out for when they join Young Mothers Of Singapore? What are the criteria to join?
Renny: As long as you are a Singaporean or residing in Singapore who is married, trying to conceive, experienced child loss, pregnant or a mother. A platform like YMS on Facebook allows members to have a safe space where they can share, rant or ask without having to feel like they are alone in this. Connections like this are important in helping people, especially confined mothers, manage both their overall and mental well-being.
6. During the pandemic period, do you have some stories to share in your group where mothers and parents rally and support one another?
Renny: Facebook Groups has a feature where members can submit anonymous posts. Our team of admins will vet through the anonymous posts first before posting them up on the wall on behalf of the fellow member to allow members to contribute or share their opinions.
During the Circuit Breaker, there was an increase in anonymous posts submitted daily. From some of the posts we received, our team realised that we needed to share resources like helplines they can reach out to seek professional help which may also benefit others who may be facing similar things. For some of the anonymous posts, members went to the extent of letting the person who posted it anonymously know that they are free to send them a personal message should they want someone to talk to.
During the Circuit Breaker, the ones that were hit most were mothers going through confinement. Some are even clueless that what they are facing is in fact postpartum depression. As this topic is not talked about often enough, some have no idea where to start to get help. Members would then share where they could get help. We want members to know that our group is a safe place and there is no shame in needing help, and that help is available. We also shared education resources that can be done with the children at home which we have gathered.
7. What are some of the best parenting advices that you have received that you would like to share?
Renny: Put yourself first. You need to ensure that you are ok and that you are mentally, physically and emotionally charged. Only then you will be ready to take on whatever that is thrown at you. You can only care, love and take care of your spouse and children after you have done so yourself. So if that means you just need 5 minutes for your cup of coffee, then your 5 minutes will be the most vital part of your day before you can function.
8. Lastly, any upcoming activities from Young Mothers Of Singapore that you would like to share with our readers? What's your vision for Young Mothers Of Singapore in the next 5 years?
Renny: We are in the midst of creating a website and Instagram page to create more content. We have reached out to a few members whom we know have stories to share with us and the rest of the community so that everyone can draw strength from these stories. It also gives a chance for the members of our group to share with the rest of the communities so that no one feels like they are ever alone in their journey towards motherhood and during motherhood.
In 5 years, I hope YMS becomes the community that women in Singapore go to. I hope we are able to do bigger and better playdates that helps to empower and educate women. And I also hope our stories from the website that we are currently building now gives the voices needed to inspire and to create a better, safer space for the women in Singapore.
Thank you Renny Izzatie binte Abdul Rahman for taking our interview! 
Young Mothers Of Singapore, is for Mums who are young and young at heart, the group offers an open support system for members to talk about anything under the sun, within a safe space. They can have their questions answered and frustrations quelled, and be directed to the appropriate resources to seek help. The group has even organised annual Playdates for members to network with fellow mumpreneurs, participate in yoga classes, and even learn about postpartum issues. Last year's Playdate, themed "BIRTH", saw about 400 attendees in Suntec City. Find out more and join the group at https://www.facebook.com/groups/youngmothersofsingapore