I've got my sisters by my side.
I've got my sisters' love and pride.
And in my sisters' eyesin
I recognize the star I want to be.
And with my sisters standing strong,
I'm on the stage where I belong.
And nothing's ever gonna change that fact.
Hallelujah! Sister Act is here!
The above song is the lyrics from the Smash Hit Musical, Sister Act! Our Parenting World team has earlier shared the preview and the backstage tour to this highly acclaimed musical.
To find out more, please go to this link at http://ourparentingworld.com/smash-hit-musical-sister-act-premieres-in-singapore/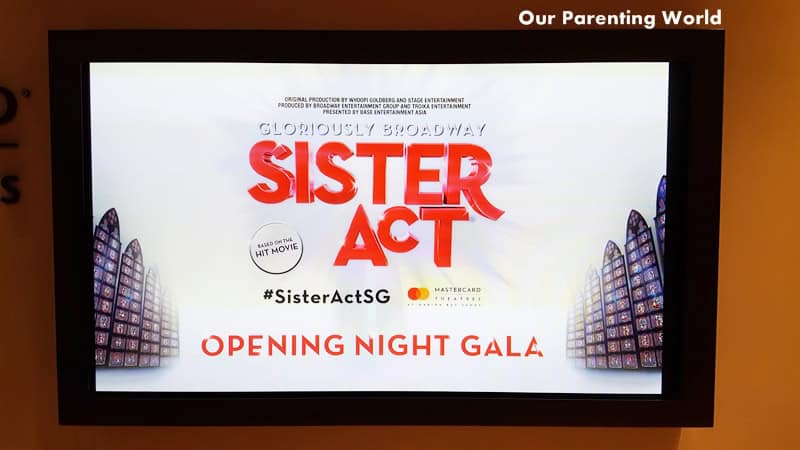 We are excited to catch the whole show at the Opening Night Gala and are totally mesmerised by this amazing musical! The part that touched us the most is the power of friendship, the strong sisterhood bond that is shared by the leading lady, Deloris Van Cartier and her sisters friends, the nuns at the convent. Deloris was made to hide at the convent by the police under protective custody for witnessing a murder. Sister Act the musical is direct from US, this 5 times Tony-nominated musical is coming to Singapore for the first time!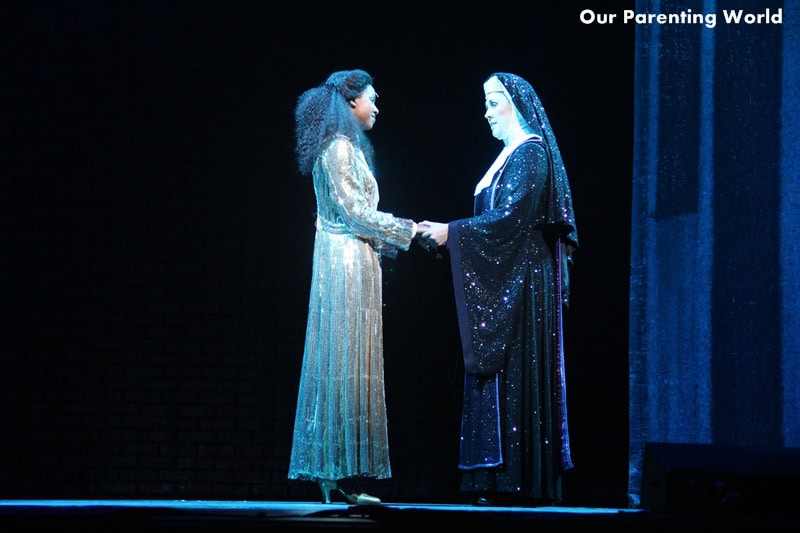 Dene Hill performed the lead role of Deloris Van Cartier. True to being an award winning international opera singer, she is dazzling and sensational in her role as the materialistic Deloris. She has a strong and powerful vocal voice that can go from powerhouse singing to tender rendition of reflection with soothing voice.
Deloris is often at odds with the traditional Mother Superior brilliantly played by Rebecca Mason-Wygal. Audience can see the sparkles between the two as Deloris is a free spirit, flamboyant girl who is constantly challenging the traditional and rigid Mother Superior.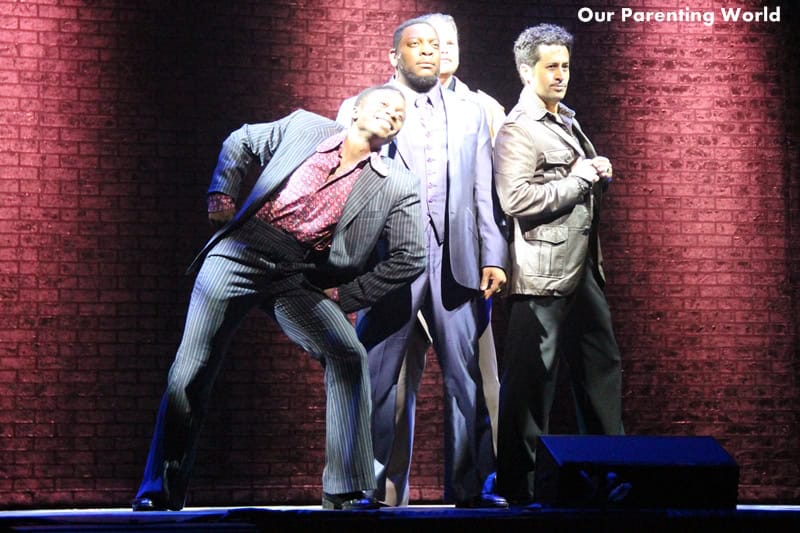 Another highlight of the musical is Brandon Godfrey performing the role of Curtis Jackson who is the gangster boyfriend of Deloris. Brandon has a domineering presence with deep voice as the ruthless gangster who is on a pursuit to kill Deloris after she has accidentally watched him kill a man. 
This is a feel good musical, no worries about the gangsters, they are actually fun to watch and provide many of the comic relief that makes the audience laugh.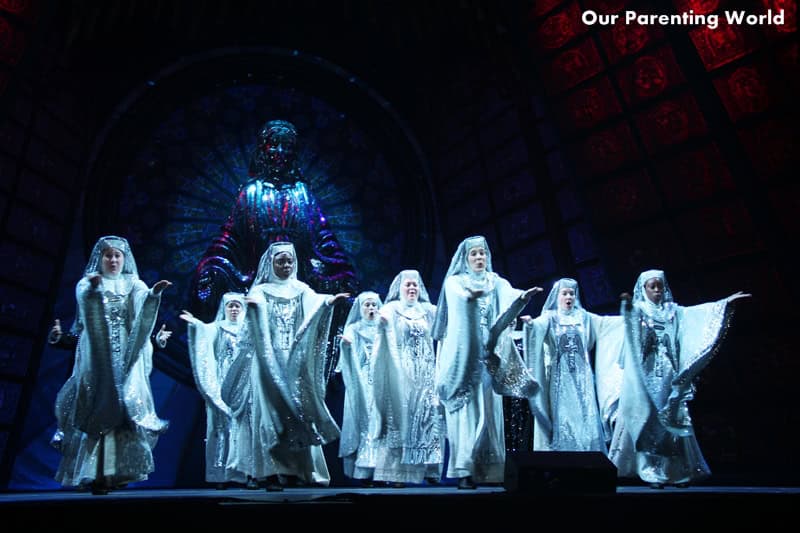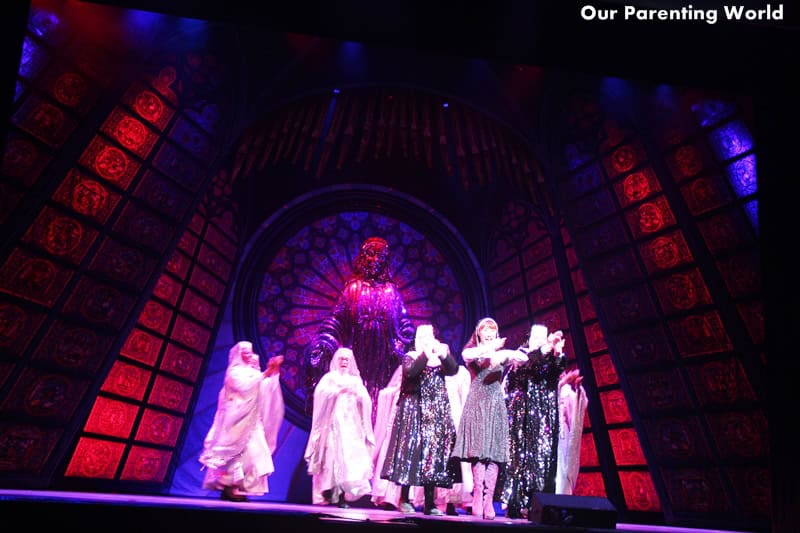 What's Sister Act without the Sisters? Look out for Sister Mary Roberts played by Sophie Kim, an actress from South Korea. She is the first Asian to play Sister Mary Roberts in Sister Act. The Sisters all have individual characters like Sister Mary Roberts who was first a very shy nun till Deloris came into her life and changed her.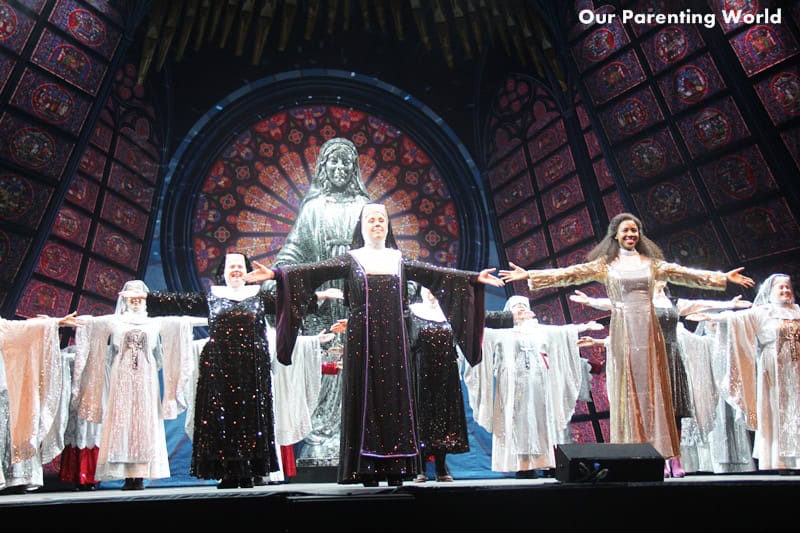 This fantastic musical is not to be missed with great cast, exceptional singing, shiny and glittery costumes, beautiful and elaborate set. Watch Mother Mary statue, look out for her transformation to a huge shiny disco ball towards the end of the musical. Sister Act is full of catchy songs that you can sing along and lift your spirits up! It is simply electrifying! 
This musical guarantees to delight you and brings you joy as you watched. Take me to Heaven! 
Hurry, Sister Act is only here in Singapore for three weeks! Don't miss it! 
Sister Act
Show Dates and Time:
Tuesday, 9 – Sunday, 28 May 2017
Tuesday – Friday: 7.30pm
Saturday: 2pm & 7.30pm
Sunday: 1pm & 6pm
Venue:
Grand Theatre,
Mastercard Theatres at Marina Bay Sands
Ticket Pricing:
(Excludes Booking Fee)
VIP Reserve : S$185
A Reserve : S$155
B Reserve : S$125
C Reserve : S$95
D Reserve : S$65
VIP Box (For 4 seats): S$740
A Reserve Box (For 4 seats): S$620
Box Seat (For 4 seats): S$380
Limited Time Offer:
Cool Tix (Students & NSFs) at S$35 nett ticket*
Silver Tix (Senior Citizens above 60 years old) at S$35 nett ticket*
*Only applicable to D Reserve ticket.
Terms and Conditions apply.
To book the tickets at Sistic, please click HERE. 
To book at Marina Bay Sands, please click HERE.