Skin Inc Supplement Bar is excited to launch A Bundle of Joy Collection, which is the world's first-ever range of baby and kids skincare sets infused with serums. As a renowned brand recognised for their innovative, groundbreaking advancements in high-tech skincare and winner of more than 150 international beauty awards, they have consistently strived to create inventive products that address the changing needs of their customers. By leveraging the valuable insights gathered from +SABI AI data, encompassing 1.5 Million skin profiles worldwide, they have uncovered that a minimum of 21% of adult skin exhibits below-average scores in terms of the skin barrier. This decline can be attributed to various factors, such as environmental stressors, harsh skincare products, and lifestyle choices.
The Skin Inc X motherswork A Bundle of Joy Collection features gentle, lightweight and non-irritating formulas designed to nourish, protect, and maintain the natural softness of kids' and babies' skin while safeguarding their skin barrier. Their meticulous selection of key ingredients, includes Ceramide, Hyaluronic Acid, Peptides, Panthenol, and a blend of Botanical Extracts such as 30% Elderflower, Lotus Flower, and Acacia Flower, ensures that these formulas are not only gentle but also effective in providing optimal skincare for babies and children.
United by a common mission and fueled by limitless affection, two visionary mothers embark on an extraordinary partnership. Drawing from their collective 40 years of expertise in the realm of women, mothers, and babies, they proudly present their awe-inspiring creation: a remarkable body wash and body lotion. Meticulously crafted with unwavering dedication and enriched by the invaluable wisdom acquired through shared journeys, this transformative bundle of joy is a testament to boundless love and devotion.
Skin Inc Founder, Sabrina shared that "I struggle with the task of raising two children with eczema-prone skin and having eczema and sensitive skin myself. I was at my wit's end and that was what drove me to start Skin Inc 15 years ago. Customizing skincare and resolving skin issues has always been about marrying innovation and technology with fuss-free, pure, and allegiant-free skincare solutions."
To tackle this concern right from the start, Skin Inc has collaborated with motherswork, a leading retailer specializing in high-quality products for mothers, babies, and children in Singapore. It brings great joy to announce the highly anticipated release of the Skin Inc X motherswork A Bundle of Joy Collection, a testament to their shared commitment in providing optimal care for infants and beyond.
It is our heartfelt gift to every mother, providing solace and instilling unwavering confidence. Together, we revel in the phenomenal power of collaboration, underscoring the magic of women supporting women that emerge when two extraordinary journeys converge." – Sharon Wong, Founder & CEO of motherswork and Sabrina Tan, Founder & CEO of Skin Inc.
Dedicated to the well-being of babies, their team of experts has devoted extensive efforts to create formulations that are safer and better for babies, so parents can rest assured that their little ones' skin is in good hands. With the introduction of the Skin Inc X motherswork A Bundle of Joy Collection, parents can now offer their children with the best possible start in life by nurturing and protecting their skin with utmost care. This remarkable collection stands as a true game-changer in the realm of baby and kids' skincare.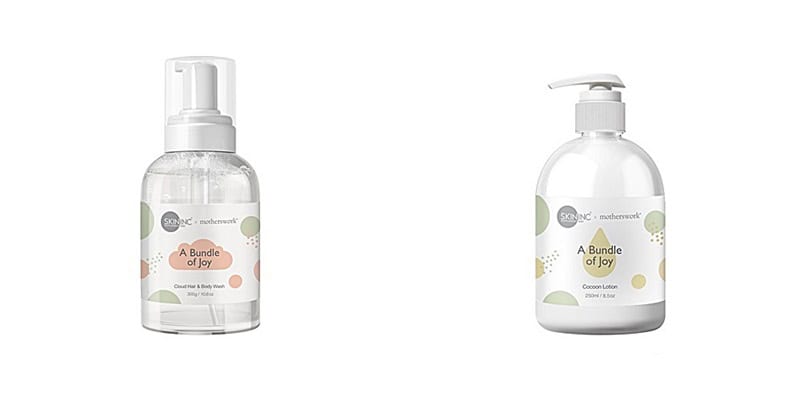 Cloud Hair & Body Wash: ($39) (L) and Cocoon Lotion: ($45) (R)
The Skin Inc. Bundle of Joy Collection includes: 
Cloud Hair & Body Wash: ($39) A delicate wash and shampoo serum-infused formula with Ceramide, Panthenol, Peptides, and Lotus & Acacia Flowers botanical extracts to cleanse your baby's skin & hair without drying. 

Cocoon Lotion: ($45) A gentle and lightweight serum-infused formula with Ceramide, Hyaluronic Acid, Panthenol, Bisabolol & Elderflower Extract to nourish skin health and bring soothing relief to dry sensitive & eczema-prone skin.

Cocoon Lotion and Cloud Hair & Body Wash Set ($68)
Skin Inc. x motherswork's Bundle of Joy Collection is available online on iloveskininc.com, Skin Inc in-store, online and in-store at select motherswork's locations.