Skyve Wine Bistro is located at the cosy area of Newton just besides Anglo-Chinese School (Junior) where Joseph Schooling used to study. The restaurant was first opened in November 2011 founded by Celine Tan.
The venue has recently been renovated and showcased a revamped menu by Celine's brother, Executive Chef, Jachin Tan. The new menu features Chef's brand of modern bistro fare that is inspired by his personal food experiences from growing up years to his travels around the world. Trained in French cooking at the prestigious Le Cordon Bleu (Pasadena, California), Chef is good at marrying classic French techniques together with using regional and local produce to delight your taste-buds. 
The siblings joined forces to relaunched Skyve Wine Bistro an all-day Wine Bistro and in their words "Where "Skyvers" from all walks of life can find respite over a good glass of wine and delicious food."
Introducing an all-day brunch menu that showcases dishes prepared with a tinge of Asian flavours as follows: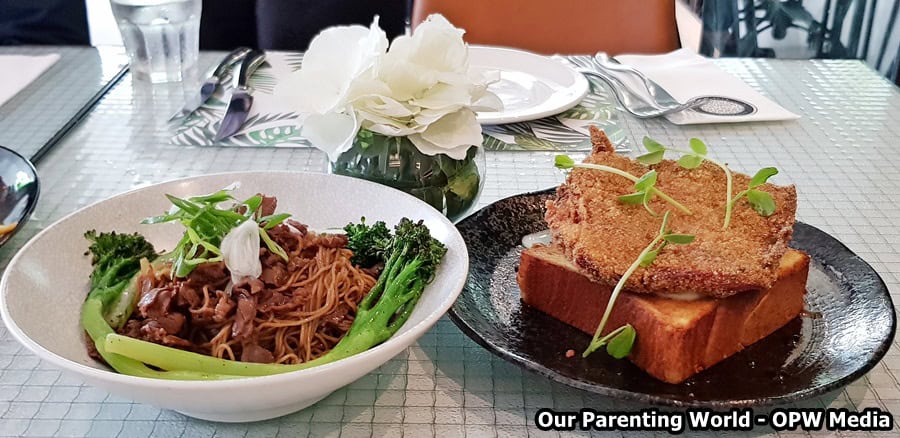 Kalbi Beef Brisket (L) and Buttermilk Fried Chicken (R)
Kalbi Beef Brisket ($20++) is served with broccolini and you can choose from mee kia, linguine or gluten-free pasta. We had the chewy and springy mee kia to go along with the savory beef. 
Buttermilk Fried Chicken ($20++) served with brioche and salted maple syrup. The chicken is so crispy, well-seasoned with buttermilk and sits on top of a brioche, a soft, fluffy bread.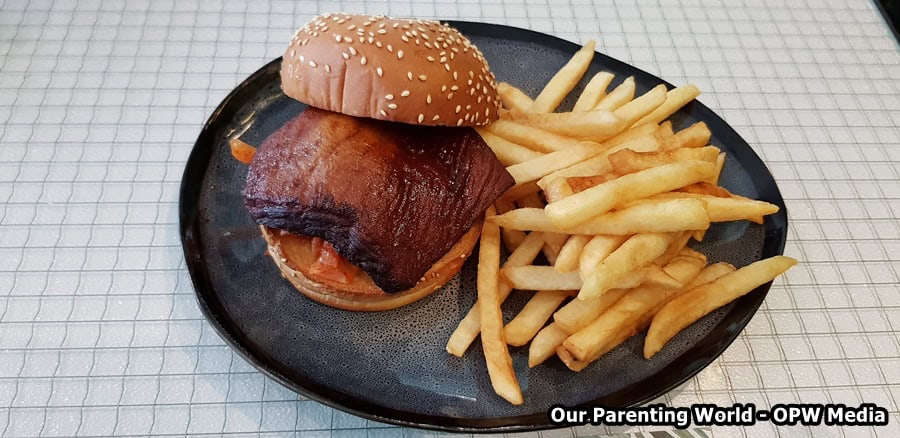 Pork Cheek Burger ($25++), served with fries and kimchi.
The burger is really good filled with generous slab of juicy, tender pork cheek together with crispy bun and tasty fries.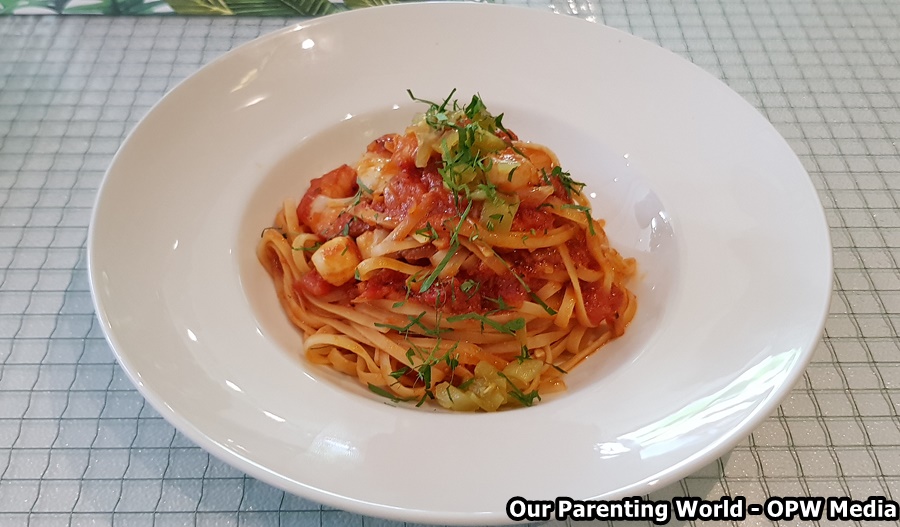 Seafood Marinara ($20++) served Hatch Chilli and you can choose from Mee Kia or Linguine
This dish is delightfully tossed with Hatch Chilli which has a buttery-like flavor and generously filled with seafood.
Here's come the desserts as follows: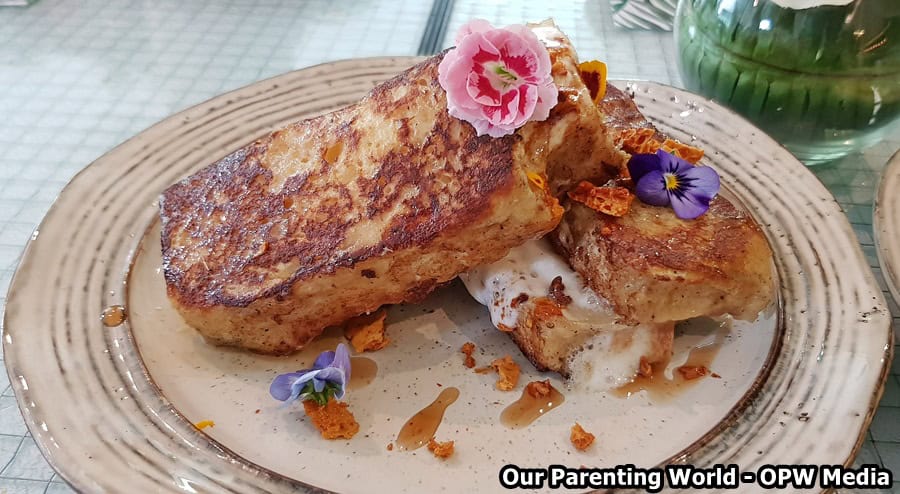 1) S'more French Toast ($12++) 
2) Pulut Hitam ($8++) 
The desserts dishes are so beautifully plated that are not only pleasing to the eyes and yes, they are delicious too. The first dessert dish, S'more French Toast comes with honey comb and maple syrup. This is truly a decadent French Toast that is so heavenly! The second dessert dish, Pulut Hitam comes with Coconut Panna Cotta and Gula Melaka Caramel, this is a more luxurious version of the usual Pulut Hitam that we had tried before. It is silky and creamy topped with blue pea flower caviar. 
Skyve Wine Bistro also has an extensive Kids' Menu for your little ones to indulge in. In addition, if you are a wine lover, check out its list of over 60 labels of wines from both familiar and premium makers. Carefully selected by Celine herself, these wines are priced well for everyday enjoyment. Skyve Wine Bistro is the place to bond over delectable food, in an elegant and cosy ambience that is good for families and friends gathering. 
Skyve Wine Bistro
Address: 10 Winstedt Road Block E, #01-17, Singapore 227977
For Reservations: Tel: (65) 6225-6690 or email [email protected]
Seating Capacity: 40 (Lounge Area) 40 (Main Dining Area)
Opening Hours: Monday to Thursday: 12pm to 11pm (Last order: 9.30pm)
Friday, Saturday & Eve of P.H: 10am to 12am (Last order: 10.30pm)
To find out more, please visit: www.skyve.sg