Slurping Good!, the first instant noodle-themed experience playground in Singapore. Brought to you by Invade, the new instant-noodle themed experience playground features 13 interactive zones over two levels, and comes alongside Eatbox as part of Invade's efforts to spice up the Rochor Experience. 
Our editorial team speaks to Kent Teo, Founder and Chief Executive Officer (CEO) of Invade, a creative space activation company where he shares more about the concept of Slurping Good!, the key highlights at Singapore's first instant noodle-themed experience playground and more. 
Kent is an experienced bootstrap founder and a strong professional entrepreneur. He graduated from Singapore Institute of Management with a Bachelor of Science (BSc) specialising in Economics and Business Management (University of London). Kent is skilled in Entrepreneurship, Conceptualisation, Events management and Business Development. With over 10 years of experience in events and retail management, and collaborations spanning across Southeast Asia, Invade has successfully developed lifestyle brands such as Artbox Singapore, Shilin Singapore, Fleawhere, Makers' Market and MOX (co-making space for the creative community) under the Invade umbrella.
Exclusive Interview with Kent Teo, Founder and Chief Executive Officer, Invade
1) Please share with us more about Singapore's first instant noodle-themed experience playground, Slurping Good!, what inspired you and made you decide to come up with an instant noodle-themed experience playground?
Kent Teo: We developed a creative concept at Tekka Place and an experience centre is one of the ideas. While we are brainstorming for the first experience, we believe that food is a common topic that unites Singaporeans and instant noodle is a staple that we find in many different parts of 

our

 lives. We would want to have a cup of instant noodle such as during staycation, 

our

 leisure trip on the airplane, late-night soccer games, and while we are mugging for examinations. It is a relatable theme among Singaporeans and we decided to present it in a fun and engaging way.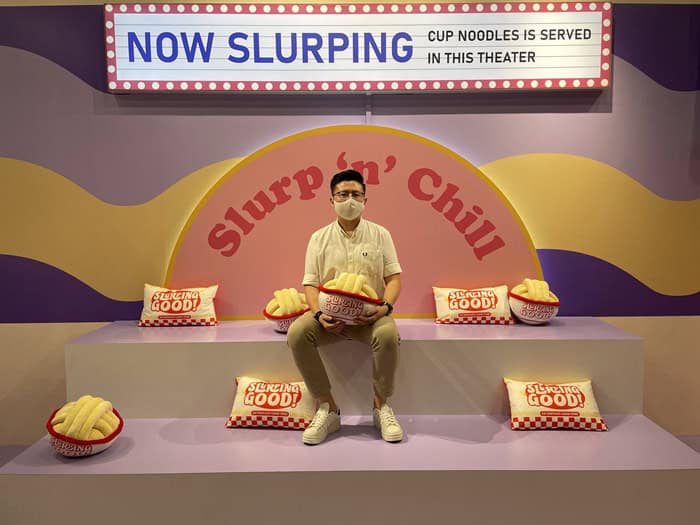 Photos Credit : Kent Teo
2) How do you come up with the name, concept, and design for Slurping Good! and the 13 interactive spaces?
Kent Teo: Together with 

our

 in-house creative team, the action slurping reminds greatly on how we would eat 

our

 instant noodle. It gives off a very satisfying sound while we are having 

our

 all-time favourite instant noodle. Other than instant noodle, the condiments and the way we prepare 

our

 instant noodles can be very different! With these in mind, we created many different art installations revolving around 

our

 favourite condiments that pair with 

our

 main lead; noodles!
3) What are the challenges you have faced in setting up Slurping Good! and how do you overcome them?
Kent Teo: While we brainstorm, develop, and build 

our

 installations, it was during the multiple HA period. It was challenging to coordinate and communicate with the teams. Also, this is 

our

 first permanent installations and we want to build it for everyone to enjoy, there are many factors to consider and timeline to manage. I'm glad that the team managed to pull it together and we are excited to present it to the public.
4) What implementation and or changes have you made to make the themed playground safer and at the same time, create a better, all-rounded fun experience for visitors during the COVID-19 pandemic?
Kent Teo: We limit the playground to less than 50 pax per session through a comprehensive ticketing management. We also ensured a strict protocol to be an all-time mask up venue. There are multiple safe management distancing stickers on the floor to manage the flow, frequent sanitisation for high intensity touchpoints, and sufficient sanitisers at various locations.
5) What are some of the key highlights at Slurping Good?
Kent Teo: There are various activities within Slurping Good; look out for Nissin's art installations and contest, and also choose and design your very own noodle bowl where we have chefs at Eatbox to prepare for you at a fee!
6) Lastly, what would you like to say to

our

readers who are looking forward to visit Slurping Good! and what can they look out for when they visit the instant noodle-themed experience playground especially for parents and children?
Kent Teo: It is a kids-friendly playground and there are several fun facts and activities for all ages. It is a safe and fun-filled experiential playground for all to enjoy!
Come play, have fun and take lots of pictures at the 13 instant-grammable and interactive play zones inspired by everybody's favourite instant treat. Slurping Good!, opens daily from 10am to 10pm located at Tekka Place Annex Building, right beside Eatbox Singapore. Find out more at
https://www.slurpinggood.co/