NTUC Income (Income) and Visa have joined together to launch SNACKUP, an industry-first insurance proposition that allows consumers to build insurance coverage, contributed entirely by merchant and participating brands, when they spend with their Visa cards. SNACKUP is an expansion of SNACK, a ground-breaking lifestyle-based micro-policy insurance model that allows consumers to build or stack insurance coverage linked to their daily activities such as taking public transport, dining out or going for a run.
SNACKUP aims to reimagine the conventional channels of obtaining insurance, want to build a community where participating brands engage with consumers in a very unique manner, contributing to the insurance coverage of their customers whenever they pay with their Visa cards. It builds on consumers' shopping habits and rewards them with stackable insurance coverage in the form of rebates when they pay for their purchases with their Visa cards. For every transaction consumers make at participating shops, the merchant contributes $100 worth of insurance coverage to the consumer's insurance portfolio on SNACK as 'rebates', akin to how merchants would typically reward customers via points or cash rebates. For UOB, YOLO cardholders and Revolut cardholders, they can enjoy $100 insurance coverage with spend on their Visa cards at any merchant islandwide, and an additional $100 worth of insurance coverage if they make purchases at participating SNACKUP merchant brands.
Customer can choose to accumulate their insurance coverage, from merchants either in Term Life (TL), Critical Illness (CI) or Personal Accident (PA) insurance, or all three insurance products. To do this, consumers simply have to link their Visa card to the selected insurance products on the SNACK mobile app, which will reflect in real-time, the accumulative sum assured of the insurance coverage as consumers continue to make transactions on their Visa cards at SNACKUP merchants. For example – Zac links his Visa card to PA. He decides to buy a burger meal at Omakase Burger, a participating brand with SNACKUP. Upon successful payment with his Visa card, $100 worth of insurance coverage in the form of merchant rebate will be automatically added to his PA portfolio on the SNACK app. However, in the event Zac links his Visa card to all three insurance products – TL, CI and PA and buys a meal at Omakase Burger, he will be awarded $300 worth of insurance coverage to his insurance portfolio on the SNACK app, $100 for each insurance product. Each micro-policy, which is issued when Omakase Burger contributes $100 insurance coverage, will cover him for 360 days.
Peter Tay, Chief Digital Officer, Income said, "Pivoting on the same premise as SNACK where insurance is embedded in an insured's lifestyle and making it accessible to all, SNACKUP adds a new dimension to how customers engage with, and obtain insurance protection. We are very excited to be collaborating with a strong technology partner, Visa and offer greater value to our customers as they can enjoy instant rebates in the form of insurance coverage contributed by participating merchants every time they transact with their Visa card."
Kunal Chatterjee, Visa Country Manager for Singapore & Brunei said, "SNACKUP transforms and revolutionises how people in Singapore can accumulate insurance coverage by spending with their favourite brands. This is the first initiative of its kind globally, where we work with our merchants to offer cardholders insurance coverage tied to their spend and use Visa's platform capabilities to introduce SNACKUP as a value-added benefit for Visa cardholders. Rewarding our cardholders with insurance coverage as they go about their daily lives, be it paying for a meal at a restaurant, shopping at a retail outlet, or to taking public transportation, is an extremely novel initiative that our partner, SNACK has created. We believe our cardholders will embrace this innovative way of building insurance coverage as they spend and earn their rewards."
SNACKUP's participating brands currently range from card issuers such as Revolut and UOB, to food and lifestyle brands such as Omakase Burger, foodpanda, Sarnies, and even fresh juice vending machine brand, iJooz.
Tay added, "We are very heartened to work with brands who want to be part of their customer's insurance journey and see the value in the SNACKUP proposition as a novel way to engage and reward them. As we continue to expand on the list of participating brands, we also target to include a wider spectrum of product and service categories so SNACKUP can cater to varying needs and passion points. Eventually, we hope to grow a larger community of like-minded brands, partners and customers who see the value of stacking insurance coverage conveniently and intuitively as part of their daily lives."
The launch of SNACKUP comes after SNACK's debut in June 2020. SNACK has since issued more than 80,000 policies to date, covering a total of more than $26 million sum assured across Term Life, Critical Illness and Personal Accident in Singapore. SNACK has also made insurance more accessible by extending its enterprise model, SNACK+, to corporate partners who aim to offer employees and members upsized insurance coverage on SNACK. These corporate partners include KFC, foodpanda, EZ-Link, National Trades Union Congress (NTUC), Lalamove and SAFRA.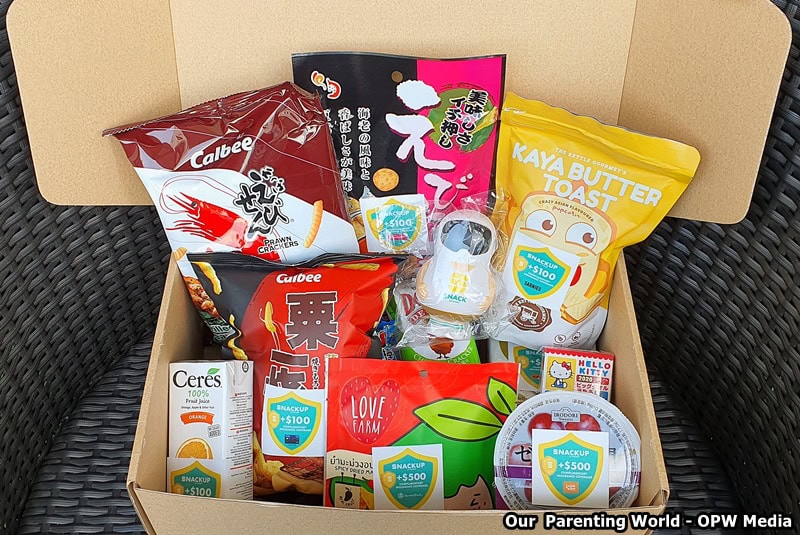 Thank you NTUC Income for sending us the yummy SNACK pack goodies!
To find out more about SNACKUP, please go to  www.snackbyincome.sg/snackup.
The SNACK app can be downloaded from the App Store or Google Play store here
Top Image credit: NTUC Income