Usher into the Year of the Tiger and celebrate Chinese New Year with Ebi Bar's newly launched umami-packed retail sets for 2022's CNY celebrations!
Ebi Bar, the mod-Sin noodle bar known for their Signature Chao Da Ebi Prawn Noodles has launched take-home packs for the prawn broth and the sauces, perfect for Reunion Dinner get-togethers.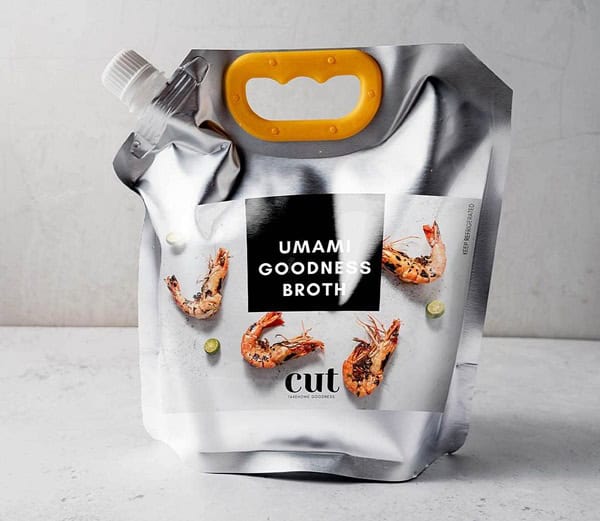 Ebi Bar's Umami Goodness Broth packs an umami-punch. 40kg of prawn shells and heads are fried, releasing all the fragrant oils and flavours. It is then simmered for 8-10 hours, extracting all the deliciousness for a full-bodied taste. Ebi Bar then packages it into an easy-pour 1-litre pack ($6.90) for takeaway. Just heat up along with your favourite hotpot ingredients such as fish slices, prawns, vegetables and more for a hearty meal. Otherwise, boil up some noodles and prawn balls for a casual yet delicious lunch.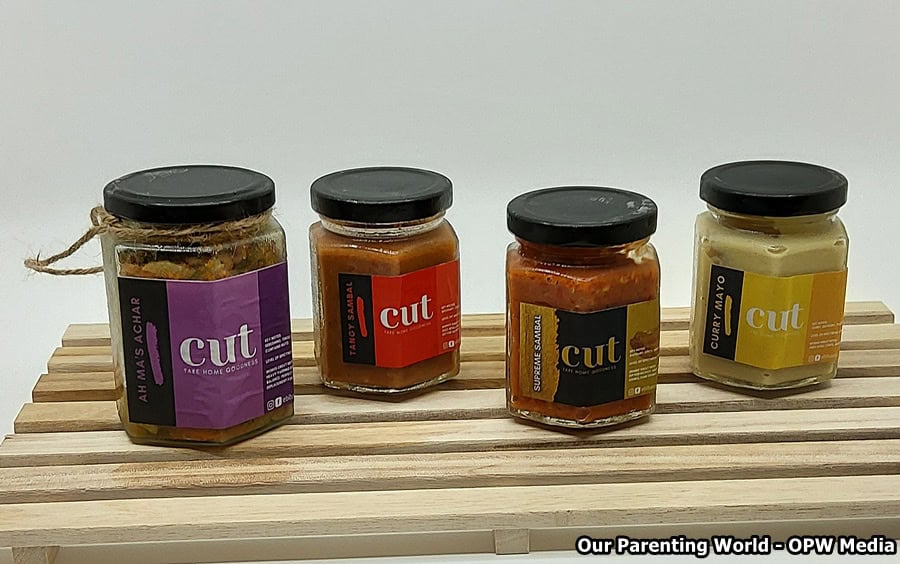 Now you can get your hands on Ebi Bar's specially crafted sauces that accompany Ebi Bar's dishes, driven by customer demand for the Supreme Sambal, a spicy concoction that oomphs up its Hokkien Noodles, Curry Mayo gives the flavour and comfort of a Curry Sauce which is a hot-favourite of locals, and the Tangy Sambal, which accompanies the Salted Mackerel Fried Chicken, Ebi Bar has decided to bottle all three sauces with prices starting from $6.90. All three sauces are now available for takeaway or delivery and will be the perfect accompaniment for meals, chips and snacks.
Also check out the Ngoh Hiong and Handmade Shrimp Paste available at Ebi Bar as follows: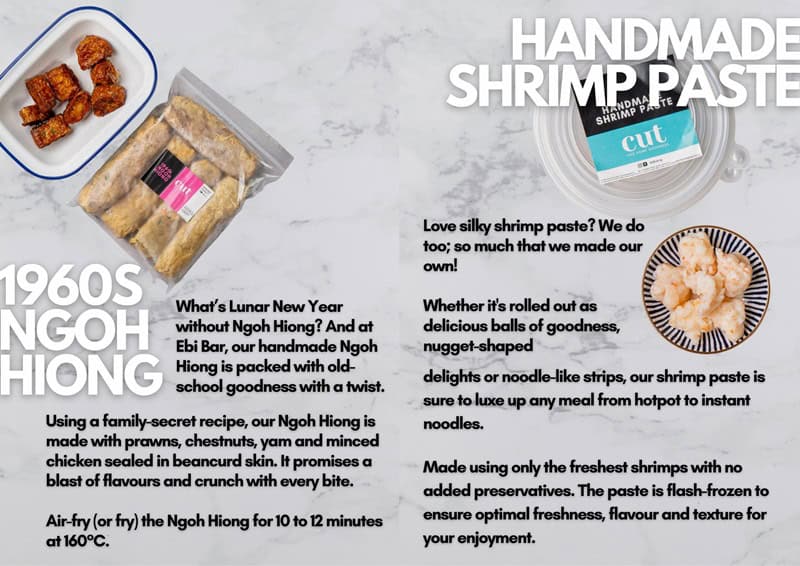 With all these items, Ebi Bar hopes that diners will be able to create the Ebi Bar experience at home with family and friends this festive Chinese New Year.
In addition, introducing Lunar New Year bundles with Ebi Bar x FishMart. Ebi Bar – Home to great umami flavours meets FishMart – Providing fresh seafood from port to your door. FishMart is Singapore's leading seafood supplier, serving seafood lovers for over 40 years. Catching and supplying only the freshest seafood to Singapore. Look forward to fill your reunion meals and stay-home fixes with the best of both worlds. Combining umami-rich broth bases, delicious sauces and dishes with awesomely fresh seafood.
Ebi Bar x FishMart: The Perfect Paring available as follows: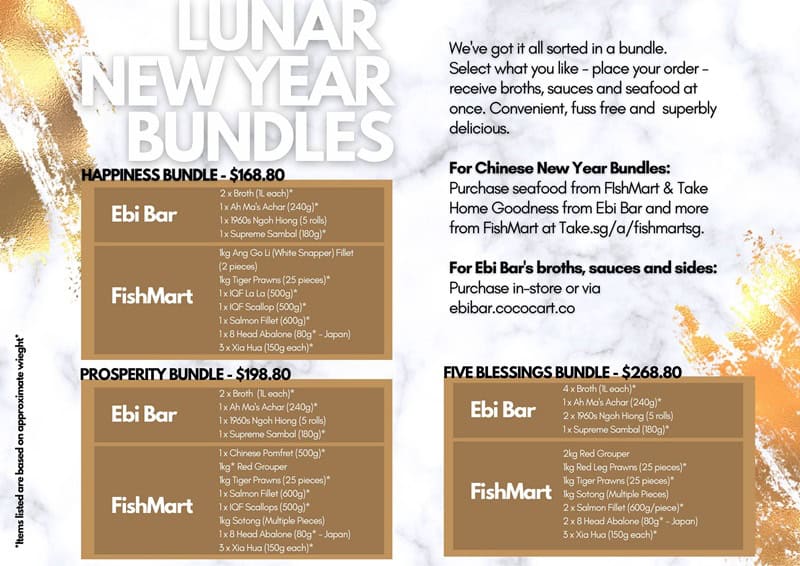 Here's some recipes provided by Ebi Bar that you can use for your cooking as follows: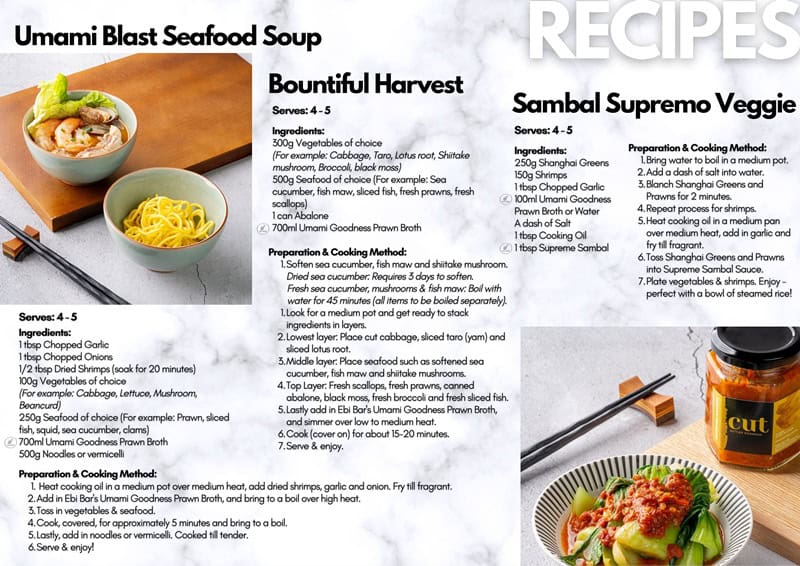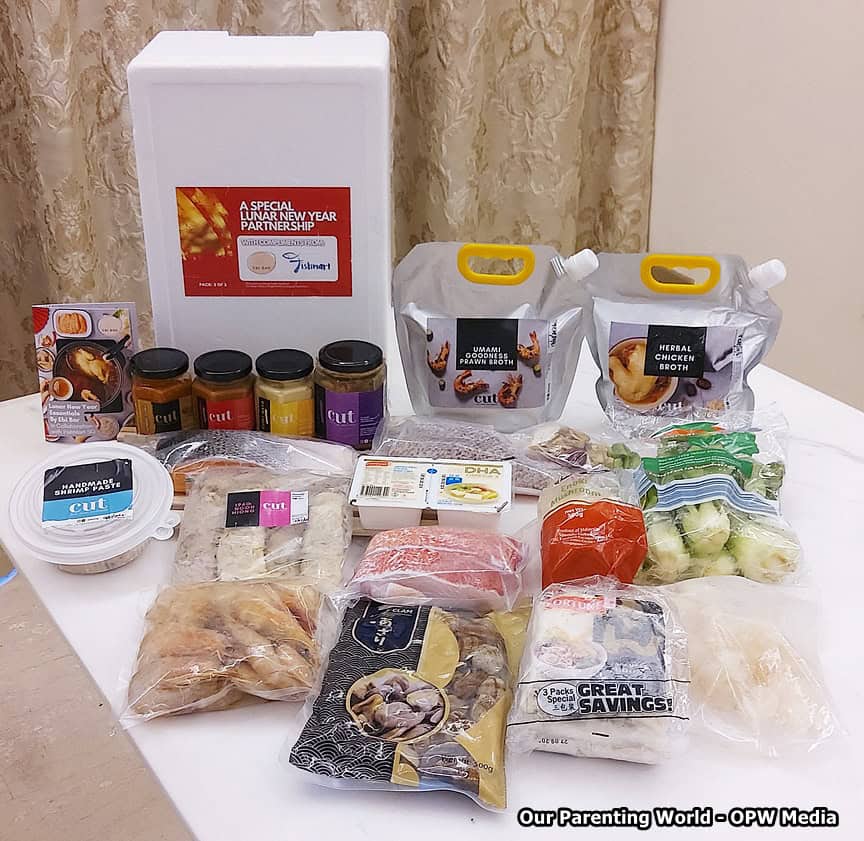 Thank you Ebi Bar and FishMart for sending to us this fabulous and sumptuous bundle to celebrate the Year of the Tiger! The impressive Ebi Bar x FishMart Lunar New Year bundles are the perfect way to celebrate the festive season, for delivery & takeaways, proceed to https://ebibar.cococart.co. Enjoy!
Ebi Bar
Address: #B1-21 Cuppage Plaza, 5 Koek Road Singapore 228796
Opening Hours:
Tuesday – Sunday: 11am – 10.00pm
Monday: Closed
Social Media:
Instagram: @ebibarsg
Facebook: Ebi Bar
For reservations, message @ebibarsg on Instagram/Facebook, or Call/WhatsApp 89221284
All other images credit to Ebi Bar