When we reached there, Gor Gor was a bit apprehensive as he has not done rock climbing before and he was actually a bit nervous. Chee Beng, the instructor was very friendly and kept assuring Gor Gor that he would be fine.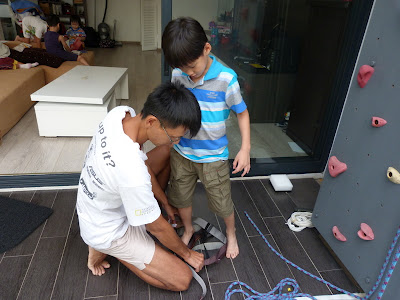 Chee Beng helping Gor Gor to wear the gear before climbing.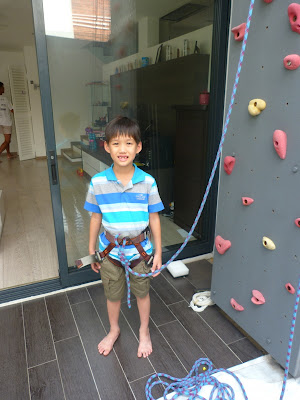 I am all ready to do rock climbing!
Look at Di Di, he also want to do rock climbing but he is too young to climb.  He thinks Gor Gor is going to be Spiderman. Di Di, when you are older, we will bring you to learn rock climbing.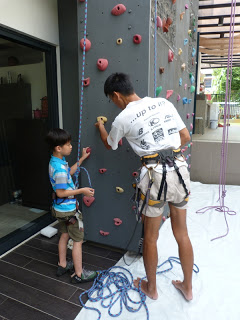 Gor Gor getting his briefing from Chee Beng, and then started his first step of the climb.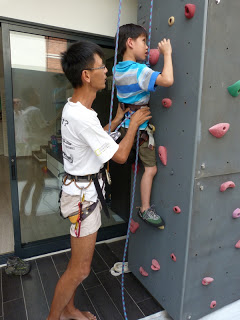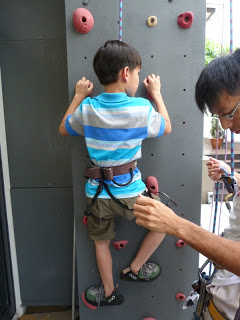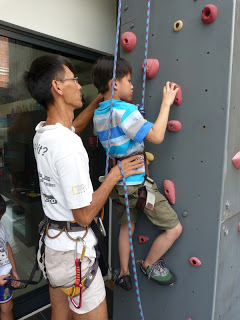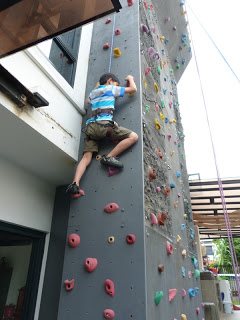 Wow, Gor Gor looks like Spiderman, he can climb up quite high now. He has reached the height of the second floor of the building from the outside.
Thank you Mr Chua, I enjoy the climb. You are a very good instructor!
We would like to thank Pamela and her huband, Mr Chua Chee Beng and his wife for this wonderful experiences. Gor Gor was a bit scared and nervous as he has not done climbing before and to him, it can be quite a daunting process. As parents, we kept encouraging and cheering him on as he made his way up. Chee Beng was very patient and assuring, he helped Gor Gor to overcome his fears.  
About our climb instructor Mr Chua Chee Beng, he has more than 20 years of rock climbing experience, 

was a certified

sport and rock(traditional)

 

climbing instructor

 by legendary rock climber 

Bill Atkinson who has been climbing for more than 50 years himself.

 
You can find out more about Mr Chua and his rock climbing packages by clicking this link.
Actually, rock climbing is very safe, as the climber is always being supported by the instructor, using the rope that is anchored to the instructor's body. There is no worry of falling down.
After the climb, Gor Gor told us that he enjoyed himself and he is not scared anymore. Well done!