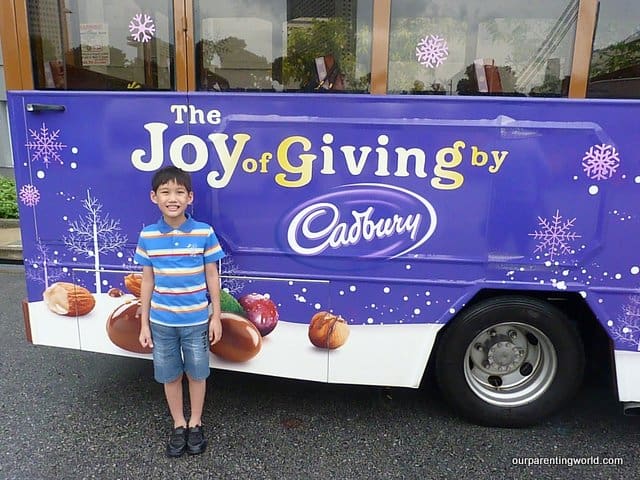 Ho ho ho … we were going to board the Cadbury bus to spread the Joy of Giving. Join us as we hopped onto the bus to begin our adventure!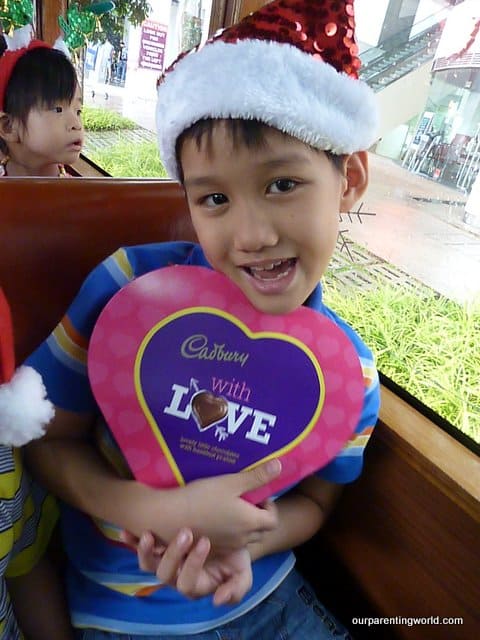 We were all dressed up with Christmas props!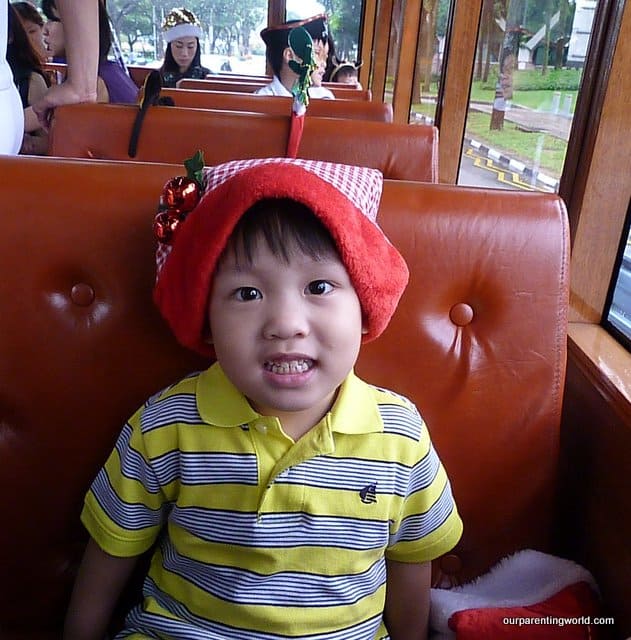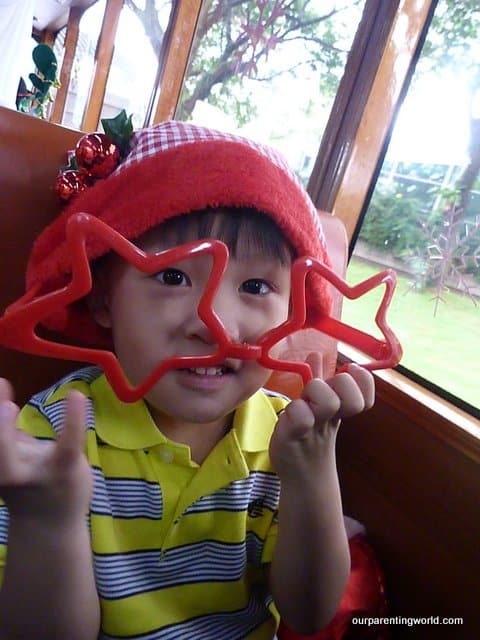 Di Di was on the bus too. You are never too young to spread the joy of giving!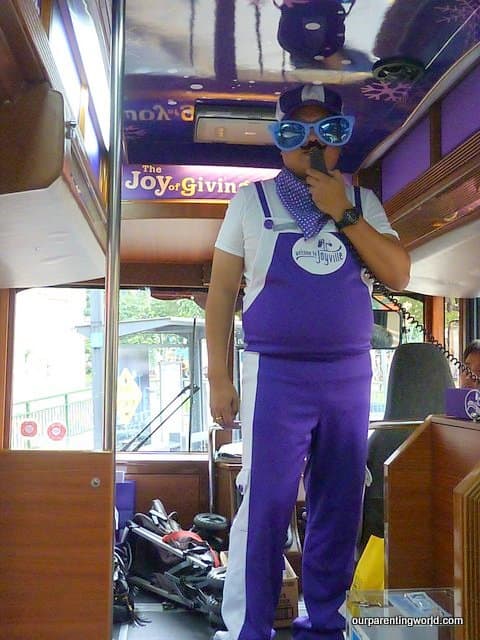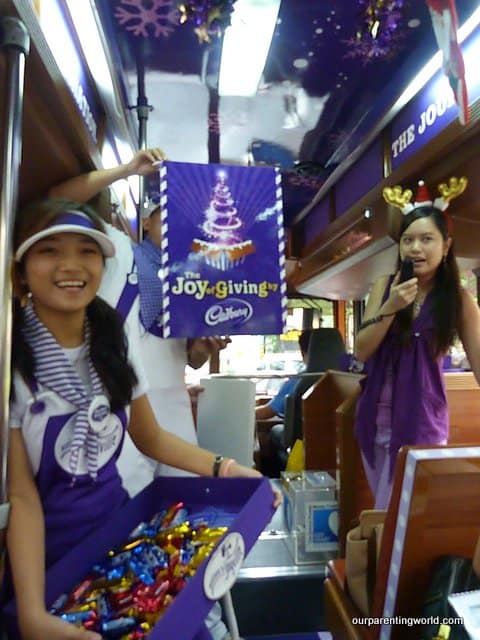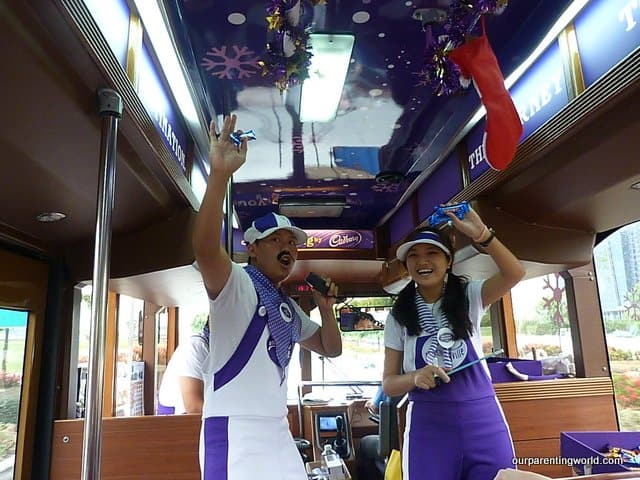 Joyville campaign was launched in Singapore in September 2012. It is a joyous magical place where Joy is in every bar of chocolate that Cadbury made. It is a place where workers whistle to chocolate, milk is stored in hillsides and chocolate is transported via purple pipelines and purple vehicles of all shapes and sizes. A place where they don't make just chocolate but make the world a more joyful place instead.
The wonderful people of Joyville are here now to bring cheers, joy and fun to all of us! 
Here we would like to thank the kind and lovely organisers, wonderful people of Joyville and Cadbury for inviting us to this joyous event!
A BIG Hello to all the wonderful people and friends that we met at Joyville Joyrider, Hello and it is really nice to know you!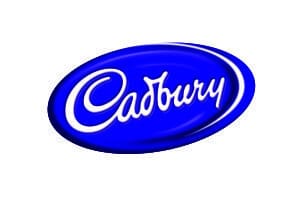 More about Cadbury and its history, Cadbury has a rich history and was founded almost 200 years ago by John Cadbury. He opened his first grocer's shop in 1824 selling hops and mustard, along with a new sideline of cocoas and drinking chocolates. He soon established himself as one of the leading cocoa and drinking chocolate traders in Birmingham. The popularity and growing sales of John Cadbury's cocoa and drinking chocolate of 'superior quality' determined the future direction of the business.
By 1842 John Cadbury was selling no less than 16 varieties of drinking chocolate and 11 different cocoas! Since then, Cadbury and chocolates became inseparable, growing into a billion dollar business globally.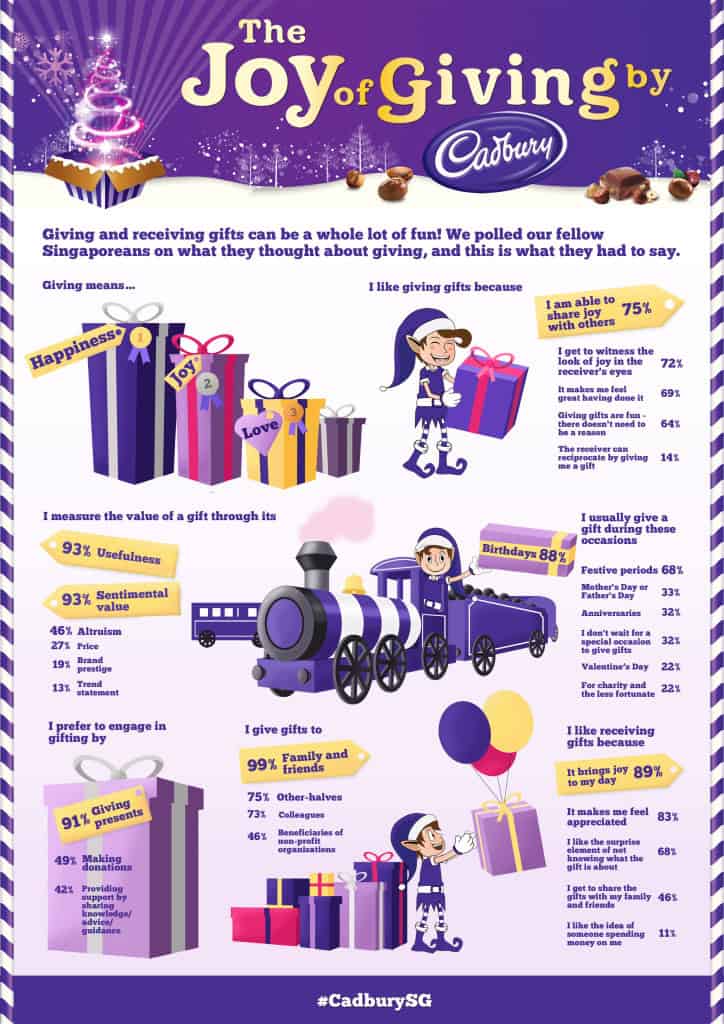 Cadbury unveiled the results from a poll conducted amongst fellow Singaporeans to discover what the "Joy of Giving" means to them. The top three emotional draws include 'happiness' (89%), 'joy' (79%), and 'love' (78%), indicating that Singaporeans truly embody the spirit of giving.
Cadbury Joyrider is here to spread the good cheer and joy to everyone!
Our Parenting World is pleased to announce that as part of the "Joy of Giving" campaign, the popular Cadbury Joyrider will be making its appearance to the public again from 21 November, 2013, beginning at the heart of Singapore's business district – Raffles Place. Public will be able to hop on the Cadbury Joyrider Bus for free, which will bring everyone on a fun-filled journey into a mythical and joyful land of Cadbury – known as Joyville.
Riders aboard will get a rare glimpse of the Joyville workers as they bubble into the real world, sharing joy and magic, with fun-filled activities and Cadbury treats for everyone. In the spirit of giving, Cadbury Joyrider admits riders for free so wait no further and check out the location, routes and pick-up points of as follows:
Cadbury Joy of Giving Experience:
21-22 November 11am-4pm: Raffles Place
 1 December 11am – 3pm: SAFRA Open House
14 December 1-5pm: Downtown East
Cadbury Joyrider Routes:
23 November – 25 December: Details on the locations, routes and times can be found on the Cadbury Facebook Page. Please click HERE.
Donations will also be collected on the Cadbury Joyrider, and all proceeds will go directly to The Straits Times School Pocket Money Fund (SPMF).
In addition, come 3 December, 2013, Cadbury will be getting involved in #GivingTuesdaySG, and will be taking the children under the SPMF's care out on a joyous day of fun-filled activities at one of Singapore's popular tourist attractions.