Staycation in Singapore is getting very popular nowadays. According to a recent findings, about one quarter of some of the main Singapore hotel guests are from local residents staying in our local hotels on weekends.
Our Parenting World team recently stayed at the newly refurbished Hotel Jen Tanglin. Hotel Jen is formerly known as Traders Hotel, which is under the umbrella of Shangri-La International Hotel Management Limited. The hotel is conveniently located within a short walk from Orchard Road and the popular Tanglin Mall is connected to the hotel making it easy for guests to walk to Tanglin Mall to shop. It is also a walking distance to Singapore Botanic Gardens which is a UNESCO World Heritage Site.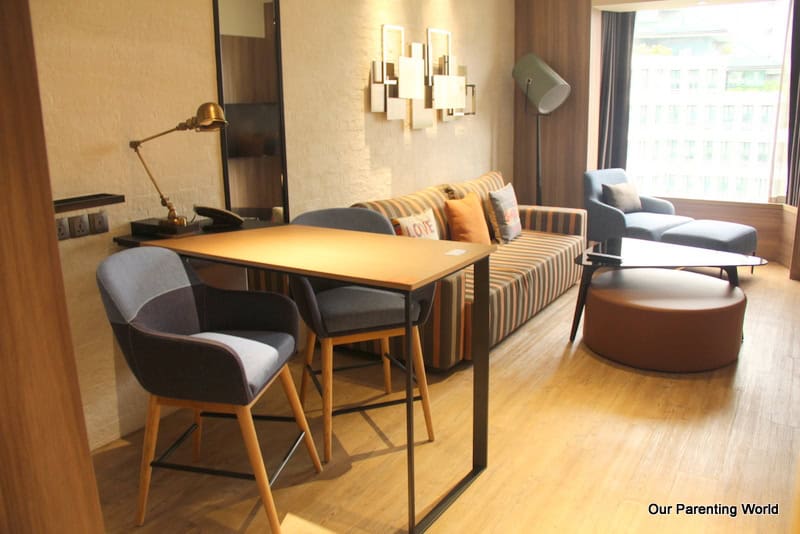 Upon arrival, we checked into our room at the Executive Suite located at the 16th floor of Hotel Jen. The newly renovated room is so spacious, brightly-lit, cosy and with lots of room for 2 active boys to run around. 
The tastefully decorated and stylish Executive Suite spans a total size of 50 square metres featuring a pantry, sitting room, workspace, bathroom and bedroom.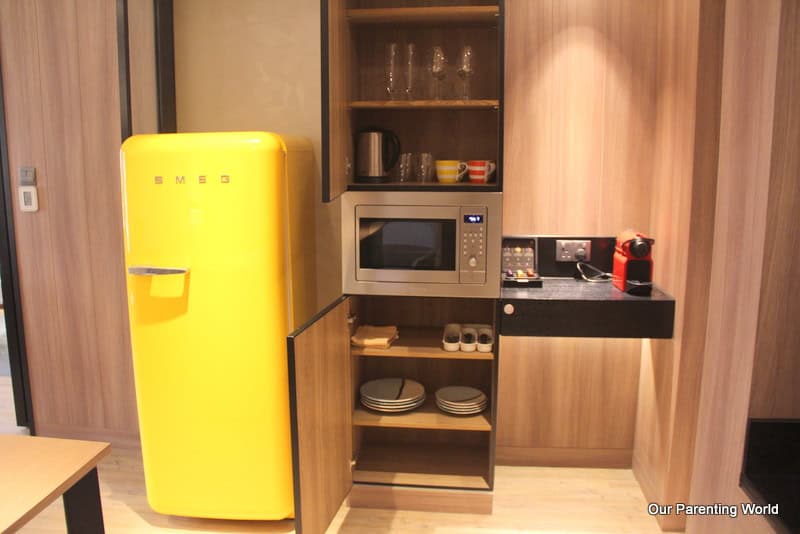 Hotel Jen has placed a lot of nice and thoughtful touches to its room. At the pantry area, it has a microwave and the cabinets are well stocked up with kitchen utensils, plates, drinking glasses and cups. It has a tea and coffee-making area with coffee and tea sachets provided.  
For coffee lovers, you can look forward to indulge in your cup of coffee with its Nespresso coffee machine with complimentary coffee capsules. How sweet!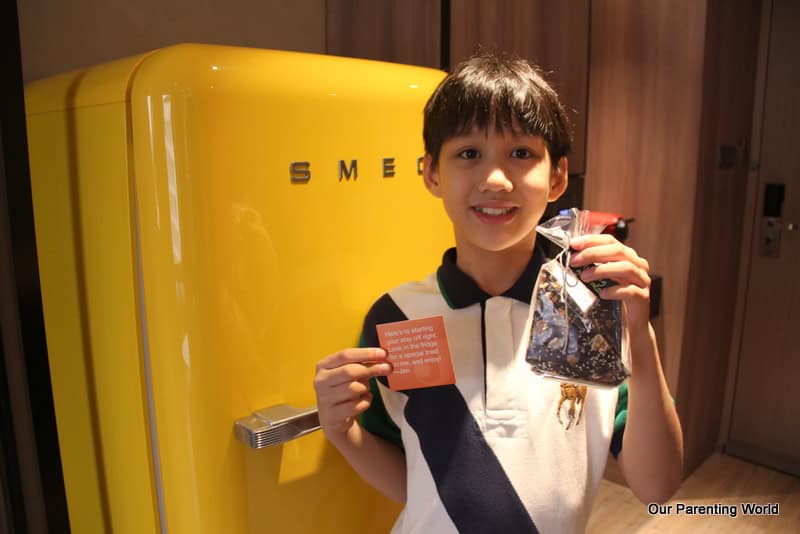 Check out the special treat that Hotel Jen has prepared for its guests in the fridge!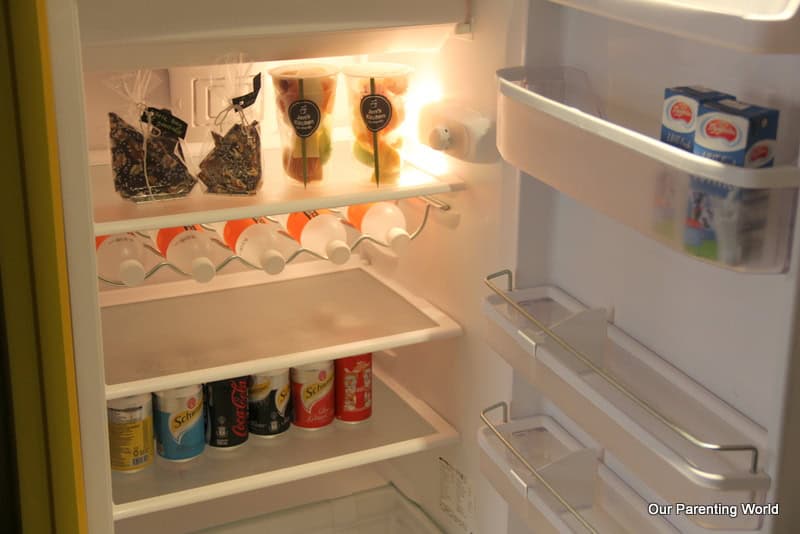 The big, bright "SMEG" fridge is stocked up with complimentary refreshments which include chocolates, fresh fruits, milk, soft drinks and bottled water.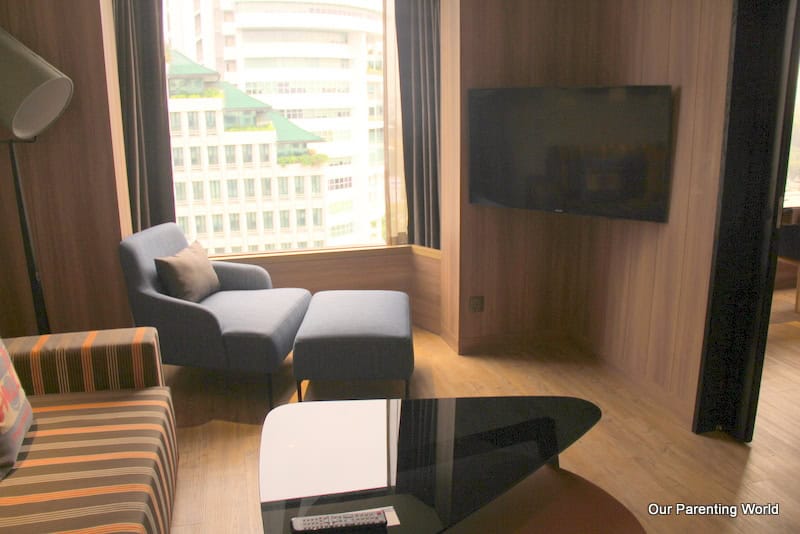 At the sitting area, you can sit on its comfortable sofa which is also a pull-out sofa bed to watch the big screen TV or sit at the bay window sofa to relax and enjoy the beautiful scenery.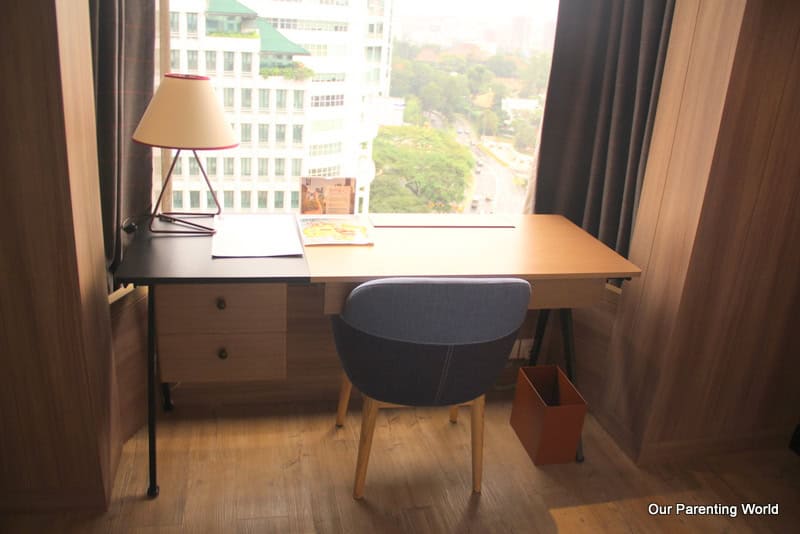 Enjoy the scenery while working on its full-size executive writing desk. You can enjoy fast free WiFi while staying at the hotel and USB charging outlets are available at each room. 
If you are feeling hungry, there is a 24 hours room services menu on the work desk to satisfy your hunger pangs. 
Interesting creative rack, "H E L L O" making us feel welcome 🙂 
After an extensive SGD$45 million makeover, Hotel Jen Tanglin is set to impress its guests and travellers with stylish and comfortable rooms. The 18-storey hotel has 565 new, contemporary guestrooms come with four modern, locally curated wallpaper designs highlighting different Singaporean themes (bicycle, orchid, goldfish and shop house).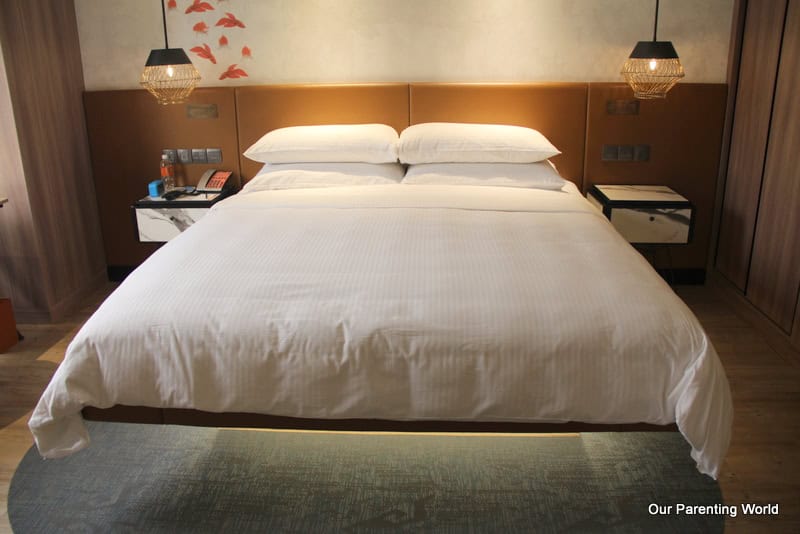 The bedroom features a super comfortable King-sized bed with 300-thread-count linens.
Notice the bed looks like it is floating? 
There is a "Take-Off" button located just besides the bed, press and notice the bed "lifted off". We were amazed to see such a creative and unique bed structure.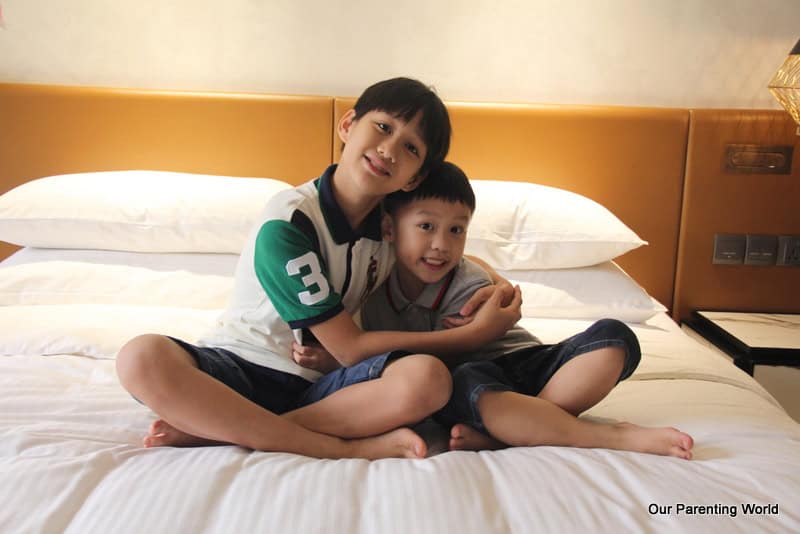 We simply love the super comfortable bed!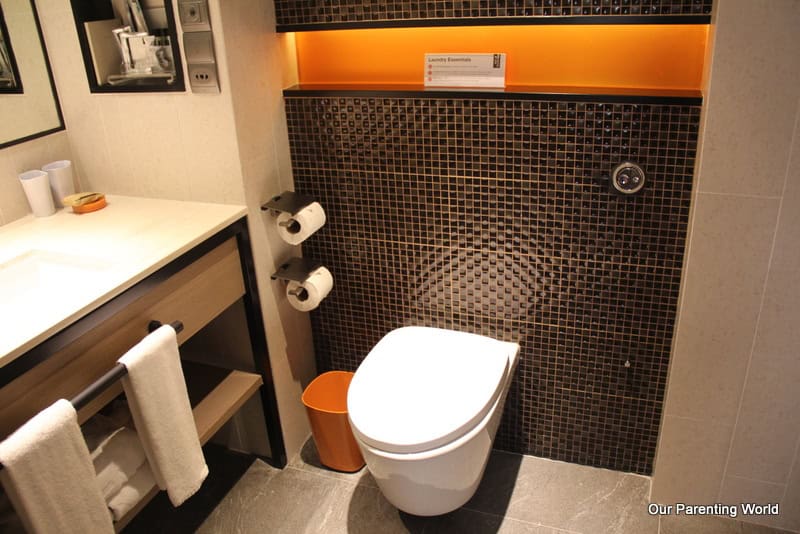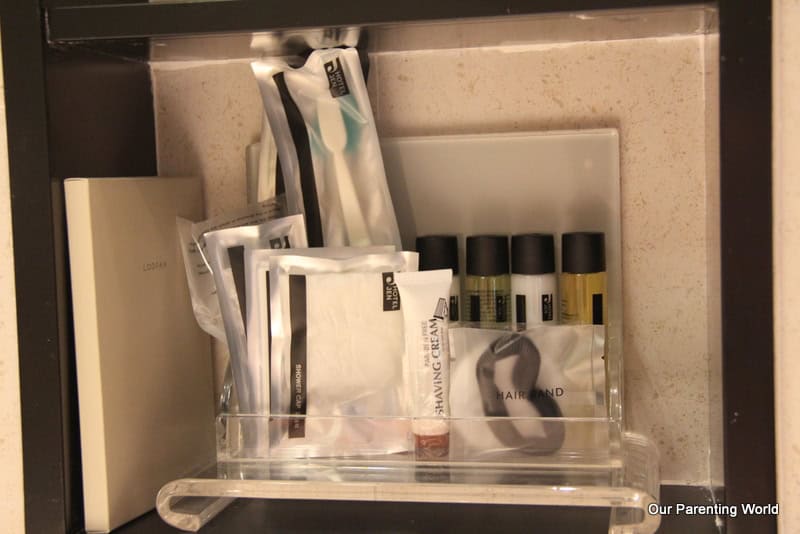 The bathroom is thoughtfully laid out with ample space and comes with lots of soft fluffy towels, hair dryer and in-house branded toiletries.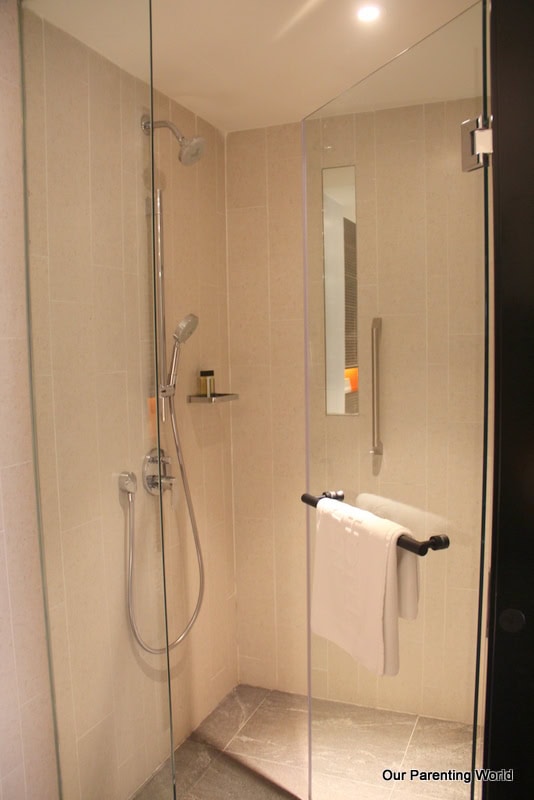 A spacious walk-in showers with strong water pressure for you to enjoy and relax under a hot/cold shower.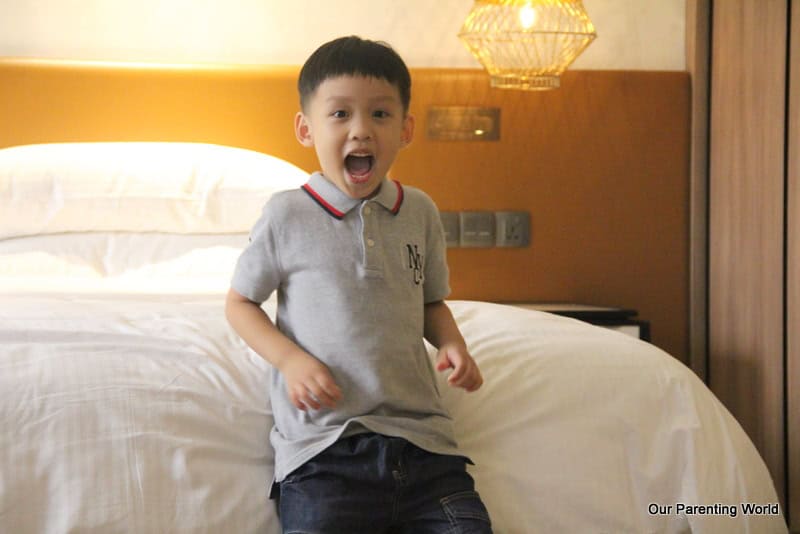 "I love Hotel Jen Tanglin, it is fabulous!"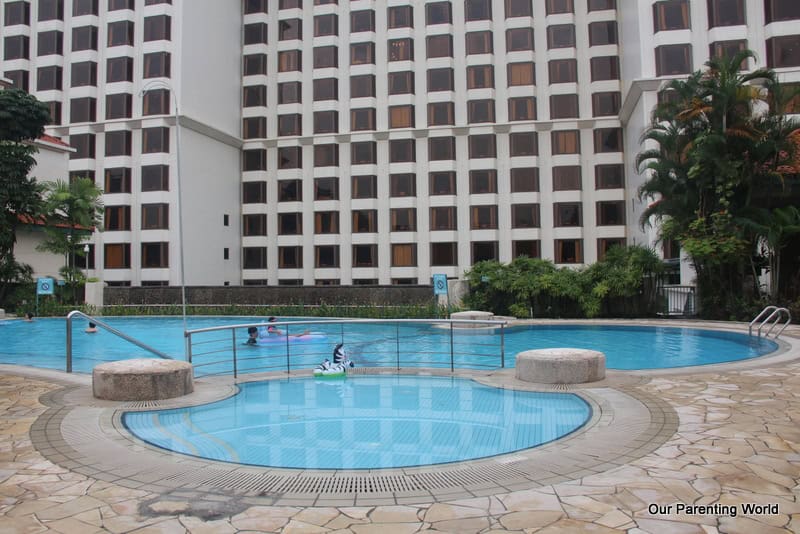 If you feel like going for some work out, you can enjoy swimming at its beautiful outdoor 30-metre pool surrounded by a lush garden.
How about just relaxing at its outdoor whirlpool or sit at its comfortable deck chairs to enjoy the scenery and fresh air.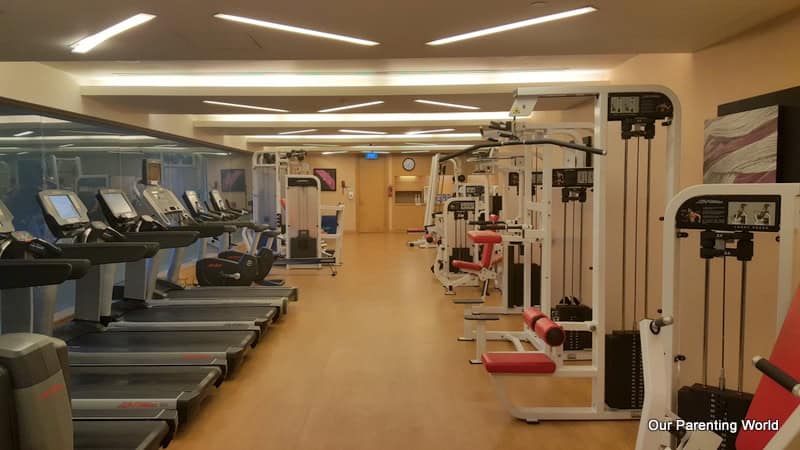 Feel like working out and doing exercise?
Try out its spacious 105 square metres area 24 hours gym facing an unblocked view of the tropical pool. The gym is equipped to cater for all needs with functional state-of-the-art cardio and strength training equipment including machines and comprehensive sets of free weights.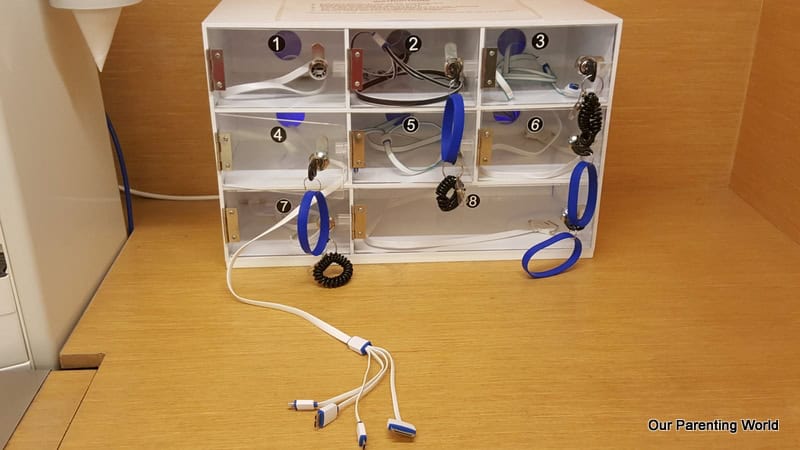 Fret not if you forget to bring your charger, at all Hotel Jen's properties, the charging stations are available for their guests to charge their mobiles. All you need to do is to plug your mobile in, lock the self and take the keys out. You can return the keys after your phone is fully charged. Again another thoughtful gestures from Hotel Jen.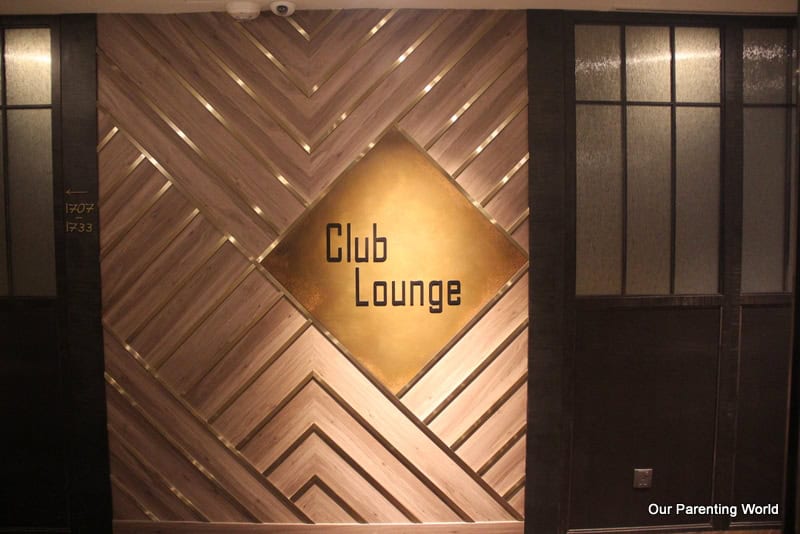 While staying at the club rooms or suites, you will be able to access into the Hotel's Club Lounge at Level 17. 
One of the highlights of staying at Hotel Jen is certainly its Club Lounge. The Club Lounge is open daily from 6.30am to 10pm and accessible 24 hours with room keys. 
Hotel Jen's Club guest, you are entitled to enjoy these exclusive and complimentary services which include the following: 
Extended weekday buffet breakfasts served daily from 6.30am to 11:00am. 

Jenerous weekend brunch from 6.30am until 12:00 noon. 

Mid-afternoon culinary treats from 2:00pm until 4:00pm.

"After Five" Happy Hour in the evenings, 5:00pm to 7:30pm.

Coffee, tea and soft drinks available throughout the day and 24/7.

All Day Dining with great menu choices and reasonable prices. 

Pressing service for one suit or dress upon arrival. 

Concierge and business centre facilities.

Access to 2,500+ publications through Press Reader. 
Complimentary shuttle service to Orchard Road and weekday morning shuttle services to the Central Business District are provided. Please check with the Hotel upon arrival for more information.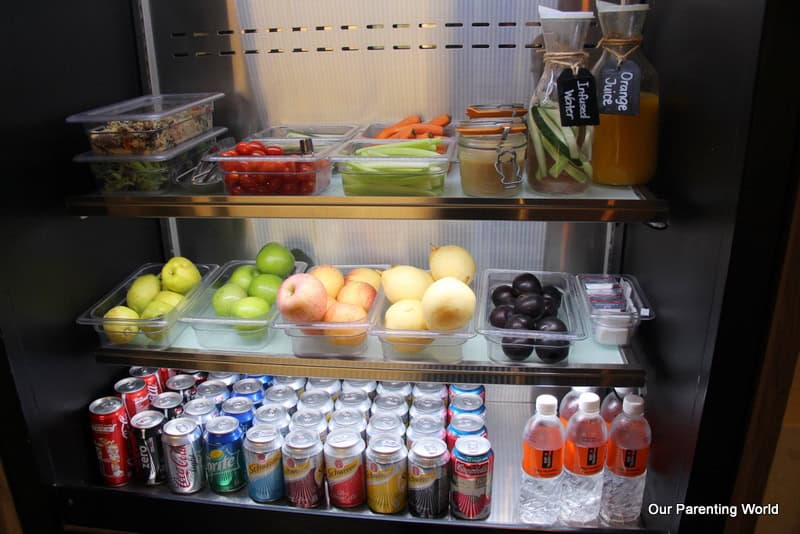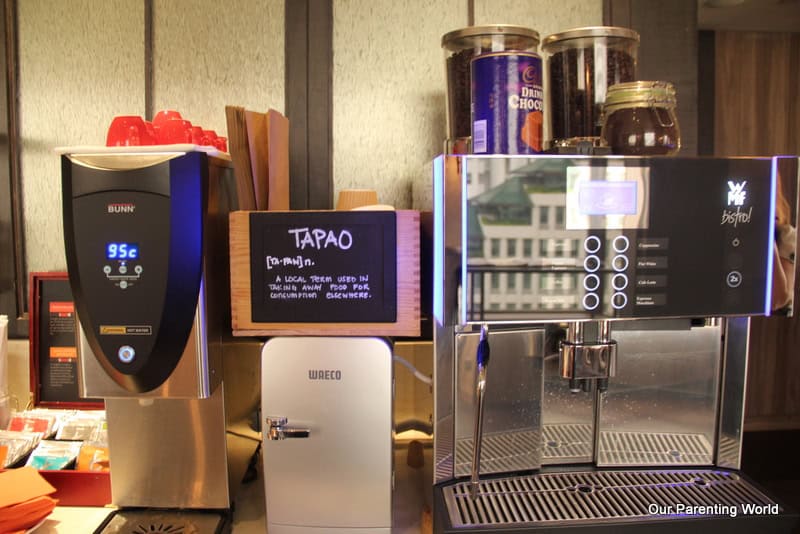 At the Club Lounge, you will find a wide range of fruits, salads, assortments of drinks, teas and coffee. You can even "Tapao" some food or coffee with paper cups and bags available for you to bring back. "Tapao" is the local term for taking away food for consumption elsewhere.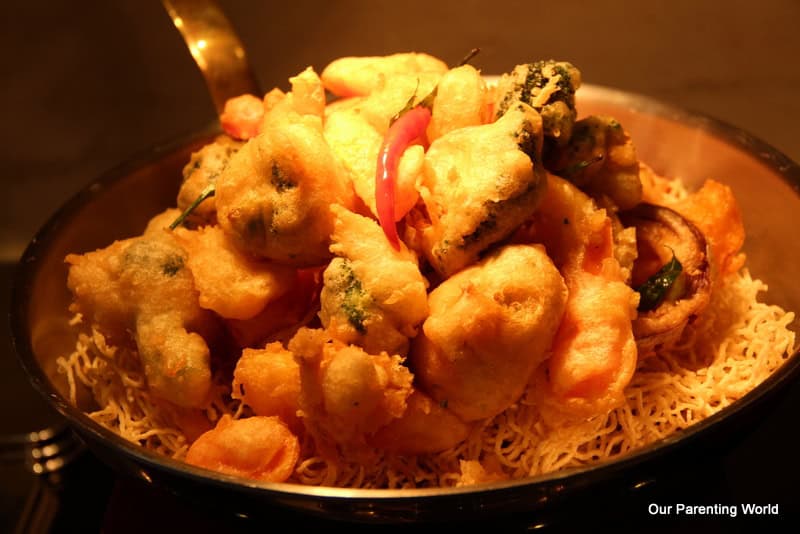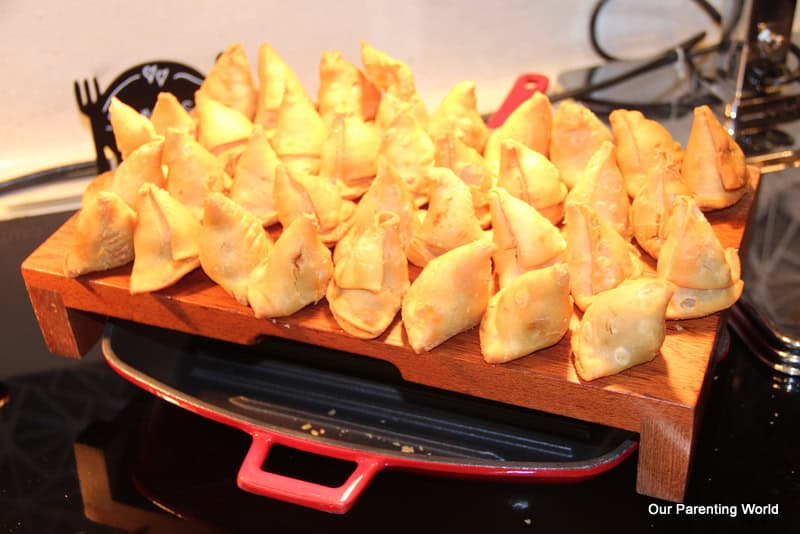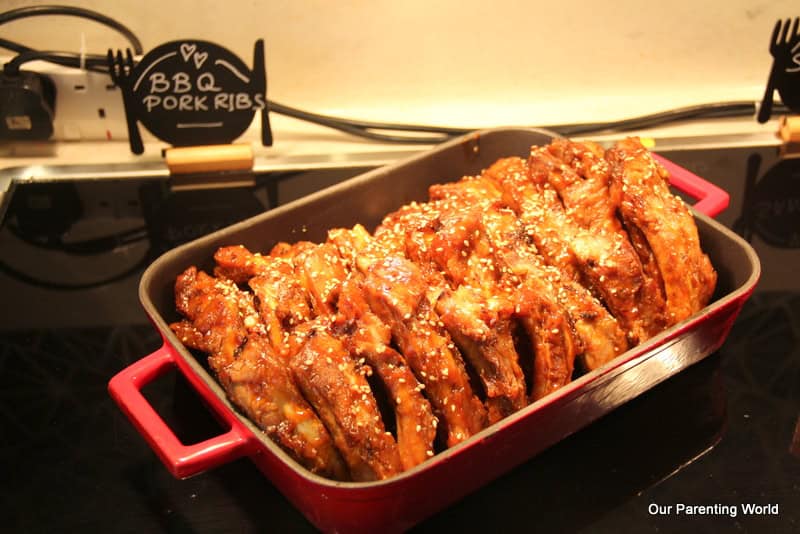 We were at the Club Lounge during the late afternoon during our stay. At the Club Lounge from 5pm to 7:30pm, we were delighted to find a wide range of food from local delights like Chicken Satays to savoury BBQ Pork Ribs were served.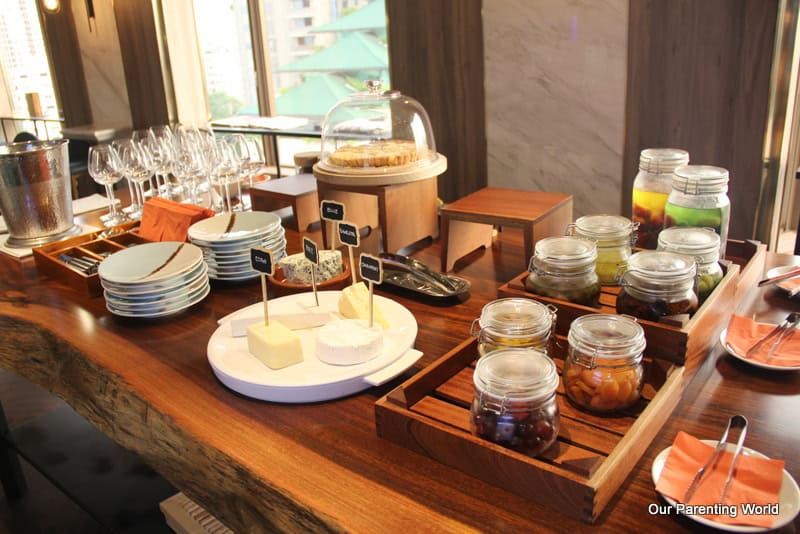 That's not all, you can indulge in dessert like pies, a selection of cheese, there is a also a wide selection of beer, wine and spirits. The fun part is that you can even make and mix your own cocktails with the alcohol and ingredients provided.
If you are feeling hungry or thirsty later at night, you can still access into the Club Lounge with your room keys after 10pm. The Hotel has thoughtfully prepared instant noodles and freshly baked Croissants.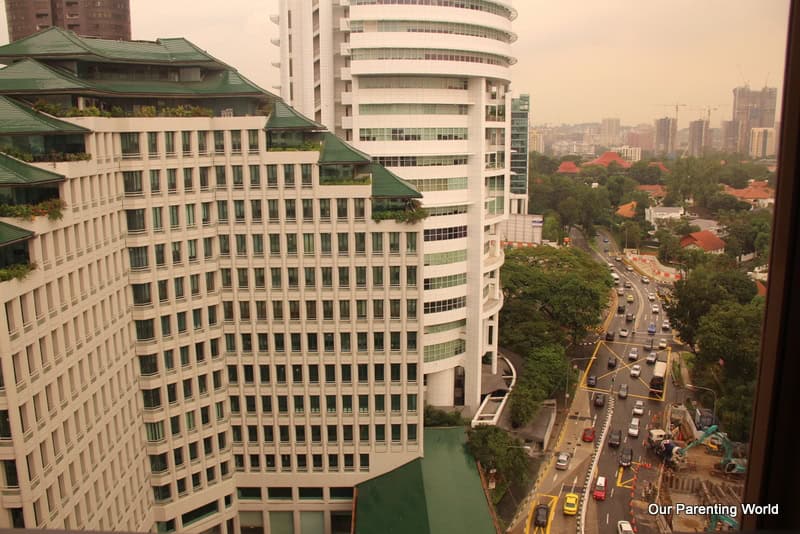 At the Club Lounge, you can enjoy the impressive panoramic view with its full glass panels while dining.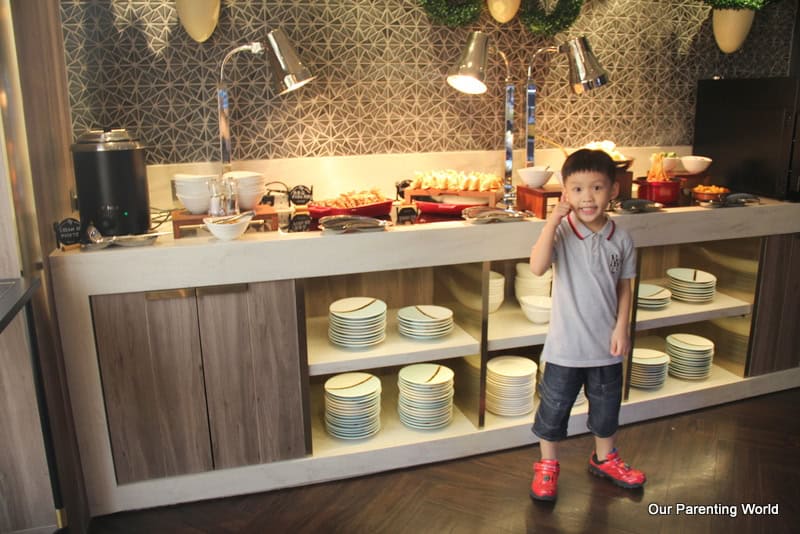 "Thumbs Up for the impressive Club Lounge and for Hotel Jen Tanglin's impeccable services!" 
Photo Credit: Hotel Jen Tanglin
While you are staying at Hotel Jen Tanglin and or visiting the Hotel for dining, check out J65, the new all-day dining restaurant located at its lobby at Level 1.
Wonder what J65 means?  The letter "J" means Jen and the number "65" is inspired by the Singapore International Dialling Code. 
The chic lobby also houses Jen's Kitchen On-the-Go, a café and snack bar offering Singapore's finest artisan products, including locally roasted coffee and boasts open lounging areas to meet the growing social needs of the next generation of travellers.
J65 restaurant is set in a modern market look and feel, served authentic Southeast Asian cuisine and diners can enjoy a wide variety of food in abundant portions.
Diners will be pleased to know that Hotel Jen Tanglin is the one of the only hotels in Singapore to offer net pricing at it's F&B outlet, meaning that you will get no unpleasant surprises at the end of your meal.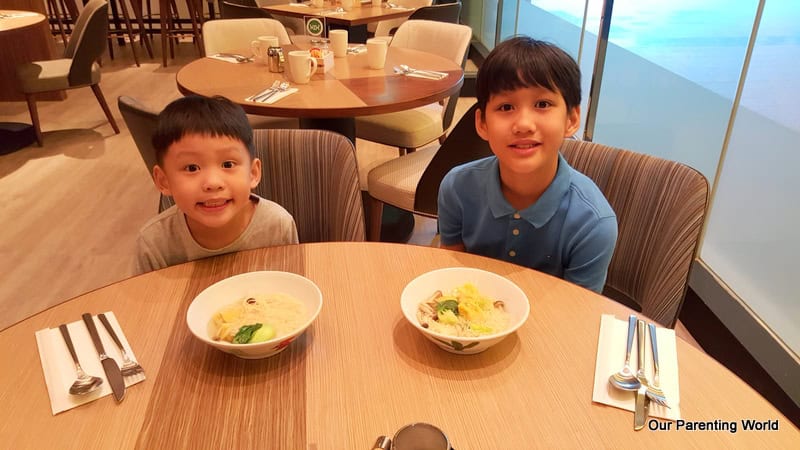 We were at J65 for its Sunday Brunch, its Sunday Brunch is the highlight of the week featuring the freshest seafood, hand-carved meats, sashimi, sushi, local delights, desserts and many more. Diners can also enjoy free-flowing juices, drinks, champagne, wine, beer and cocktails. 
All kinds of healthy delicious juices suitable for everyone including children for the Sunday Brunch.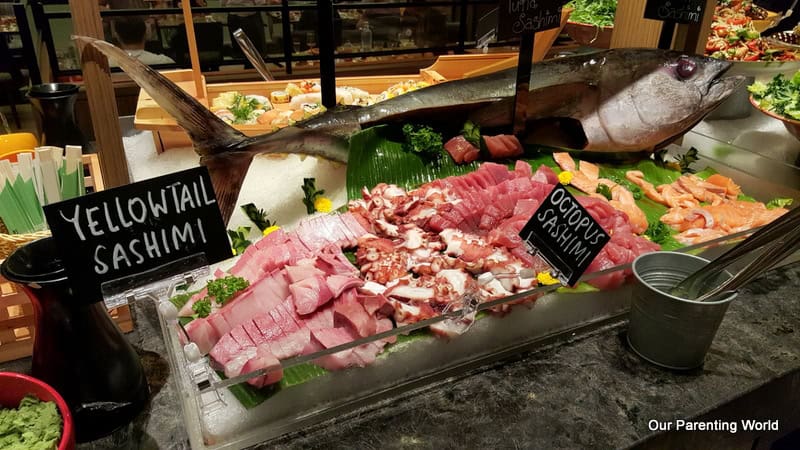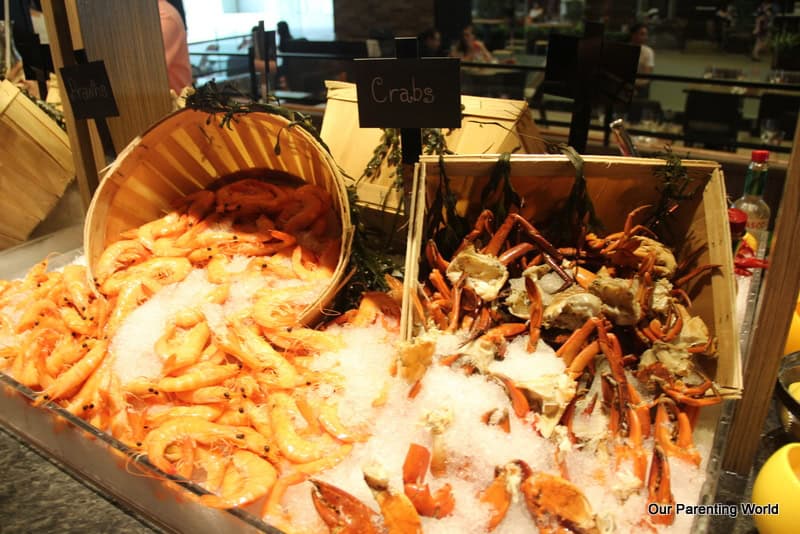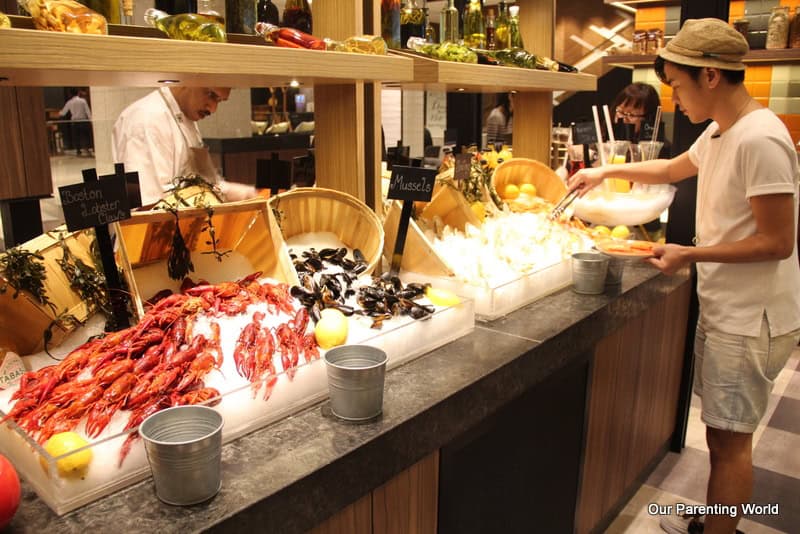 Diners will be spoilt for choice with such an extensive range of the freshest sashimi, seafood like prawns, oysters, clams, scallops, crabs, lobsters and many more!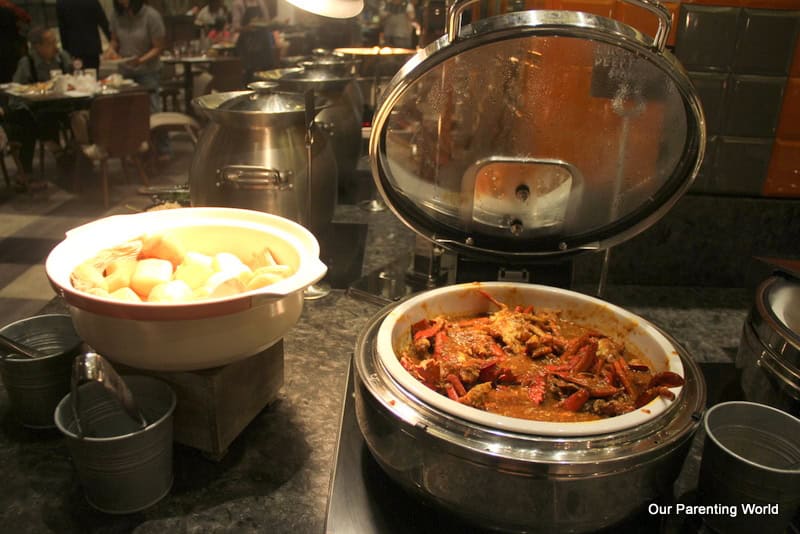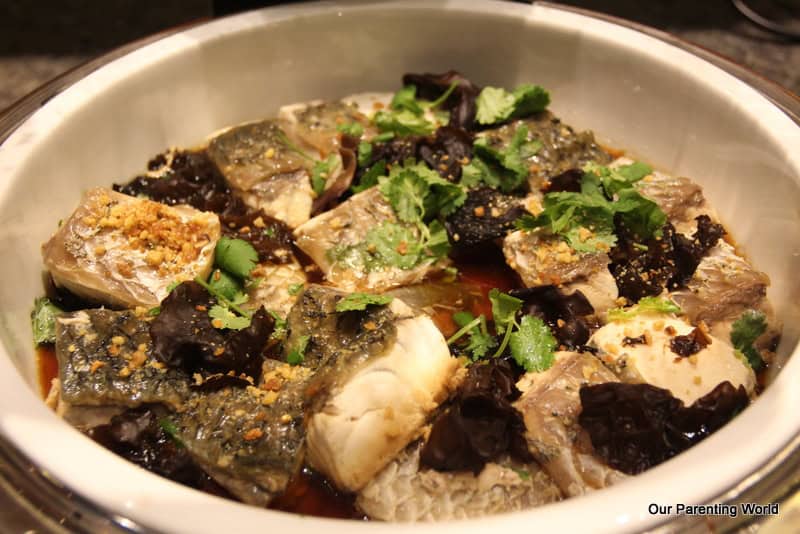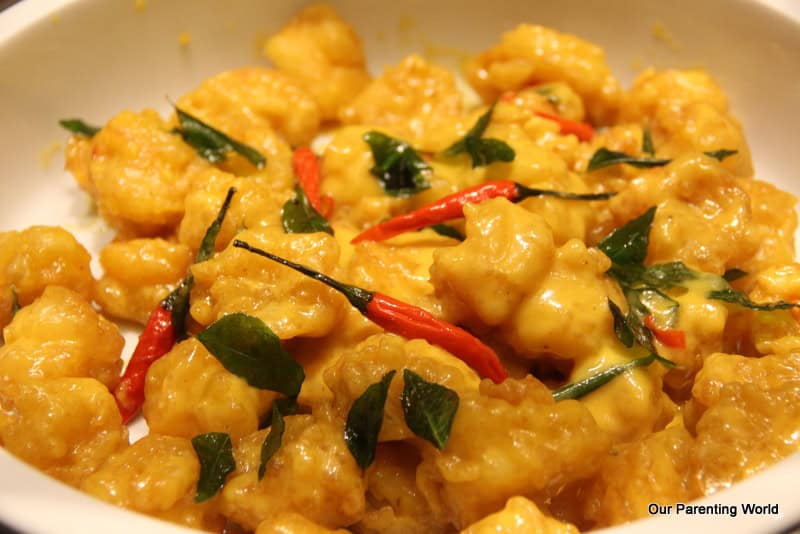 Look out for popular hot food favourites like grilled lobsters, chili crab with deep fried mantou, salted egg prawns, steamed fish in Hong Kong style and many more.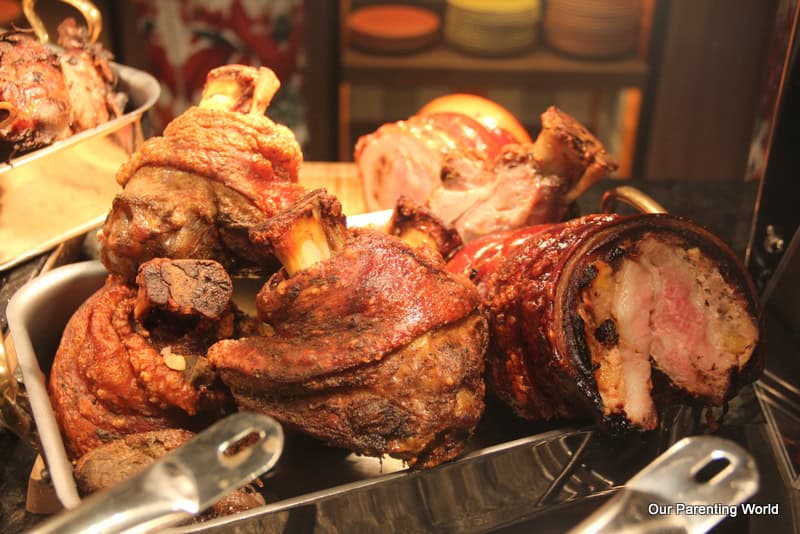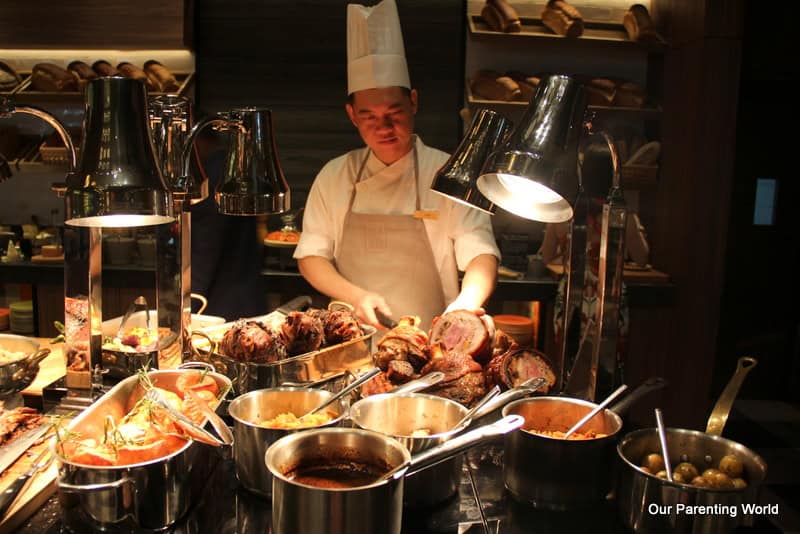 If you are a meat lover, you can satisfy your cravings with hand carved meat cuts, 5 types of smoked salmon, premium Iberico ham, and a signature Sunday Roast with all the trimmings.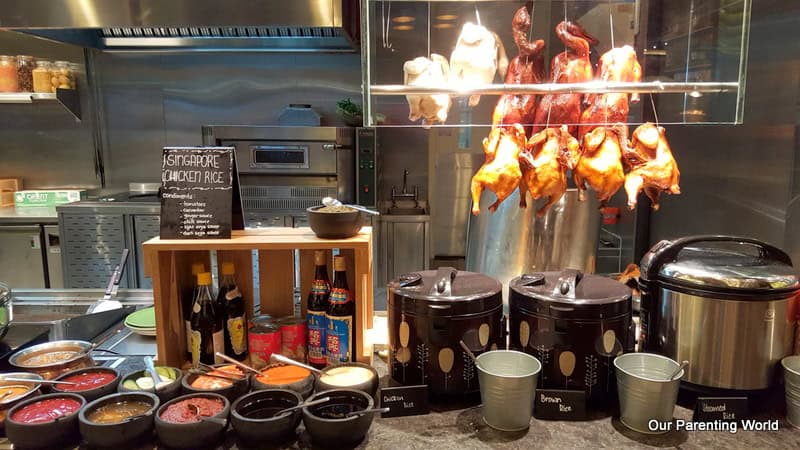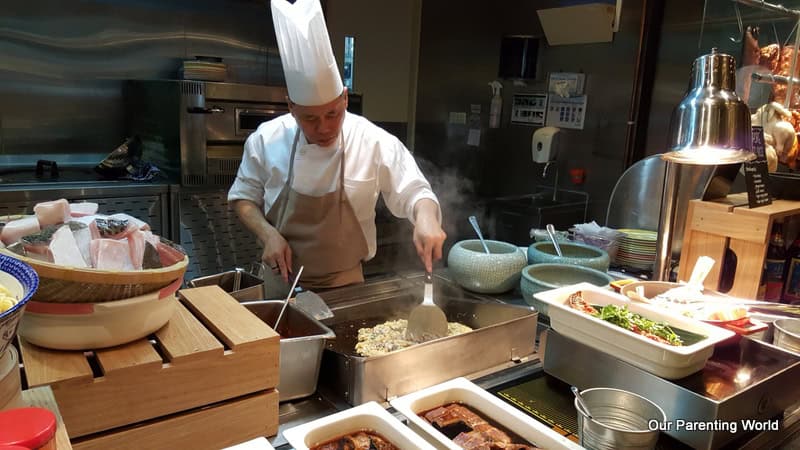 At J65 Sunday Brunch, there is a live station featuring local delights and favourites such as chicken rice, omelettes and even a noodle station.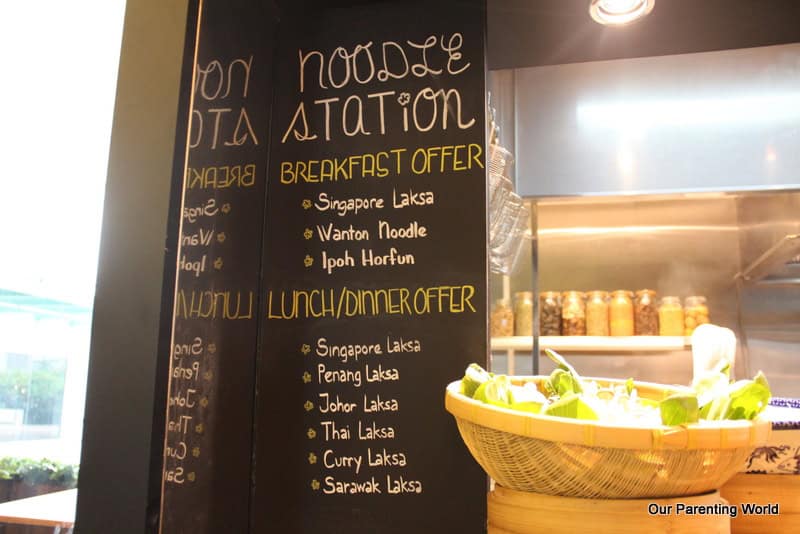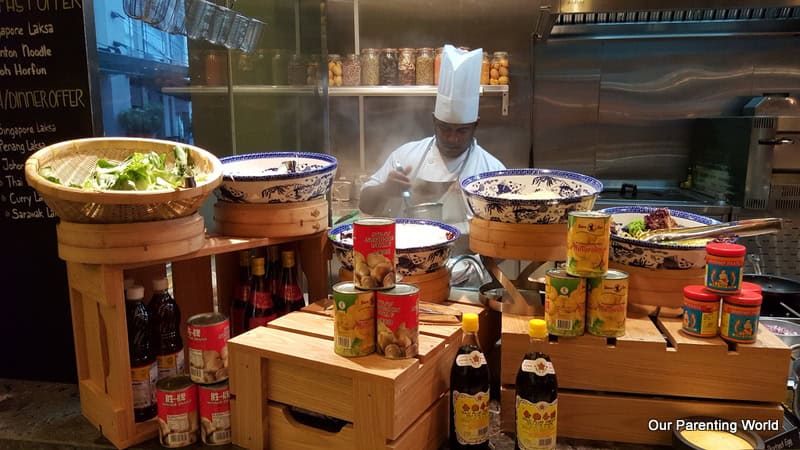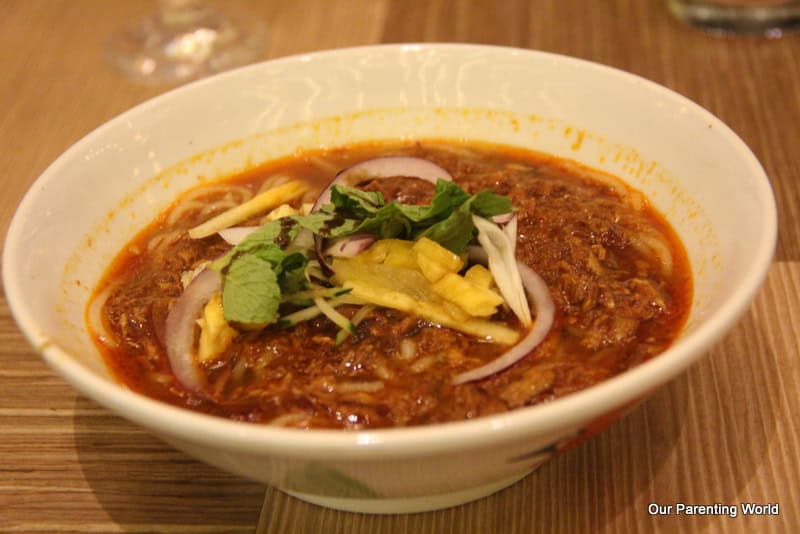 We ordered a steaming bowl of Penang Laksa at the Noodle Station. Absolutely delicious!
After a hearty meal, it won't be complete without having something sweet like desserts.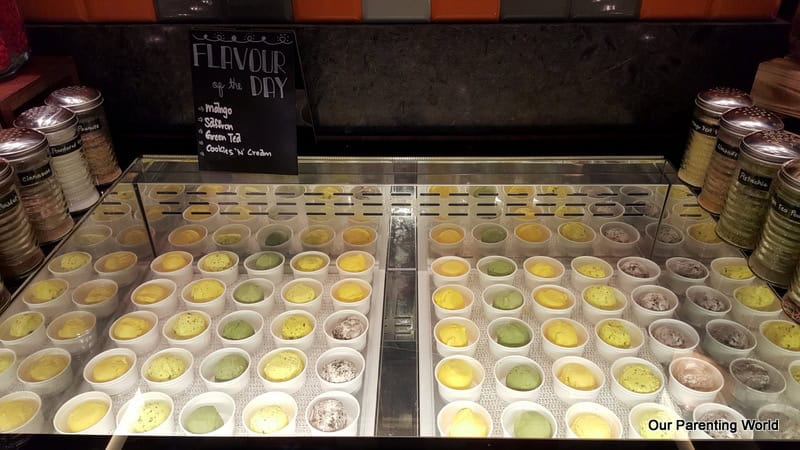 Yes! We love ice cream, there are so many flavours to choose from, Mango, Saffron, Green Tea and Cookies 'N' Cream.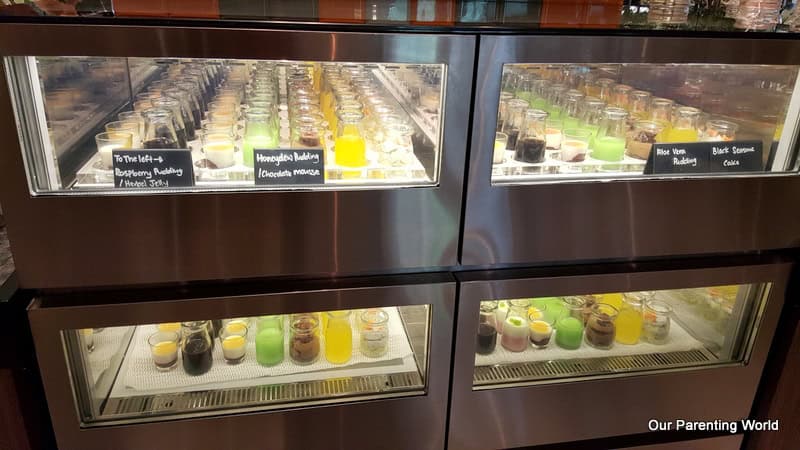 Wow, all kinds of puddings, jellies, cakes and mousses to satisfy our sweet tooth.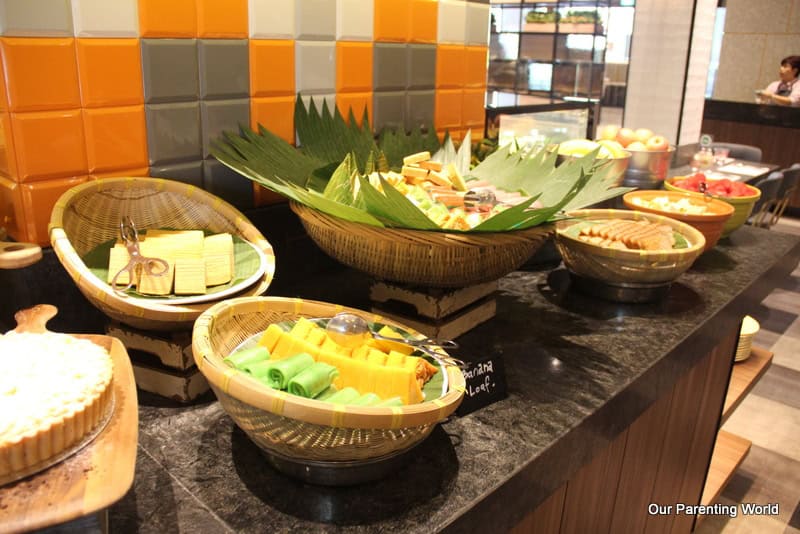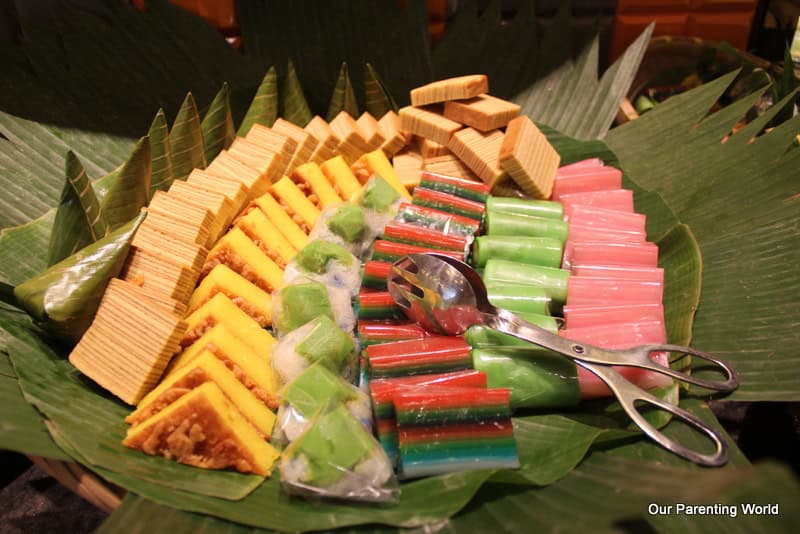 An assortment of kuehs including the colourful 9 layers kueh and Kueh Lapis which is a light, layered cake that is rich and fragrant.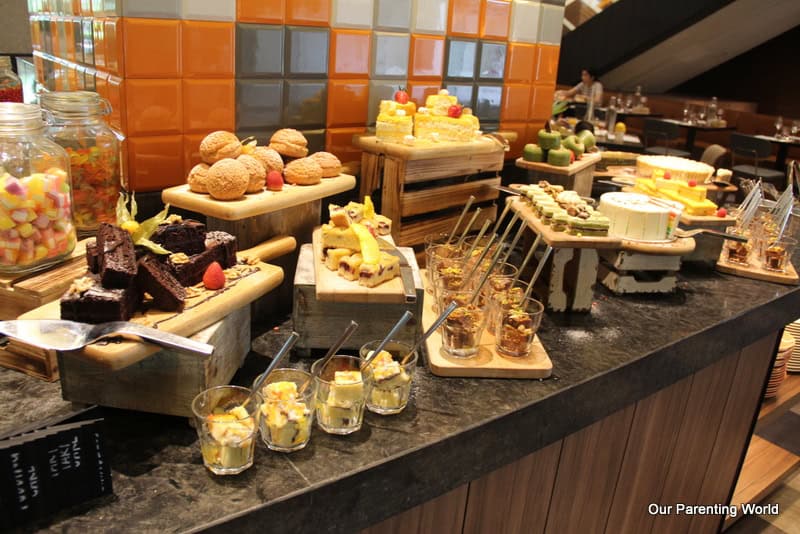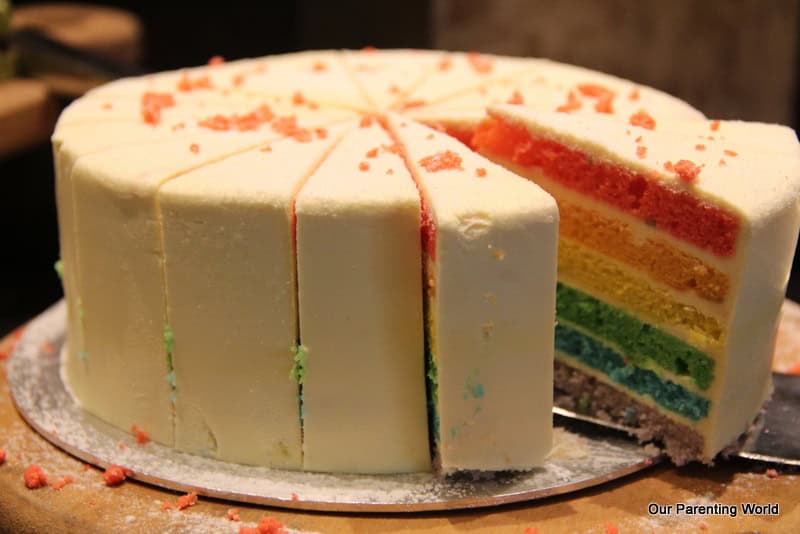 That's not all, there are still many desserts like assortment of fresh fruits, all kinds of cakes, desserts in a cup, creamy puffs and the kids love the colourful Rainbow Cake. 
Diners can enjoy live music from local busker Dreams In A Hat while enjoying their Sunday Brunch.
In keeping with the Hotel Jen philosophy of the 'little details done well', at its breakfast buffet, there is a breakfast take-away which is an option for busy diners as well as a one plate prix fixe during lunch. The introduction of NETT pricing means no unpleasant surprises on the final bill. For diners celebrating a birthday, J65 will provide a complimentary three-tier tower of delicious assorted cupcakes served with the signature birthday Dirty Milkshake.
That is so thoughtful of Hotel Jen! 
Additional Information:
J65 Sunday Brunch
Experience a feast like no other at its Sunday brunch for SGD 128 net with free-flowing Champagne, wine, beer and cocktails, or SGD 88 net without alcohol. 
Available every Sunday, from 12noon till 3pm.  
Besides the Sunday Brunch, J65 will be serving buffets for both lunch and dinner at the following days and the prices are as follows:
Lunch (Monday to Saturday): S$29 nett per person
Dinner (Sunday to Thursday): S$58 nett per person
Seafood Dinner (Friday and Saturday): S$78 nett per person 
Hotel Jen Tanglin Singapore
Lobby Level, 1A Cuscaden Road
Singapore 249716
Phone Reservations: (65) 6831 4374
Daily: 6.30am to 11pm
Reserve a table at hoteljen.com/singapore/tanglin/taste/restaurants/j65/ and get an exclusive online booking discount of 15% off the total bill.
Chinese New Year Celebrations Coming Soon 
Hotel Jen Tanglin's Ah Hoi's Signature Yu Sheng will be served at the buffet counter for the entire month of February 2016.
From 7 – 9 February 2016, a range of festive dishes will be available at its buffet lunch, which is priced at SGD 78 net. Advance reservation is recommended.
Please click HERE for more information on its Chinese New Year Celebrations and other dining options at Hotel Jen Tanglin Singapore.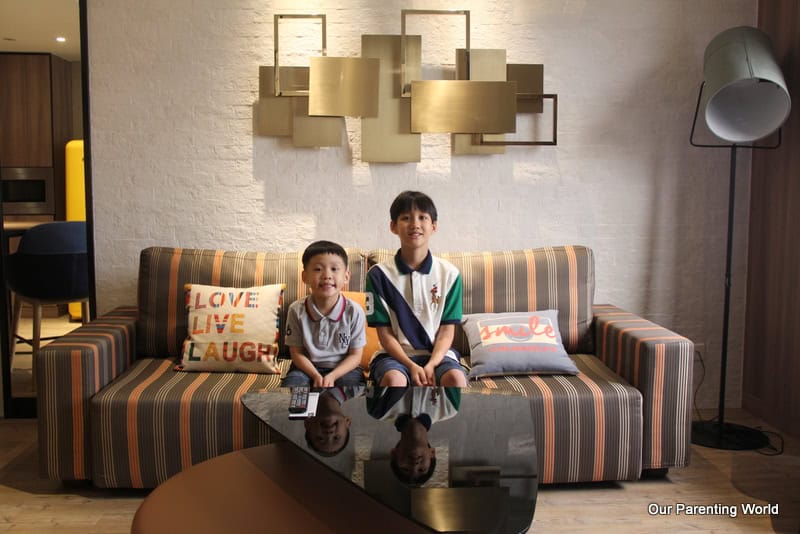 Thank you to the wonderful team at Hotel Jen Tanglin Singapore for extending the invitation to us, we absolutely enjoy our stay!
Looking for staycation, Hotel Jen Tanglin Singapore is certainly a great place to stay to unwind and enjoy quality time with your loved ones! 
Hotel Jen Tanglin Singapore
Located at 1A Cuscaden Road, Singapore 249716
Hotel Jen Tanglin Singapore is open to guests and taking bookings through the website:
Phone reservations: Tel: (65) 6831 4333
Email: [email protected]