Staycation is a good way to escape from the hustle and bustle of daily life, to relax and enjoy quality time together with your loved ones without having to travel overseas. It is an excellent option for parents and children to bond and build memorable memories together over an enjoyable staycation. Finding a good hotel for your staycation is certainly important!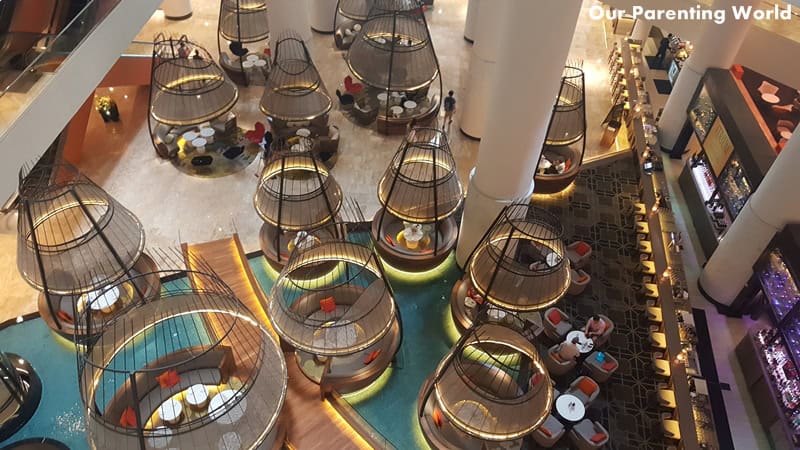 Our Parenting World team recently stayed at the Pan Pacific Singapore over the weekend and the hotel is well-known to provide world-class service and five-star luxury accommodation.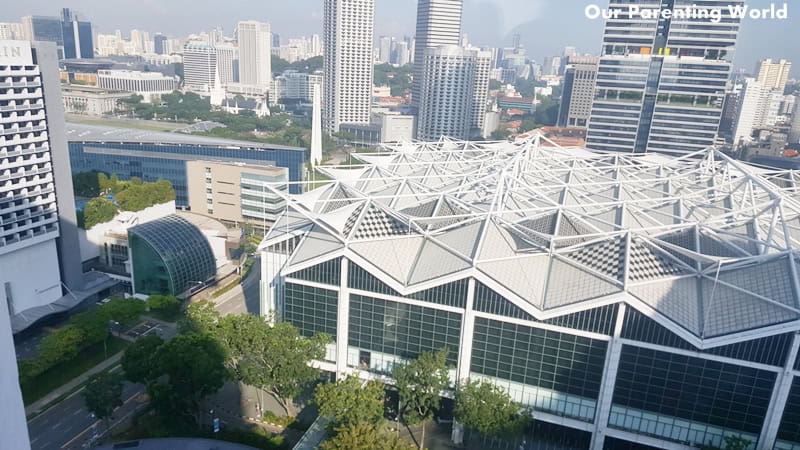 Spectacular view taken from Pan Pacific Singapore's bubble lift
Another interesting highlight of Pan Pacific Singapore is that it is the only place in Singapore with bubble lifts that go very high up in the sky. It is one of the tallest hotels in Singapore giving guest a panoramic view of Marina Bay. 
Other bubble lifts like the one at Far East Plaza can only go up to 5th floor. The kids are so excited to take the bubble lifts and look at the stunning view outside. 
The hotel is located at the heart of Singapore's business, entertainment and shopping districts with easy access to a wide array of world-class attractions like Singapore Flyer, Gardens by the Bay and more. It is connected to Marina Square Shopping Mall and a short walk away through a sheltered walkway to Suntec City to fulfill your shopping and entertainment needs. 
Hai Tien Lo – Ultimate Weekend Dim Sum Brunch Buffet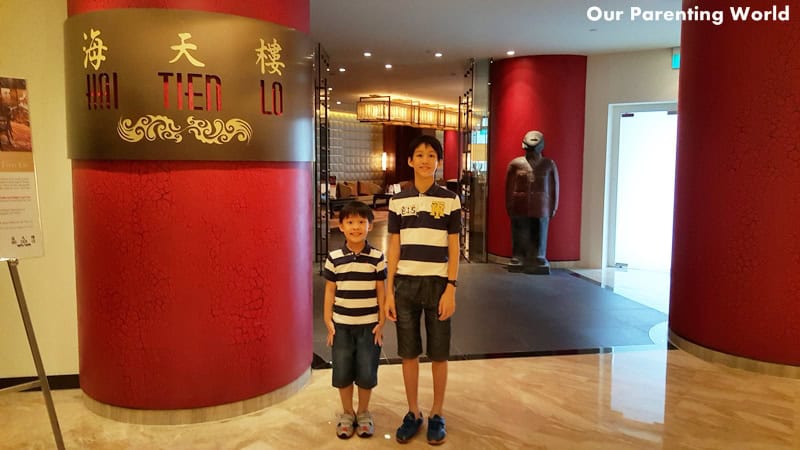 Before we go into our hotel room, we can't wait to check out the award-winning Hai Tien Lo Cantonese restaurant to fill our hungry stomachs! 
Hai Tien Lo 海天楼 means literally "Stairway to Heaven" headed by Executive Chef Lai Tong Ping. This well-known Cantonese restaurant will please diners with a wide variety of fine Cantonese cuisines from traditional to dishes with a contemporary twist.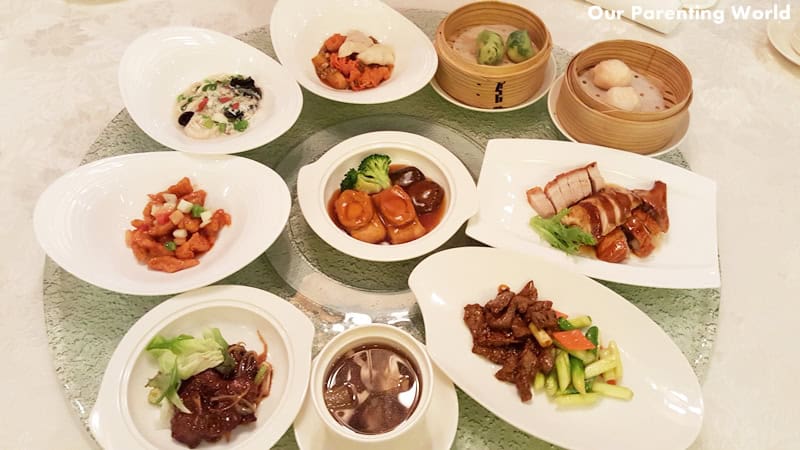 During the weekends, Hai Tien Lo offers the Ultimate Weekend Dim Sum Brunch Buffet with more than 60 dim sum creations and signature a la carte delicacies. Diners can look forward to indulge in exquisite handcrafted delights and even better, it comes with unlimited servings of bubbly and wine to pair your food with!
Our Parenting World highlights some of the delicacies that we have tried: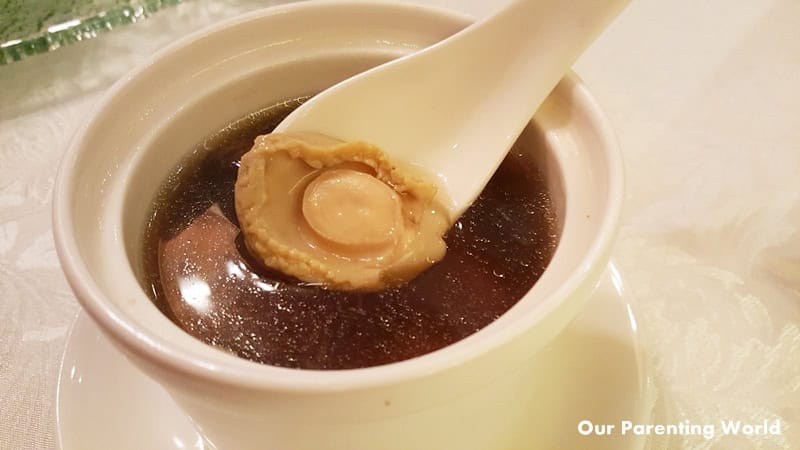 Double-boiled mini Buddha Jumps Over the Wall
This is a tasty and nourishing soup full of top grade ingredients like Abalone.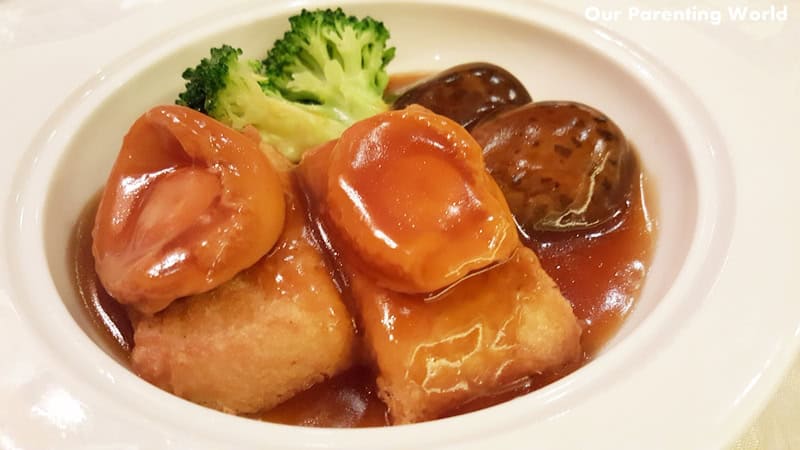 Braised Whole Abalone with Pearl Mushroom in Abalone Sauce
The abalone is very tender and well braised in flavourful sauce.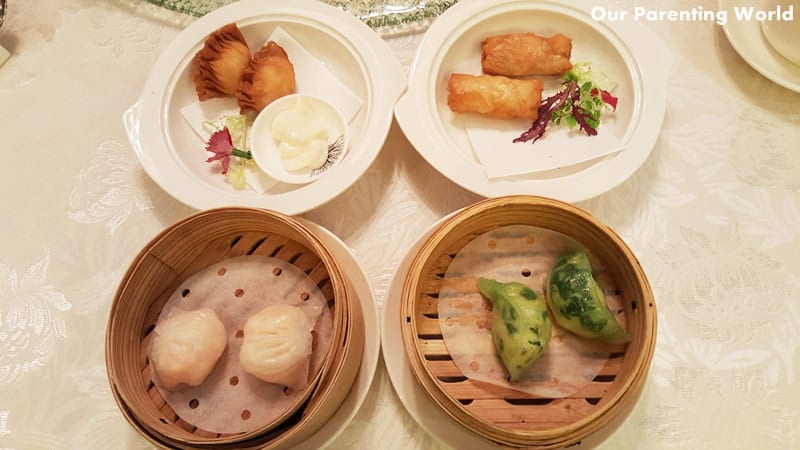 Enjoy a wide range of savoury Cantonese Dim Sum delights like steamed prawn dumplings, steamed pork and prawn dumplings with crab roe, steamed vegetarian dumplings with truffles, deep-fried beancurd skin with prawn paste and silver fish and more!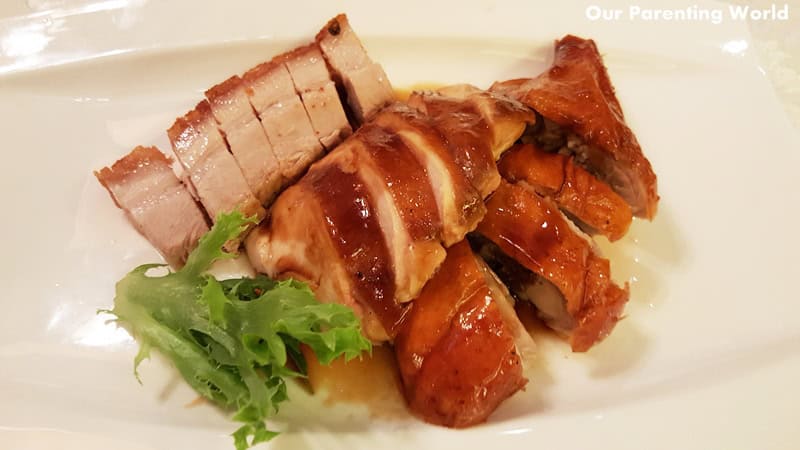 Delicious range of Assorted Barbecued Appetisers consisting of barbecued crispy pork belly, marinated soya chicken and barbecued roasted duck. There are more variety in the menu like barbecued sliced honey-glazed pork, deep-fried crispy fish skin with lemon butter sauce and more that you can choose from.
After a hearty meal, enjoy refreshing and yummy desserts Traditional Chinese Dessert, Chef's Fruit Pudding, Seasonal Fresh Fruits and Western Cakes.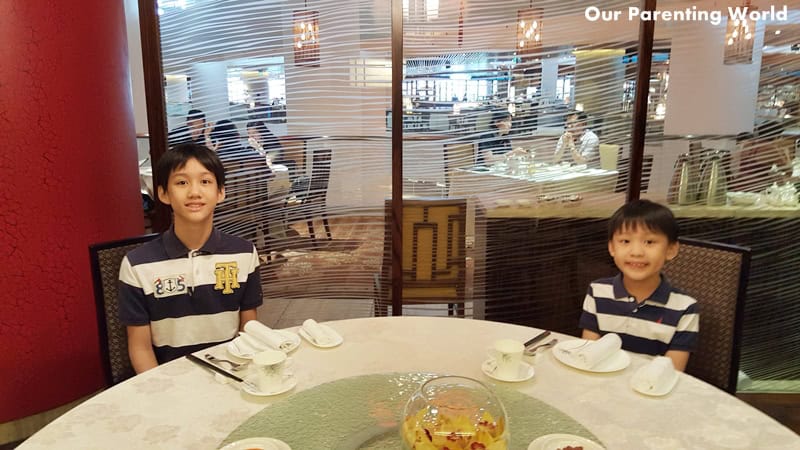 Hai Tien Lo Restaurant was previously located at the 37th floor of the Pan Pacific Singapore and in 2012, the hotel underwent a major renovation and the award winning Chinese restaurant has moved to level 3. 
If you are in the hotel during weekend, you should not miss having lunch at Hai Tien Lo. The weekend dim sum brunch is actually an ala-carte buffet where you could order as many servings as you wish for most of the items on the menu.
When we were there, the dim sum brunch was very popular with many families; many of the guests also came with their grandparents too. The service is good and prompt, the ordered dishes arrived fairly quickly. Overall we rated this as one of the best ala-carte dim sum buffet lunch that we had tried.
We simply enjoyed the delicious food at Hai Tien Lo, besides the food, diners can enjoy great ambience and impeccable service! 
Weekend Dim Sum Brunch Buffet
Date: Saturdays and Sundays
Time: 11:30am to 2:30pm
Prices:
SGD128 per adult, includes unlimited Laurent-Perrier Champagne, house wines, beers, juices and soft drinks
SGD98 per adult, includes unlimited house wines, beers, juices and soft drinks
SGD68 per adult, SGD38 per child (six to 11 years old)
Click here to view the Weekend Dim Sum Brunch menu.
Hai Tien Lo 海天楼
Pan Pacific Singapore
7 Raffles Boulevard, Level 3, Singapore 039595
Tel: +65 6826 8240
Staycation at Pan Pacific Singapore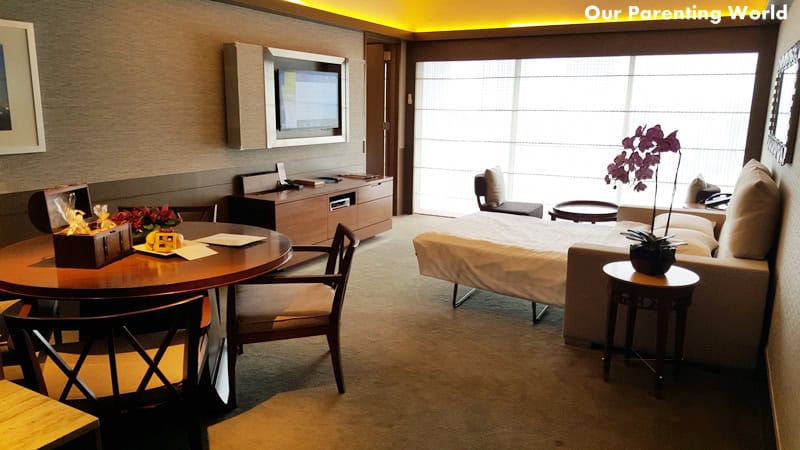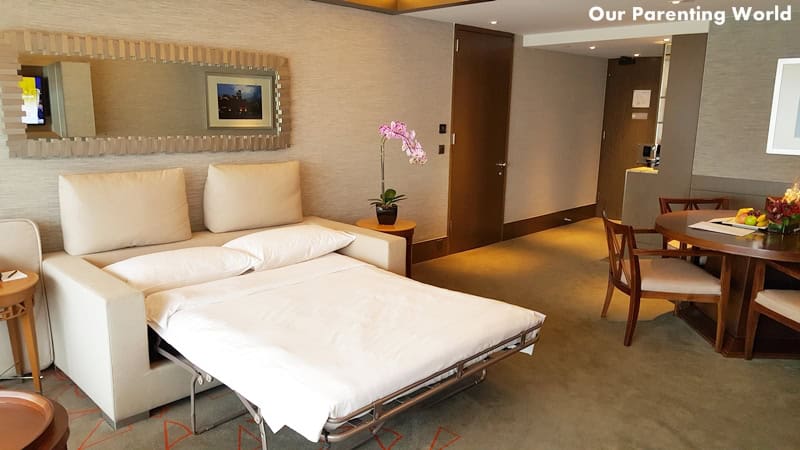 Our team checked into the Skyline suite located at the 24th floor of the hotel. The suite is so spacious at 79sqm (850sq-ft), more than enough space for 2 active boys to run around and have fun! It comes with complimentary wired and wireless Internet.
Guests can unwind and enjoy a stunning city view from the room.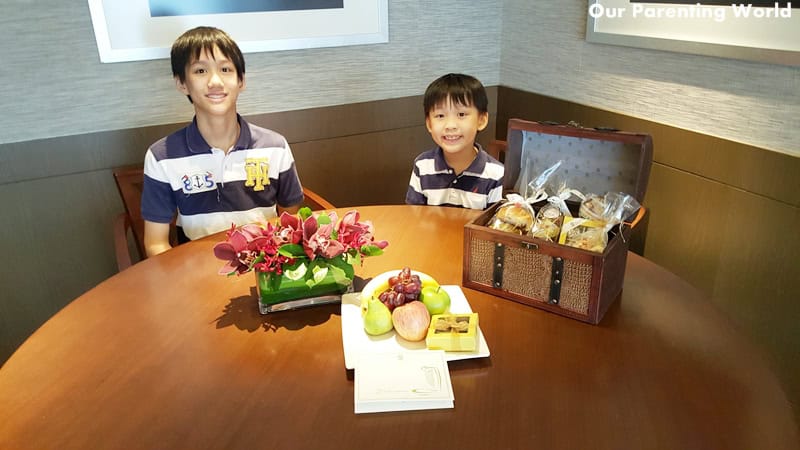 Upon entering the room, we are surprised with a nice box of Easter goodies, a welcome box of pralines, fresh fruit plate and thank you card all thoughtfully prepared by the hotel.
How nice and thoughtful of Pan Pacific Singapore! We feel so welcome 🙂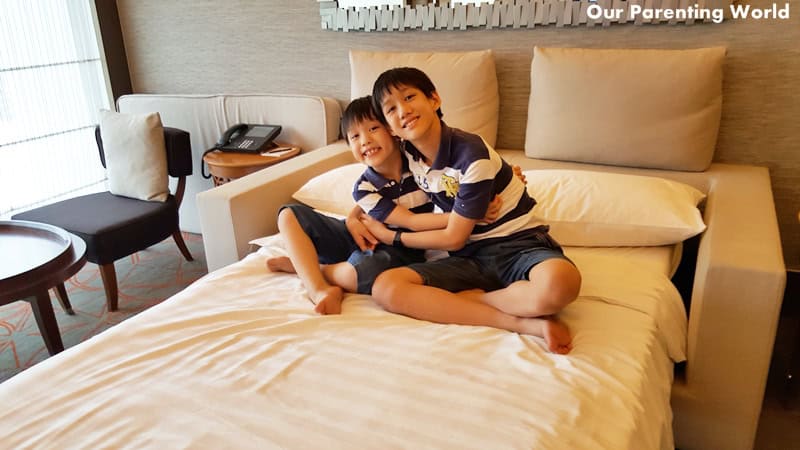 We absolutely love the room, it is bright, cosy and very comfortable!
The suite is huge consisting of living area that is big enough to put extra beds, a bedroom with a king-sized bed and a modern ensuite bathroom.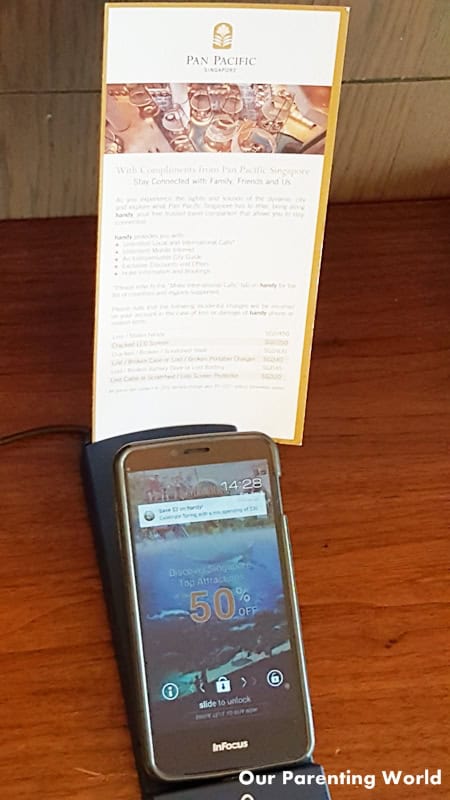 Guests of Skyline Suites can enjoy complimentary use of handy phone with unlimited mobile Internet and International calls to 15 countries, smart desk telephone and including complimentary local calls in the room.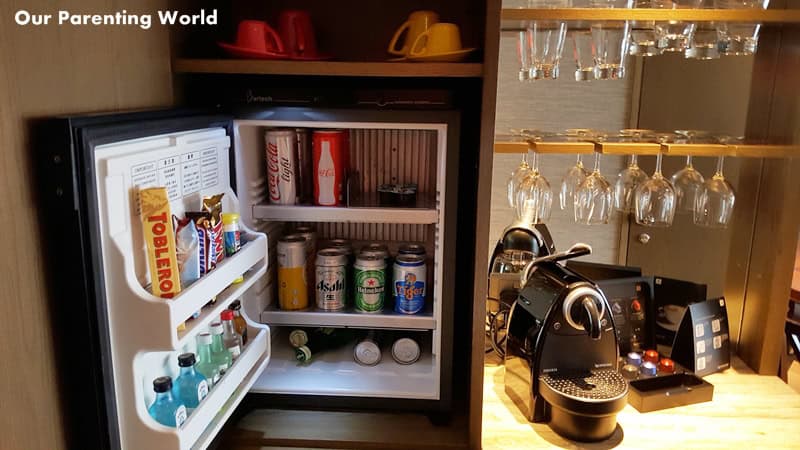 The room comes with a fully-stocked e-fridge, Nespresso coffee machine and Tea making facilities.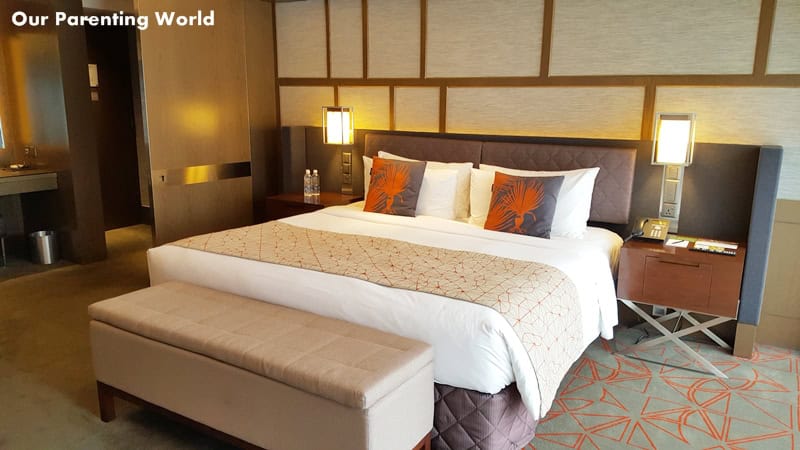 We moved on to the bedroom which features a luxurious king-sized bed, the hotel room comes with two 37" LCD Smart television with a wide selection of in-room entertainment including local and cable channels. Enjoy DVD player with Bose surround-sound system and integrated bathroom speakers.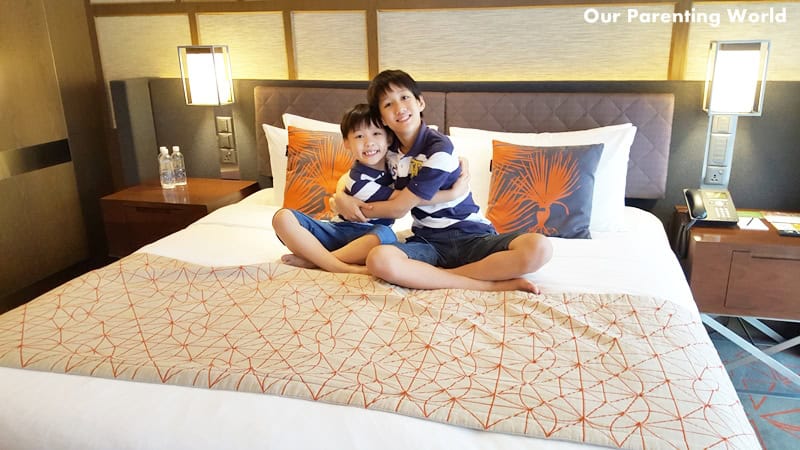 Having a good rest and quality sleep are very important, look at this luxurious King-sized bed, you will surely feel more energised after having a good sleep on it.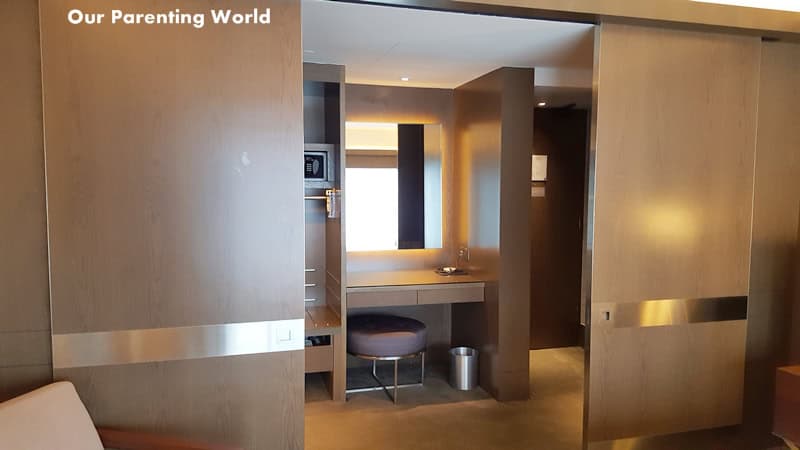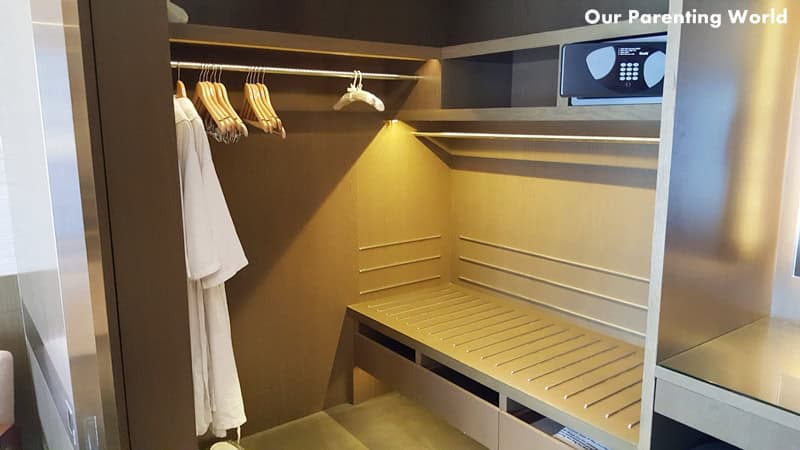 Mummies and ladies will be pleased to see there is a spacious wardrobe space to put your clothes and luggage. In-room safe is available for you to put your precious belongings, iron and ironing board are included at the same area. 
There is also a large dressing table besides it for ladies to put on their make up.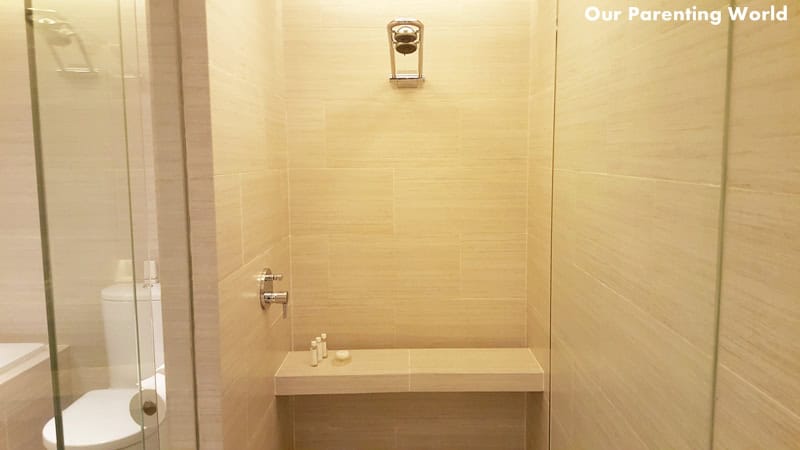 The stylish and modern en suite elegant marble bathroom comes with Kaldewei bathtub and with premium Hansgrohe fittings and indulgent rain shower.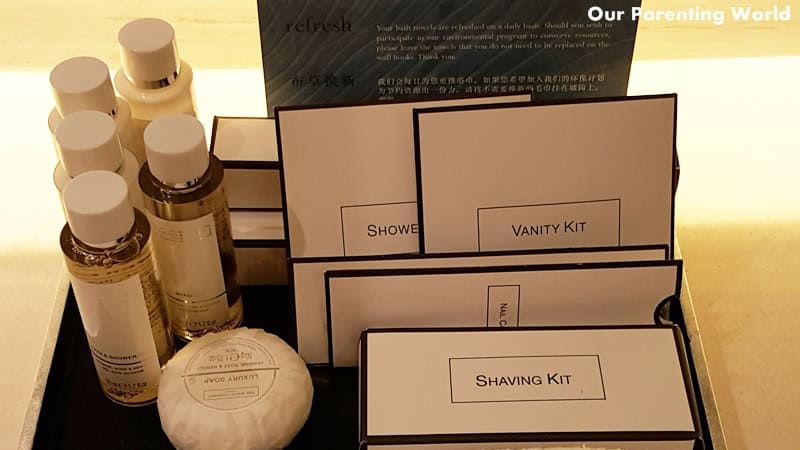 We are certainly impressed with the luxurious and beautiful marble bathroom! Enjoy your bath with high quality toiletries set that are set to address your needs and pamper you.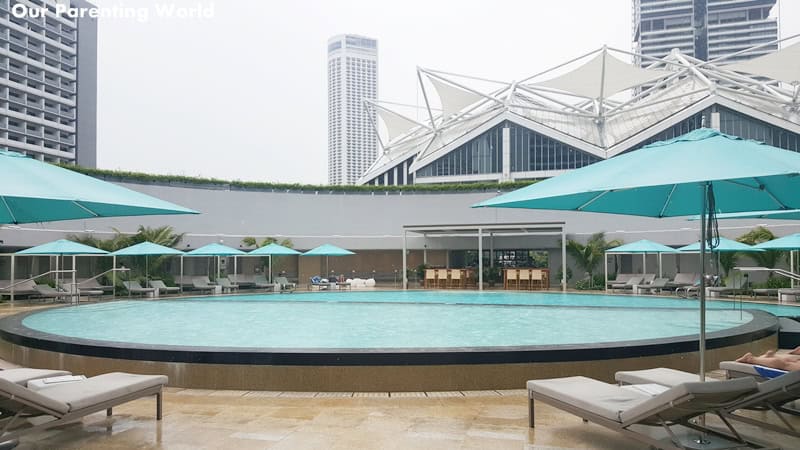 Swimming pool during the day
We can't wait to check out Pan Pacific's newly renovated swimming pools featuring 2 large semi-circular pools surrounded with inviting cabanas and sun loungers amidst lush greenery in a perfect tropical surroundings.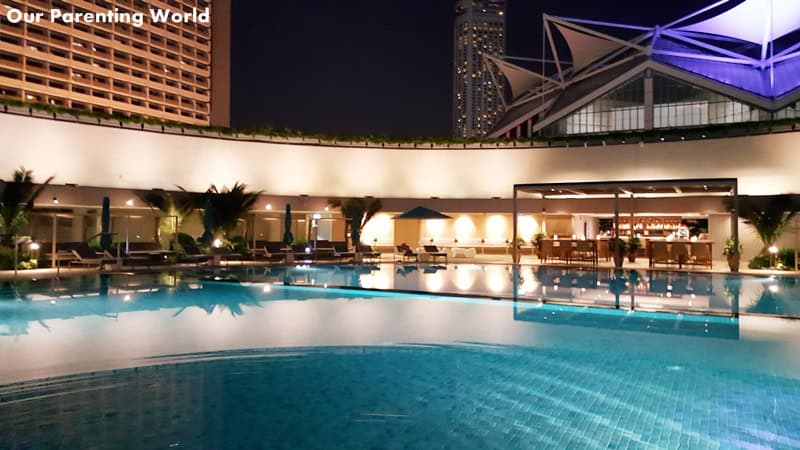 Swimming pool during the night
The night view at the pool is just as mesmerizing coupled with gentle night breeze.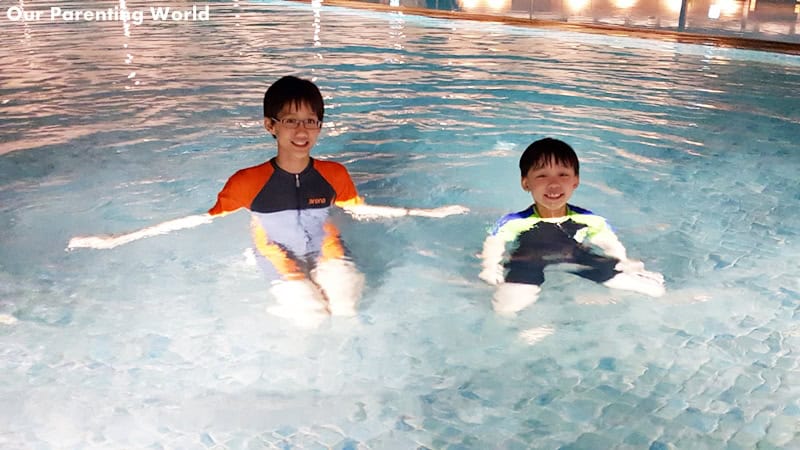 We have a great time swimming at the newly renovated pool! 
Pan Pacific Swimming Pool
Location: Level Four
Opening Hours: 6:00am to 10:00pm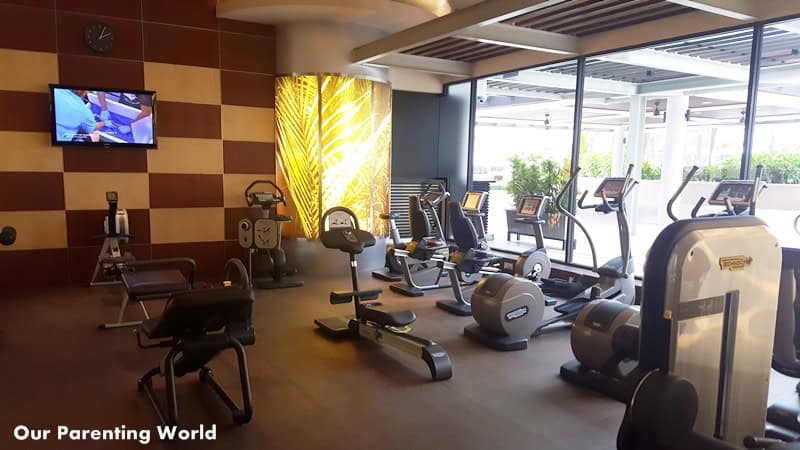 Exercise at the 24 hours Fitness and Recreation featuring state-of-the-art fitness centre. Steam rooms and tennis courts are also available for your enjoyment.
Fitness and Recreation
Location: Level Four
Opening Hours: Fitness Centre – 24 hours
Tennis Courts:  7:00am to 10:00pm
Telephone: +65 6336 8111
In addition, you can take a break, relax and indulge in revitalising spa which also offers authentic traditional Chinese therapies at St. Gregory.
St. Gregory
Location: Level Four
Opening Hours: 10:00am to 10:00pm
Telephone: +65 6826 8140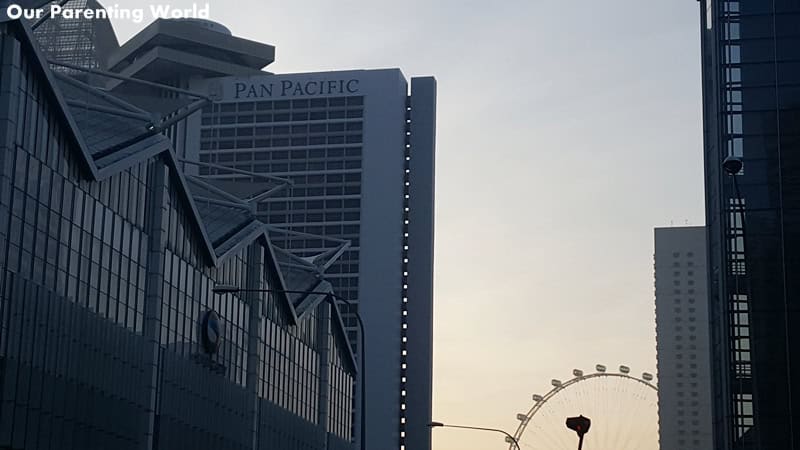 Rise and Shine! After a good night sleep, it is time for breakfast at Pan Pacific. 
Edge – Intercontinental Breakfast Buffet Spread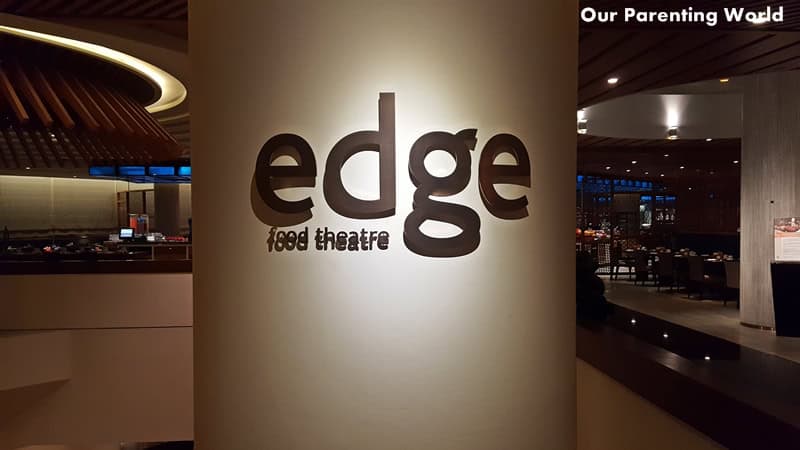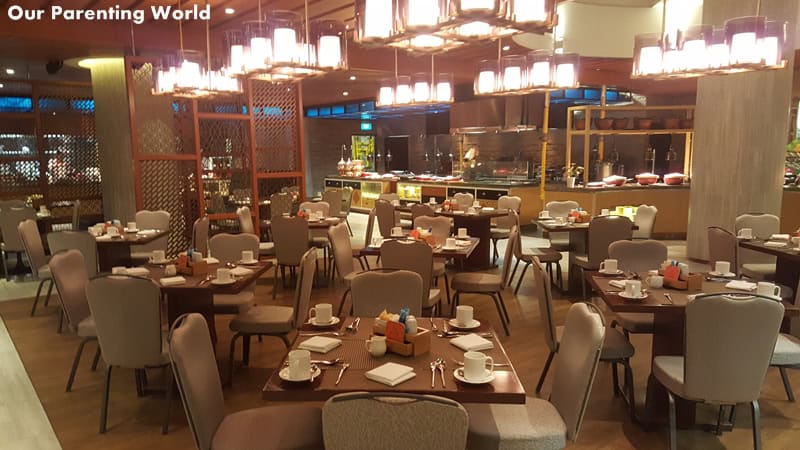 In the morning, we visited Edge located at Level Three for our breakfast. We are greeted warmly by the cheerful staff at the entrance. Once we are seated, it was an eye opener to see such a grand display of Intercontinental breakfast buffet spread.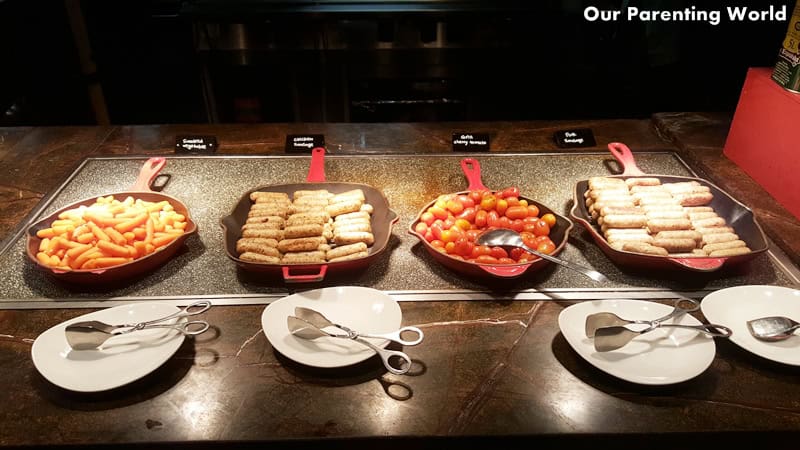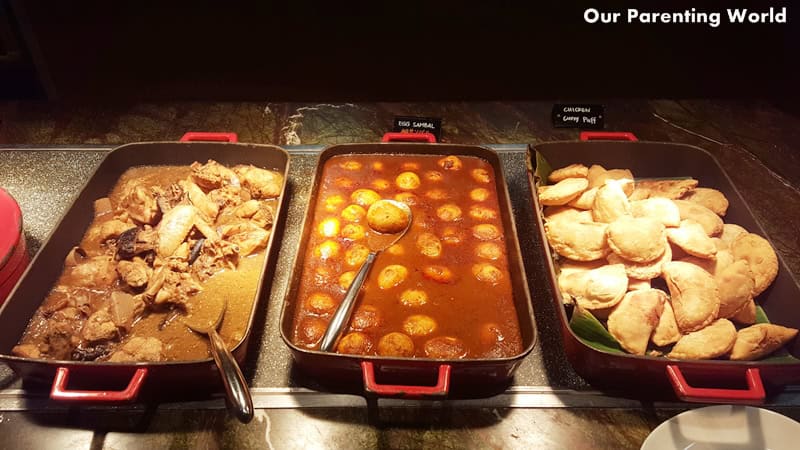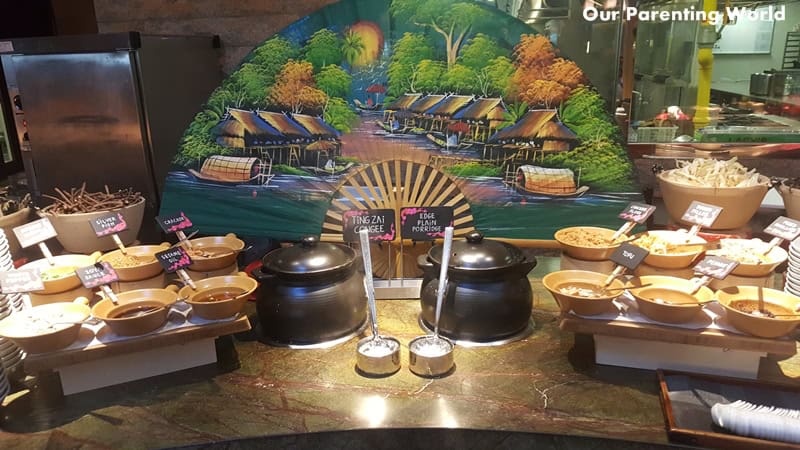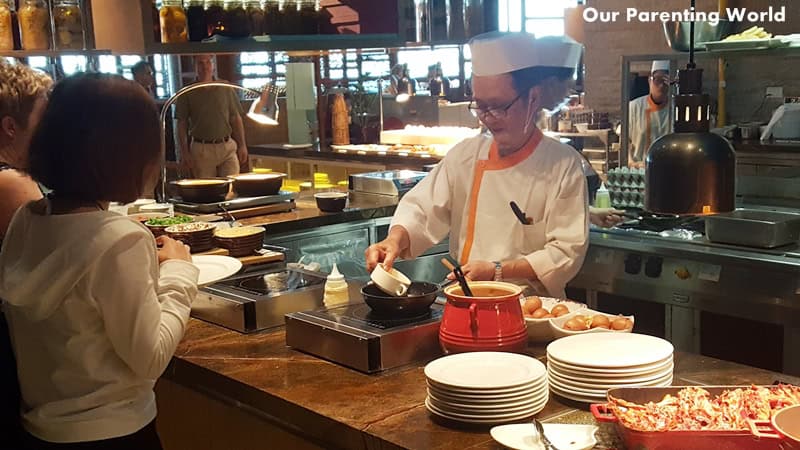 At the Edge, diners will be treated to a sumptuous spread of international cuisines from seven open kitchens featuring Singaporean, Chinese, Malay, Indian, Japanese and Pan Pacific's signature "Pacific Cuisine". There are so many to choose from!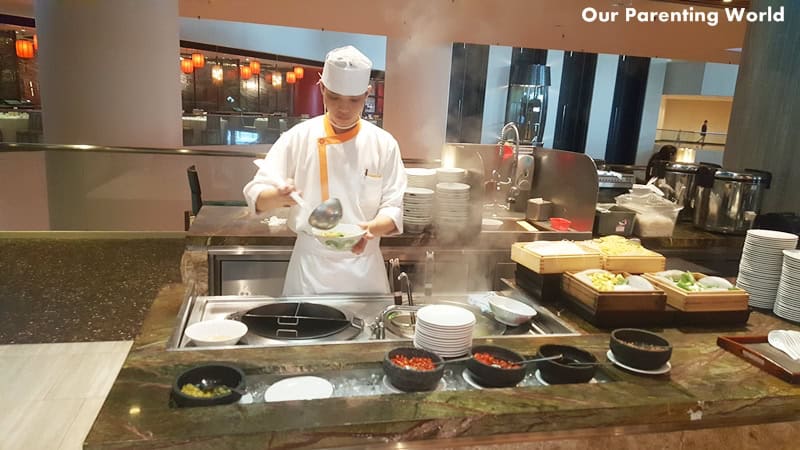 Enjoy a bowl of comforting and delicious noodles at one of the open kitchens where your noodles will be cooked fresh on spot.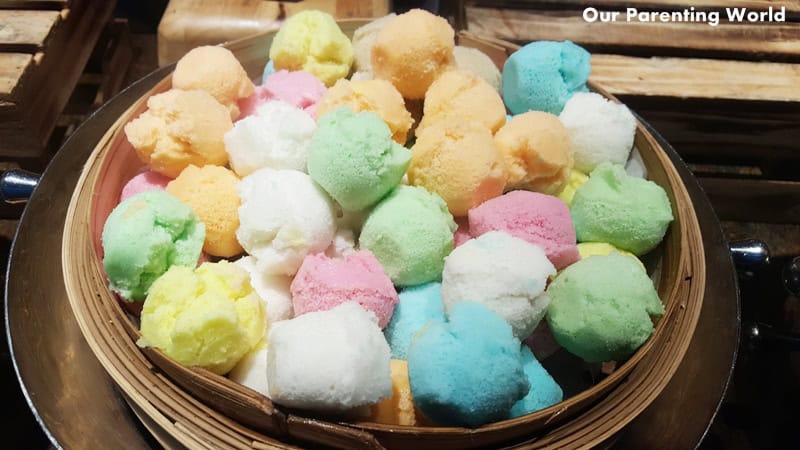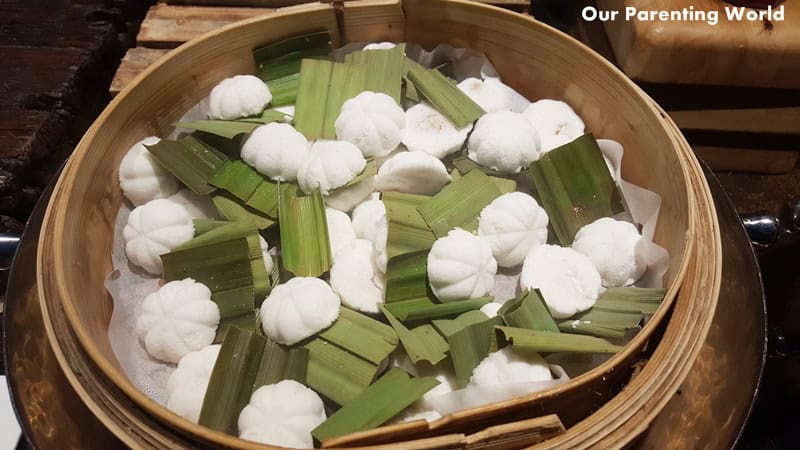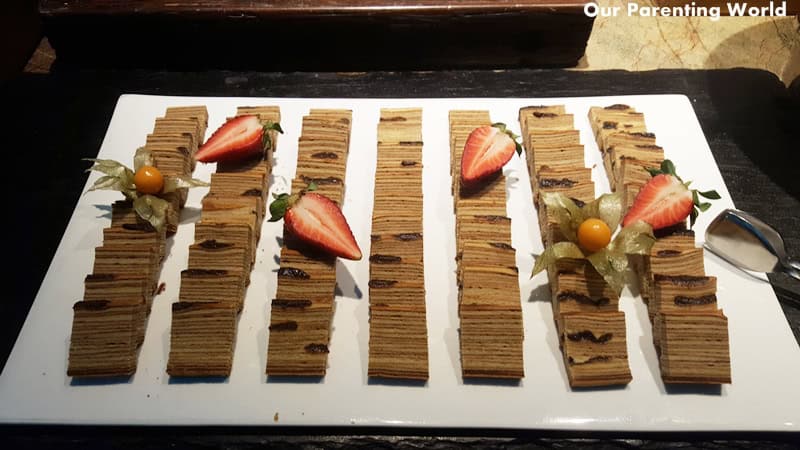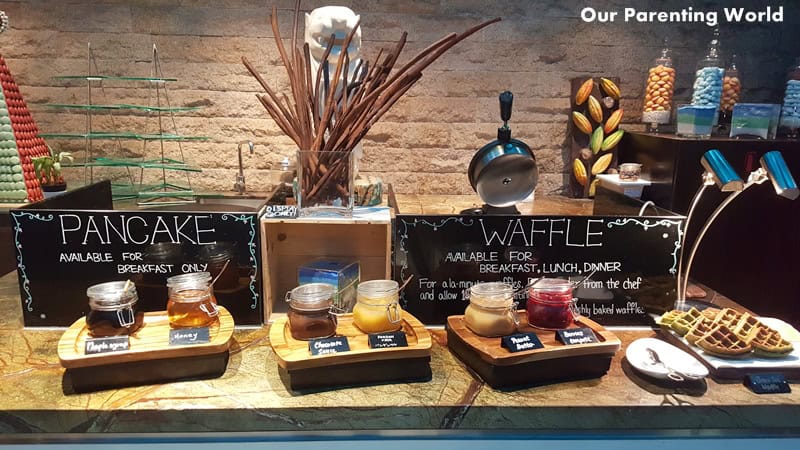 The Edge has such a huge selection of savoury and sweets desserts from local favourites like colourful assortments of Waku Kueh, Tutu Kueh, Kueh Lapis to Western delights and more to satisfy you. 
Visit Edge to enjoy good food and it offers a theatrical and interactive dining experience that will put you on a culinary tour of Singapore from the region and the Pacific Rim that is set to thrill your visual and taste buds.
Edge
Location: Level Three
Opening Hours:
Breakfast (daily) – 6:00am to 10:30am
Lunch (Monday to Saturday) – 12:00pm to 2:30pm
Sunday Champagne Brunch – 12:00pm to 4:00pm
Dinner – 6:30pm to 10:30pm
Telephone: +65 6826 8240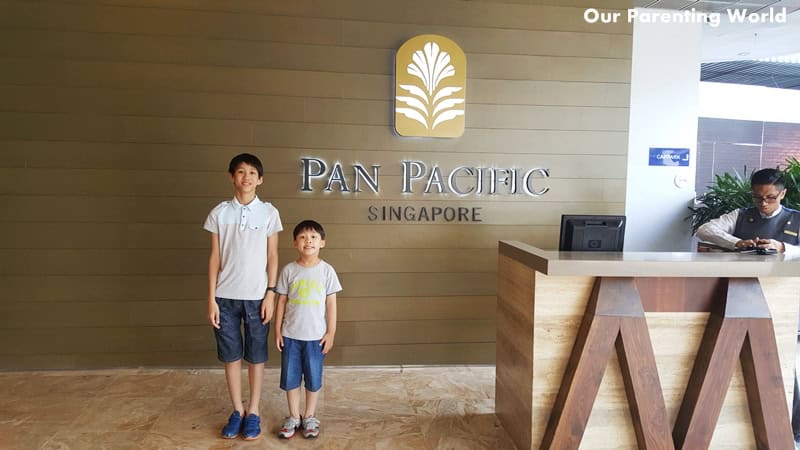 As a premier 5 star hotel located at the competitive Marina Bay area of downtown Singapore, with facilities like the newly-renovated swimming pool, spa, gym and award winning restaurants are impressive and cater for both families and business travellers. The morning breakfast buffet served at Edge restaurant at the 3rd floor of the hotel is also one of the most extensive hotel breakfast buffets that we have ever sampled.
It has been a truly relaxing family staycation experience at Pan Pacific Singapore. This hotel is certainly the flagship of the whole Pan Pacific Group of hotels in Singapore.
Our Parenting World five reasons why the Pan Pacific Singapore is the luxury weekend staycation choice for your family:
The hotel has several award winning  and other restaurants to cater for diners with different needs like Hai Tien Lo which serves popular Cantonese cuisines, Edge for international buffet, Rang Mahal for fine North Indian cuisine, Keyaki for exquisite Japanese meals and Pacific Market Place for sandwiches, salads, coffee and pastries.

The bubble lifts going up to your room is an amazing experience one should not missed, the view is simply stunning!

The hotel is conveniently located and connected to Marina Square, Suntec City shopping malls as well as Millenia Walk.

The Skyline suites we stayed in is one of the largest and luxurious hotel suites we have ever experienced in Singapore, at almost 80sqm, bigger than some of the condos in Singapore. The beautiful hotel room will make your stay a memorable one.

The high and beautiful atrium at the hotel makes the indoor view feel like living in a calm oasis.
We thoroughly enjoyed our stay at Pan Pacific Singapore and are impressed with its beautiful room, delicious meal at its award winning restaurants and impeccable services! Pan Pacific Singapore is certainly the hotel for families who wish to have a relaxing staycation and a good way to spend time together in this grand and luxurious 5 star hotel! 
Stay at Pan Pacific Singapore and enjoy its Urban Retreat Staycation package! To find out more and to book your staycation at Pan Pacific Singapore, please go to: https://www.panpacific.com/en/hotels-resorts/singapore/marina/stay/offers/urban-retreat-staycation.html
Pan Pacific Singapore
Address:
7 Raffles Boulevard,
Marina Square
Singapore 039595
Tel: +65 6336 8111
Toll-Free: 3071 3079
Email: [email protected]
To find out more about Pan Pacific Singapore, please click HERE