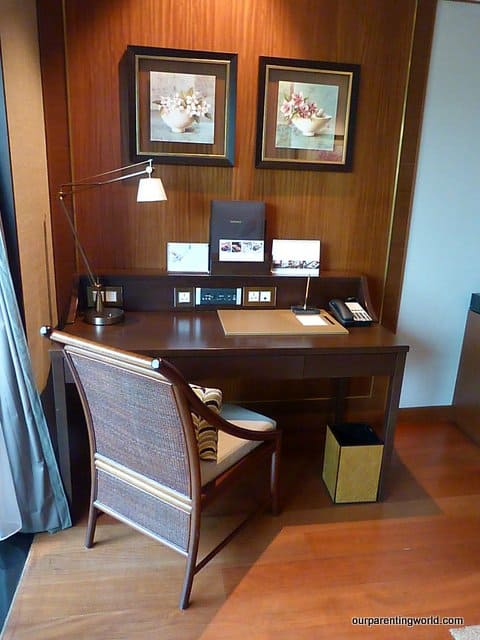 Shangri-La Hotel, Garden Wing Suite has the same welcoming homely, nature inspired theme as the connecting room that Gor Gor and Di Di were staying. There is a nice study table for Daddy to do his work.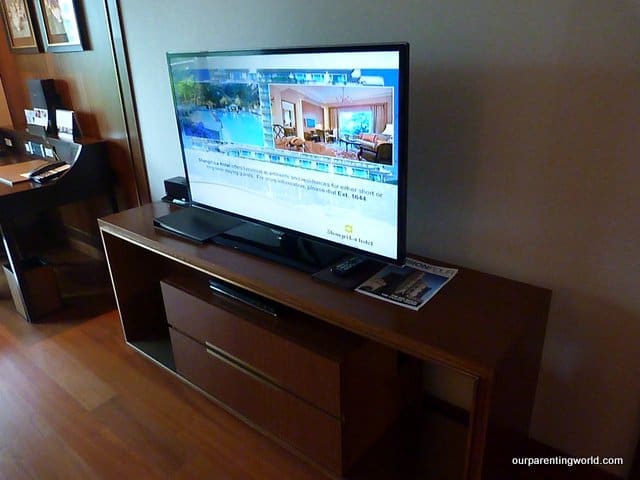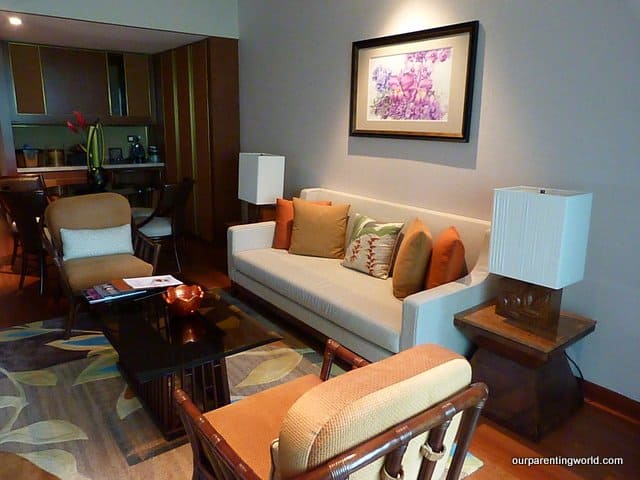 Spacious and comfortable living room for the whole family to watch television and or spend time together.
Each of the rooms has a private balcony with two arm chairs and a coffee table overlooking either the city or Shangri-La's famed swimming pool.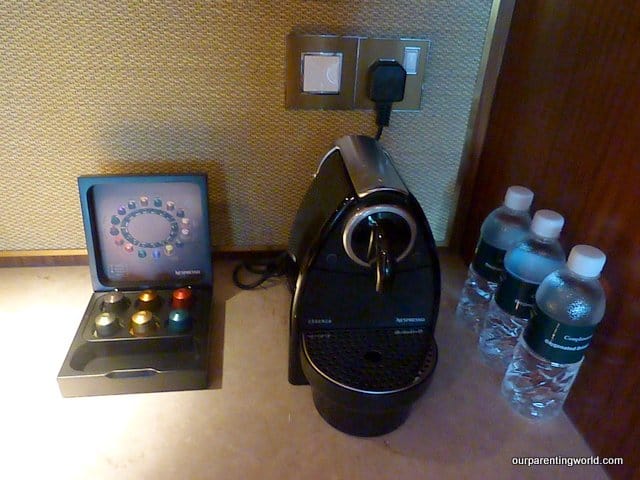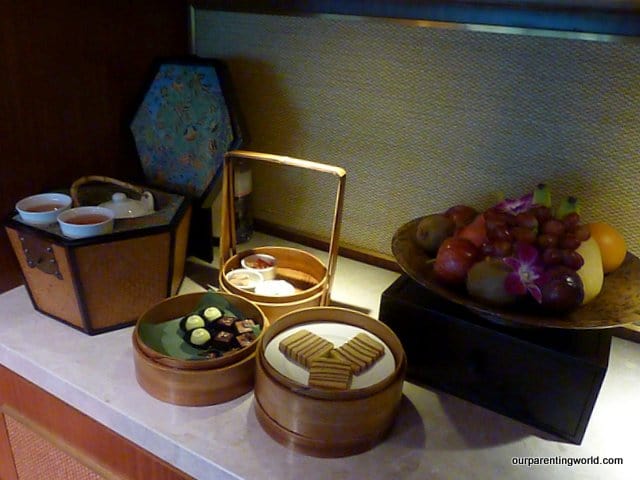 Shangri-La Hotel never fails to impress their guests, how thoughtful of them to provide warm Chinese tea, treats, fresh fruits and wide choices of coffee to welcome us when we stepped into our suite.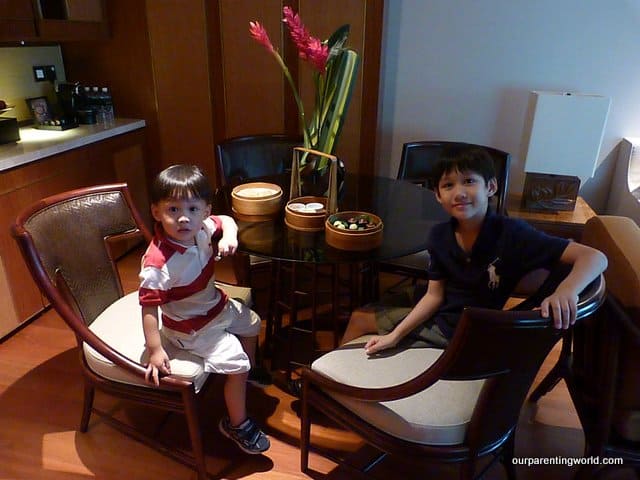 We were enjoying the pastries, sweets and chocolates at the cosy dining area.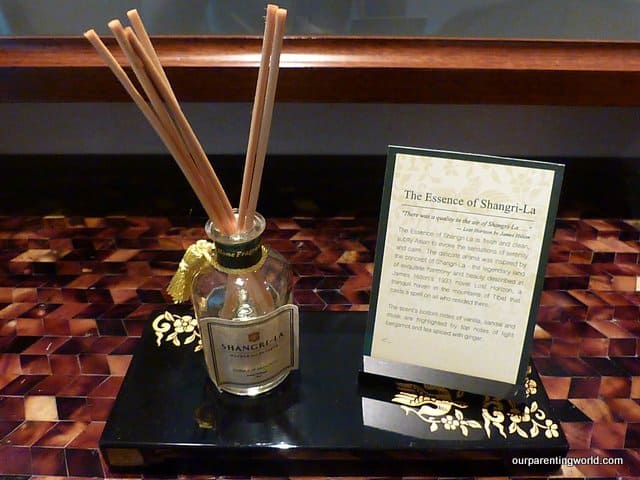 The soft, plushy and comfortable king size bedroom comes with a large television. It has an elegant big dressing table for Mummy especially ladies will love it. Special touch is added to the room with the essence of Shangri-La. It is ginger and bergamot infused room fragrance that smells heavenly.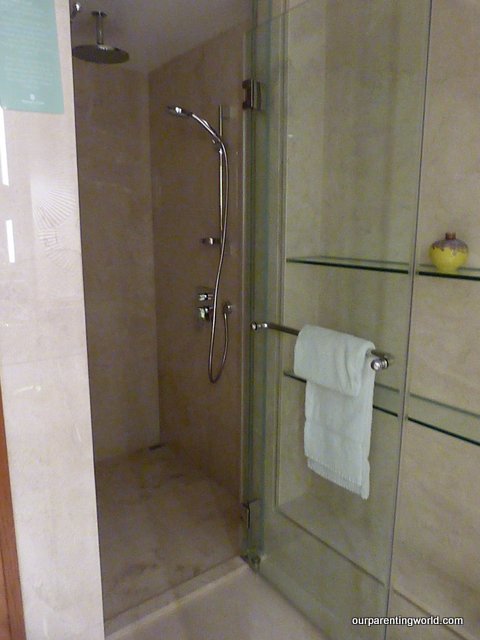 The beautiful and spacious marble-clad bathroom comes with double sinks, bath tub and glass enclosed shower. How thoughtful to the guests especially parents would need some pampering and take some time off to unwind and relax.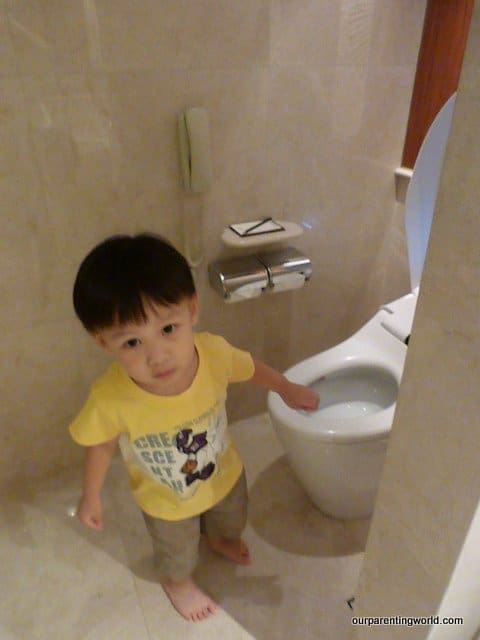 Di Di: "You must be wondering why am I standing in front of a toilet bowl? This is another special and thoughtful feature in the bathroom. A state of the art toilet bowl."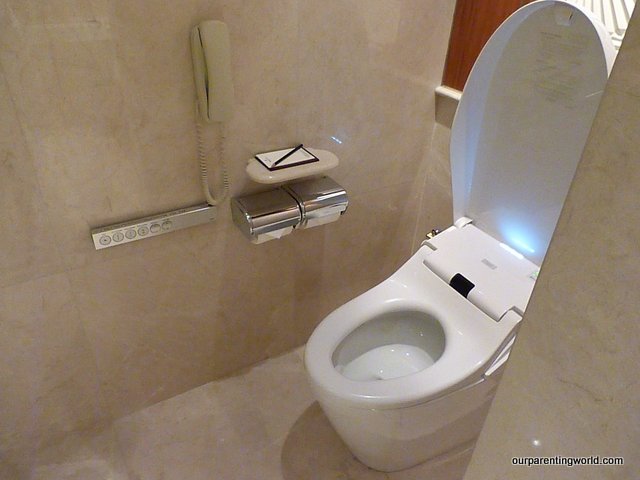 It is fully automatic and Di Di being a Transformers fan called it a "Transformers Toilet"! When you go near the toilet bowl, the lid will automatically lift up and close when no one is using it.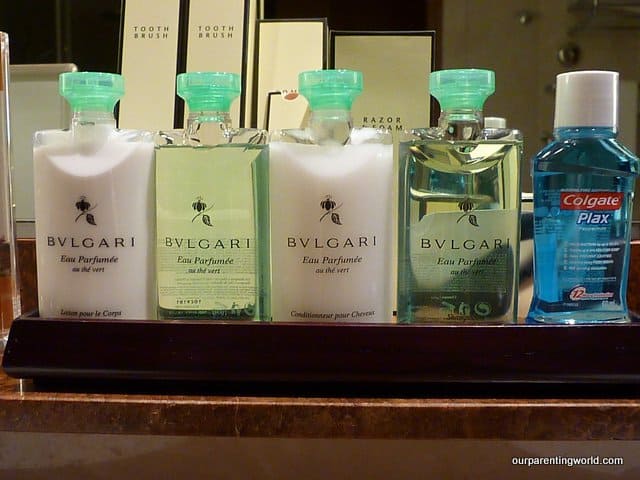 The toiletries in the bathroom are mostly from Bvlgari to pamper their guests. How nice!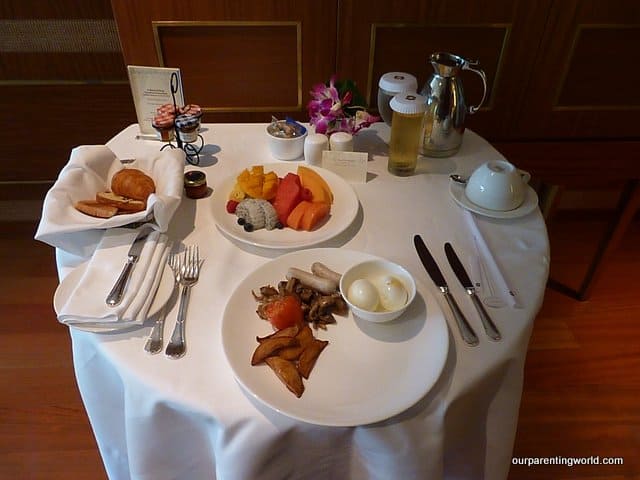 We love the rooms so much that we stayed in it most of the time, we decided to order room services which was promptly delivered and beautifully set up.
Shangri-La Hotel treated their little guests very well, the children get to receive their welcome gifts.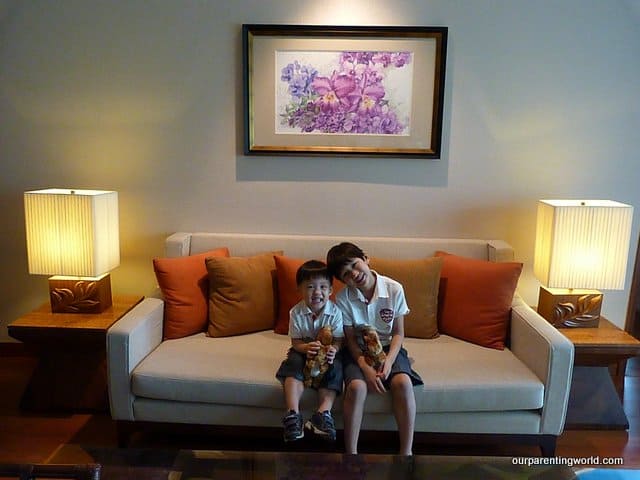 Here we would like to thank the kind and lovely organisers and dedicated staff of Shangri-La Hotel for inviting us to stay at the newly furnished Garden Wing. Their services were professional and excellent! The room services meals were paid for by my parents to complete our experiences of our stay with Shangri-La Hotel. That's not all, we were treated to Sunday brunch at The Waterfall. Please click here to read our review of the restaurant. 
More about Shangri-La Hotel Garden Wing, guests may proceed directly to the Garden Wing reception for personalised check-in. The reception is open between 07:00 hrs and 23:00 hrs. All rooms come with complimentary in-room wired Internet and Wi-Fi access. The hotel also offers Singapore's first CHI, which the spa provides its guests with "Sense of Place" experiences. It is a full body massage known as The Singapore Wave that is unique to Shangri-La Hotel, Singapore. Please click here for more information.
Goodnews! Thinking of what to do during the coming school holidays, how about going to Shangri-La Hotel for staycation. The hotel is offering "The Urban Adventure" package till 31 December 2013. You and your family can enjoy the best of both worlds at Shangri-La Hotel. Indulge in luxurious comfort amidst 15 acres of lush tropical gardens and also indulge in the themed attractions of Universal Studios Singapore™! Please click this LINK for more information of Shangri-La Hotel and "The Urban Adventure" package.