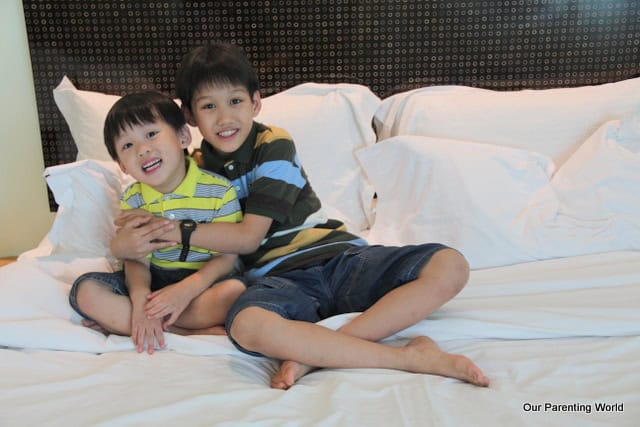 "Yay! We are at Village Hotel Changi, read on to check out this family friendly hotel." 
Staycation is getting very popular among Singaporean families in recent years. It combines the best of both worlds, the chance to get away from home to rest and rejuvenate, and yet avoid the inconvenience of overseas travel like airport check-ins and immigration queue.
The hotel's colourful balconies that draw many attention. What a beautiful sight!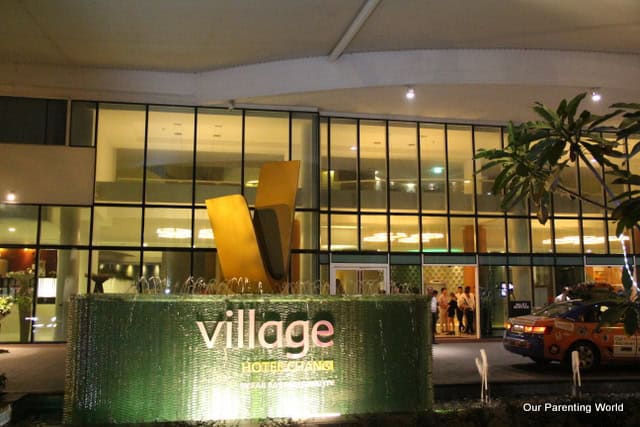 To be home away from home, one of the best hotels for family staycation would be Village Hotel Changi. It is at the far end of Singapore, close to nature and beach and far away from most of our homes (unless you stay near Changi area). This is a beautiful hotel with rustic environment, suitable to re-charge ourselves for the weekend.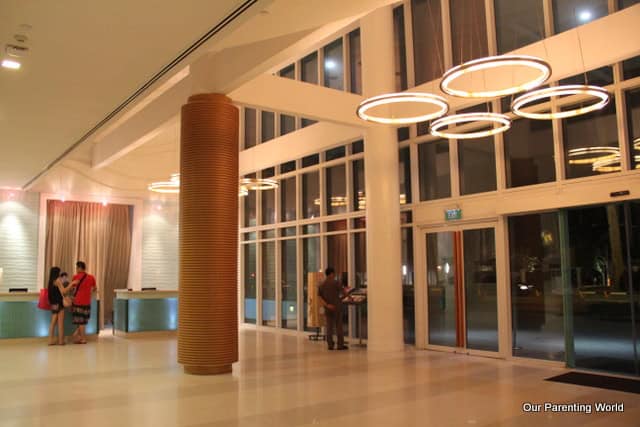 The hotel reception area.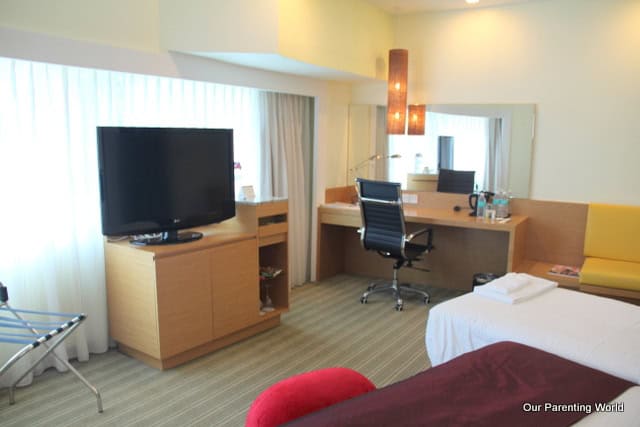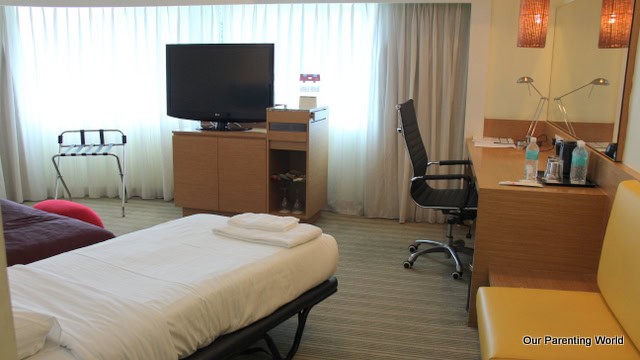 We are staying at the Junior Suite. It is so spacious at 34sqm! The boys have plenty of room to run around.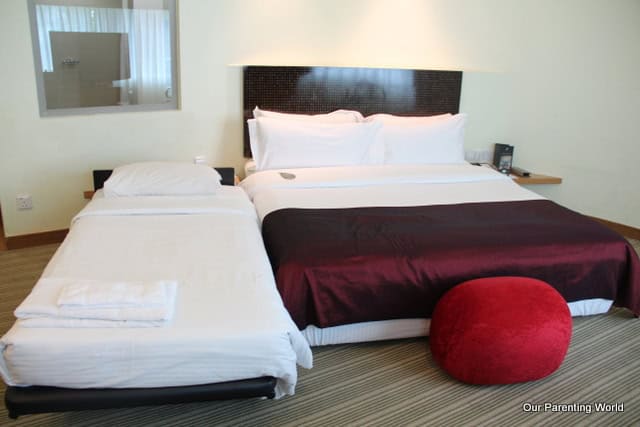 It comes with a king-sized bed that is so comfortable. The hotel also thoughtfully provide an extra bed for us.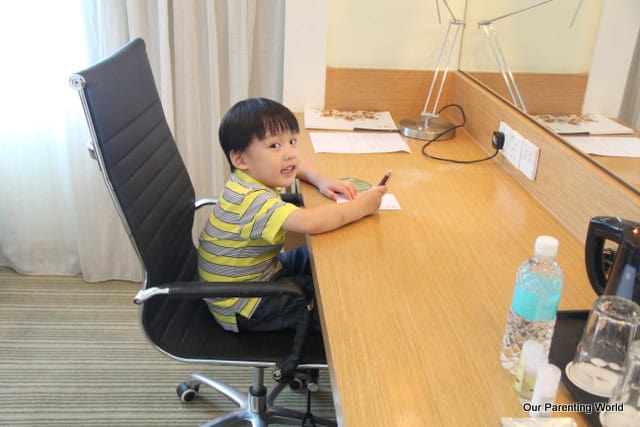 Di Di doing his writing on this big writing desk. 
The room is well stocked up with standard amenities and mini bar.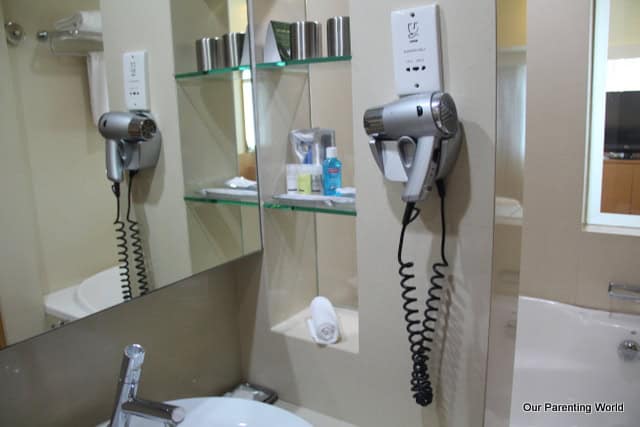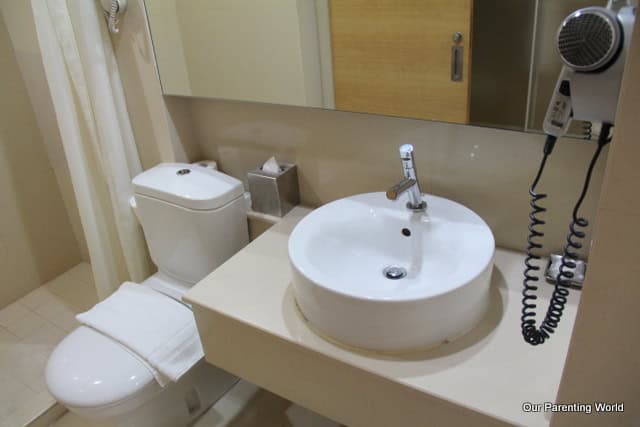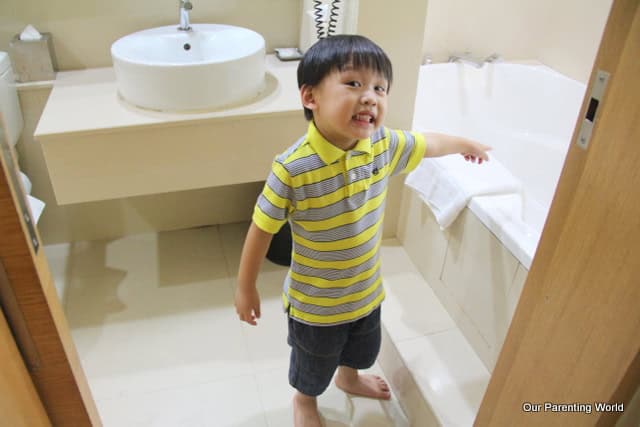 "Look at the big bathroom especially the bath tub, I am going to shower there!"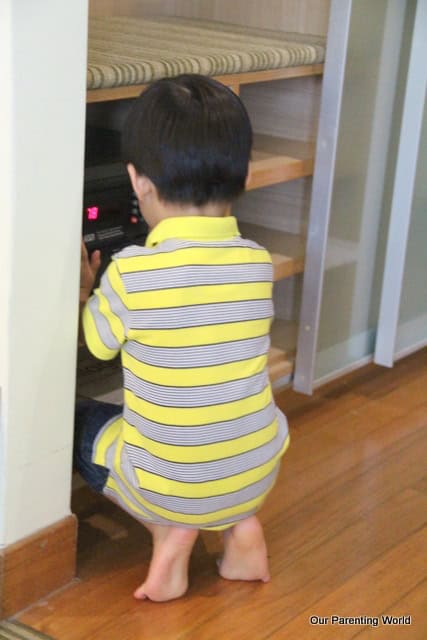 Something funny happened when we were about to go out of the room, we saw Di Di at the safe box and asked him why? He said he wants to keep his toys in the safe box. We all had a good laugh. 
Suite packages also include:
Complimentary buffet breakfast for two adults and two children (below 12 years old)

Complimentary rollaway bed for one child

Complimentary shuttle service to and fro Changi Airport

From Changi Airport Terminal 1 and 2 to hotel (5.30am to 1.30am)

From hotel to Changi Airport Terminal 1 and 2 (5.00am to 1.00am)

Complimentary in-room Internet access

Access to club lounge and evening cocktails for two adults

Late check-out till 4pm (subject to availability)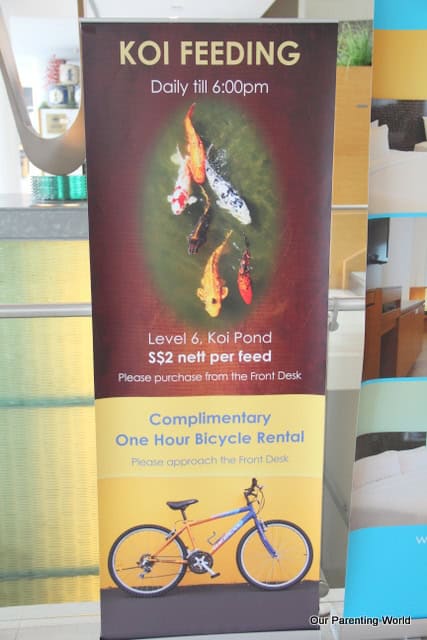 Hotel guests can partake in Koi Feeding at $2 for a packet of fish feed at 6th floor where the Executive Lounge is located and or rent a bicycle for free for an hour. 
Gor Gor and Di Di love animals and they chose to feed the Koi.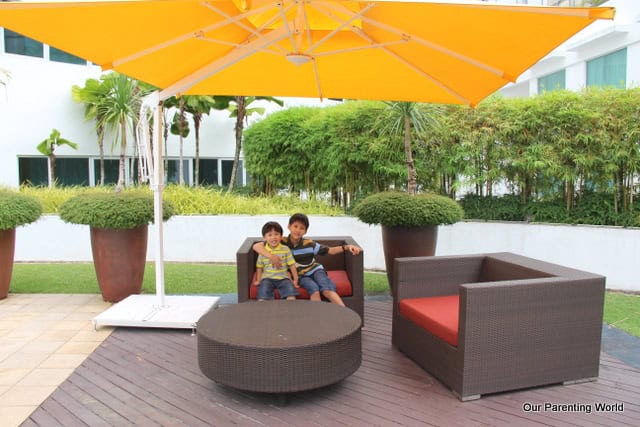 After feeding the Koi, they chill out at the outdoor sofas sheltered with parasols just besides the Koi pond. 
The hotel gym has a full range of equipment from treadmills, stationary bicycles,  free weights etc. There are sauna and stream rooms too.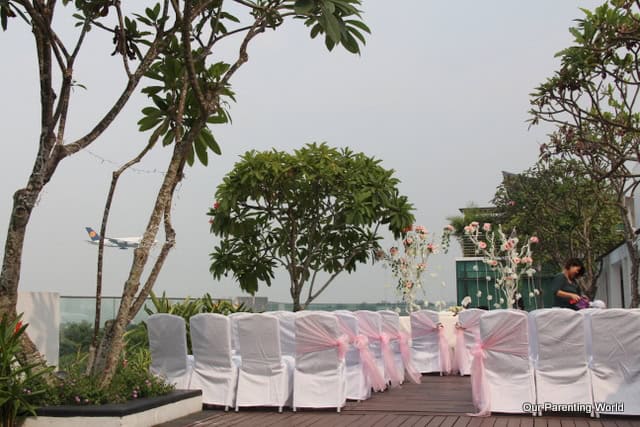 The hotel is a beautiful and romantic place to hold an unforgettable wedding reception.
There are two swimming pools, one is located at the roof top and the other one at Level 1: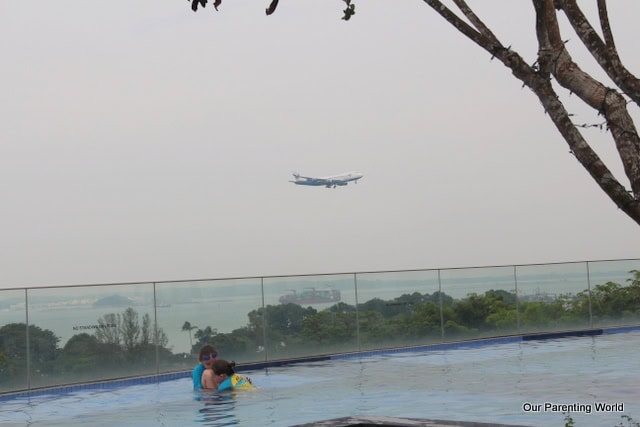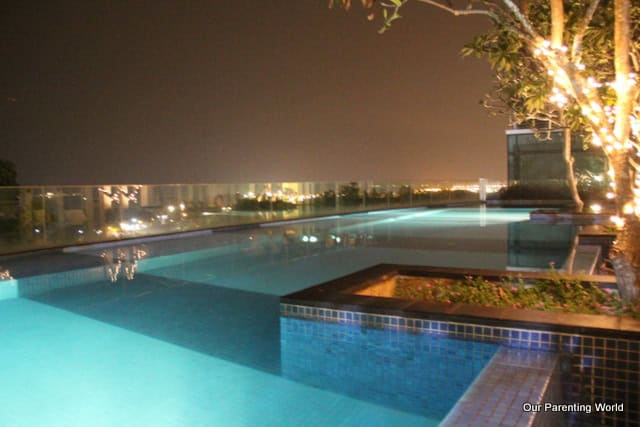 Day and night time view of the infinity pool where you can enjoy a spectacular view at the roof top of the sea and neighbouring Johor Straits and spot the aircrafts flying overhead as the hotel is next to Changi airport. The view reminds us of the similar roof top swimming pool at the Marina Bay Sands Infinity sky pool.

Night and Day view of the Creek Pool located at Level 1 outside the Salt Water Cafe. Look at this unique swimming pool with the transparent view. 
For a hotel far away from the city, it's amazing that it has four great restaurants within the hotel which are Saltwater Cafe for whole day dining, La Cantina at the roof top for those who likes Italian meal, Chou Bei Japanese Restaurant at the lobby for Japanese meal, and The Wine Company for food and wine pairing. These is also the Vau Wine Bar for drinks at the lobby.
We had our breakfast at Saltwater Cafe located at the lobby. It is headed by celebrity Chef William Soh and the cafe provides diners with a wide variety of local and international cuisine with buffet and a la carte menus. Diners can chose to sit indoor or outdoors.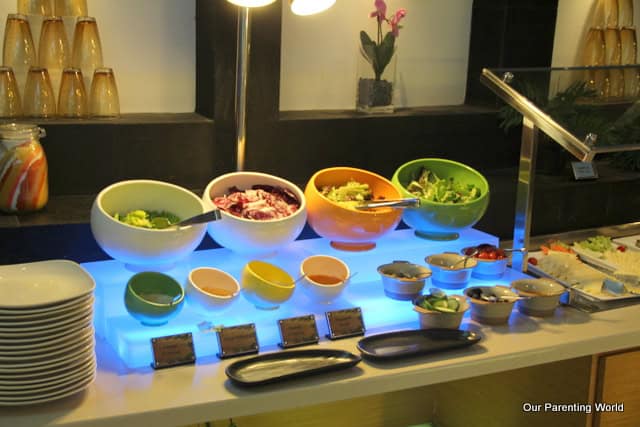 Lots of food to choose from wide assortments of breads, salads, cold cuts, dim sum and more …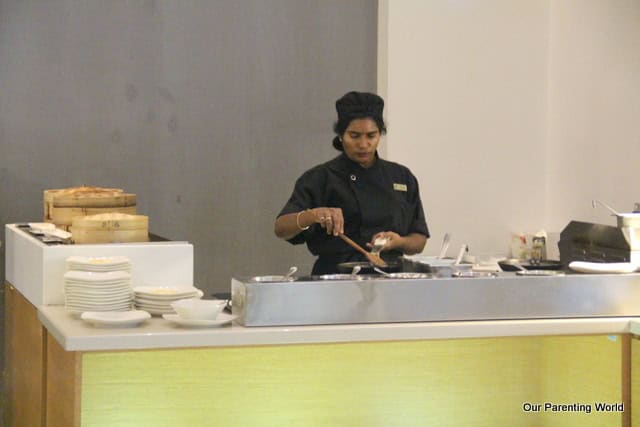 You can get your eggs done at the Omelette Station.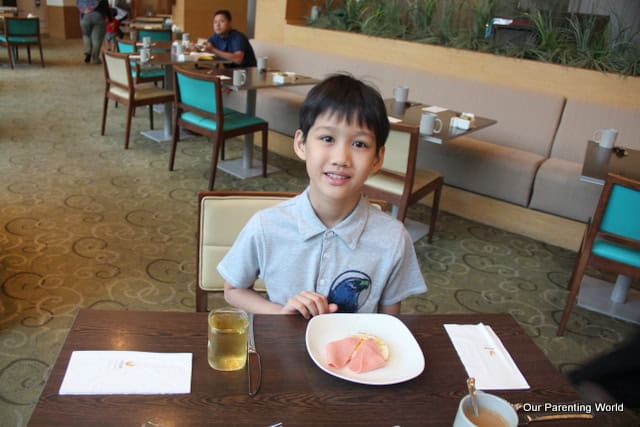 Yummy! I had a hearty breakfast, I feel so full. Now, I have the energy to start my day. 
If you like to eat outside, there is the popular Changi Village nasi lemak stall at the nearby hawker centre which is within 10 minutes' walk from the hotel. Be prepared to wait as the stall is very popular, especially during weekends. If you do not wish to walk or wait too long, there are a few coffee shops next to the hotel which serves noodles, BBQ chicken, soya bean drinks etc. 
Our Parenting World team would like to thank the organisers and Village Hotel Changi for having us. We had a wonderful staycation weekend at Village Hotel Changi and we would recommend this hotel to anyone who are looking for a nice and quiet family hotel for a quick weekend staycation. This is really "home away from home".
Additional Information:
Village Hotel Changi
1 Netheravon Road Singapore 508502

Tel: +65 6379 7111 
Please click HERE for more information.