Temasek Foundation is providing one free MaskPlusTM Livinguard reusable mask to each Singapore resident who has an NRIC, birth certificate, FIN card, School Smartcard, or any government-issued ID with a barcode.
MaskPlusTM Livinguard reusable masks are available in S, M, L, and XL sizes. Free size S masks are only available to children aged 8 and younger.
Like the previous mask distributions, the MaskPlusTM Livinguard reusable masks may be collected from over 1,100 #StayMasked vending machines at over 800 locations island-wide, including 108 Community Centres/Clubs (CCs), 672 Residents' Committee (RC) Centres, 20 Bus Interchanges, 8 Migrant Workers' Centre Recreational Centres (MWC RCs), 8 select CapitaLand Malls including Plaza Singapura, Singapore University of Technology and Design (SUTD), and Temasek Shophouse.
Additional masks may be ordered online at stayprepared.sg/buymasks, or via the DBS PayLah! App, at $10 each, subject to availability.
This is the fourth nationwide distribution of reusable masks by Temasek Foundation, under the Stay Prepared #StayMasked initiative, to help our community stay safe sustainably, with convenient access to reusable antiviral and antibacterial masks.
About the MaskPlusTM Livinguard Reusable Masks
The new MaskPlusTM Livinguard reusable mask has two layers of 100% proprietary-treated cotton fabric that offer protection primarily by inactivating viruses. It has an antiviral performance of over 97% and an antibacterial performance of over 99.75%, after 30 washes.
The reusable mask need only be washed once a week. If worn daily and washed weekly 30 times, the mask can be used daily for up to seven months. Incorrect washing methods will reduce the effectiveness and durability of the mask.
After 30 washes, the antiviral and antibacterial performance will be gradually reduced with each additional wash. Thus, it may be used like ordinary two-layer cotton masks, or used in conjunction with other masks including disposable medical grade masks for added protection.
More information on how to use, wash and care for the MaskPlusTM Livinguard masks can be found at stayprepared.sg/masks.
Information on the specifications of the masks can be found at livinguard.com/maskplus.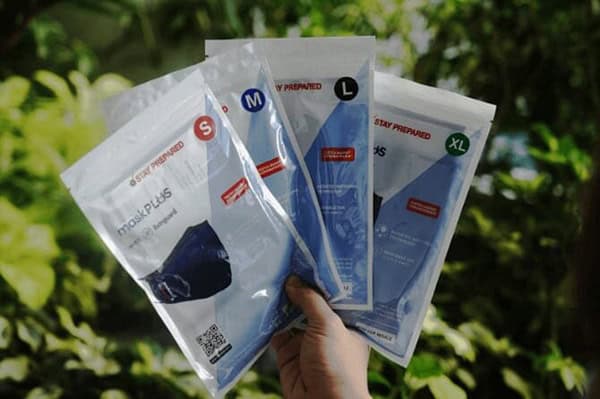 Image credit: Temasek Foundation
New Sizing: Residents should Recheck Their Mask Size
Sizing is different from previous free masks. Hence, residents are strongly advised to check out their sizing before collection or purchase of their masks.
Full-sized mask sizing templates will be published in The Straits Times and Lianhe Zaobao (27 February, 6 and 13 March) as well as Shin Min Daily News, Lianhe Wanbao, Berita Minggu and Tamil Murasu (28 February, 7 and 14 March). These can be cut out as personal sizing guides.
It is recommended to use the mask sizing guide at https://stayprepared.sg/sizing-guide, to determine the right mask size.
Exchanges or refunds after collection are not allowed for hygiene reasons.
Pro tip 1: If you are between sizes, or at the upper end of one size, you may wish to get the next size up for a roomier fit.
Pro tip 2: The sizing of the MaskPlusTM Livinguard masks is different from other masks. Residents who wish to purchase additional masks should try on their free mask to check for fit and size before ordering more.
Hotline and Email for Enquiries
Please visit stayprepared.sg/masks for more information on this latest MaskPlusTM Livinguard free mask initiative.
The 1800-738-2000 hotline is open for queries from Wednesday 24 February to Sunday 14 March 2021, 9:00am to 9:00pm daily (except on public holidays).
Enquiries or feedback may also be emailed to [email protected].