Our Parenting World (OPW) team was invited to the media launch where Subaru introduced its regional launch of its revolutionary EyeSight technology and all-new Outback and XV at Tanah Merah Ferry Terminal. The EyeSight technology is Subaru's award-winning, revolutionary technology that enhances safety to the highest standard!
In recent years, advance driving aid technologies like pre-collision braking system (e.g. the car in front of you suddenly brakes and the system helps to brake your car if you are unaware of the impending collision) and lane departure warning (e.g. you maybe sleepy and did not notice your car has drifted out of your lane on the expressway) have been introduced into the luxury car brands like Volvo, Mercedes and Audi.
Today this technology is beginning to be available in some of the more common and affordable family cars like Subaru making driving safer for many family drivers who cannot afford the much more expensive luxury European brands. Subaru is one of the earliest Japanese car makers in Singapore to introduce this driver safety aid in its range of cars.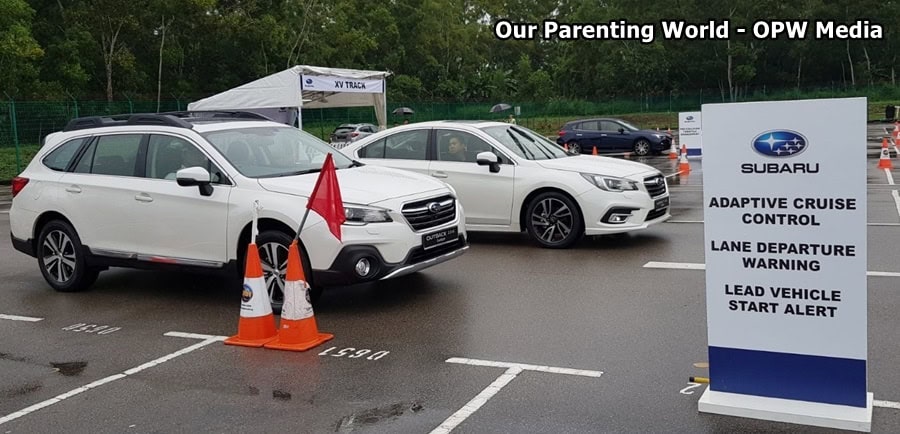 We are privileged to sit down with Mr Glenn Tan (GT), Managing Director of Tan Chong International Ltd to hear his thoughts on this safety feature before our media test drive:
Q1: Can you tell us briefly how this new EyeSight Driver Assist technology helps family drivers?
GT: This EyeSight technology is like an extra pair of eyes for the driver. It can help to warn the driver when there is a pre-collision like the car in front of him is slowing down suddenly. For example, if you are in the car driving and your children may make a lot of noise which may temporary distract you, this EyeSight technology will help to warn you to keep your eyes on the road.
Q2: Is there a speed range which this technology works?
GT: This technology uses the stereo camera system which operates between 1km/h up to 200km/h. In the event of a pre-collision, the system will help to slow the car down especially if the driver may not have noticed the danger in time and reduce the collision impact. In addition, the EyeSight monitors your position on the road and will alert you if you stray out of your lane.
Q3: Why do you think Subaru range of cars are suitable for the family drivers?
GT: Subaru focuses a lot on safety. All the cars have 5 Stars safety ratings. The cars are designed with both active and passive safety features. All the Subaru cars have permanent all-wheel drive which is suitable for our local wet weather roads, this is a safety advantage over many of the competitor cars due to better road traction. The Boxer engine with lower centre of gravity helps to keep the car stable especially during cornering. These safety features are important for our family drivers. 
Thank you Mr Glenn Tan for taking our interview!
Next we proceed to the test drive session. Subaru cars are well-known for their good road holding and traction. On the first circuit which happened to be wet due to the rainy weather, we were given two other similar range of competitor cars (Honda Vezel and Toyota C-HR) at the wet circuit to try out the traction, handling and braking of these two very popular family cars against the Subaru XV.  The Subaru XV clearly out handled them at the wet circuit as it was a rainy day. The Subaru XV is much more stable and the brakes are excellent. In terms of handling and traction, the Subaru XV is clearly one class above both the Honda Vezel and Toyota C-HR. Please go over to our Instagram at @opwmedia to watch the video of our test drive with Subaru's XV.
To find out more about Subaru cars, please visit the website at http://www.subaru.asia/sg/