Sunny Side Up, the new English long-form drama is a light-hearted drama that showcases Singapore's melting pot culture by exploring daily struggles and social issues. This series will follow the stories of five diverse households and unconventional families who live within the same neighbourhood.
Our editorial team speaks to Tan Wei-Lyn, Head, English Drama Productions and Executive Producer of Sunny Side Up where she shares more about the show, filming experiences as well as interesting stories from the show and more. 
Exclusive Interview with Tan Wei-Lyn, Head, English Drama Productions and Executive Producer of the Show
1. Please share with us more about the show and the inspirations behind Sunny Side Up?
Tan Wei-Lyn: Sunny Side Up is a series about Singaporean family units – conventional and unconventional, blood and non-blood related, bound together, some by choice and others not by choice. Like our previous long forms, Tanglin and Kin, we are inspired by stories about people, their relationships and what binds them.
2. What are the themes that the show is trying to convey to the audience?
Tan Wei-Lyn: One major theme that threads through all the families in the show is the dilemmas of parenting and in particular, step-parenting, as experienced through the characters played by Gurmit and Gina who form a blended family in every sense of the word, as they marry and blend their cultures and their children from former marriages. Our research has shown that when two people with children from former marriages marry, the focus in that marriage at the start is almost always about parenting, navigating relationships with the stepkids, rather than on the marriage itself.
Parenting for the Hengs, the family led by patriarch, played by Wang Yuqing is about traditional parenting vs modern parenting. Heng was a tough dad to his son Anthony and now his own daughter-in-law, is a tiger mum to her son, his grandson, but Heng now has a different perspective that makes him reflect on how he brought up his son.
We also have the Ibrahims, proud parents of son Hafiq, a sports celebrity, who has returned from years of living abroad, injured and hiding his predicament from his parents, for fear of disappointing them. He finds his parents have aged and it's his turn to parent them, much to his father's (played by Najip Ali) indignation.
There's also Chan and Chandra, our Senior Citizens and one room flat flat-mates, who have their own regrets about their past and families, but are living life with hope and positivity.
I know all this sounds dramatic and serious but really that's not the tone of the show at all. The tone is light and true to the title — sunny.   Overall, the most important theme is – family is there for you, no matter what, rain or shine, and with the right perspective, life can be good, so appreciate what you have and the people around you.
3. What are the challenges that you have faced in producing the show and how do you overcome them?
Tan Wei-Lyn: I think one big challenge for us is switching from a very successful run with our previous long form Kin which is very different from Sunny Side Up, as it was a more suspenseful and twisty drama. We always want to break new ground with every long form we take on and that is always a challenge because we're starting from scratch, building up new characters, finding the right stories, striking the right notes – it is a constant work in progress. That's our biggest challenge – a tormenting yet wonderful challenge. 
Wonderful because nothing quite beats the feeling of getting the show right and resonating with our viewers. With Tanglin and Kin, we loved hearing from our viewers when a story touched them or when they get attached to our characters, or even when they scold us because they don't like what we do with the characters – that all helps us keep our eye on the ball and pushes us to overcome any creative or mental blocks. Our attentive viewers keep us on our toes and our enthusiastic cast surprise us constantly — they're the ones who help us overcome the challenges, they keep us inspired. 
4. How's your filming experience in Sunny Side Up, any interesting stories that you would like to share with our readers?
Tan Wei-Lyn: I actually thoroughly enjoyed our table reads because we have a fantastic line-up of comedians on the show – Gurmit, Najip, Tianwen, Siva and even Yuqing. Of course we know Yuqing is legendary as an actor – those of us old enough to remember, will always know of him as Mr Flying Fish from the 80s. But I never knew he had such a comedic side to him, throughout the rehearsals and table reads, he had all these jokes and one-liners. As did Najip and Gurmit. The funny talented cast makes going on set really fun.
5. How do you select the cast for Sunny Side Up?
Tan Wei-Lyn: We knew going in that we wanted a mix of familiar and new faces, reinvent the familiar and introduce the new. Veterans like Gurmit, Najip, Yuqing, Tianwen, Xiuhuan, Siva and Cassandra are all talents we knew we wanted to work with and we relished finding more facets to them as performers to bring to our viewers.
For the new faces, with long form dramas, we audition actors with very brief character write-ups to see what the actors bring to the table, so we get a better idea of how to develop the character. Playing to the strengths of the actors gives the characterisations more conviction and spark. Some of them had appeared in previous long forms, playing guest characters – like Xenia, Ling Ying and Marc Valentine – now they're back as main cast on SSU playing completely different characters.
6. What are some of your favourite scenes in Sunny Side Up and why?
Tan Wei-Lyn: Even though it's early days yet – as of now, we've only got about 30 complete episodes – I've got quite a few favourites already: the Rajendrans (Gurmit and Gina's family) having a food fight, very nicely choreographed and you can really see their chemistry and commitment to hurling food at each other. Heng (Yuqing) confiding in his wife (Xiuhuan) about his worries about his health condition, can't tell you the details because of spoilers – that really brought a tear to my eye because it felt real and my heart went out to him. And my favourite comedy scene – Chan (Tianwen) and Chandra (Siva), literally sitting in a dumpster and digging through garbage, again I can't reveal the reason they're doing that because of spoilers. I'm not the type who enjoys seeing people dig through garbage, I can be OCD, so I'm surprised I liked those scenes as much as I did.
One universal reason they're all my favourite scenes is how committed the cast were to the moment and because they were so immersed, I was immersed, I truly believed them. I was in the moment with them. Which is quite rare for me because I've been doing this for so long and I've seen so many good performances, I've developed an immunity sometimes – but these scenes truly moved me, they made me either cry or LOL.
7. What advice would you give to someone aspiring to enter into the world of Show/TV producer and how can one work towards this career in Singapore?
Tan Wei-Lyn: I'm just going to rattle off a list of lessons, in no particular order, that I've learnt in my 25 years of doing this: Work hard. Be prepared to fail. Watch everything local, because that's who you are and who you're producing for. Analyse everything you watch. Live it, breathe it, understand it, make it yours. Don't replicate. Don't be derivative. Find your twist on it. Do you but keep your feet on the ground while you aim for the stars.
For the practical stuff: if you're a writer, write and just keep writing, if you want to direct, yes do the necessary courses but also apply to work on a production at entry-level, hands-on learning is the best way to navigate your way through this industry. We're always on the look out for creative, hard-working people who are willing to put in the time and the effort. Just to reiterate the "hard work" — it takes a lot more work than you can imagine to make a show look effortless and fun. I don't think I've had a full weekend off in a long time. It helps to really love the work so that the work loves you back.
8. Lastly, what projects are you working on now and any upcoming projects/shows that you would like to share with our readers?
Tan Wei-Lyn: As of now, I'm almost completely focussed on Sunny Side Up. We're working on a pilot that I can't say much about right now, it's still confidential but I think I can reveal it's crime-related – which brings back memories for me of Mata Mata and Point of Entry which we worked on years ago. It's quite invigorating to do a new spin on a genre we've worked on before, learn from past mistakes, get it done better and hopefully inspire another generation of drama writers and producers-to-be.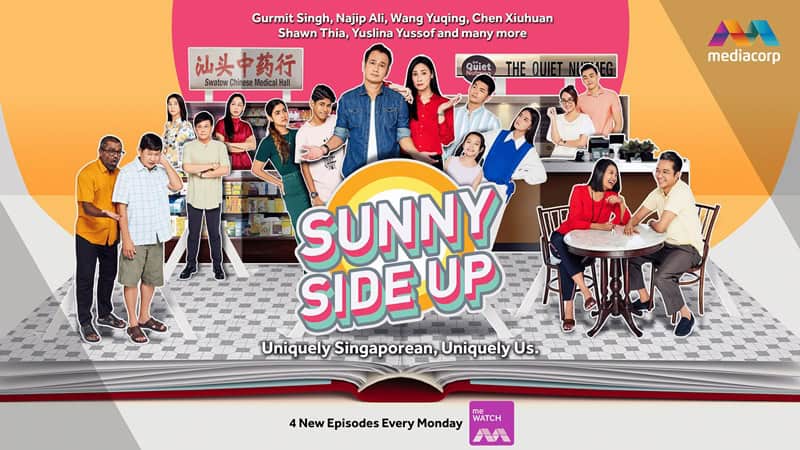 Sunny Side Up ( 30 mins / episode) is airing on meWATCH, Channel 5 and Mediacorp's Entertainment YouTube Channel every Monday to Thursday at 7.30pm.