"Is there any good Mexican food in Singapore?" Hmm, that used to be a hard question to answer until we discovered Super Loco Robertson Quay. After we have dined in this restaurant, the answer is definitely "Yes, come to Super Loco!".
This Super Loco, Robertson Quay restaurant is part of the The Loco Group which also owns another two restaurants in Singapore, the Lucha Loco at Duxton Hill and the Super Loco, Customs House. With Robertson Quay's recent makeover, the family-friendly Super Loco​ ​presents a refreshed menu​ ​ideal​ ​for​ ​group​ ​get-togethers​ ​or​ ​casual​ ​dinner​ ​dates.
As we were walking towards the restaurant, we already knew this is an unique restaurant, quite different from the usual restaurants in Singapore. Its location at Robertson Quay is just next to the river bank with outdoor dining area which provides a relaxing dining environment for business and leisure. Suitable for families too.
Looking at the extensive menu gives us another hint why this is not the usual restaurant because the extensive choices of items. The usual Mexican restaurants will serve the routine tacos and enchiladas, but Super Loco Robertson Quay goes much further than this, offering a wider range of authentic Mexican food. Here are some of the fantastic dishes that we have tried: 
Tostaditas
Res $16+
Grass Fed Angus Sirloin, Chipotle Mayo, Crispy Leek
Tostadita usually refers to a flat or bowl-shaped (like a bread bowl) tortilla that is deep fried or toasted. It may also refer to any dish using a tostada as a base. This first dish has crispy tortilla and filled with delicious crunchy contents. It can be quite addictive!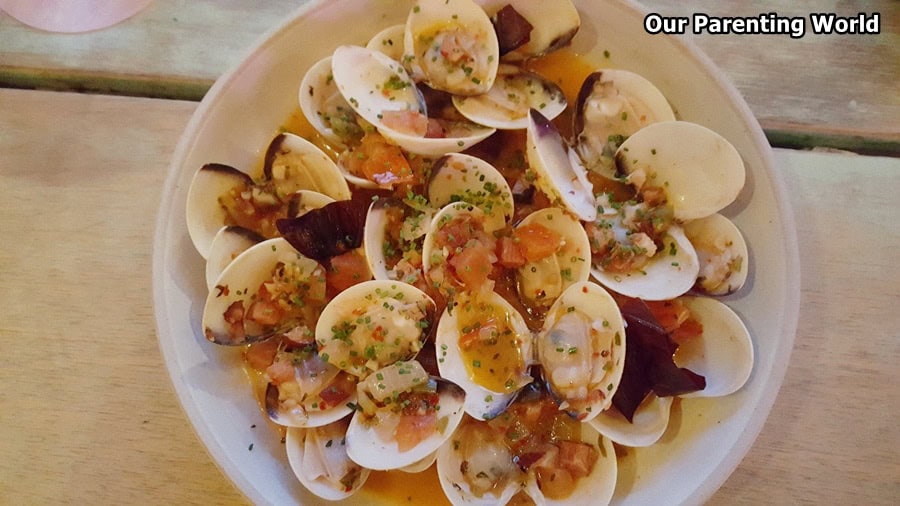 Mariscos
Almejas Al Guajillo $21+
Steam Clams, Jalapeño Pico De Gallo, Smoked Bacon, Mexican Dried Chilli
If you like to eat clams, go for this dish as it comes with fairly large and juicy clams with terrific seasoning which enhances the flavour further.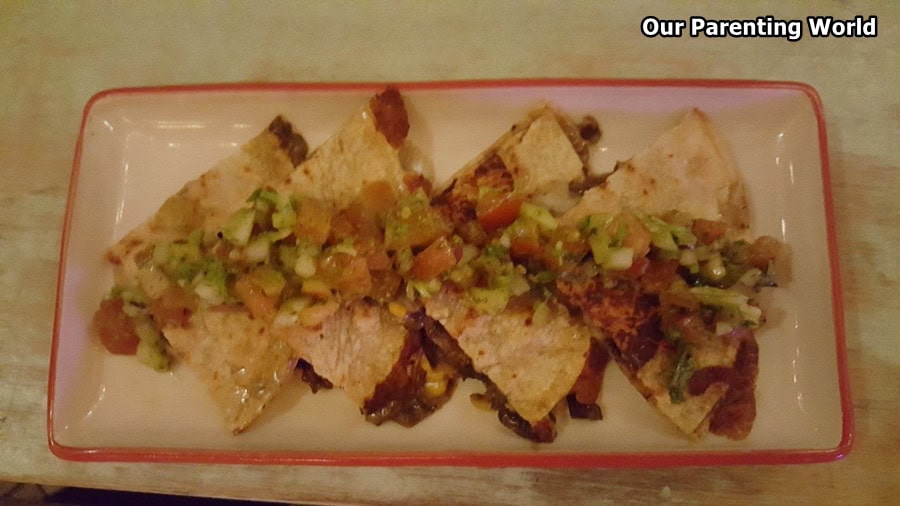 Quesadillas
Huitlacoche $14+
Mexican Truffle, Wild Mushrooms, Epazote, Pico de Gallo Verde
A Quesadilla is a tortilla, normally a flour type tortilla and this dish has a more luxurious version with truffle and wild mushrooms in it, this is one of the best Quesadillas that we have tried.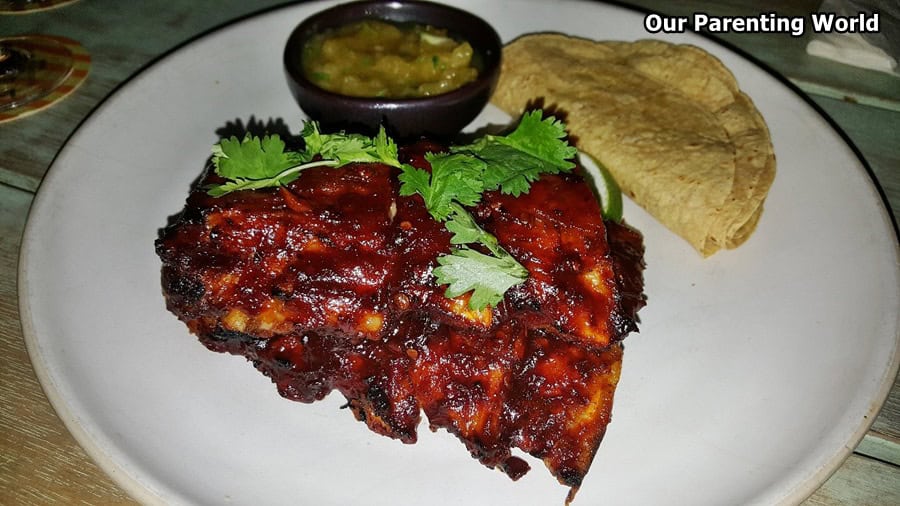 Plato Principal
Costilla De Cerdo $30+
Roasted Pork Ribs, Chipotle Glaze, Piña Salsa
This is a main course dish, the pork ribs are savoury, very tender and slightly spicy but according to our host from Super Loco Robertson Quay, you can request to have less spicy version if your kids are dining with you.
Postres
Affogato Mexicano $12+ (Left) 
Los Danzantes Reposado Mezcal, Cynar Liqueur, Espresso, Cinnamon Clove Agave,  Cocoa, Vanilla Ice Cream
Horchata Soft Serve $6+ (Right) 
Rice Milk, Cinnamon, Popcorn, Chocolate
We have two different desserts after our dinner as above. Both ice cream are rich and deliciously creamy. You can choose from Affogato Mexicano which comes with alcohol or Horchata Soft Serve which is alcohol free or why not indulge in both except for the kids, they can go for the non-alcoholic one.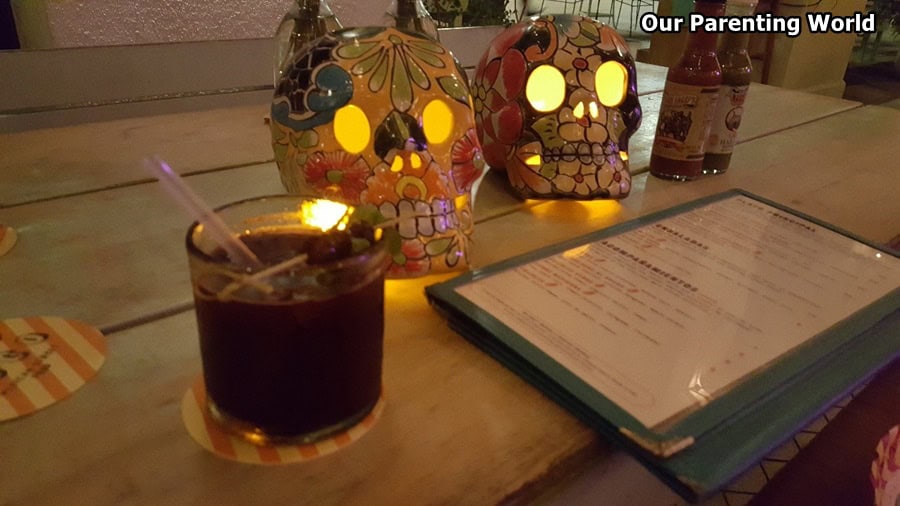 Blueberry & Acai Frozen Margarita $17+ (Frozen) / $18+ (Mezcal on the rocks)
Cimarrón Blanco Tequila,  Blueberry,  Açaí Berry,  Lime,  Agave,  Mint
If you are into Margarita, try out its cold and refreshing Blueberry & Acai Frozen Margarita.
Overall, this is a wonderful place for dining with good food and ambience especially if you wish to try something different like Mexican food!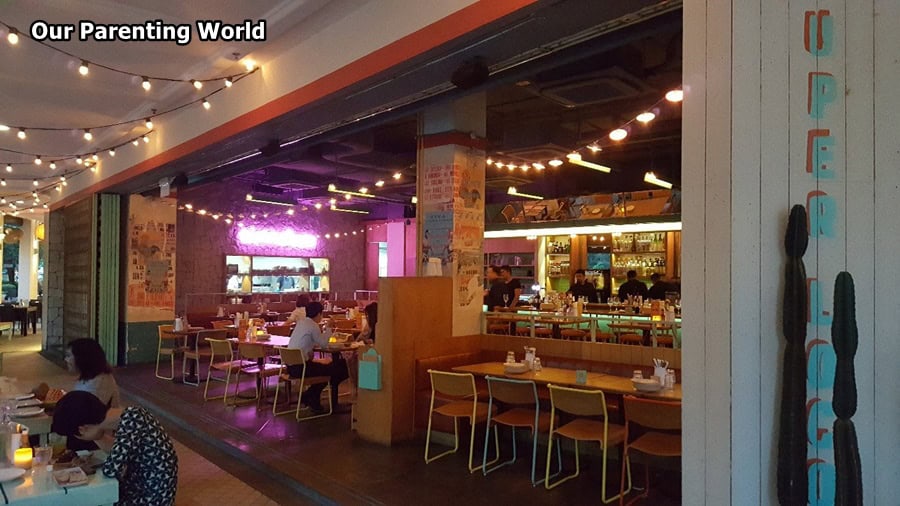 Super Loco Roberston Quay presents new dishes on the menu include the ​Almejas al Guajillo ​($21+), served with clams, jalapeño pico de gallo and smoked bacon; as well as the ​Tostaditas de Res ($16+), featuring an Australian sirloin, chipotle mayo and leek​. Available every Tuesday night is the "​PimpMyTaco​" platter ($50+), where six Tacos are served on a platter with a variety of flavour packed salsas on the​ ​side.​ ​Guests​ ​can​ ​get​ ​in​ ​on​ ​the​ ​fun,​ ​and​ ​design​ ​Tacos​ ​to​ ​their​ ​personal​ ​liking!
For a sweet end to the meal, order up the ultimate cocktail dessert​, Affogato, Mexicano​($12+) that is prepared with a rich chocolate sauce, a shot of Allpress espresso, Los Danzantes reposado mezcal,​ ​Cynar​ ​liqueur​ ​and​ ​served​ ​with​ ​a​ ​scoop​ ​of​ ​vanilla​ ​ice​ ​cream.

Super Loco Roberston Quay is located along Singapore River at The Quayside, beside Gallery Hotel and Red House Seafood.
For more information please see below:
Address: The Quayside, 60 Robertson Quay #01-13, Singapore 238252
Contact details: Tel: +65 6235 8900
Email: [email protected]
Opening Hours:
Mon to Fri: 5pm – 12am
Sat & Sun: 10pm – 12am
Last orders for Brunch is at 3.30pm, dinner is at 10.30pm and beverages is at 11.30pm.
For more information, please visit http://robertsonquay.super-loco.com/