Sushi-GO located at &JOY Dining Hall, 1 Jurong West Central 2 has launched its new menu comprising over 100 varieties, including innovative sushi, hot items and desserts! Diners can look forward to indulge in delicious sushi offerings starting from S$1.80 while premium items such as ikura gunkan and sashimi are affordably priced below S$6.
If you prefer to have cooked items, Sushi-GO offers a wide range of cooked-food menu and hot dishes, which features crowd favourites such as ramen, soft shell crab tempura, takoyaki and karaage that are suitable for the whole family from adults to children to enjoy!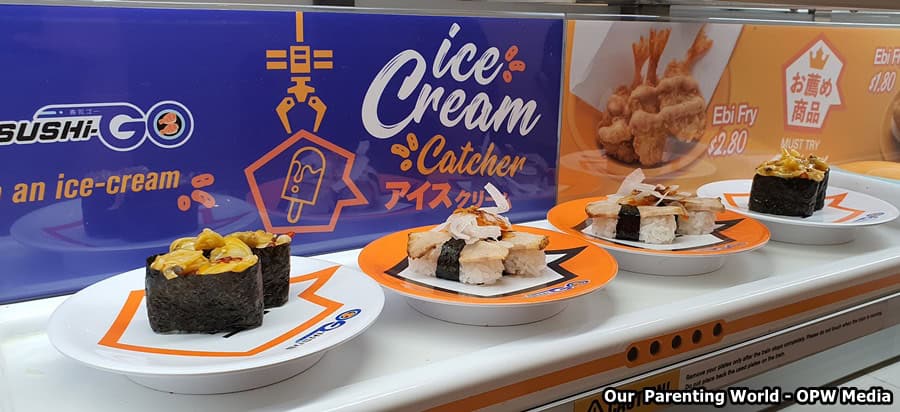 Food will be delivered directly to your table by a mini shinkansen-shaped bullet train via railway track replica. The bullet train is a symbol of the restaurant's commitment to providing fuss-free and speedy service to deliver the freshest sushi and food items to diners.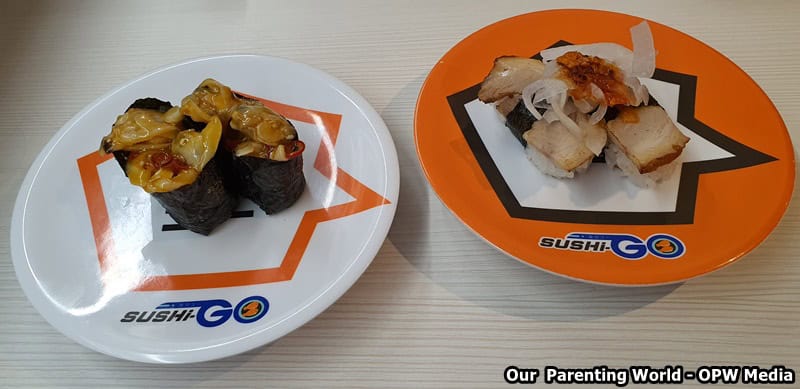 (NEW) Mala Clam Gunkan – $1.80 (L) and  (NEW) Spicy Onion Chashu Sushi – $2.30 (R)
The new menu showcases a combination of new culinary innovations and beloved classics featuring items like the Spicy Onion Chashu Sushi (S$2.30), a gorgeous offering with sliced chashu perched on blocks of vinegared rice. The intertwining strips of onion are accompanied with a homemade spicy sauce, which packs a fragrant note and is highly addictive.
Mala lovers will certainly love the Mala Clam Gunkan (S$1.80) and Mala Clam (S$3.20), whose fiery and numbing sensation is owed to Sichuan peppercorns, chilli peppers and various spices soused in oil.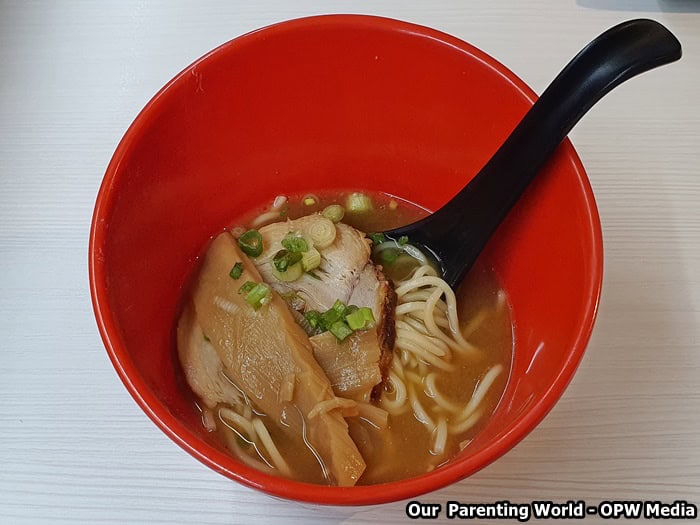 Miso Chashu Ramen – $4.80 (NEW)
If you love Ramen, you have to try this delicious ramen that is full of umami flavour, the chashu slices are so tender and the noodles are firm to the bite. If you prefer spicy, there is a spicy version, Spicy Miso Chashu Ramen (S$5.30). 
(NEW) Tako Wasabi Gunkan – $2.30
The Gunkan series will feature new hotate and inari offerings. The Tako Wasabi Gunkan (S$2.30) consists of chopped octopus laced with the palate-enveloping hotness of wasabi. New inari sushi offerings include the Inari Lobster Salad (S$2.30), Inari Crab Salad (S$1.80), Inari Tuna Mayo (S$1.80), Inari Soboro (S$2.30) and Inari Corn Salad (S$1.80). The different ingredients stuffed inside the deep-fried tofu pockets offer distinct mouthfeels and flavours. Try the Teriyaki Hotate Gunkan (S$2.30) or Wasabi Hotate Gunkan (S$2.80), both of which put a new spin on classics.
Salmon-GO – $3.20
Diners will be delighted to know that the new Sushi-GO's menu will also retain many of the all-time favourites. Top seller Salmon-Go (S$3.20) is an indulgent trio comprising Mentaiko Aburi Salmon Sushi, Cheese Aburi Salmon Sushi and Salmon Sushi. Or opt for the Spicy Salmon-GO (S$3.80), which whets the appetite with its fiery sauce over chunks of salmon.
A chef's recommendation, the Lobster Salad-GO (S$3.80) features chunks of the crustacean mixed with creamy mayonnaise; refreshing cucumber cubes are embedded within each sushi rice. The Ikura Gunkan (S$3.80) is a well-loved favourite, with glistening salmon roe promising a burst of savoury flavour. For the GO-Tsumami Sushi (S$5.50 for 2pcs), a fresh slice of salmon drapes a block of vinegared rice, which is set on a carpet of nori. Crabstick meat and ikura are then heaped atop for extra indulgence.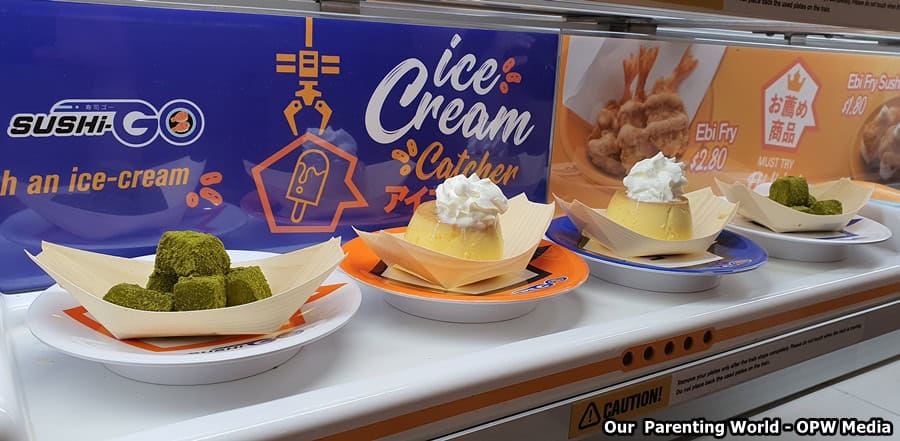 (NEW) Matcha Warabi Mochi – $3.20 (L) and (NEW) Caramel Pudding – $3.80 (R)
Look out for the tempting new range of desserts such as the wobbly and sweet Caramel Pudding and the earthy Matcha Warabi Mochi. 
Sushi-GO Promotions:
1) Sushi-GO will offer selected sushi items at just S$1.80 for its weekday lunch promotion starting from 1 September 2020. The promotion* starts from 11am to 5pm and will be ongoing till further notice.
Each day will follow a theme:
• Salmon Monday
• Tamago Tuesday
• Spicy Wednesday
• Ebi Thursday
*Promotion is valid for dine-in only, and from Monday to Thursday except public holidays.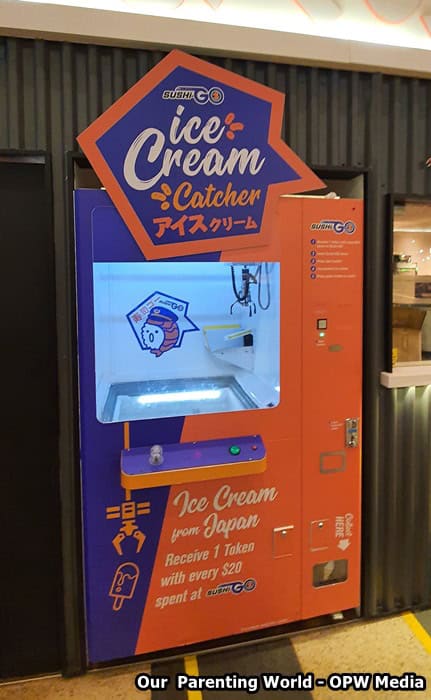 2) Spend S$20 and get a chance to catch an ice cream, which is specially imported from Japan, at the ice cream machine cum claw catcher!
Sushi-GO is located at Sushi-GO at &JOY Dining Hall, 1 Jurong West Central 2, #B1-47/48 Shopping Centre, Jurong Point, Singapore 648886 (Nearest MRT is Boon Lay) and opens from 11am to 10pm daily.