Calling Sushi lovers! Sushi-GO has revealed its revamped menu comprising over 150 mainstays, of which 40 are new surprises!
The restaurant has been delighting sushi lovers since its opening with its delicious yet affordable offerings starting from S$1.80. The extensive menu will showcase nigiri, gunkan, inari, maki, handrolls, sashimi, popular Japanese street snacks as well as cooked-food items such as noodles and rice. Tuck into the best of Japanese cuisine right here in Singapore!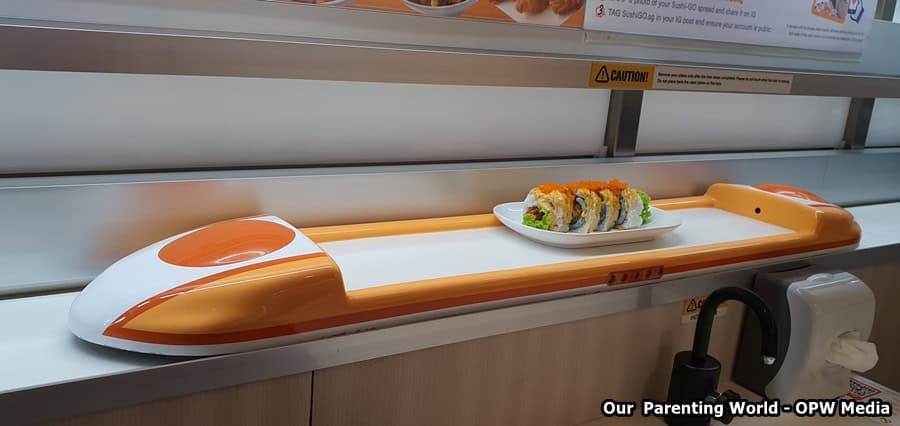 Diners visiting Sushi-GO will have your food delivered by a mini shinkansen-shaped bullet train directly to your table via a railway track replica. The bullet train is a symbol of the restaurant's commitment to providing fuss-free and speedy service to deliver the freshest sushi and food items to diners.
Look forward to enjoy GO+ Signature series which the restaurant is launching for the first time ever and  highlights include the GO-Tsumami Maguro (S$3.80) over a seaweed carpet, a sphere of fatty tuna sits atop sliced tuna and a block of rice. Spiralised spring onion add a delightful fragrance. The mouth-watering Jumbo Ebi Roll (S$5.30) is bound to earn the envy of onlookers. Deep-fried breaded prawn is encased within a tunnel of sushi rice. A spicy sauce drenches the roll, and shrimp roe acts as garnish. Salmon lovers must get the Atsugiri Salmon Sushi (S$2.50) or the Atsugiri Salmon Sashimi (S$6.80), both of which come with a thick cut of the fish.
Must-try items include the Negitoro-GO (S$3.80), a pyramid of fatty tuna, crispy shoyu and tempura crisps. For the Inari Una Tama (S$2.50), BBQ eel and shredded egg are snugged in the pocket of the sweet beancurd skin. Promising an explosion of flavours, the Spicy Yakiniku Handroll (S$2.30) sees the marriage of tender beef in teriyaki sauce, garlic chilli oil, mayonnaise and crunchy lettuce. Flame-seared for a smoky tinge, the Aburi Hamachi Sushi (S$2.80) is built with yellowtail, ponzu jelly, spring onion and yuzu peel.
Try the Hamburg Sushi (S$2.80) which is a reimagination of the German burger, made with a fried chicken hamburg patty, then topped with teriyaki sauce and cheese. Another interesting offering is the Steamed Oyster Sushi (S$3.80), consisting of seafood paired with refreshing ingredients such as ponzu jelly and yuzu peel which you can expect an interplay of briny and citrusy.
For those who enjoy spicy food, look out for the delectable sides to go with your sushi offerings. The tongue-numbing Mala Fries (S$2.80) with golden hunks of potatoes flecked with mala powder and deep-fried to crunchy perfection, the Mala Salmon Skin (S$2.30) is also dusted with mala powder for a powerful spicy kick!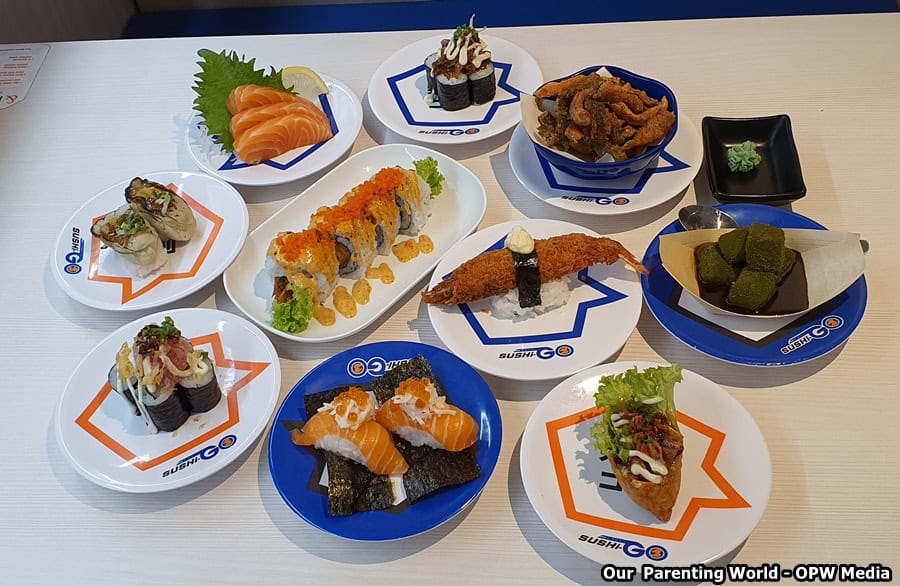 The new menu will retain many of Sushi-GO's beloved favourites. The best-selling items that have earned much praise from diners includes, Mala Clam Gunkan (S$1.80) and Mala Clam (S$3.20), Lobster Salad Gunkan (S$2.50), Mentai Mayo Ebi Sushi (S$2.30), Tamago Maki (S$1.80) and Maguro Sashimi (S$5.30). Coming in two options, the GO! Kidz Meal comes with assorted sushi, fries, sides and yakult that will delight children. 
Sushi-GO at &JOY Dining Hall
Venue: 1 Jurong West Central 2, #B1-47/48 Shopping Centre, Jurong Point, Singapore 648886 (Nearest MRT is Boon Lay)
For Delivery: Sushi-GO is available for takeaway and delivery on Oddle-https://jurongpoint.njoydininghall.com.sg/, Deliveroo, Foodpanda and GrabFood.
To find out more about Sushi-GO, please visit https://njoydininghall.com.sg/brands/sushi-go/