Swatch launches the Singapore Destination watch, SINGAPORE TALE, paying tribute to some of the island's most iconic landmarks, symbols and food this year. This is the brand's first Destination watch for Singapore that is designed by local artist and illustrator Tan Zi Xi also known as Messymsxi on Instagram.
The watch will feature tourist attractions like the Singapore Flyer and Gardens by The Bay, as well as local eats such as Chicken Rice and the King of fruits, Durian, SINGAPORE TALE takes you on a journey to explore the diversity of the Lion City. It also features traditional ice cream carts and the well-loved dragon-shaped playgrounds reminiscent of the childhood of many locals alike.
Each icon on the watch is designed like an emblem, inspired by vintage Peranakan tiles which adorned the local shophouses in the 1970s. While Peranakan tiles traditionally feature intricate designs of flowers and fruits, the emblems on the Destination watch are designed to capture the diversity of the local culture and landmarks in Singapore.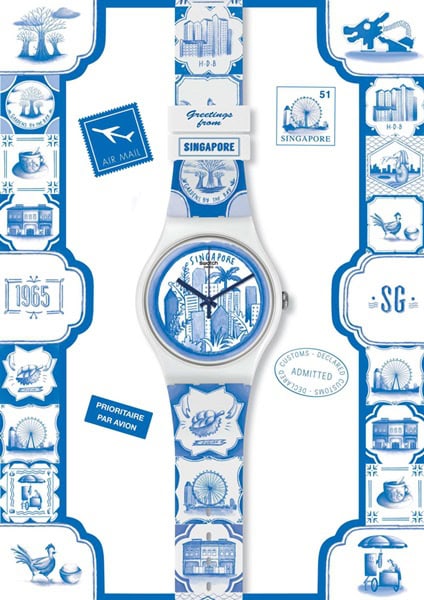 SINGAPORE TALE at $125 is now available at all Swatch stores.