Swensen's, Singapore's well-known family-friendly restaurant recently introduces its newly-revamped menu, including a wide selection of scrumptious appetisers, meaty mains, seafood dishes and desserts – complete with new ice-cream flavours and a Build Your Own Sundae option that will excite diners!
Buckaroo Wings at $9.90
For appetisers, we tried the Buckaroo Wings which is the newest addition to the Swensen's family. The wings can be quite addictive as the outer layers of the wings are so crispy while the meat remains moist and juicy, best to go with its deliciously sweet and tangy pineapple barbecue dip! What a joy to bite into each wing!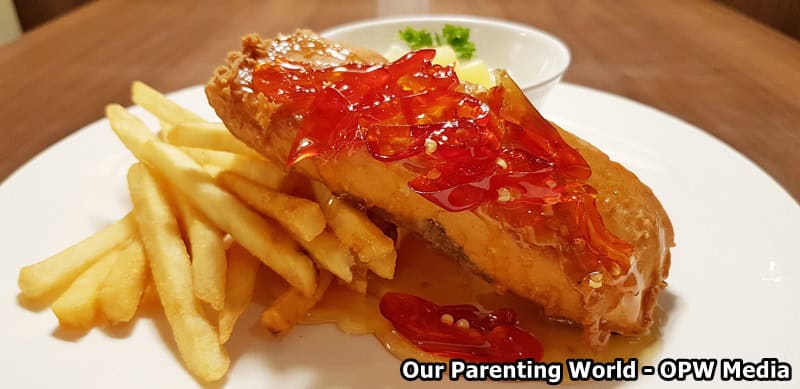 Deep Fried Salmon with Chili Jam at $19.90
We were pleasantly surprised with this dish which may look simple but the taste is outstanding! The salmon has been well-seasoned and perfectly deep fried till golden brown. With all the chilies on the dish, you may think it is spicy but they are not, the chilies have been candied and caramelised which gives a sweet and spicy taste. The taste of the dish is further enhanced with its homemade chili jam that has been drizzled around the delicious fish. 
We Meat Again Combo at $25.90
This is such a sumptuous platter consisting of 2 meats, tender and mouthwatering chicken and juicy sirloin steak. Meat lovers will adore this dish and great to go with a choice of barbecue, sambal or black pepper sauce.
What's more, for every order of a grilled main comes with 2 complimentary sides, with choices ranging from Cheesy Macaroni; Savory Rice; Hot U.S. Fries; Steak Cut Fries; Mashed Potatoes; Coleslaw to Seasonal Garden Veggies.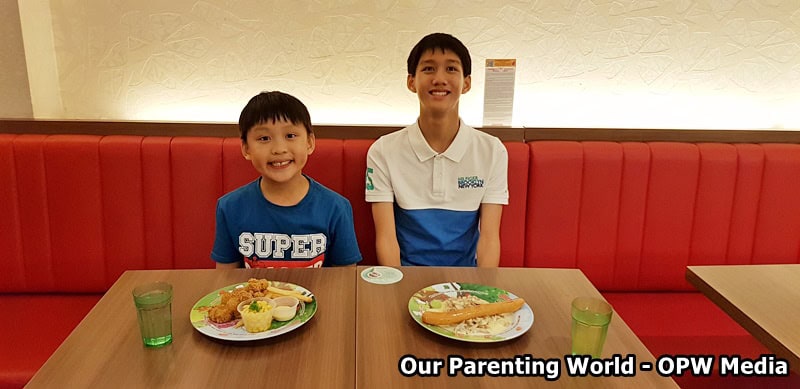 Swensen's Kids Meal at $9.90
Our kids always enjoy going to Swensen's for its Kids meal where they can choose from a variety of appetising meals especially for kids that come with a choice of Main Course, Corn-in-Cup plus choice of soft drink, Iced MILO, Apple or Orange juice. We had Pas-Ta Sausage Please? consisting of Spaghetti in mushroom, cream and cheesy chicken sausage and Chick 'n' Fries consisting of Breaded chicken strips & U.S. fries.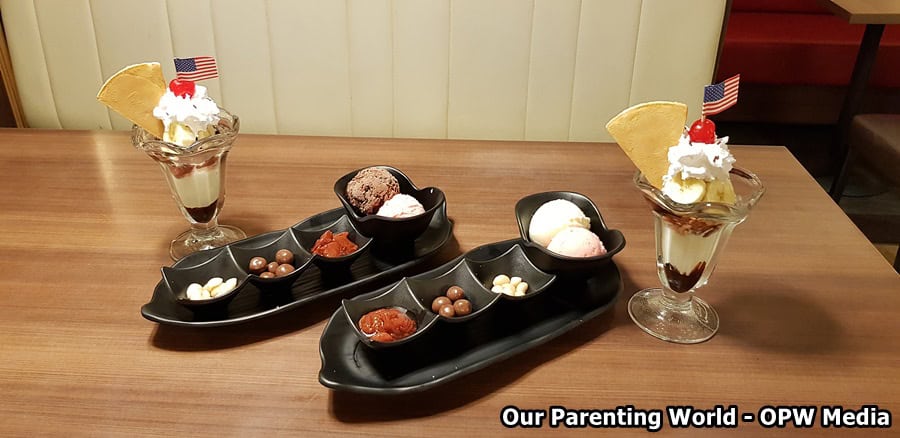 A visit to Swensen's cannot be completed without having its ice cream! Weight and health conscious diners will be delighted to know that Swensen's has launched its new Guilt-Free range of lower in sugar ice cream.
The Guilt-Free ice cream range made with premium and quality ingredients contains up to 39% less sugar and from 16 July 2018 onwards, you can enjoy Swensen's Guilt-Free ice cream in three classic flavours that will be available on an ongoing basis: Chocolate, Strawberry and Vanilla. 
The Guilt-Free range is available at $4.50 for a Single Scoop and $7.50 for Double Scoops. In addition, diners can enjoy the Guilt-Free ice cream with Swensen's Build Your Own Sundae – where you can choose from a selection of healthy toppings to complete your whole ice cream indulgence! 
More information about Build Your Own Sundae 
1 x 3oz scoop + choice of 3 toppings* + wafer – $8.80
2 x 2oz scoop + choice of 3 toppings* + wafer – $10.50 
*Inclusive of 1 Awesome Topping and 2 Yummy Toppings
Awesome Toppings: Crunchy Granola; Macadamia Nuts; Chocolate Balls; Fresh Strawberry; Hazelnut Wafer Cubes Yummy Toppings: Banana Slices; Blueberry; Butterscotch; Caramel; Chocolate Chips; Chocolate Crunch; Cold Fudge; Diced Almonds; Hot Fudge; Jimmies or Dips; Marshmallow Topping; Maraschino Cherry; Pineapple; Strawberries; Sugar Cone; Wafer; Whipped Cream.
Head down to Swensen's and try out its newly-revamped menu and new guilt-free ice cream range. Happy Dining!
To find out more about Swensen's, please visit its website at https://www.swensens.com.sg/