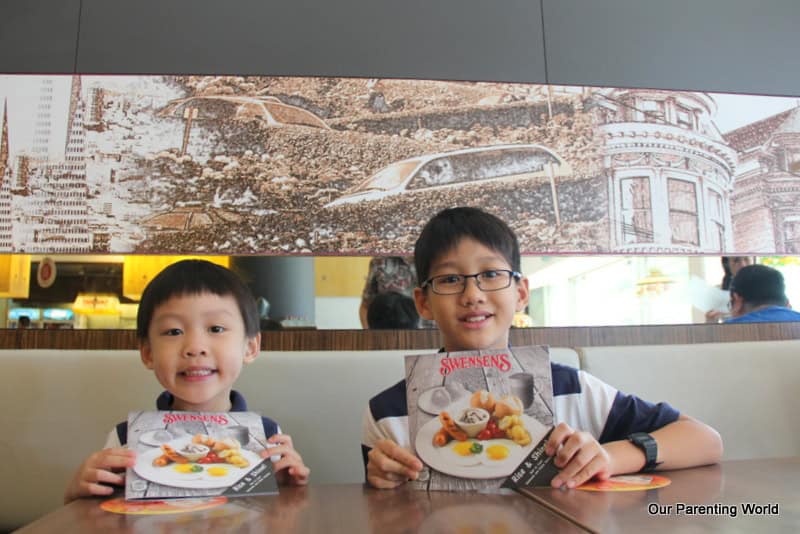 We were at Swensen's on a beautiful Sunday morning to try out its new breakfast menu and Swensen's fans will be pleased to know that the new menu has expanded to include more varieties that will cater to everyone who loves to have a good breakfast meal to jump start their day!
Let Our Parenting World team brings you to a culinary tour to delight your tastebuds on Swensen's new breakfast menu!
Introducing 3 new breakfast meals: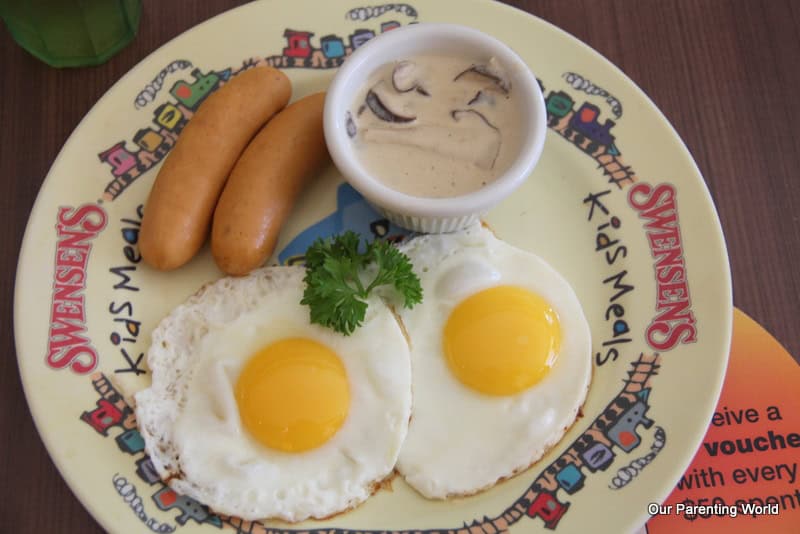 First, we have the Mini Good Morning Sunnies (Kids' Breakfast) at $8.50. This is a sumptuous and appetizing breakfast set for kids that comes with 2 sunny-side up eggs, 2 cheesy sausages and creamy mushrooms.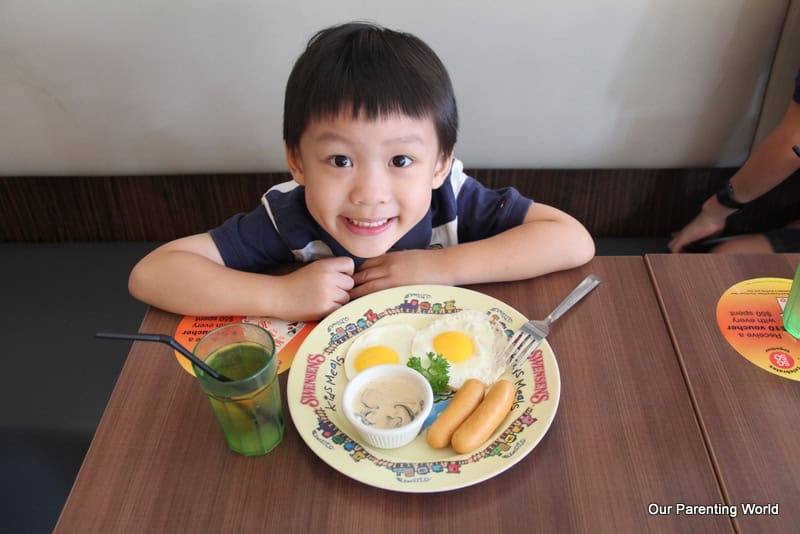 This is a hearty breakfast that is yummy and nutritious. The sunny-side up eggs are perfectly done. My favourite ways of eating are I enjoy poking the egg yolk, mix it together with the egg white and slurp it into my mouth. I also dip the juicy cheesy sausages into the egg yolk which tastes even better!
The second new breakfast dish is Simply Pancakes (Kids' Breakfast) at $7.50. It comes with Swensen's aromatic vanilla buttermilk fluffy pancakes served with homemade honey butter cream and cheesy sausages. If you love pancakes, you must try this, they are wonderfully fluffy and soft.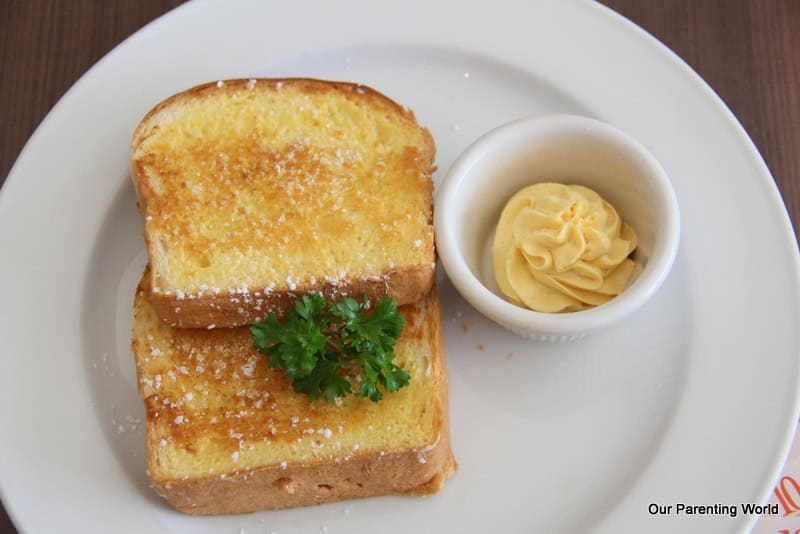 The third new breakfast dish is Salted Egg n Honey Toasties at $6.90. This dish consists of 2 thick cut Japanese bread grilled golden brown and generously spread with homemade salted egg and honey butter cream. It is topped off with even more of the salted egg and honey butter goodness for those who cannot get enough of its addictive flavor.
We love the texture of the toasties, they are crispy on the outside and soft on the inside. The taste of the toasties is further enhanced with salted egg. We all agree that this is a great comfort food for breakfast. 
Each of the breakfast set will come with a complimentary drink, you can choose from either apple or orange juice for children and for adults, either a cup of coffee or tea. Top up options for other drinks are available too. 
The new breakfast menu is now available on weekends and Public holidays from 8am to 11am. It is available at all outlets except Bukit Panjang Plaza, City Square Mall, ION and Plaza Singapura outlets.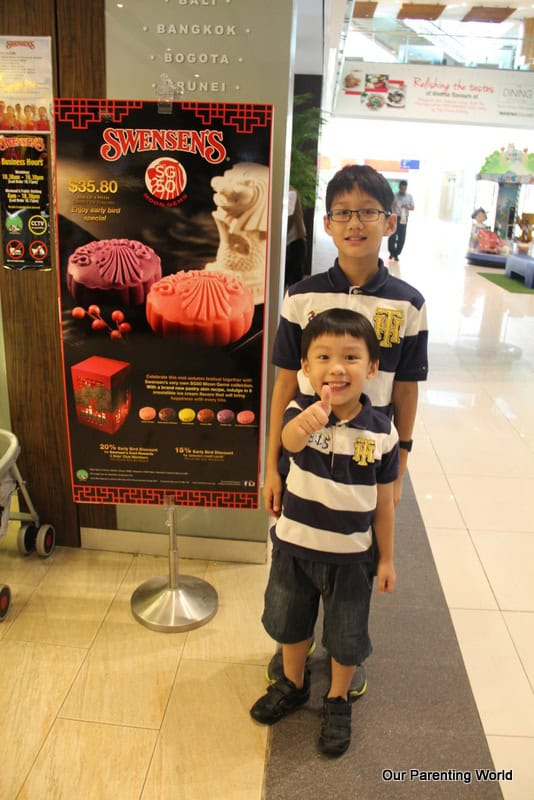 We enjoyed our meals at Swensen's, it is so good that the little boy readily gives thumb up and his happy smile for the delicious breakfast meals. 
Please click HERE for more information on Swensen's and its Breakfast Menu.
In addition, Mid-Autumn Festival is coming and we always look forward to savour some of the best mooncakes in Singapore.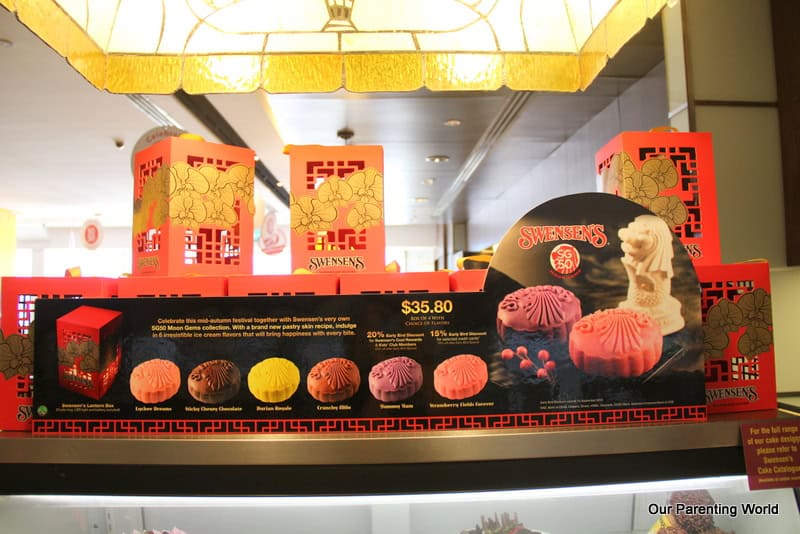 Swensen's introduced its much-anticipated SG50 Moon Gems ice cream mooncakes in celebration of Singapore's 50th birthday. It features the iconic Merlion emblem in reminiscence of how far Singapore has come in the past five decades. The mooncakes are packaged in a beautiful lighted up lantern box complete with LED lights and batteries.
Photo Credit: Swensen's Singapore
The SG50 Moon Gems collection features 6 novel ice cream mooncake flavours that promise to deliver happiness with improved texture that comes with a brand new pastry skin recipe to mark its new milestones. 
The new flavours celebrate some of Singapore's most popular local flavors. In keeping with Swensen's passion to innovate and surprise with new offerings, the family restaurant introduces three flavors that will be sure to please – Crunchy Milo, Lychee Dreams and Yummy Yam. Fans of their quintessential mooncake range can revel in familiar, all-time-favorites like the Durian Royale and Sticky Chewy Chocolate. The other flavour is Strawberry Fields Forever.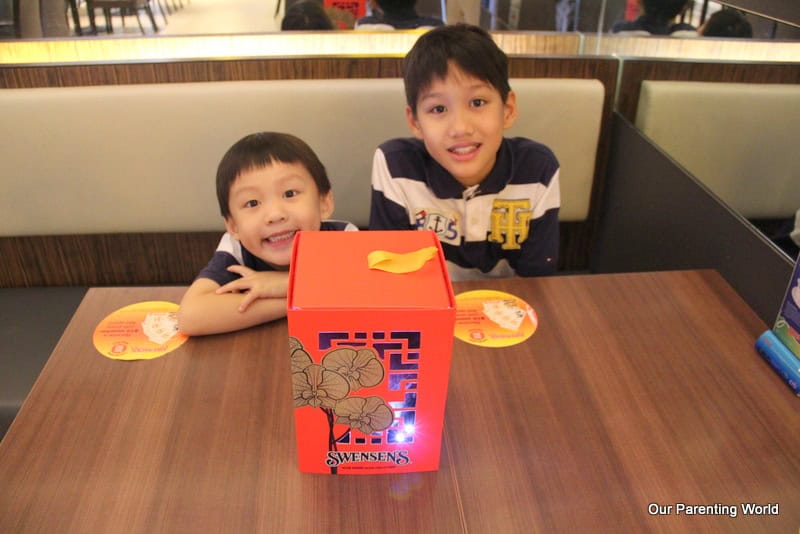 Bring home this detectable Swensen's SG50 Moon Gems collection in a beautiful innovative lighted lantern box to enjoy with your family and friends! It is great as gifts too. 
Swensen's SG50 Moon Gems Mooncake Collection is priced at $35.80 (inclusive of GST) for a box of 4 (with choice of flavours). Available from 14 August 2015 to 27 September 2015 at all Swensen's and Earle Swensen's outlets. No pre-orders are required.
Credit Card Promotions
ANZ, BOC, Citibank, Diners, HSBC, Maybank, OCBC, Standard Chartered Bank, and UOB cardholders can enjoy an early bird special of 15% discount before 15 September 2015 and a 10% discount thereafter till 27 September 2015.
Swensen's Cool Rewards & Kids' Club members can enjoy 20% early bird special before 15 September 2015 & 15% discount thereafter till 27 September 2015.