Fasten your seatbelts and get ready for an exhilarating journey filled with wonder and excitement! Tayo Station, Singapore's beloved indoor children's theme playground in the East, has re-opened its doors on September 6, 2023, featuring a host of enhanced offerings that promise to deliver not only fun but also valuable learning experiences for children aged 0 to 12.

Highlights of what parents and children can look out for when you visit the newly renovated Tayo station as follows: 
● Lots of sensory and role play opportunities for play dates, family fun and school learning journeys! Learn all about road safety signs at the Road Safety School, enjoy driving around the expanded Tayo Road Circuit, cruise pass realistic cityscape, complete with pedestrian crossings, traffic lights and bus-stop. Stop at the garage to change a tyre or drop off your car. Check out the neighbourhood map and tag your next trip to Tayo Station!
● Look forward to more exciting programs customised for Tayo fans! Challenge your kids to show off their newly acquired skills with a joyful 'Drive with Tayo' the mascot and earn their very First Tayo Licence! Your child can look forward to using his proudly acquired Tayo Licence to score treats and rewards down the road.
● Still looking for more ways to expand their energy? Step inside the Hinoki pit for simulated sand play or have fun 'driving' the car at the Toddlers space. Young children and their older siblings will find new play activities at the fully overhauled Gani's playground area. Have unstoppable fun and thrills with trampoline, super slides and spiral tube slides that children can slide through and into the colossal ball-pit suitable for both children and adults. Stage a friendly basketball competition or see who can set the speed record for dashing up the race ramp!
● Lani and Rogi party rooms have been renovated for guests to host exciting and memorable Birthday party celebrations. Also, a perfect venue for participating in customised classes designed to ignite every child's imagination and spark their creativity.
● The in-store retail area is fully stocked with Tayo & friends merchandise for the ultimate Tayo fans shopping experience. Take the opportunity to stock up on your child's favourite Tayo toys with the re-opening promos and special offers. Irresistible Tayo & friends plushies are now available! Collect the full set before they run out of stock!
"We are very pleased to invite parents and children back to Tayo Station," adds Carolyn Chia, DreamUS Group's General Manager. "As a parent myself, I am always looking for ways to make learning fun & effortless for my kids. With this latest Tayo station reboot, we aim to deliver more Joyful Learning, Exuberant Play, and Delightful Memories to our guests."
Special Opening Promotions:
Turbo charge your family fun with the Re-opening Special Limited-Time PWP Bundle Offer – Add-on $28 to any Ticket or Saver's Pass purchase and get a FREE birthday pass plus a 12-month Lite membership bundle worth $69.90! Save up to $7 on future visits! (T&Cs applicable).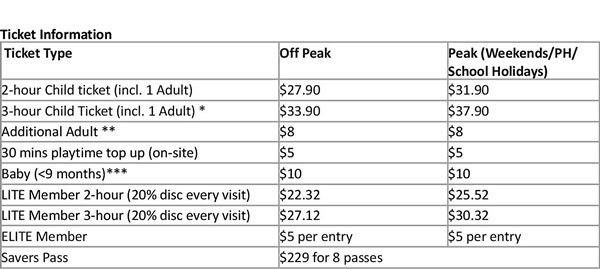 *3-hour tickets are only available online, 24 hours before the visit date.
**Strictly no swapping of adults at any one time.
***Babies below 9 months are chargeable at $10, this amount can be utilised to offset merchandise purchase (Adult Ticket has to be purchased with a Baby Ticket)
Find out more about Tayo Station at https://www.tayostation.com/