Temasek Foundation will offer one free mask kit each for all Singapore residents who have an NRIC, birth certificate, FIN card, School Smartcard or any government-issued ID with a barcode in its third nationwide distribution. Each kit contains two black MaskFit ProShield® reusable masks and three reusable filters. With a new sizing guide online, residents can also determine the most comfortable fit for them. The third nationwide reusable mask distribution exercise starts on 30 November, Monday and will last until December 13. 
Like the previous mask distributions, the MaskFit ProShield® mask kits may be collected from some 1,200 #StayMasked vending machines at over 800 locations around the island. The MaskFit ProShield® masks are available in S, M, L, and XL sizes. Free size S mask kits are only available to children aged 8 and younger. Older residents may order size S masks online.
Additional mask kits may be ordered online, or via DBS PayL

ah!

App, subject to availability. Th

is

third national distribution of reusable masks is a continued effort under the

Stay Prepared

#StayMasked initiative

,

which aims to help our community stay safe sustainably

,

with convenient access to reusable antibacterial masks.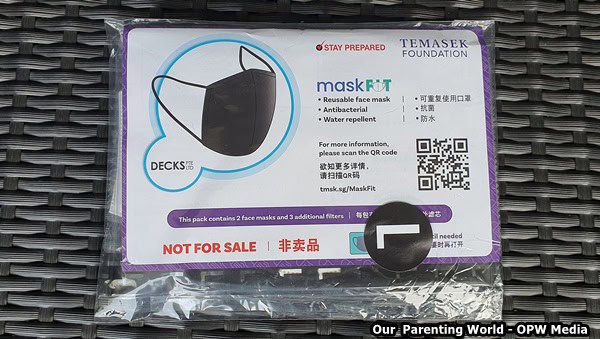 Helpful tips on using the mask as follows:
1.

Keep sealed until needed
3.

Wash as instructed before use (See "How to wash the mask and filter")
4.

Clean your hands before and after putting on the mask
5.

Avoid touching surfaces of the mask
6.

Insert filter from the side if desired (See "How to use the mask filter")
7.

When wearing the mask, the side with the filter compartment should face inwards
8.

Mould wire over nose bridge
9.

Adjust top strap for better nose fit
10.

Adjust bottom strap for better jaw fit
11.

Extend mask to fully cover nose, mouth and chin
12.

After removing the mask, fold the side with filter compartment facing in, store it in
a clean envelope/tissue paper/bag
13.

Wash after each day of use, up to 50 times
14.

Use the calendar on the leaflet in the mask kit to track the number of washes
Ho
w
to Use
the
M
a
s
k
Fil
ter
1.

Clean your hands before inserting the filter
2.

Hold mask with inner side facing up
3.

Insert filter, aligning curved edge to top of mask
Ho
w
to
W
a
s
h the
Ma
s
k
a
nd F
il
ter
– 

Incorrect washing methods will reduce effectiveness of the mask
– 

Wash with similar colours
– 

DO NOT tumble dry or dry clean
1.

Remove filter from either end
2.

Wash the mask and filter separately
4.

Soak in a gentle soap and lukewarm water solution for at least 3 minutes
5.

Please DO NOT use alcohol sanitiser, antiseptic detergent or bleach
6.

DO NOT rub, scrub, or wring the mask
7.

Rinse with clean water
8.

Drip dry. Mask can be ironed at low temperature