Tesalate is a Sydney based company that specialised in making sand free beach towels. The company was founded by two friends, Jacky Lam and Volkan Ozbek, they started the idea of producing sand free beach towels after their hiking trip to a beach and their towel was wet, heavy and sandy. They began to work on researching, designing to make towels that are highly absorbent, completely sand free towels and look amazing too! 
Tesalate used cutting-edge textile technology and created its exclusive AbsorbLite™ fabric for the towels to give you a fuss-free and enjoyable time at the beach. Here's the benefits of using Tesalate towel at a glance:
1) Sand free – Leave the beach at the beach.
2) Full sized beach towel – 160cm x 80cm / 63 x 31 inches.
3) Ultra absorbent – over 1 liter of water.
4) Rapid-drying – Half the time of a regular beach towel.
5) Compact when rolled – Fits in your bag.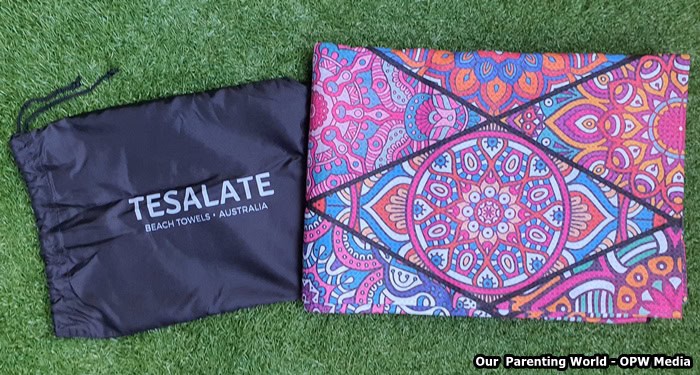 Tesalate can be easily rolled up and stored in the bag provided. It is very light, compact and so convenient for you to carry the towel around whenever you need to use it.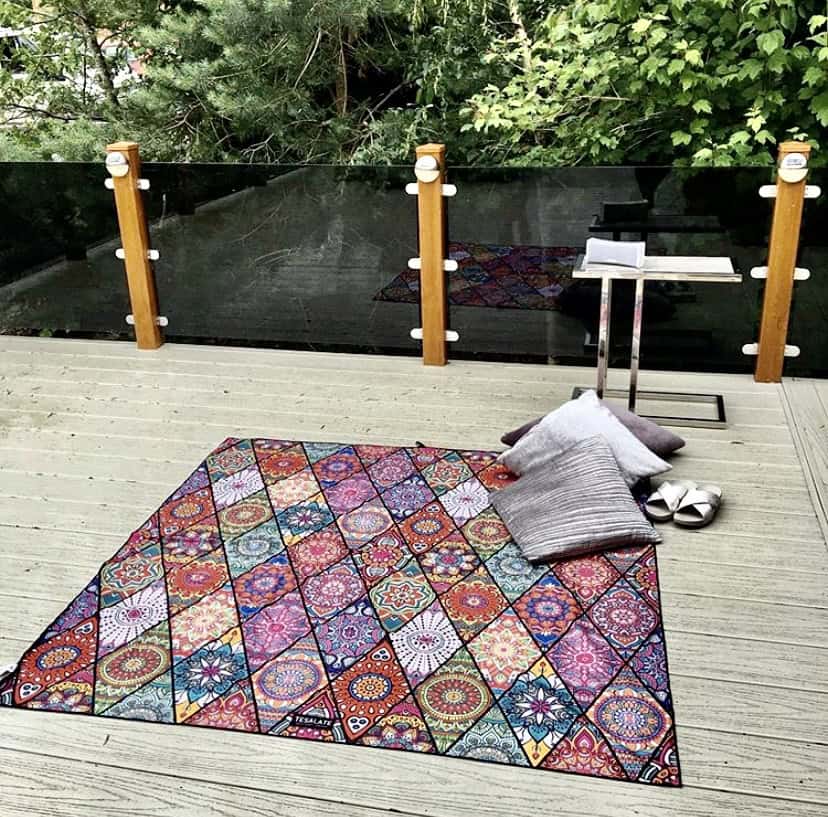 Image credit to Tesalate
Tesalate towels come in two sizes, Standard and Towel. The Standard is a full-sized beach towel (160cm x 80cm / 63 x 31 inches), good for 1 person at USD$59. The Towel is an oversized beach towel (160cm x 160cm / 63 x 63 inches), good for 2 persons at USD$99. It comes with free worldwide shipping & returns. 
The above towel design is Bohemian which is one of Tesalate's most popular designs. There are many designs to choose from at Tesalate's website and all its towels are brightly-coloured and beautifully designed. You can surely find the design that you prefer. 
Image credit to Tesalate
Tesalate is versatile and suitable for any occasion besides using it at the beach, you can use it for indoor workouts, yoga and picnics at your backyard or even as home accents and blankets. It is a great gift for special occasions like birthdays, honeymoon gifts.
This impressive towel does not give you a wet feel as it can absorb more than 1 litre of water and able to dry up quickly. We absolutely love the stylish and practical towel, it feels so soft, so light-weight, it is simply amazing, and the sand doesn't stick to the towel unlike other normal towels, it truly live up to its name as a sand-free towel! 
Tesalate is so popular that it has customers in over 130 countries and has become the most reviewed beach product ever with an average rating 4.9 stars. Check out its 20,000 organic reviews to date which you can read on its website. 
Check out Tesalate today and get the towel! You will love it! 
To find out more and to purchase, please visit the following: 
Official Website: www.tesalate.com
Facebook: www.facebook.com/tesalate
Instagram: www.instagram.com/tesalate
Pinterest: www.pinterest.com/tesalate