For a serious topic like mental health, it is not easy to produce a funny and entertaining play. Thus, credit is given to the team who produced "The Almighty Sometimes", now performed at the Singapore Repertory Theatre until 26 Nov 2022.
Based on Australian playwright Kendall Feaver, the play starts with 21-year-old Anna bringing home a male friend and bumped into Anna's mother at home. Anna's mother happens to be his school's teacher when he was in school previously and it was an embarrassing moment for the mother to see her daughter and her former student in her home.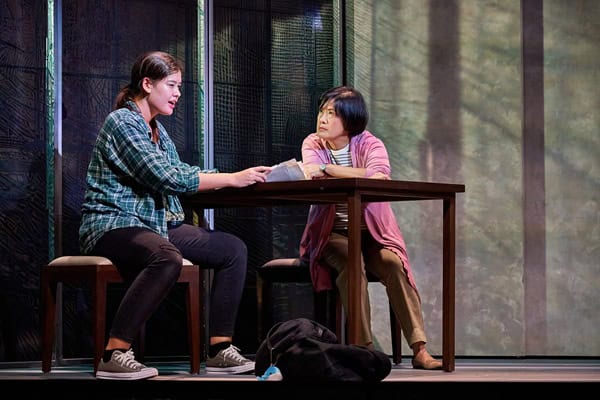 The play revolves around Anna who has been taking cocktail of psychiatric medicine to control her mental condition and now when she reaches the age of 21, she wants to be free from the medications as she thinks without the medication, she can be a good novel writer. The play is rated Advisory 16 as it has discussion about sex and mental health, where it is more suitable for those who are 16 years old and older.
The show portrays the conflict between Anna and her mother who has been feeding her medication since she was young, the conflict between Anna and her child psychiatrist who uses her as a case study for her scientific audience without Anna's consent and between Anna and her boyfriend who tries to understand her mental health and helps her mother monitor Anna without her knowledge.
The topic mental health is no longer a taboo subject in our community as we need to address and understand mental health issues among our younger generations. At the same time, we also need to respect their thoughts and feelings. It has been an entertaining and meaningful evening watching this wonderful performance, as the actors, especially 20-year-old Arielle Jasmine Van Zuijlen, who plays Anna and veteran actress Karen Tan who plays her mother are amazing, they performed their roles brilliantly and managed to draw the audience into this heartfelt play. 
This play is suitable for those who are interested in the mental well being of our younger generation and want to understand their aspiration and challenges when facing with this medical condition.
The Almighty Sometimes
Show Dates: From 8 November 2022
Monday – Friday: 8pm
Saturday: 3pm & 8pm
Venue:
KC Arts Centre – Home of SRT
Ticket Pricing:
Preview (8 & 9 Nov, 8pm):
Cat 1: $55
Cat 2: $50
Standard (Mon – Wed, 8pm & Sat, 3pm):
Cat 1: $65
Cat 2: $60
Peak (Thu – Sat, 8pm):
Cat 1: $70
Cat 2: $65
Duration:
Approx 150 Mins
Rating:
Advisory 16 (Some Mature Content and Coarse Language)
Find out more and get the tickets now at https://www.srt.com.sg/show/thealmightysometimes/