Nature's Glory launches the world's breakthrough in soap technology, this Singapore's health pioneer introduces the first home grown, NASAA certified, brand new organic liquid soaps range called the Blessed Soaps.
The liquid soap base is made from Organic, Food Grade Coconut, Olive and Sunflower Oils with ingredients like Organic Aloe Leaf Juice and Organic Shea Butter to nourish and pamper the skin. It is so important to set their standards so high because the team at Nature's Glory emphasizes that skin is our largest organ. The soaps contain therapeutic oils that are carefully mixed in precise formulated ratios using advanced technology into the soap base, following safety guidelines of aromatherapy to produce a safe, nutrient rich formula for the whole family. All its ingredients and processes meet the stringent Organic standards of NASAA Australia and every product bears the NASAA Approved Cosmetics logo.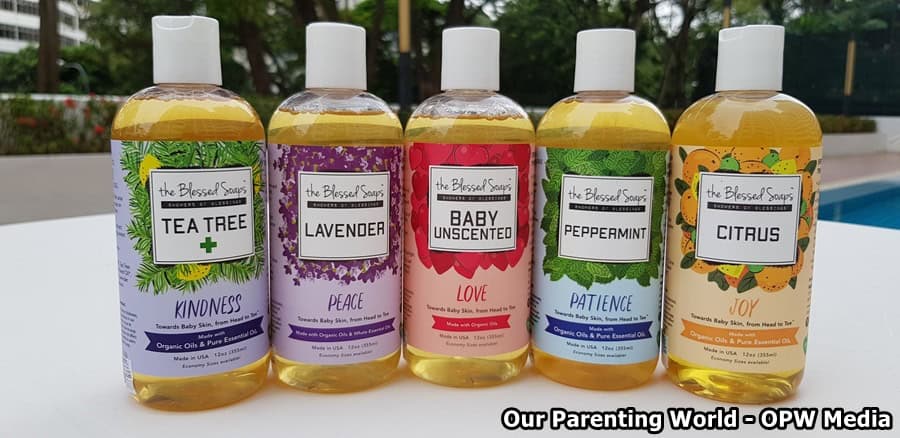 The liquid soaps are very easy to use, they are so gentle and yet effective in cleaning your skin quickly without blocking pores so that each time you shower, your skin will enjoy maximum nutrient absorption.
There are 5 variants of the Blessed Soaps by Nature's Glory to refresh, relax and recharge yourself with as follows:
(1) Tea Tree Kindness for those with skin problems.
(2) Lavender Peace for calming, relaxing and soothing.
(3) Baby Love Unscented – for babies, children and those with sensitive skin or allergies.
(4) Peppermint Patience for cooling the body and mind.
(5) Citrus Joy for refreshing, uplifting, purifying and invigorating.
We tried 2 types of the Blessed Soaps by Nature's Glory, Peppermint Patience for cooling the body and mind and Citrus Joy for refreshing, uplifting, purifying and invigorating. You can apply the soaps all over from hair, face, hands, body to feet.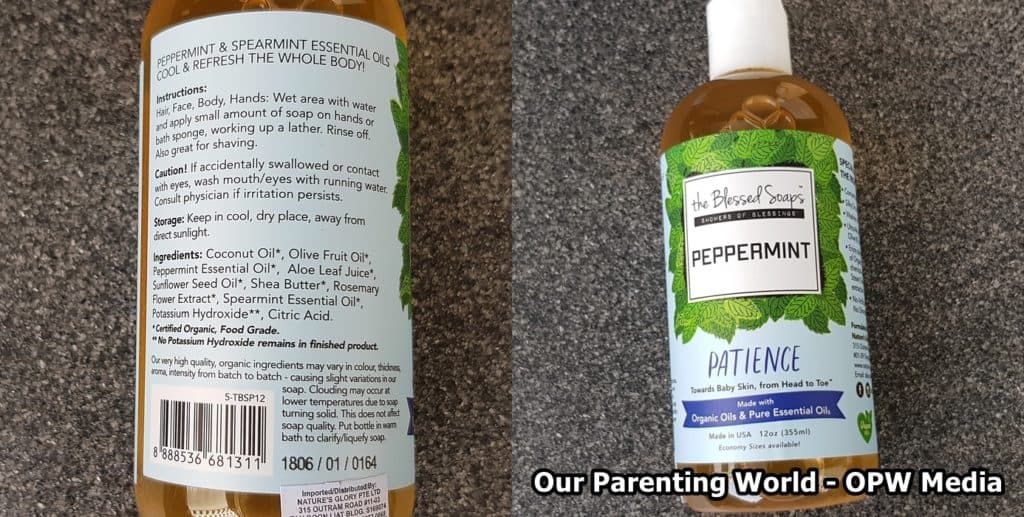 Peppermint Patience for cooling the body and mind
Just apply a small amount on your hand, wet it and work up to a lather. Good to use this soap when you are feeling hot and tired, skin will cool down and feel very refreshed after the shower. It makes your shower time more enjoyable too with its cooling properties. What's more, it gives off a natural, minty fragrance!
Citrus Joy for refreshing, uplifting, purifying and invigorating
This is good to use when you would like to uplift your mood and helps to reduce stress especially after a hard day of work. It helps to make you feel better and energetic. After using it, your skin feels very clean, moisturized and it is a great pick-me-up, with the invigorating smell from citrus. Citrus is also well-known to be a mood booster and makes you feel good!
the Blessed Soaps series are moisturising, it does not dry up your skin and comes with milder pH towards Baby Skin of pH7.8 in inner skin to reflect healthier skin and body. The soaps' performance is up to 2.5 times better than most soaps, with higher nutrient absorption, using premium certified organic essential oils, natural aroma instead of fragrances, quicker to wash and clean with less time and water, therefore economic savings of up to 20%. the Blessed SoapsTM is backed by technology and research to maintain consistency high cleansing potency throughout its shelf life with proper storage. Most commercial shower gels and soaps display a drop in potency in at least 5% per month.
This is a very versatile product besides using it for shower, face wash, hair wash, you can use it for dish washing, or even a few droplets for mopping and laundry, and everything at home will smell heavenly, and they clean thoroughly yet not drying. 
Try one today and these liquid soaps come in 12oz (355ml) @$15, 32oz (946ml) @$30.80 and 1 gallon (3776ml) @$105. Made in USA. Product of Singapore.
They are available at Nature's Glory and its online website, www.natures-glory.com, selected NTUC Finest and Extra outlets, selected Watsons
Good News! Giveaway Alert!
Thanks to Nature's Glory, we have $300 worth of Nature's Glory the Blessed Soaps to give away to 5 lucky readers. Each winner will receive $60 worth of the Blessed Soaps and you can then try them out yourself!
T&Cs: Winners to self-collect the Blessed Soaps at Nature's Glory shop at Outram (Tan Boon Liat Building) and please collect within one month, otherwise the prizes will be forfeited. 
Facebook and Instagram Contests:
Simply do the following:
1) LIKE and FOLLOW Our Parenting World Facebook Page and Nature's Glory Facebook Page. 
2) LIKE, SHARE and TAG 5 friends to share this Facebook Giveaway Post
3) FOLLOW our Instagram at @opwmedia and @naturesglorysg
4) LIKE, SHARE and TAG 5 friends to share this on @opwmedia Instagram Giveaway Post
Hurry, giveaway will close on 25 September at 23:59Hr. Winners will be announced and notified on 27 September, please check this space for announcement. 
Thank you and Good Luck! 🙂 
Giveaway Closed and Winners Announced, please move over to Our Parenting World's Facebook Page for winners' details at https://tinyurl.com/ydfpqkhn
Terms and Conditions 
Entry into the giveaway contest will be deemed as acceptance of these terms and conditions. The rules of the giveaway contest and how to enter are as follows:
1) The prize is as stated, subject to change and fulfillment by the sponsors. Winners are not allowed to change the prizes. The prize will be non-transferable, non-refundable and non-exchangeable for other dates/times. The sponsors reserve the right to amend the competition, substitute any prize or with another of equivalent value without giving notice.
2) All participants have the opportunity to win as long as you have completed and fulfilled all the steps required by the giveaway contest. Please make sure your likes and shares are set to public for verification purposes. Incomplete entries and fake accounts will be disqualified at the discretion of the organisers.
3) Winners of past giveaways in the last one month will not qualify for this giveaway, please wait till after one month from the date that you have won to participate in the current giveaways. 
4) Giveaway contest is open to all Singapore residents with a valid Singapore mailing address
5) The organiser (ourparentingworld.com) is not responsible for inaccurate prize details supplied to any entrant by any third party connected with the giveaway contest by the sponsors.
6) Winners will be notified by email /Facebook/Instagram after the contest has ended. If the winner cannot be contacted or do not claim the prize,  we reserve the right to withdraw the prize from the winner and or pick a replacement winner. 
7) The organiser reserves the right to cancel the contest if circumstances arise outside of its control.
8) The sponsor's and the organiser's decision in respect of all matters to do with the giveaway contest will be final and no correspondence will be entered into.
9) Other terms & conditions applied.