Peranakan food lovers will be delighted to know that The Blue Ginger which is one of the first and most established Peranakan restaurants in Singapore has launched its second outlet at the recently-revamped Great World. The Blue Ginger's flagship outlet was first opened at Tanjong Pagar for 25 years and it has been a Michelin Bib Gourmand recipient for the past three years.
The new outlet at Great World boasts a modern, intimate and classy interior with Peranakan touches and serves excellent homely Peranakan dishes prepared by a team of skilled chefs with recipes from one of the founding partner's mother, Mrs Vivian Lian.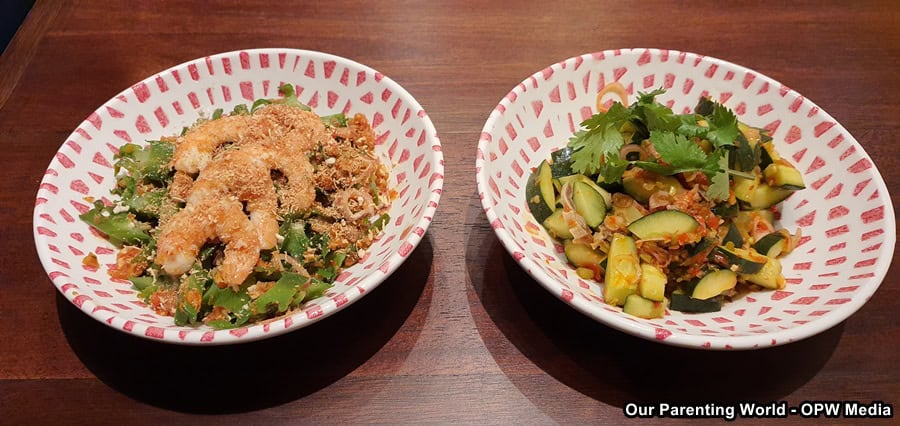 Kerabu Kacang Botol ($11.50) (L) and Kerabu Timun ($8.50) (R)
First up, we started our meal with two new appetising starters that are available at Great World like the Kerabu Kacang Botol and Kerabu Timun. The Kerabu Kacang Botol consists of wing beans, this four-angled bean is a kind of vegetables that we don't get to eat that often. It is tossed in a spicy, tangy dressing, topped with shallots, toasted grated coconut and fresh prawns. Kerabu Timun consists of refreshing and crunchy cucumber filled with chicken gizzards in a spicy dressing.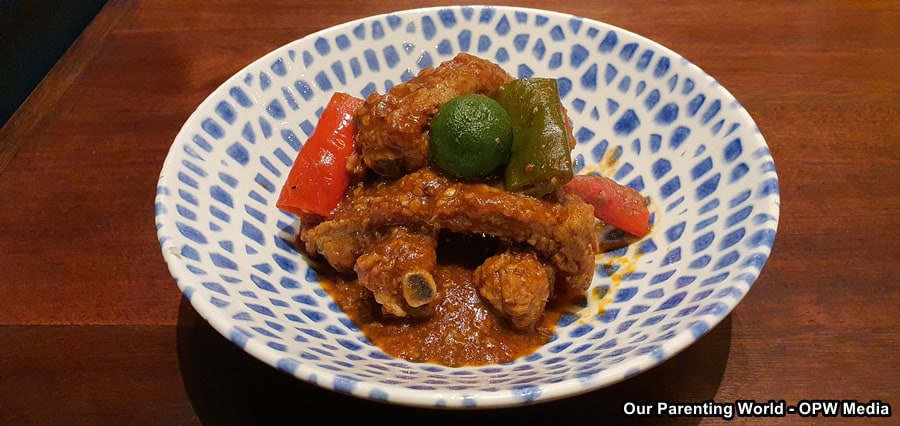 Pork Ribs Assam ($16)
The pork ribs have been braised for hours using the method that is usually prepared with pork belly. It gives a delicate balance of sweet and sour flavours and the meat is so soft that it falls off from the bone easily.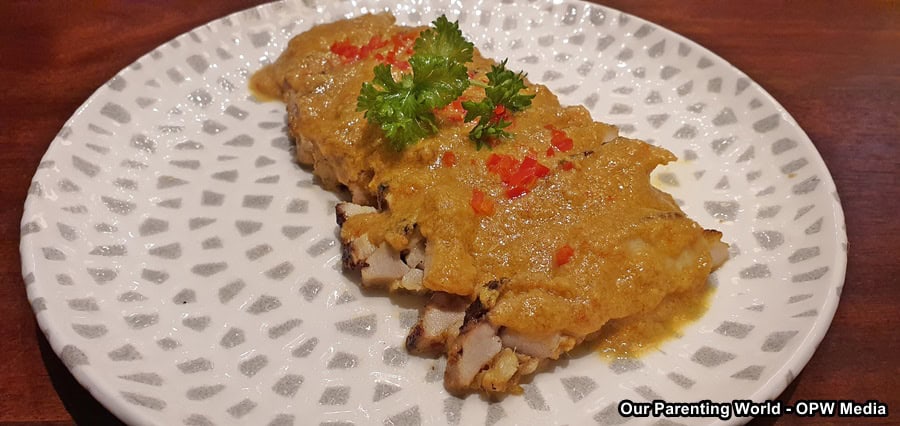 Ayam Panggang "Blue Ginger" ($16)
This is one of the star dishes at The Blue Ginger, using boneless chicken thigh marinated with spice mix including turmeric which gives the dish a distinct bright yellow colour. It is then grilled till the meat is juicy and succulent and drizzled generously in a wonderfully-fragrant gravy with coconut milk rich in exotic spices.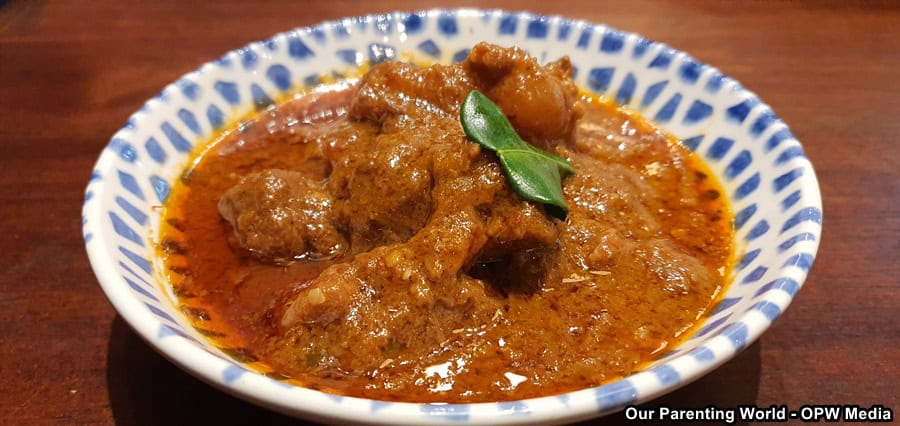 Beef Rendang ($20)
This tempting dish consists of tender and soft beef cubes covered in a thick, aromatic curry sauce that is prepared using coconut milk, spices and ingredients such as ginger, lemongrass, lime leaves, coriander, cumin and curry powder.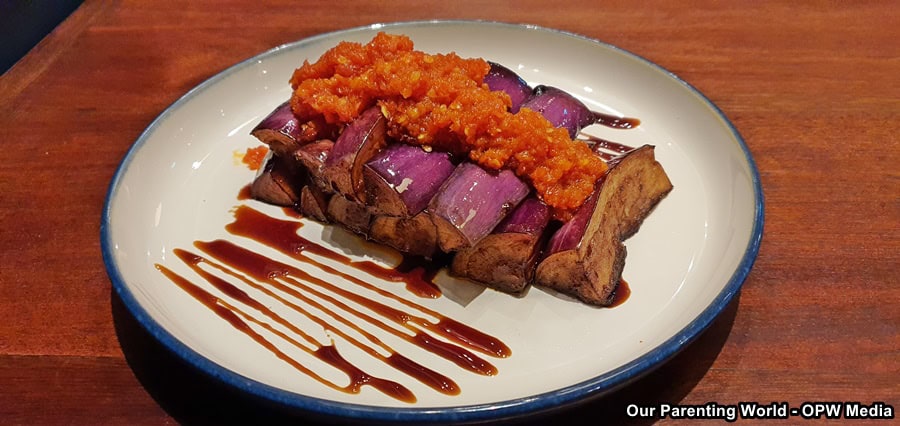 Terong Goreng Cili ($13)
This is one of the highly-recommended dishes at The Blue Ginger, the eggplant has been deep-fried and topped with homemade fresh chilli paste and drizzled with sweet soya sauce. Absolutely delicious!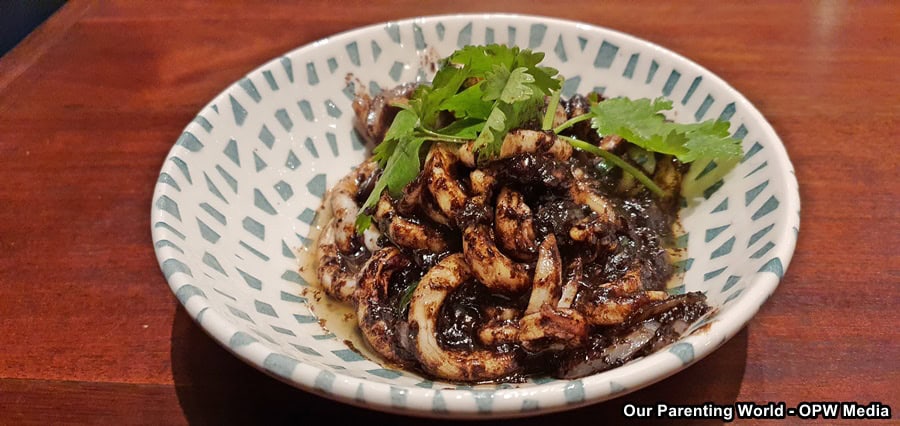 Sotong Keluak ($22)
This seafood dish uses fresh squid that has been stir-fried using rich and earthy buah keluak paste (black nut paste) that is sourced from Indonesia exclusively and with tamarind juice, sweet silvers of onions, red and green chillies. This delightful dish is best to go with a bowl of fragrant jasmine rice.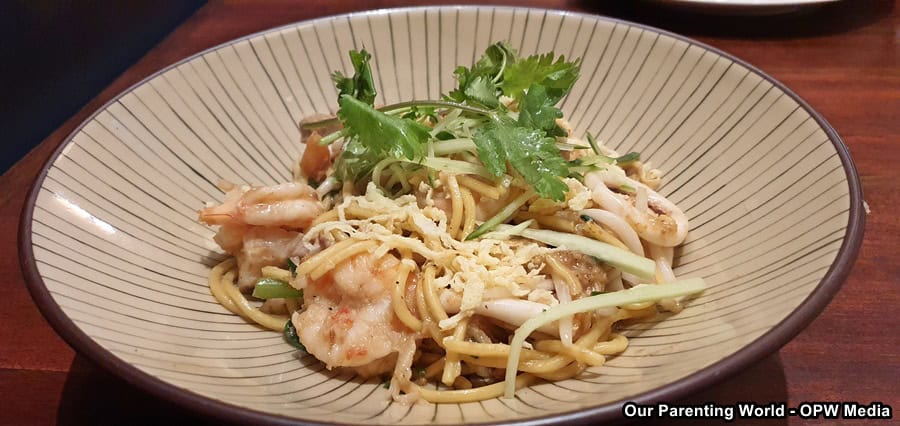 Nonya Noodles ($15) 
Nonya Noodles is usually prepared by the Peranakans on special occasions like birthdays. This bowl of noodles is full of wok hei with umami flavours using yellow springy noodles that has been work-fried with deliciously rich prawn and pork stock, flavoured with bean paste, filled with fresh bean sprouts, kang kong and topped with omelette and cucumber julienne.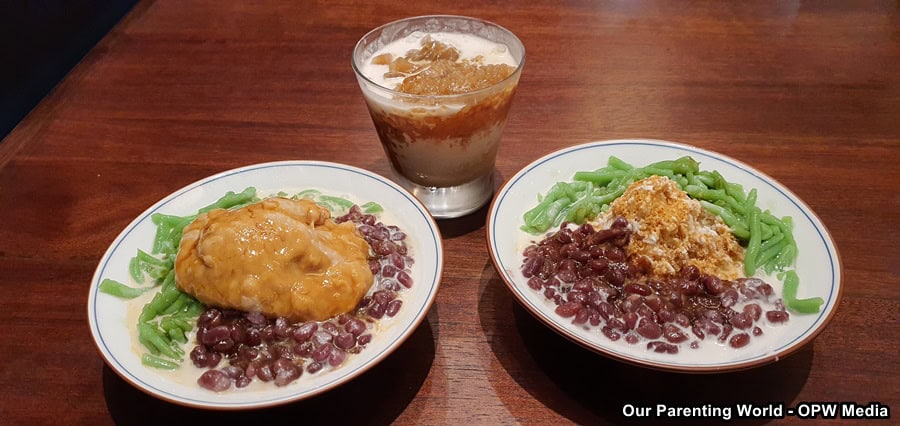 Durian Chendol ($7) (L), Sago Gula Melaka ($4.50) (M) and Chendol ($5) R
A good way to finish off a hearty meal is to have desserts, at The Blue Ginger, you can get to indulge in wide selection of kueh kuehs, refreshing bowls of Durian Chendol with generous scoop of rich D24 durian puree, Sago Gula Melaka and Chendol.
Overall, it has been a fabulous dining experiences for us at The Blue Ginger, it is a great place to enjoy mouth-watering and sumptuous Peranakan food!
The Blue Ginger's 2nd outlet is located at Great World, #01-106, 1 Kim Seng Promenade, Singapore 237994. 
Opening hours:
Mondays – Fridays
Lunch : 11am – 3pm ( last order 2.15pm )
Dinner : 6pm – 10pm ( last order 9.15pm )
Saturdays , Sundays & Public Holidays
11am – 10pm ( last order 9.15pm )
Tel: +65 6235 7042
Website: https://theblueginger.com/
Facebook: https://www.facebook.com/TheBlueGinger/