The Body Shop, the activist beauty company sets to be the first global beauty brand to have 100% of its product formulations certified by The Vegan Society and carry its Vegan Trademark by the end of 2023; and calls on consumers to join their refill and recycling revolution.
The Body Shop was also the first cosmetics company to campaign against animal testing in cosmetics in 1989, with a fundamental belief that animals should not be harmed in the pursuit of beauty. The fight continues for a worldwide ban on animal testing in cosmetics.
The Body Shop Announces Commitment to be 100% Vegan Certified by 2023
The Body Shop currently has 60 per cent of its products are vegan. This includes best-selling ranges such as the Tea Tree skincare range, its Himalayan Charcoal Purifying Glow Mask, Body Yogurts and now the iconic Body Butters. Over the course of 2021, the new vegan Body Butters will be rolled out locally with the Vegan Trademark across The Body Shop Singapore stores and via their online official stores on Lazada and Shopee in the third quarter.
The Vegan Society represents the global gold standard in vegan certification. With a globally recognised trademark across multiple industries, it provides a trusted stamp for The Body Shop products across the world. The Vegan Society takes an extremely thorough approach to certification and contact is made with every supplier and manufacturer of raw materials within the product catalogue. For The Body Shop, that's over 3,700 raw materials. Once each raw material has been meticulously investigated, each product is reviewed in totality to make sure it is fully compliant. Only then does a product receive Vegan Trademark certification. 
The Body Shop Rolls Out Its Refill Scheme 
Our team visited The Body Shop, first ever refill station in Singapore at ION Activist Workshop store at #B3-66 recently. We are excited to experience the refill station, first pick up a refillable aluminium bottle and choose from a selection of The Body Shop's best-loved shower gels, shampoos, conditioners and hand washes.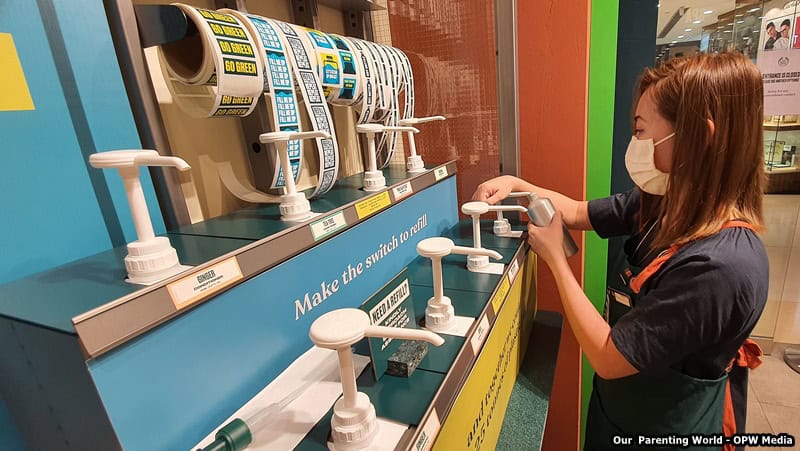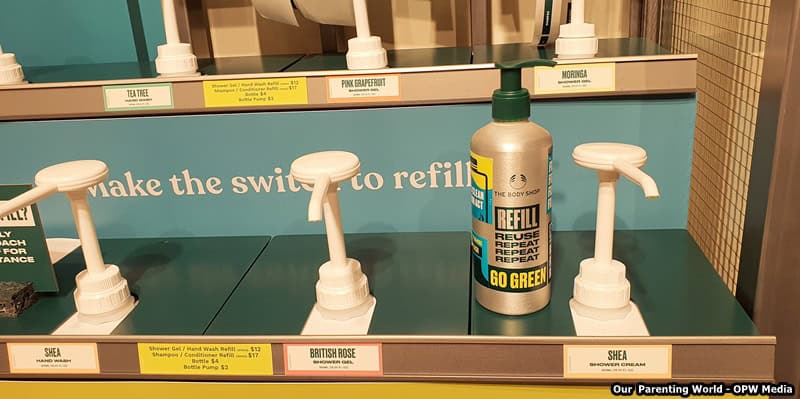 Once you have filled up your bottle, you can proceed to customise and decorate your bottle with the fun and funky stickers provided at the station.
After you have used up the content in your bottle, give it a rinse, you can bring it back and refill it. It is really simple, besides saving money by going for refill, you can also do your part to save the environment by reducing the amount of plastics.
By making the simple switch to refill, together we could save over 25 tonnes of plastic every year.  Every individual plays a crucial role in driving this change because every bottle counts. By switching to refill you could prevent up to 32 plastic bottles from going to waste each year and help prevent up to 2200g of CO2 from entering the atmosphere. And it's not just better for the planet, it's better for your wallet too. By switching to refills, you could save around $58 every year.
About Return, Recycle, Repeat (RRR)
Speak to the friendly staff at The Body Shop if you want to return and recycle your empties. Put your clean and empty packaging into the recycling bin once the staff has checked. Their recycling partner sembcorp will collect the empties in the bin to recycle the items for other purposes. Love Your Body™ Club members will receive a reward when they return any 5 of The Body Shop empty plastic bottles or containers.
The Body Shop's founder, Anita Roddick was one of the pioneers when it came to refills and recycling. In 1976, when The Body Shop first started, she offered to refill customers bottles and in 1993, the company introduced a 'Bring Back Our Bottle' (BBOB) recycling scheme. Today, The Body Shop wants refills to become mainstream. Since April 2021, The Body Shop has launched an ambitious roll-out of refill stations and will continue to do so across 500 stores globally by end of 2021 as well as a further 300 stores in 2022.
This is their bid to help more people opt out of packaging, eliminating waste before products reach the bathroom shelf. The Body Shop wants refills to be easy, convenient and accessible to everyone, which is why this is their first step in a 5-year plan to roll out refill stations in the majority of the stores across the globe. In Singapore, The Body Shop has launched its first refill station in Singapore on 9 July at their ION Orchard store, followed by Plaza Singapura on 4 August, with plans for expansion in the months to come.
Locally, the RRR scheme is available in all 36 stores islandwide, and almost 23,000 empty plastic containers were returned for recycling in 2020!
To find out more about The Body Shop, please visit https://www.thebodyshop.com/