The Body Shop, highly-anticipated Christmas collection has finally arrived! It includes a variety of Christmas gift sets and stocking fillers tailored to fit any budget, along with two all-new limited-edition seasonal scents, Cherries & Cheer and Pear & Share. 
The Body Shop's Holiday Collection is no ordinary one as every gift helps drive positive change for The Body Shop's Community Fair Trade (CFT) partners around the world. This programme ensures the suppliers receive fair prices and gain access to markets, allowing them to provide high-quality ingredients, accessories, and materials.
Highlights of the gift collections as follows: 
The Body Shop Nutty & Nourishing Shea Essentials Gift, $43
Give your skin some serious TLC this Christmas with the Nutty & Nourishing Shea Essentials Gift set, enriched with handcrafted Community Fair Trade shea butter from Ghana. 
The Body Shop Slather & Glow Face Mask Gift Set, $39
Pamper someone special this Christmas with the Slather & Glow Face Mask Gift set, this mini mask gift will whip skin into tip-top condition in just 15 minutes. With the Himalayan Charcoal to help purify skin, British Rose to plump and hydrate, and Chinese Ginseng & Rise to help reveal brighter-looking skin.  
The Body Shop Soothe & Swish Ginger Haircare Gift Set, $43
Give the gift of mane-swishing freedom. The Body Shop Shake & Swish Ginger Haircare Gift Set helps wash away loose flakes and soothe dryness, leaving scalps feeling loved. This gift set doesn't just love their scalp. It helps support the Community Fair Trade partners who helped to make it. The Ginger conditioner is made with community Fair Trade organic aloe vera from Mexico.
The Body Shop Unwind & Rest Sleep Intro Gift, $69
Give the gift of relaxation with the Unwind & Rest Sleep Intro Gift set from the best-selling Wellness range. Crafted with a blend of lavender and vetiver essential oils, this soothing scent helps to relax the body and mind before bedtime. The Bedtime Balm and Hair & Body Wash are enriched with Community Fair Trade organic olive oil from Italy.  
The Body Shop Bloom & Glow British Rose Essentials Gift, $49
Do you know someone who loves to stop and smell roses? Treat them to The Body Shop's Bloom & Glow British Rose Essentials Gift set. This floral frenzy features products enriched with ingredients like shea butter from Ghana, organic almond milk from Spain, and organic aloe vera from Mexico – all sourced through the Community Fair Trade programme.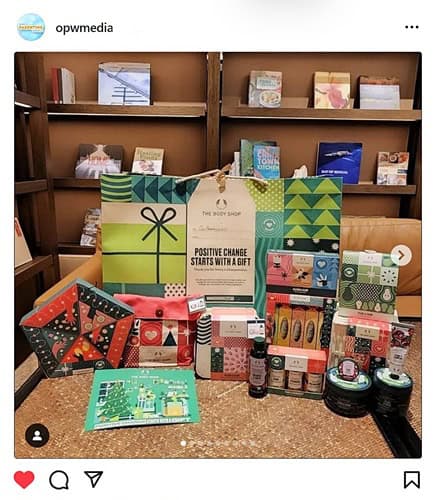 To see more details and images of the gift sets and products, please visit our Instagram at this LINK
Positive Change Starts With A Gift 
Every gift from The Body Shop is a gift of positive change. As part of its trailblazing CFT programme, the brand seeks out traditional artisans, rural farming cooperatives, and producers, who are experts in their field. The programme helps bring high benefits to thousands in these communities. By purchasing gifts from The Body Shop, beauty lovers are also supporting:
Get Paper Industry's 'Send our Daughters to School' campaign enabling hundreds of girls from disadvantaged families in Kathmandu Valley, Nepal to attend school. 

Over 2000 marginalized waste collectors in India with vital financial stability

Tungteiya Women's Association, which help their wider community of 49,000 people living in rural areas of northern Ghana to access education, healthcare, and water sanitation facilities.
100% Of Christmas Packing Can Be Either Recycled, Reused Or Repurpose
This year, more than half of The Body Shop's Christmas packaging has been developed with reusability in mind, ensuring each gift has a "life after Christmas". 100% of the gift collection includes packing designs that can be either reused, recycled, or repurposed. 
This includes the move from paper to brand-new organic cotton vanity cases, which can be reused as traditional beauty vanity and packing cubes. All paper and card constructions are made to be as recyclable as possible.
This year, The Body Shop will welcome its 900th refill store worldwide, where you can refill 12 of its best-selling shampoos, conditioners, shower gels, and hand washes. 100% recycled and stylish aluminum bottles can be gifted to your loved ones, and they can continue to refill in-store again and again. 
This Christmas, let your gift make a statement – not just in beauty but in creating a fairer and more beautiful world. Unwrap the joy, share the love, and join The Body Shop in their mission to make every gift count. Because this season, it's not just about the present, but the positive impact it leaves behind. The Body Shop Holiday Collection 2023 is available at its official flagship store on Lazada, Shop, and The Body Shop stores island-wide. Find out more about The Body Shop at this LINK.