Looking for Christmas gifts? The Body Shop has launched their new Advent Calendars and Christmas Gift Collection. First up, this year, The Body Shop iconic and popular 2022 Advent Calendars are sure to be an instant hit. Last year, their iconic calendars are so well-received that they flew off the shelves.
The Body Shop's new Advent Calendars consists of reusable pop-up designs that has skin or body-loving surprises that nourish, pamper or revitalise, hiding in each box. The Body Shop believes the true wonder of Christmas is in its power to transform lives and create a fairer world. That's why each Advent Calendar is a celebration of its most loved Community Fair Trade partners and is packed with goodies that have been made or enriched by them. Community Fair Trade is The Body Shop's bespoke programme that helps its small-hold producers gain market access and invest in social and environmental projects that benefit their communities. 
The Advent Calendars come with thoughtful designs inspired by letters to Santa, with hope and wishes for a fairer world, as well as inspiring facts and empowering stories of the women at the heart of these partnerships. 
This year, The Body Shop launched their activism campaign, Be Seen. Be Heard, to amplify young voices in the halls of power. This Christmas, The Body Shop will continue to support young people who are contributing to their communities to make the world a fairer, more wonderful place. Over the festive period, The Body Shop will donate a minimum of £500,000 to organisations across the globe, which give young people a helping hand in getting a bigger voice.
In Singapore, The Body Shop is donating $0.10 for every transaction made offline and online from
November to December 2022* to Halogen Foundation Singapore, in support of their mission to develop and nurture youths to become changemakers of tomorrow. 
What's more, once you've unboxed all your treats, the pop-ups in these calendars can be upcycled as gifts tags, decorations and more. The Big and Ultimate calendars' unique drawer design is perfect for storing crafts, jewellery and other little bits and bobs, which means they can be reused long after Christmas too, for the gift that keeps on giving.
*The Body Shop maximum donation is up to £1,000,000.
Here's The Body Shop's new Advent Calendars as follows: 
All Advent Calendars are lovingly produced with ingredients from all corners of the globe, these calendars are packed full of festive goodies. Discover what surprises are packed inside to treat yourself or someone special. Christmas gifts don't get much better than this.
The Body Shop's best-ever Christmas collection is here
From vegan beauty treats to blissful body care, stocking-sized surprises to more indulgent premium gifts, The Body Shop has gifts to delight everyone on your list – and every budget. And the gifts don't just spread wonder to those who receive them, but those who helped make them too.
This Christmas, The Body Shop is wishing for a fairer future for all. That's why every one of their gifts is enriched with ingredients and/or packaging from its Community Fair Trade partners. Community Fair Trade is The Body Shop's bespoke programme that helps its small‑hold producers gain market access and invest in social and environmental projects that benefit their communities. So each time you buy a present, you'll be supporting communities around the world.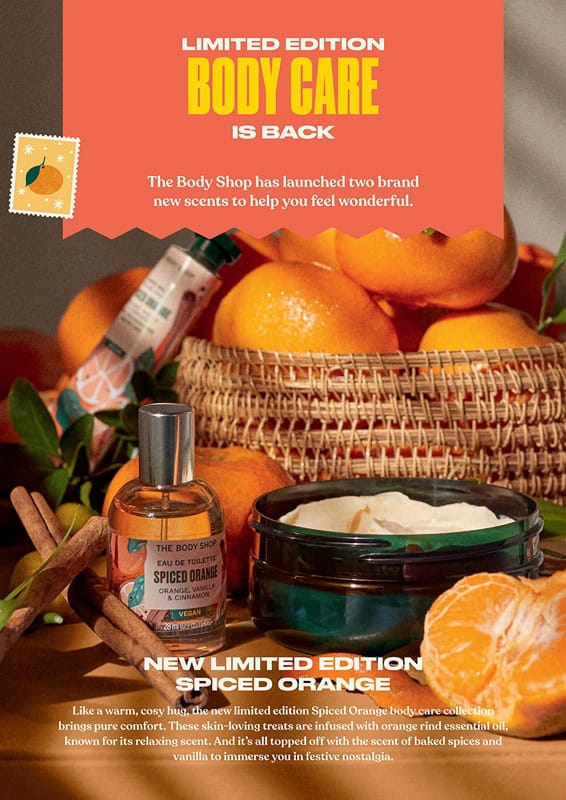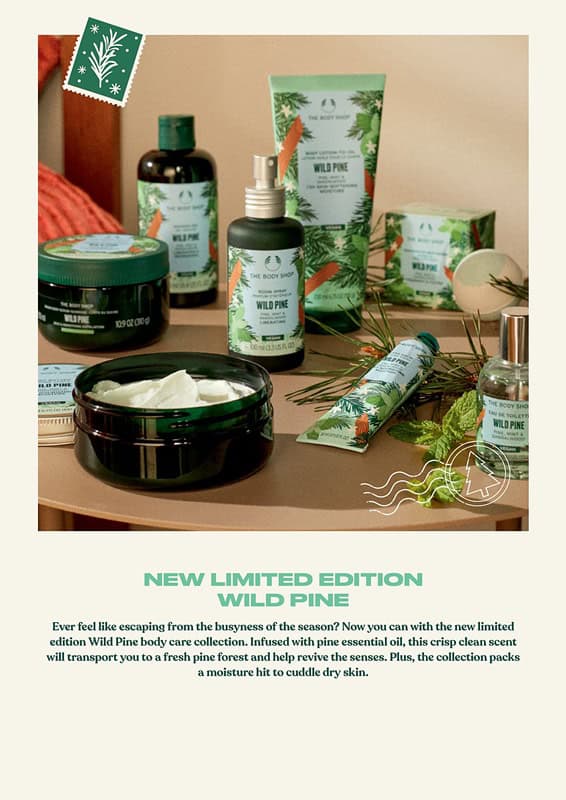 At The Body Shop, every element of the gift is down to you, even the packaging – choose from gift pouches, boxes, bags and more.
Get Paper Industry, The Body Shop's Community Fair Trade partner since 1989, has handcrafted this year's beautiful gift boxes and gift bags using recycled paper and upcycled cotton offcuts. Each shares uplifting stories of the women who made them. Based in Nepal, they offer fair and equal pay to their predominantly female workforce, and provide social initiatives that support the local community.
The Body Shop's first ever Community Fair Trade partner, Teddy Exports, has also crafted this year's gorgeous gift pouches made with 100% natural jute. In a partnership spanning over 30 years, Teddy Exports has grown from five craftspeople to providing fair pay and work for over 600 people in 30 villages, and funded innovative healthcare initiatives and education for thousands of children.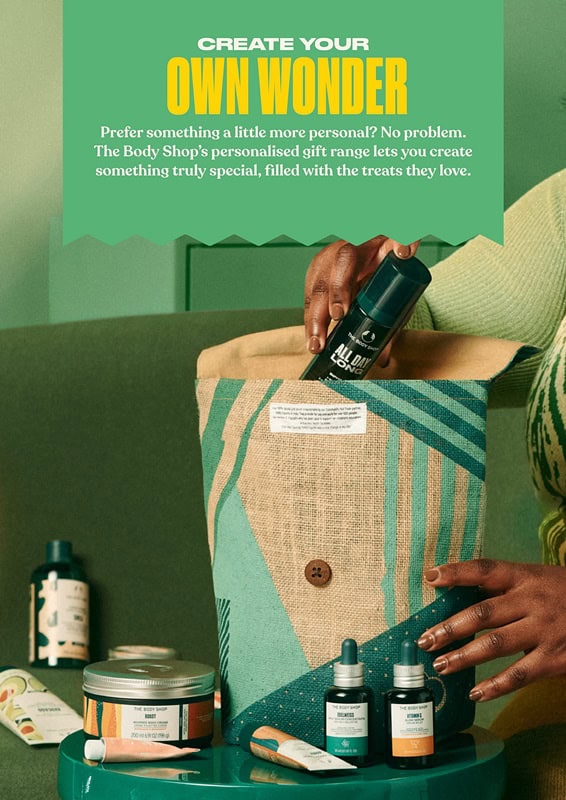 With everything in excess, Christmas can be tough on the planet. This year's line-up includes a whole host of more sustainable pressies, with more recycled packaging that's kinder to the planet, reusable gift boxes and accessories, and a huge reduction in waste along the way.
Cutting down on material usage
Since last Christmas The Body Shop has saved 100 tonnes of material switching from rigid card boxes to reusable paper vanity cases across their bestselling core Bath & Body gifts. That's the weight of more than 4,500 6ft fir trees!
Refillable gifts
Did you know that switching to refillable products collectively could save over 25 tonnes of plastic per year? Perfect for a meaningful gift that can be used again and again. Their refill stations are now available at 23 stores, so you can stock up on your favourite treats more conveniently.
Kinder accessories
To make buffing that body a little better for the planet, they created Shower & Scrub Jute Exfoliator, handmade with jute sourced through its Community Fair Trade partner, Prokritee in Bangladesh. There's even a biodegradable Buff & Smooth Konjac Sponge Collection. Pretty cool, right?
Reusable packaging
The cherry on the top? The Body Shop has designed most of their gift packaging to be reused or repurposed too, so your treats and surprises have a long life after Christmas. Head to thebodyshop.com.sg for some inspiration on repurposing tips and tricks.
The Body Shop's new Christmas gift collection and products are now available at all The Body Shop stores islandwide as well as online. Find out more about The Body Shop at https://www.thebodyshop.com/en-sg/
All images credit to The Body Shop