The Body Shop Singapore opens its first sustainability-focused 'Activist Workshop' store at ION Orchard. The new store has been transformed into an interactive 'activist workshop' whereby customers can explore and recycle products and at the same time, participate in learning how we can fight for a fairer and more beautiful world together!
The new eco-friendly store features sustainable store fixtures made with 'green' materials using reclaimed wood and recycled plastics, zinc façade cladding and worktop surfaces produced from 100% recycled material that are destined for landfill. All materials will help in reducing environmental impact.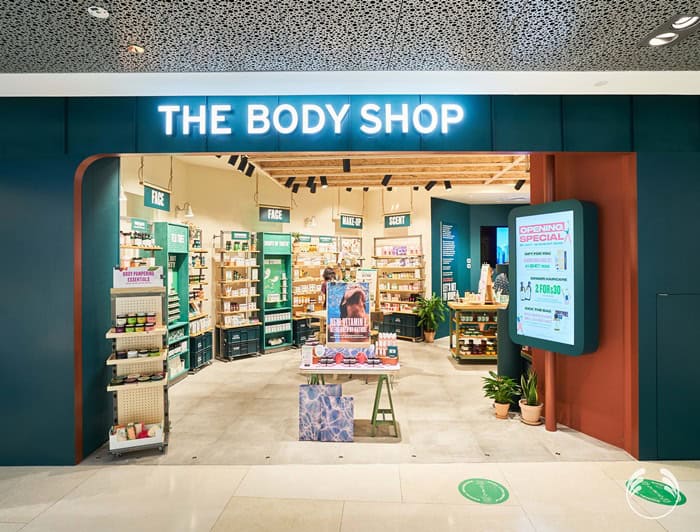 Building on The Body Shop's ever-growing and evolving commitment to the environment, the materials and props are chosen with real purpose – think practical, responsibly sourced, repurposed, recycled and upcycled.
Customers visiting the new Activist Workshop store can look forward to experience the various stations that are exclusive only to the outlet at ION Orchard consisting of a DIY Gifting Station where customers can wrap their gifts and personalise them with fun and funky stamps and stickers, an exclusive Scents of Life fragrance collection featuring 16 cruelty-free fragrances and spritzes for women and men, as well as a Water Station for hydration on-the-go. There is an Activist Bay where customers can learn about The Body Shop's activist roots and passion for inciting change, and take a stand at campaigning for issues that pave the way for equality and a "Scrub up your body" section, where the friendly and knowledgeable workshop staff will be around to help customers explore, experience the products and offer expert advice on body care, skincare and haircare according to your needs. 
Our Parenting World – OPW Media team is pleased to be able to speak to Ms Kean Hye Yang, General Manager for The Body Shop APAC Brand & Singapore Market to find out more about this new sustainable store concept.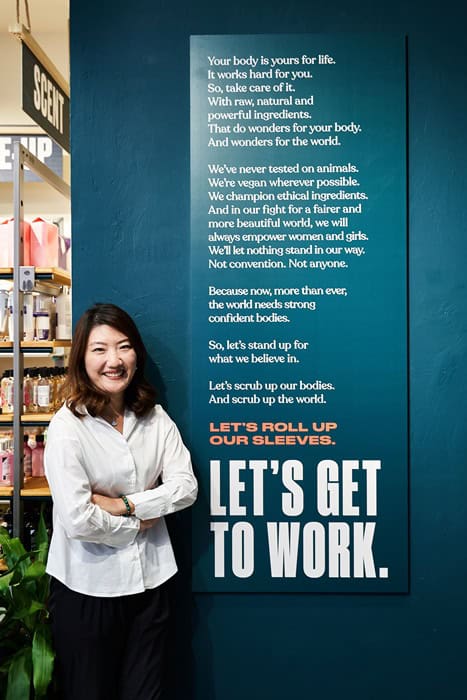 Image credit: Ms Kean Hye Yang, General Manager for The Body Shop APAC Brand & Singapore Market
Exclusive Interview with Ms Kean Hye Yang, General Manager for The Body Shop APAC Brand & Singapore Market
1. What is the aim of this new concept store and its sustainability angle?
Our store design is evolving as we continue to put more emphasis on the in-store experience for our customers. The new store concept is part of our wider-ranging brand rejuvenation project, which is one of The Body Shop's key objectives as part of our ownership under Natura &Co. 
In the two years since The Body Shop became part of Natura &Co, the business' transformation plan has focused on a number of activities, including brand, retail, digital, customer experience, activism and sustainability. Brand rejuvenation is a key pillar of this transformation plan.
This entails a major focus on ensuring the brand brings our purpose to life, across all touchpoints. These include natural ingredients that work, empowering women and girls, and creating products and communications that help people to feel positive and proud about themselves, their bodies, their futures
2. Does The Body Shop Singapore plan to roll out this concept to all current stores, and will future stores have this concept as well?
We will be testing and learning from this new concept store and rolling out the successful elements to our other stores in future.
3. A big part of sustainability is to reduce plastic waste and avoid one-time use products. Do you plan to have a refill station? Why/why not?
With the renewed focus in sustainability, it is definitely in our plans to have a refill station in the future. We are committed to reducing our impact on the environment, and developing a refill station is just one of the many ways that we are becoming a more sustainable business.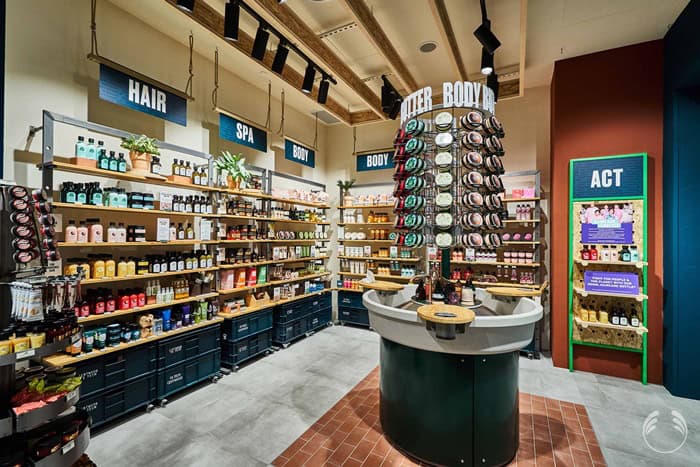 4. Are the 'green' store fixtures and other furniture sourced and produced locally? If not, where? Please give us a few more examples of these sustainable fixtures and fittings.
The materials are not locally produced, but sourced from different parts of the world. The following are some of the 'green' store fixtures and fittings:
• All wood is either reclaimed/recycled or from FSC credited sources
• Zinc is a great eco-friendly material because it requires less energy for production than other metals. It is also completely recyclable because it can be produced from recycled materials taken from demolished or re-roofed structures.
• EKOply worktop surfaces that are manufactured from 100% recycled material destined for landfill
• Stools that have been made using reclaimed steel for the frames and recycled wood for the seats
• The trestle table tops are constructed from reclaimed scaffolding planks, that have been machined and bonded to form a rigid surface
• The storage crates located beneath each wall bay are upcycled, second hand items, previously owned by a UK car seat manufacturer. These crates are used for not only storage but also the handling of stock between back and front of house.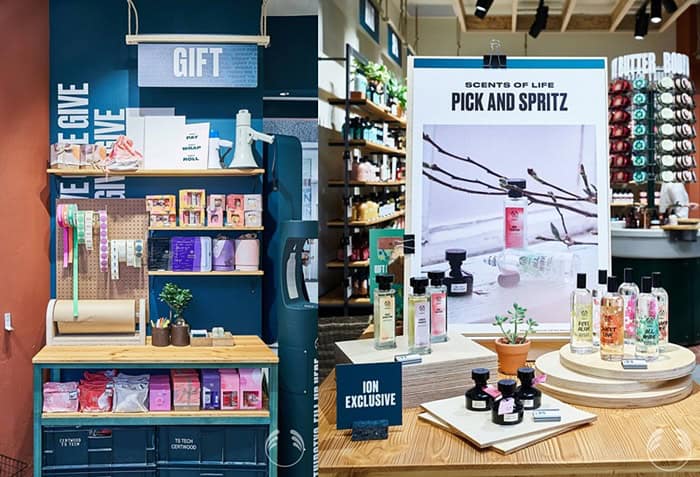 The Body Shop's Gifting Station and Exclusive Scents of Life Fragrance Section
All the above images credit to The Body Shop Singapore
5. How does the gifting station and exclusive Scents of Life fragrance section work in terms of sustainability?
Customers are encouraged to get creative and personalise gifts with fun stamps, funky stickers, ribbons and recyclable paper to treat your favourite humans to something truly unique. Customers can either choose from our pre-filled gifts or create their own. All the products in Scents of Life are cruelty-free.
6. What are some of your favourite The Body Shop products that you would like to share with our readers?
My holy grail serum would be the Drops of Youth™ Youth Concentrate. It's packed with natural antioxidants, lightweight and quickly-absorbed, leaving my skin feeling healthy and fresh! Another favourite of mine would be the Ginger Shampoo as it soothes and rebalances my scalp.
7. Are there any future plans for this Activist Workshop store, eg. Upcycling workshops/masterclasses, group activities?
Yes, we hope to engage our fans and consumers with fun and interactive group activities at the Activist Workshop that will give them opportunities to explore and experience our products, learn more about The Body Shop's activist roots and encourage them to become more ethically-engaged and eco-conscious. But all of these will come in place only when Singapore has reached the "Safe Nation" phase and the government has given the green light for such events and gatherings.
Thank you Ms Kean Hye Yang for taking our interview!
The Body Shop 'Activist Workshop' store is located at The Body Shop, 2 Orchard Turn #B3-66, ION Orchard, Singapore 238801.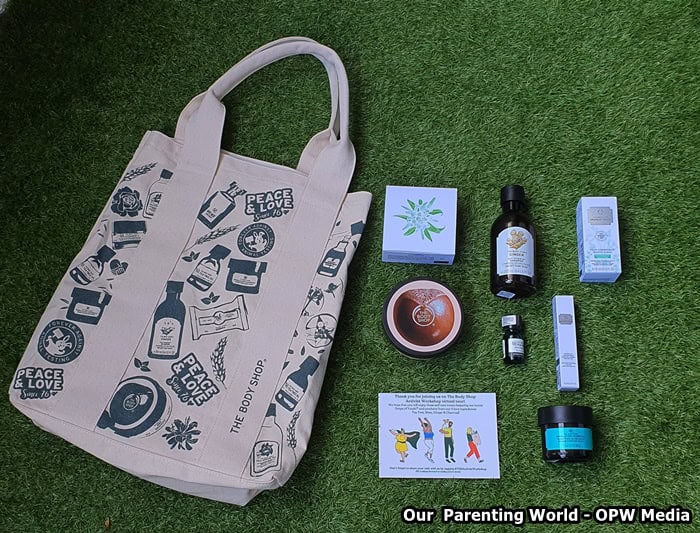 Thank you to The Body Shop for the surprise treat comprising of the iconic Drops of Youth™ and products from The Body Shop's 4 love ingredients: Tea Tree, Shea, Ginger & Charcoal! We absolutely love The Body Shop products, come and check out the new The Body Shop's sustainability-focused 'Activist Workshop' store and experience for yourself!