The Cat in the Hat in Mandarin is based on the all-time favourite book by Dr. Seuss and this is the first time, we watched this well-loved story being played out in Mandarin. The story happens on one rainy day at the house of Sally and her brother. A Cat, who wears a red and white-striped hat and a red bow tie makes a surprise visit when their mother is away. The Cat wants to show the children a few of his tricks to entertain them despite continuous objections from the children's fish. However, the Cat together with his companions, Thing 1 and Thing 2 have wrecked the house with their endless tricks and crazy ideas much to the alarm of the children and the fish. Fortunately, the Cat produces a machine to clean everything and tidy up the house before the children's mother reaches home. What a relief for everyone! 
The play can relate very well with the kids as most children imagine having fun while their parents are away and thinking of what they can do. Ann Lek is Sally and Sugie Phua is The Boy, they are so convincing as children and they played their roles brilliantly with childlike innocence.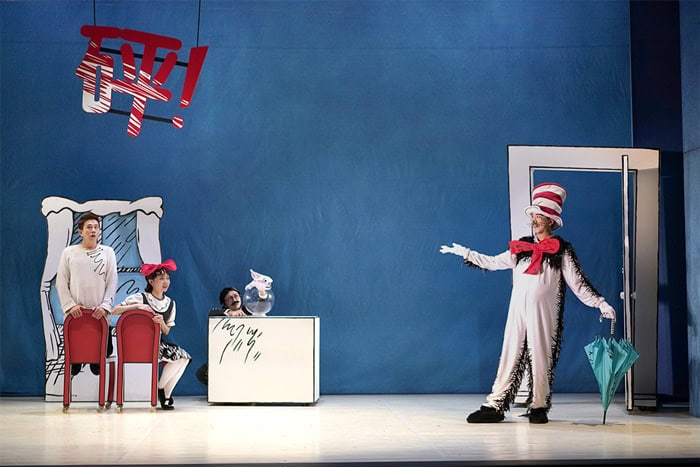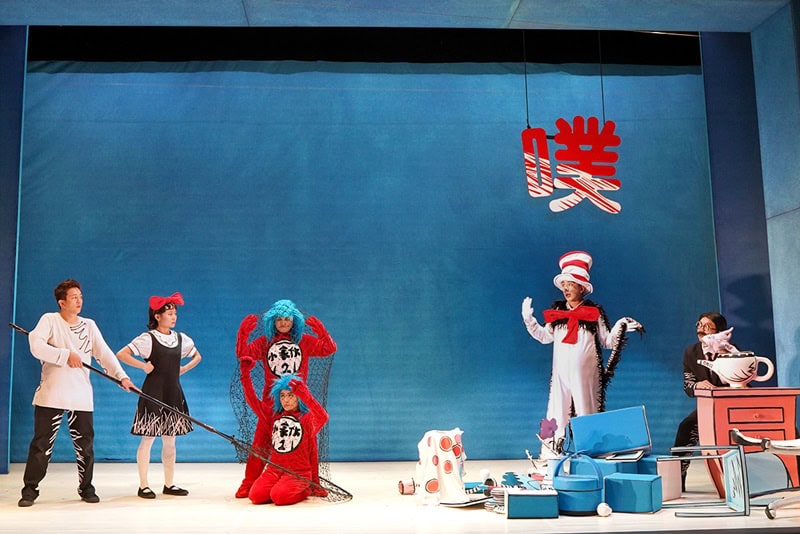 All the above images credit to Singapore Repertory Theatre (SRT)
Kids would love having The Cat in the Hat with his famous red and white-striped hat and a huge red bow tie appearing at their door step to entertain them when they are bored but of course, make sure the house is cleaned up after all the fun! We are delighted to see Hang Qian Chou and he certainly steals the show as The Cat in the Hat. When he appeared on the stage, the kids were excited and laughing away when he messed the house up, performed balancing act with a ball, a huge cake, books and many more on top of juggling with a talking fish. The Cat in the Hat together with his companions, Thing 1 by Ong Yi Xuan and Thing 2 by Claris Tan delivered acrobatic and stellar performances much to the delight of the audience. It is a joy to watch them! 
To find out more about Hang Qian Chou and his role as The Cat in the Hat, please read our interview with him at https://ourparentingworld.com/exclusive-interview-with-hang-qian-chou-playing-the-lead-role-in-the-cat-in-the-hat-in-mandarin-presented-by-srts-the-little-company/
Not forgetting another show stealer, the Fish in the Bowl by Trey Ho. Trey is impressive, he has such comic talents and he maneuvers the puppet fish in perfect timing. Kids love the Fish in the Bowl and how we wish we can bring this adorable fish home. The Cat in the Hat in Mandarin is a fun and highly entertaining show that the whole family will enjoy and it is a great way to expose your kids to Mandarin too!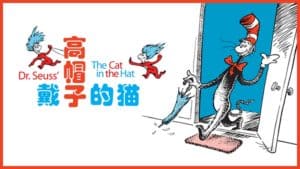 The Cat in the Hat in Mandarin
Show Dates and Time: 
Wednesday, 1 August – Friday, 7 September 2018
Weekdays: 10am
Weekend & Public Holidays
Saturday, 4 August and 11 August: 11am & 2pm
Venue:
KC Arts Centre – Home of SRT
Ticket Pricing:
(Excludes Booking Fee)
Weekdays:
Standard: S$29, S$26
Family Package of 4: S$98 for Cat 1 tickets
Family Package of 4 (with TLC CD Vol.2): S$110 for Cat 1 tickets
Weekends (Sat, Sun, 2 Sep & Public Holiday)
Standard: S$49, S$39, S$36
Family Package of 4:
Cat 1 (with photo taking)*: $166
Cat 2 (no photo taking): $132
Family Package of 4 (with TLC CD Vol.2):
Cat 1 (with photo taking)*: $178
Cat 2 (no photo taking): $144
*Ticket includes a photo taking session with the cast in costume.
(Applicable for Weekend show only.)
You can purchase the tickets via SRT's website at http://www.srt.com.sg/catinthehat