Media Invite: The Coffee Bean & Tea Leaf introduces Brand New Gourmet Dishes and New Mexican Chocolate Drinks
The Coffee Bean & Tea Leaf is definitely one of our favourite places to chill out and enjoy good food and coffee. Our Parenting World team visited The Coffee Bean & Tea Leaf recently to try out its brand new gourmet dishes and yes, new drinks too!
The new gourmet additions to its All-Day Breakfast menu and À la carte menu are The Mediterranean Sandwich, Avocado Tuna Melt, Cold Pasta Salad with Turkey Ham, Smoked Chicken Salad, Sesame Dressing Chicken & Egg Sandwich, Honey Mustard Chicken Sandwich and Creamy Seafood Fusilli.
The Coffee Bean & Tea Leaf menu featuring new dishes
We are delighted to introduce some of its brand new gourmet dishes that we had tried as follows:
The Mediterranean Sandwich ($13.90)
We love to eat eggs and this colourful sandwich dish, the eggs are topped with perfect amount of hollandaise sauce. This dish is actually a spruced up version from the usual Eggs Benedicts serving style and more to it. It comes with Vienna bread, turkey ham, feta cheese spinach, fresh tomatoes and a side of savoury mushrooms.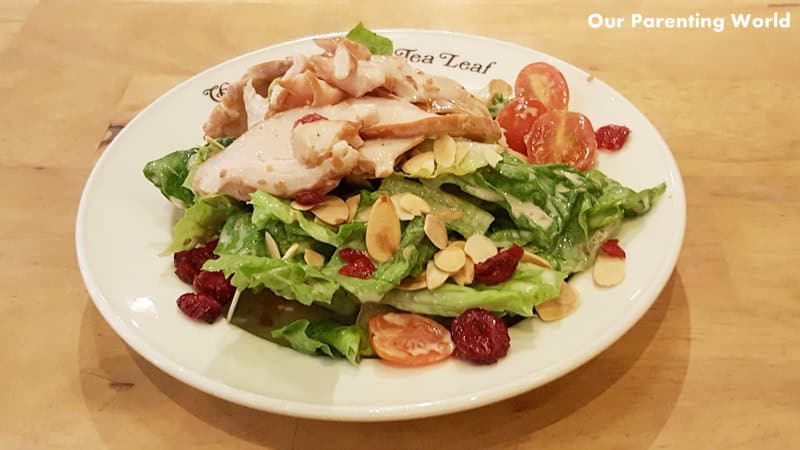 Smoked Chicken Salad $11.90
This is a healthy and delicious dish with a perfect combination of flavours and textures consisting of smoked chicken breast, top with fresh crunchy vegetables, cherry tomatoes, cranberries and almond flakes drizzles with sesame dressings.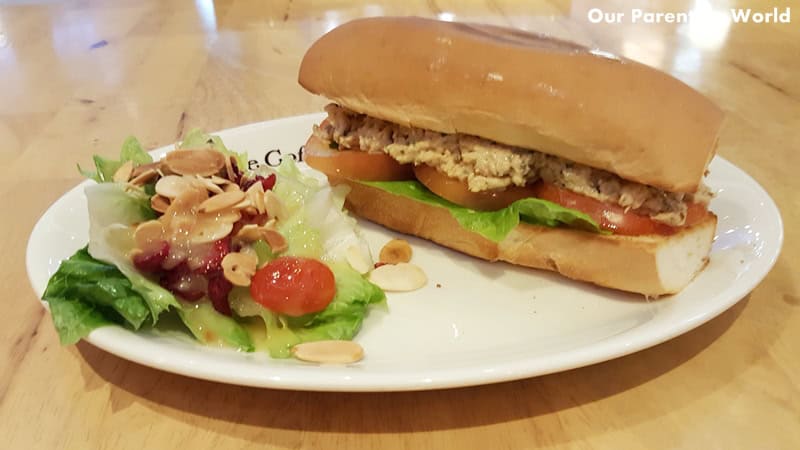 Honey Mustard Chicken $10.50
The tender chicken breast are shredded and so tasty with sweet and savory honey mustard sauce, salt, mayonnaise, paprika that will spice up your palette. It also comes with fresh basil, parsley, lettuce and chewy tomatoes.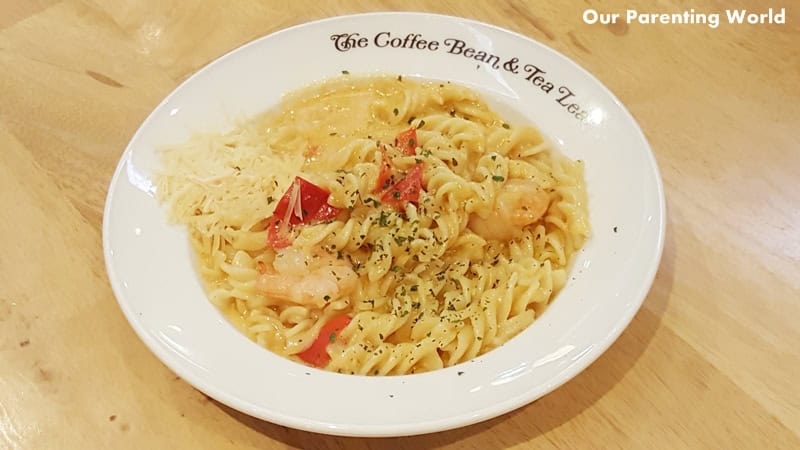 Creamy Seafood Fusilli $14.90
This is a rich, creamy and appetizing pasta dish that comes with fresh and juicy seafood like prawns, scallops and topped generously with parmesan cheese. Pasta lovers will love this delectable dish!
I enjoyed eating at The Coffee Bean & Tea Leaf! The services is also impressive!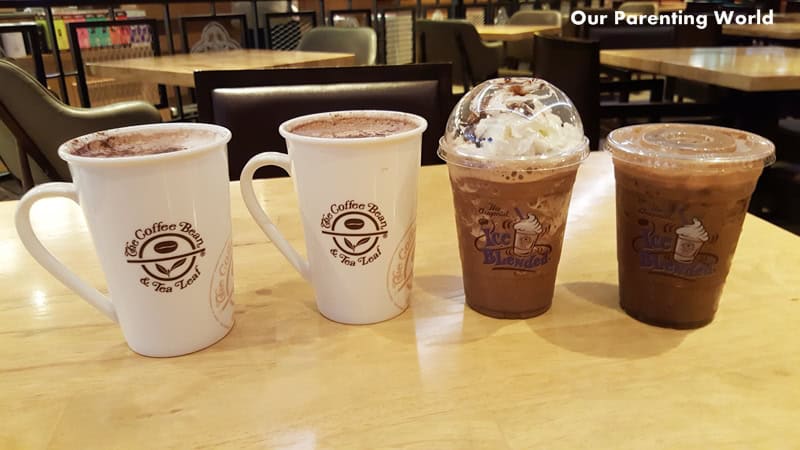 We tried out the new range of Mexican Chocolate drinks featuring Mexican Chocolate Ice Blended® drink and Mexican Chocolate Latte that combine rich chocolate and the flavours of cinnamon spice from $7 onwards. The ice blended drink is perfect to cool you down after a hot day or just to chill out. Whereas the hot chocolate and for the latte, it comes with roasted coffee beans, rich Mexican chocolate and earthy spice. Both hot drinks are rich and aromatic that will give you a soothing and comfortable experiences!
The new drinks are only available for a limited time till 24 May 2017. Hurry, head down to The Coffee Bean & Tea Leaf to try the new drinks. Hopefully they will bring back the drinks again!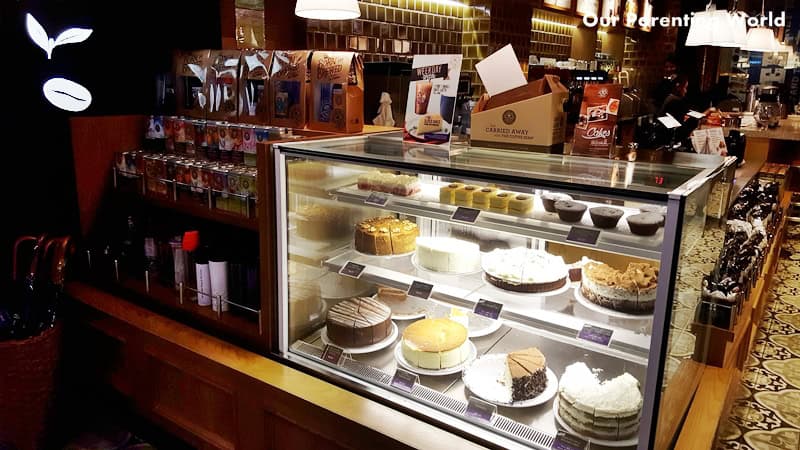 Look at the wide variety of tempting cakes at The Coffee Bean & Tea Leaf!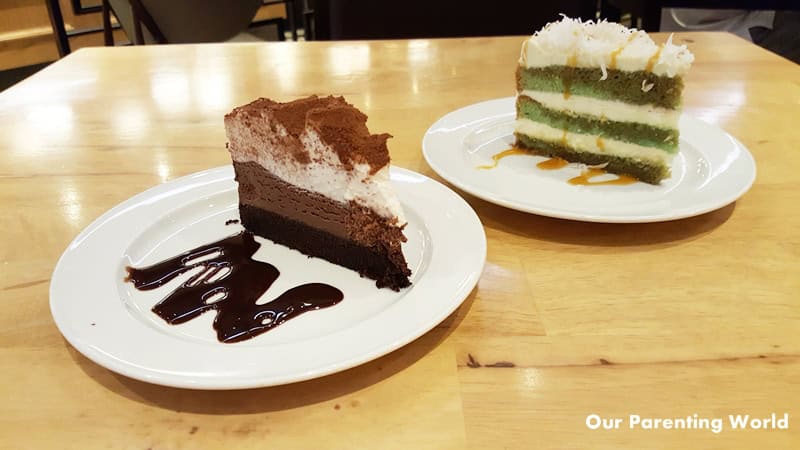 Mexican Chocolate Cake, $6.90 (slice), $59 (whole at 1.6kg) (R) and Pandan Gula Melaka Cake, $6.40 (slice), $70 (whole at 2.7kg) (L)
You must try the new cakes at The Coffee Bean & Tea Leaf and it is a good way to end a delicious meal and or pair with its drinks. The Mexican Chocolate Cake is simply divine, moist and richly flavoured with Mexican chocolates. Pandan Gula Melaka Cake, a deliciously soft, fragrant cake that will make you come back for more! 
In addition, The Coffee Bean & Tea Leaf is well-known for its All-Day Breakfast selection, diners can look forward to enjoy the fresh creations and served with Today's Brew with a choice of either coffee or tea, all at affordable prices. The Coffee Bean & Tea Leaf® is halal-certified. For more information on The Coffee Bean & Tea Leaf®, check out the following: