The Conscious Festival, organised by Green Is The New Black, is coming back to Singapore on October 13-15, 2023, following two successful festivals in Paris, Europe. The seventh edition of this festival in Singapore will be held at South Beach, an extensive eco-lifestyle destination located in the heart of the city.
This immersive three-day event brings together music, art, discussions, and interactive workshops to stimulate our minds and inspire us to take action. Sustainability remains at the forefront as the festival advances on its eco-friendly journey. The event is open to professionals, individuals, families, and the young eco-conscious generation who aspire to lead more mindful lives. It invites them to embark on a journey of self-discovery and explore ways to protect our planet. The festival aims to celebrate our existing achievements, push the boundaries of what's possible, and leave participants with a renewed sense of purpose and hope for our future. To find out more, please visit our earlier feature at https://www.ourparentingworld.com/the-conscious-festival-by-green-is-the-new-black-on-13-15-october-2023/
We spoke to Stephanie where she shared with us, her incredible and inspiring journey to uncover the secrets to living a conscious, purposeful life and making a meaningful impact in today's fast-paced world. Stephanie also discussed how she balances her roles as an entrepreneur and a mother and provided insights on being a minimalist parent in consumerist Singapore, among other topics. Read on to find out more.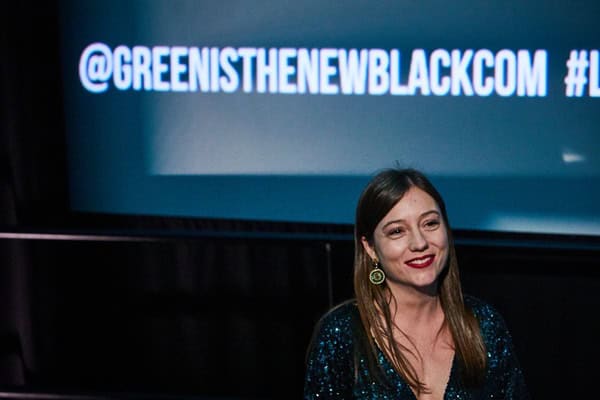 Interview with Stephanie Dickson, Founder of Green Is The New Black and The Conscious Festival
1. You have made a significant transition from the fashion world to conscious business by starting Green Is The New Black and The Conscious Festival. Could you share the key turning points or moments that led you to embark on this journey of promoting conscious living?
Stephanie Dickson: My sustainability journey started in 2014 when I had a rude awakening learning that the fashion industry I had idolised most of my life was very dirty behind the scenes – both environmentally and socially corrupt. I fell deep down the rabbit hole and realised that my work and life choices were part of the problem and I wanted to be part of the solution instead. So I launched Green Is The New Black, a conscious media and festival platform to bring together brands and individuals to learn about sustainability and celebrate solutions so we can all take little green steps towards a greener future. I love bringing people together and learning about what's possible while celebrating the amazing humans leading the way. Since we launched The Conscious Festival (https://theconsciousfestival.com/) we've had over 30,000 people attend our events, held in Singapore, Hong Kong, London and Paris. And we've reached millions online.
2. The Conscious Festival has become a flagship event for sustainability and conscious living. What personal and professional lessons have you learned from leading this festival and being at the forefront of the conscious movement in the region?
Stephanie Dickson: Sustainability to me is understanding that our decisions not only impact us and our surroundings
the environment. If we can remember that we are actually nature – then we realise that what we are doing to the earth, we do to ourselves ultimately. The planet will survive, it's our survival that is in question. So how can we ensure we sustain our lives on a thriving planet? Sustainability is about sustaining life, and harmony on earth and being at one with the natural cycles. It is caring about people and the planet and realising that when we create an equitable space for everyone, we solve a lot of our problems. It's realising that it's our individual actions are the bridge to collective change. And each of us has the power to make better choices today so we can all have a better future tomorrow.
3. Mental health and self-care are increasingly important topics. How have you prioritized your own mental health while juggling the demands of entrepreneurship, motherhood, and your various projects?
Stephanie Dickson:  It's so interesting to me how much more I get done in a day now I have a daughter. She is the
best motivator, because the more productive I am during the day, the more time I can have with her before she goes to bed. Of course, it is a struggle to juggle so many things and yet, you amaze yourself at what you can achieve at the same time. And what matters to you becomes abundantly clear what and who is important to you. For me, I know I am a better mother when I can do the things that I love with my work and find a little bit of time for friends and conversations that light me up. The things that light me up don't feel like work and I can find the time for them (mainly by watching a lot less tv!). And I am a better entrepreneur for having quality time with my daughter – as she is a constant reminder to be present and playful. I couldn't do it without having an incredible partner in my husband who plays a very equal role in the family life. He makes sure I am okay and reminds me to take breaks if I forget.
I take my daughter for a walk most mornings in the baby carrier (whoever invented these was a genius). This is quality time where we go check out the neighbourhood and are fortunate enough to leave near the green corridor so can enjoy the trees each day. On the days I really don't want to do this, I 100% do it. Because as soon as I am out looking at the trees, I feel instantly calm. These 30 minutes calm and stimulate us both so we have a great day ahead.
4. You're the host of the "Live Wide Awake" podcast. Can you share some of the most impactful lessons or insights you've gained from your podcast guests that have shaped your own journey towards conscious living?
Stephanie Dickson: Oh I love this question. One of the best lessons I learned was from Josh Tetrick, founder of Good Meat. He said that there is no reason why you can't dedicate your life and work to solving one of the world's most pressing issues. There is enough money flowing to solutions, enough support now that you can earn well while doing good. And it made so much sense – sustainability is no longer just a nice to have, its good business. Another one is that the answers are already within us, we just need to look. The more that we do the work, the more we realise we are whole and complete just as we are. One of my favourite interviews was with Mo Gawdat and he shared that – happiness is the absence of unhappiness and a survival mechanism. If you remove unhappiness, what's left behind is happy. If you can find out the reasons that make you unhappy and strip them one by one, then you've solved the problem. And the end of the podcast I always ask guests 'how can we live wide awake' and most of the time the answer is along the same lines – living awake is being present, its choosing to be conscious in our daily lives and being in awe of the incredible experience that is life.
5. Could you tell us about your role in co-founding "UNTAM3D" and the role of women in the Web3 space? What opportunities and challenges do you see in this emerging field?
Stephanie Dickson: Women have often been left behind when it comes to technology and being at the forefront of innovation – between male-dominated industries, complicated terminology and culture. But actually, if you boil down web3 and the emerging tech the baseline is very easy to understand. You don't need to understand how your laptop or phone turns on or how websites load to use them everyday – its the same with emerging tech. It is good to understand the role it plays and might play in the future and what it is helping to solve for. This is why we started UNTAM3D to support women on their journeys to stay on top and engaged in emerging tech and to have a safe and welcoming space to learn and connect with others. I see a huge potential for web3 and ai to help to solve a lot of the problems and inequities that are in the world. Of course with any new technologies there are those who will try to use it for manipulation, yet there is so much potential with blockchain to solve for that too.
6. Singapore is known for its consumerist culture. How can parents in Singapore embrace minimalist parenting principles and promote sustainable lifestyles?
Stephanie Dickson: The funny thing is, the less you have the happier you are. When we have too many choices and too many things it doesn't lead to a happier life, it can be paralysing and addictive to want more and more. Yes, when we break the addiction and can choose experience, life and memories instead of things, it is a beautiful positive reinforcement loop. There are so many ways to embrace minimalism and sustainability as a parent – but they best way is to live it yourself. For me I was fortunate to be gifted and loaned so much of the items we needed for the baby, and I love that circularity of it – where we will continue to pass on things to others. We also don't want to have an obscene amount of toys, but just enough because she doesn't need so many things. Sustainability can start at home with little practises and understanding and choices that the family can make together. Like recycling, having a little urban garden, rehoming items when they are done, borrowing instead of buying new, eating more plant-based etc.
7. Your work often involves promoting responsible and sustainable travel. Could you advise and guide our readers on how to approach value-led vacationing and make more sustainable choices when travelling?
Stephanie Dickson: Planes are high carbon emitters but there are lots of things we can do when travelling to be more sustainable. Firstly, understanding and offsetting your carbon footprint each year by supporting a meaningful project like planting mangroves can help you to understand what you are producing. Then when you are in different places use public transport and trains more than planes. Learn about the local cultures and support local produce and people when buying and eating. Take less things with you and focus on experiences instead of buying more things.
8. Can you share some specific examples of how conscious living and sustainability have positively impacted your own life and the lives of those around you?
Stephanie Dickson: Conscious living is an inside-out journey. When you look after yourself and do the work, you have so much more to give to the world – you can't give from an empty cup. For me it has been an incredible journey of healing, of discovering who I am, and the kind of person I want to be in the world. I love doing the work and uncovering more and more layers – and because of that work I am able to be a better person to my husband, friends, and beyond. Sustainability is not linear its is a journey and one where every little step counts because this planet is out home and we are all playing a part. While it may feel like our individual actions don't matter, every little bit does play a part – our individual action is the bridge to collective change which is what we need to move the needle. I see it as a fun adventure and if I do fall in to eco-anxiety and the likes, I remember and surround myself with the incredible humans dedicating their lives, intelligence and energy to making the world a better place.
9. Many individuals and businesses are now recognizing the importance of sustainability. What advice would you give to someone who is just beginning their journey towards conscious living and responsible business practices?
Stephanie Dickson: You do not have to be perfect to be part of the solution. At Green Is The New Black we are big advocates of #LittleGreenSteps – as long as you keep going, stretching little bits here and there you are doing your part. While it may feel like our individual actions don't matter, every little bit does play a part – our individual action is the bridge to collective change which is what we need to move the needle.
Find an area you are passionate about and start there. This journey can be fun and enjoyable. A few of the best resources out there are:
● Project Drawdown which shares nearly 100 solutions that already exist and almost exist.
● There is the Anatomy of Action by the UN which lists out the 5 major areas that if each of us makes a change will lead to that collective change.
And if you are looking for quick wins today:
● Think about the decision you make on your plate 3 times a day – adopting more of a flexitarian diet (more plants, less meat) is a great place to start.
● Check out your bank and what they do with your money – most of us don't realise that banks invest our money into projects that are harmful to the planet but you can tell them not too.
10. As someone deeply involved in the conscious living movement, what trends and developments do you see on the horizon in terms of sustainable living and ethical entrepreneurship?
Stephanie Dickson: I hope that we get to a point where it is the only way forward and companies who do now prioritise sustainability do not survive. Humans are resilient and we will survive, but at what cost. I hope we turn things around quicker and sooner.
11. Looking ahead, what are your aspirations for the future of Green Is The New Black, The Conscious Festival, and your other initiatives? How do you hope to continue driving positive change in your community and beyond?
Stephanie Dickson: If we can continue to create a safe positive space for people to learn and feel empowered, we are doing our jobs. The Conscious Festival will continue to have a presence in Singapore, Hong Kong and Paris and who knows where next. It will continue on its own adventure of maturing and growing, and I am excited to see where it goes.
Come join us and visit The Conscious Festival, details as follows: 
THE CONSCIOUS FESTIVAL
Date and Time: October 14-15, 2023 – 12:00 – 20:00
Location: 38 Beach Road Singapore, 189767
Tickets: Tickets are S$20 and give access to both days at The Conscious Festival and all of the activities (entertainment, talks, workshops etc.). Early bird tickets are S$15. Those under 18 enter for free. 
Event page: https://theconsciousfestival.com/ 

and

Ticketing page:

 https://theconsciousfestivalsg2023.eventbrite.sg