The highly anticipated Cavalia is now showing in Singapore for the first time! Cavalia is a visually stunning performance which combine a fresh mix of equestrian and performing arts, multimedia and special effects.
Cavalia is conceived by Normand Latourelle, one of the co-founders of famed Cirque du Solei. It is also labelled as an equestrian ballet which expresses a dream of freedom, cooperation and harmony. 
Cavalia: A Magical Encounter Between Human and Horse, the multimedia equestrian spectacular. This performance is unique as it includes 46 riders, aerialists, acrobats, dancers and musicians from all over the world sharing the same stage with 50 magnificent horses. 

Besides the horses, another highlight of the show is the highly skilled acrobats. They performed their balancing acts and stunts beautifully.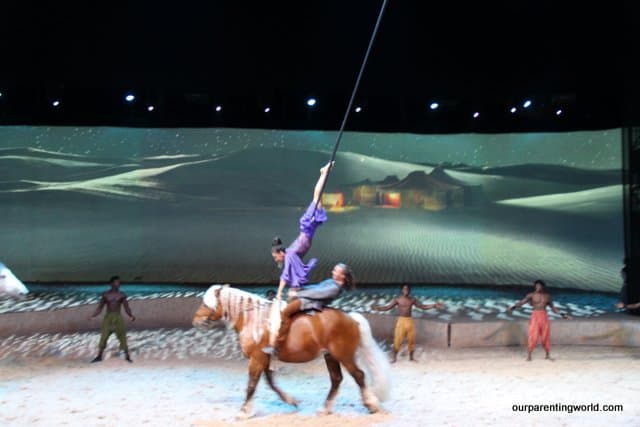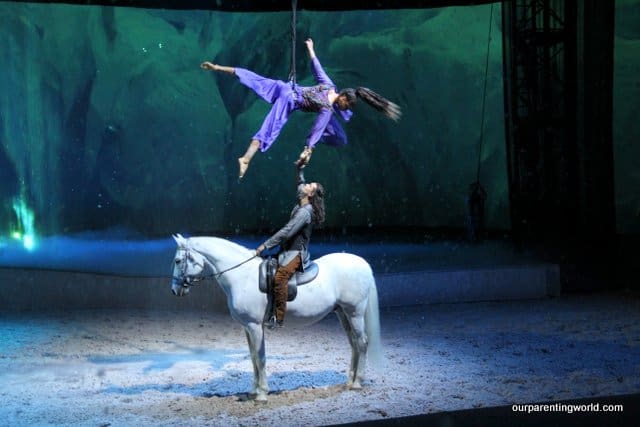 Cavalia is visually stunning for many reasons as you can see from our pictures that the backdrop of the stage will transform beautifully into different scenes. The acrobats execute and perform elegantly with jaw dropping stunts. Some segments of the acrobats' performances are merged beautifully with the magnificent horses.
The performers and horses together do amazing tricks on horseback. 
There are also some comic moments like the cowboy and his horse that make the audience laugh.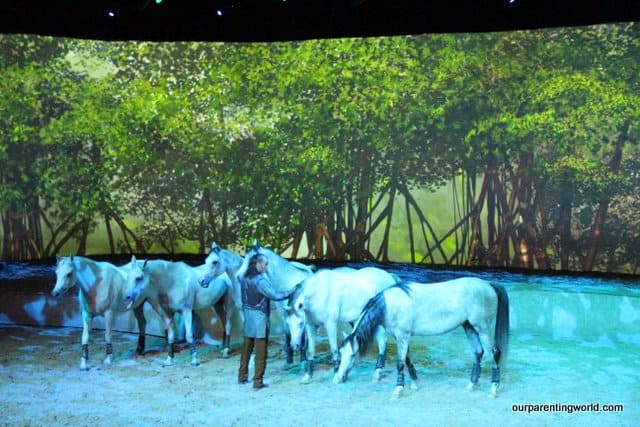 The show portrayed a beautiful relationships and interaction between man and horses.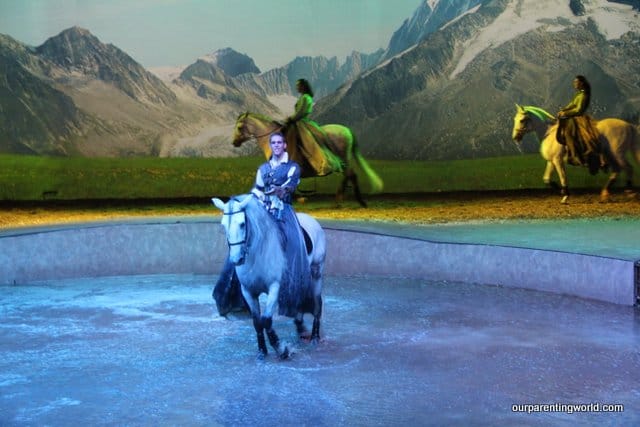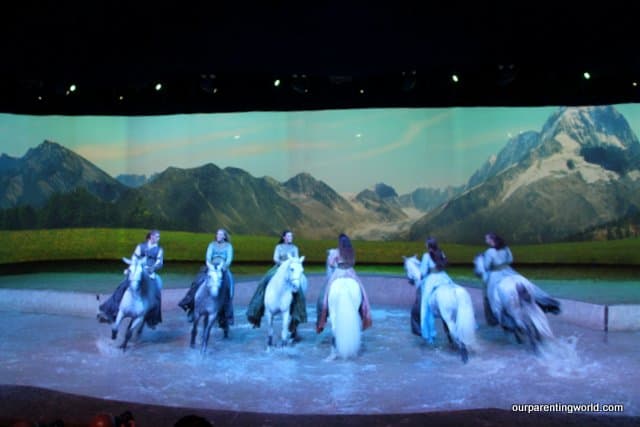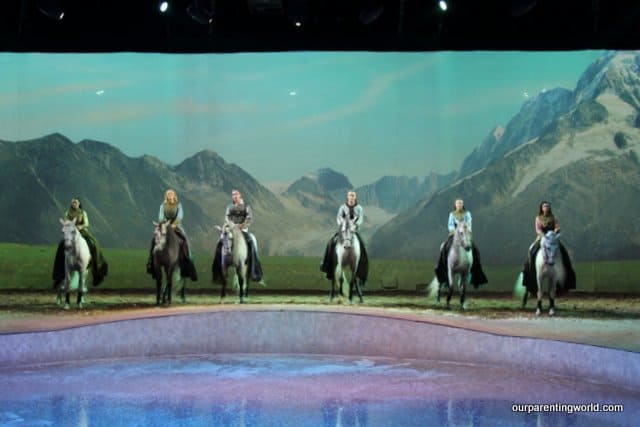 We are taken by surprise when water started filling up and the stage is transformed magically into a small lake. The riders and their horses break into gallop, dance on the water and execute uniform formations.
It is such a breath taking scene and what a way to end the show by making a lasting impression on the audience!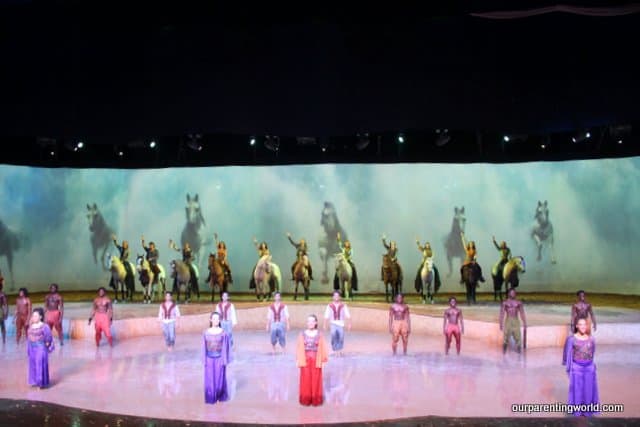 Bravo to the Cavalia cast and magnificent horses for this spectacular performances!
Our Parenting World team attended the press call and opening night of Cavalia. It is a spectacular and fun show that is suitable for the whole family and even for young children like Di Di will enjoy the show tremendously.
Thumbs up to the stunning performances and we kept clapping throughout the show. The acrobats are awesome, the horses are so amazing and smart. We love the show! This is the first time we have seen a show that incorporates human performances and 50 gorgeous horses. 
It is so rare and there will not be another show like this. We watched in awe that each segment, the performers, horses and even the background scene, lighting and music blend harmoniously and transport us from one scene to another, from deserts, grasslands, lush green forests, mountains and so on. The music and singing are all live and beautiful. Many went to purchase the CDs after watching the show.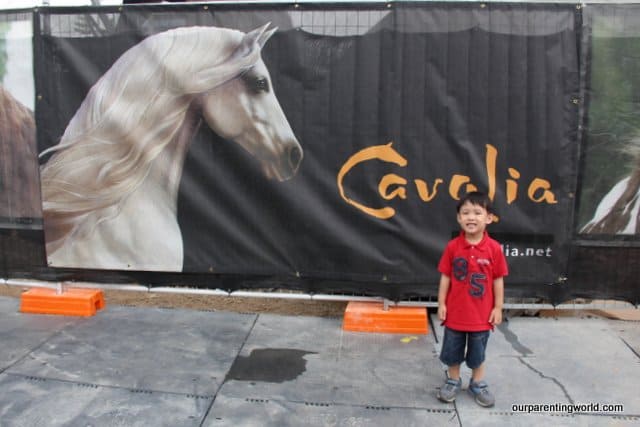 Overall, Cavalia has exceeded our expectation. Hurry, go and catch this incredible show now!
Additional Information:
Ladies, do take note, please try not to wear heels, some parts of the floor surfaces are uneven and you may need to climb stairs to reach your seats. It is best to wear comfortable shoes. 
Event Date
Tue, 12 Aug – Sun, 14 Sep 2014
Tue – Fri: 7.30pm
Sat: 2pm & 7.30pm
Sun: 12pm & 5.30pm
*Please note that there will be no performance on 13th,19th and 26th August 2014.
Venue
Under the White Theatre Tent
Bayfront Ave next to Marina Bay Sands
Ticket Pricing
(Excludes Boooking Fee)
Rendez-Vous VIP Premium: S$308
Redez-Vous VIP Silver: S$288
Horse Lover (First Row): S$248
Horse Lover: S$208
Category 5: S$188
Category 6: S$148
Category 7: S$98
Category 8: S$88
Partially Obstructed: S$58
PACKAGE : RENDEZ-VOUS VIP
Access to the private RENDEZ-VOUS VIP Lounge 90 minutes before the show, during the intermission and after the show
Center-row seats

VIP Pass

Wide variety of complimentary food and beverages

Dessert, coffee and tea served during intermission

Exclusive stable tour after the show

Cavalia souvenir from our boutique
PACKAGE : HORSE LOVER
The best choice to see the horses up close.
Front rows seats

Exclusive stable tour after the show
Please click HERE for more information.