The European Union Film Festival (EUFF) is back for its 29th edition, reflecting the diversity of perspectives, histories and cultures from across Europe. It features the best of contemporary European cinema from 10 to 19 May 2019 at the National Gallery Singapore.
Our Parenting World – OPW Media team is pleased to be able to interview Mark Verkerk, Director of The Wild City. The film is about seeing the city from the unique perspective of the many wild animals and plants that inhabit it. Seen through the eyes of the adventurous urban cat, Abatutu.
About Director Mark Verkerk, for more than 40 years he has been involved in all aspects of film and television production from camerawork, to editing and directing. But one thing has remained constant, his passion for documentary in all its forms. Graduating from the London International Film School in 1978, Mark began work as a film editor at the ABC in Sydney, going on to be director/editor for a number of independent television projects.
Since 1990, Mark has been Creative Director at EMS FILMS, The Netherlands, writing, directing and overseeing a range of award winning programming for international broadcasters. From 2006 onwards, he has focused on feature length documentaries and wildlife films for cinema release, including the multi award winning Buddha's Lost Children and three ground breaking theatrical wildlife films exploring different facets of nature in the Netherlands: The New Wilderness, Holland:the Living Delta and most recently, Wild Amsterdam. 
Exclusive Interview with Mark Verkerk, Director of The Wild City
1. Please share with us more about your background and how did you become a director?
I have always been fascinated by all areas of the filmmaking process and began working as a camera assistant learning the technical aspects of camerawork. This was 40 years ago when everything was still being shot on film. I was also at the time following a filmmaking course at the London International Film School and soon realized that the filming side was just one part of the whole process of making a film. After a while I switched from the camera side to editing, when I realized especially that documentary (non-fiction) films (which have always been my main interest), often only really come together in the editing process. After a number of years of working as a film editor I teamed up with a cameraman to make independent productions. Those early films were my first experience as a director. So you see, I came to directing by working up the ranks, via camerawork and editing. For non-fiction filmmaking in particular that is I think a big advantage, as we work on the whole in small teams, often doing multiple jobs for a particular production.
2. Can you share with us more about "The Wild City", what inspired you to direct the film?
'The Wild City' is the third in a series of nature films I have directed for the cinema on wildlife in the Netherlands. The first, 'The New Wilderness' was very successful as that was the first time that people in the Netherlands had seen wildlife from their own country portrayed on the big screen. The enthusiastic response inspired me to make 2 more films looking at different aspects of the wildlife in the country. Being one of the most urbanized areas of Western Europe it was logical to focus the third film on wildlife in the city – and Amsterdam provided the perfect backdrop.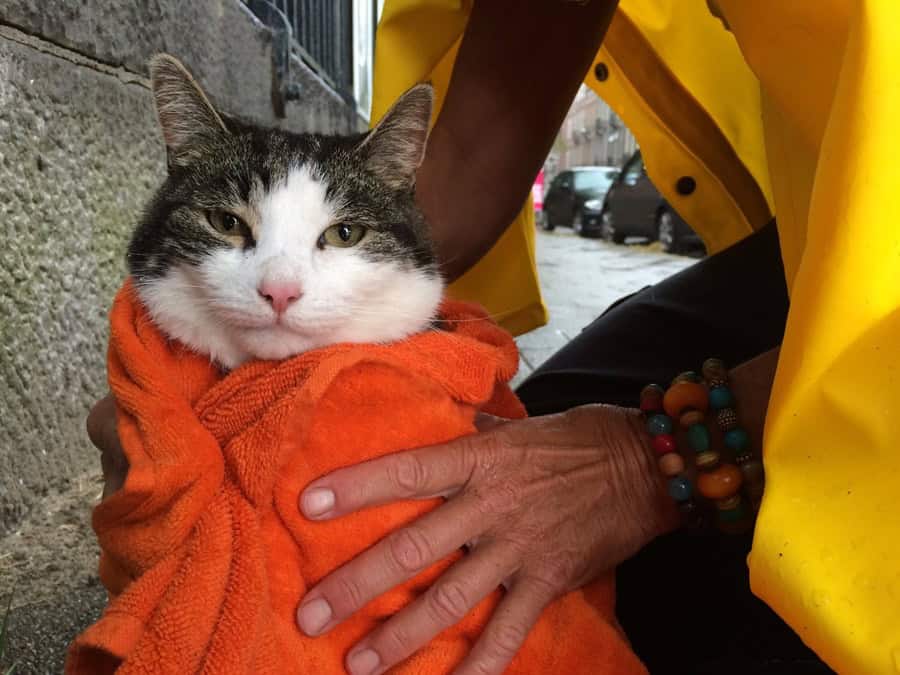 Photo Credit: 'The Wild City' – Abatutu the cat, behind-the-scenes, as they were shooting the film.
3. What are some of the challenges that you faced when directing "The Wild City" and how did you overcome them?
Ironically, filming wildlife in Amsterdam was a lot harder than I first thought. The other two films had been shot in the wilder more remote parts of the country and I thought initially that it would be a lot easier to film animals and birds in a city, as living side by side with people they must be easier to approach. This turned out to be largely untrue. On the whole the wildlife live separate parallel lives to the human inhabitants of the city and know therefore very well how to avoid them. As a result we used more unmanned remote cameras in this film than the two others – in order to get the close intimate footage I was looking for. Another specific challenge was filming with Abatutu, our cat city guide, who I wanted to include so as to try and reach a broader audience with the film than you would with a classic wildlife film. As anyone who has spent time with a cat might know, you can't tell a cat what to do, so the only approach was to take the time and follow as much as possible the instinct and interests of the cat. Sometimes frustrating, but the results made it all worthwhile.
4. Do share with us your experience on working with the crew and team members behind "The Wild City"?
We had many funny/unusual experiences during the 2 and half years it took to film 'The Wild City'. One, for instance, was while filming the peregrine falcon from the top of an adjacent bank building. The cameraman was standing on the edge of the roof filming with a long telephoto lens. From street level you could just make out a silhouetted figure against the sky behind a long barreled piece of apparatus. The police received a number of calls from passers by who thought they might be a gunman or sniper on the roof. The whole incident caused enough commotion that we were an item on the evening news. Totally unplanned, but nevertheless a great way to get some publicity for the film — and some attention for the pair of peregrine falcons that had made their home there.
Photo Credit: 'The Wild City'
5. What lessons/key takeaways can adults and kids take away from "The Wild City"?
I hope that anyone who sees this film will think a little differently about both wildlife and the city. Too often we see them as incompatible, two things that can't combine. We live in world were the majority of people now live in a city of some kind and for nature that means the urban environment has become a crucial ecosystem, as real and important as grassland, forest or a coastline. As city dwellers we need to pay more attention to the wildlife that surrounds us. Nature is not something that you need to leave the city and travel to to find, it is with us everywhere we look. In Amsterdam we now have more biodiversity in the city than in the surrounding agricultural areas – because of the intensive nature of the farming. As cities around the world become greener and clean up their air and water, they are becoming important reserves for a whole range of species that are finding it increasingly difficult to feed themselves or find shelter in agricultural areas. I also hope that people seeing this film will realize how much we humans share with our animal cousins – the need for shelter, food, and a place to safely rear our young etc. The needs that nature requires to survive are exactly the same needs we require. We all share after all the same home. To put it another way, for humans to thrive we need to ensure that nature thrives too.
6. What's your advice to someone who aspires to be a director like yourself?
Follow your passion and surround yourself with people more talented and clever than yourself. The joy of filmmaking comes from the fact that it is a team effort. A director is just the person with the central vision that can guide and motivate the joint filmmaking process.
7. Can you share with us what are your thoughts on the 29th European Union Film Festival happening in Singapore?
It's an honor to be part of the festival and share in the cultural exchange that is so important in this diverse world of ours.
8. Lastly, what can audience look out for when they watch "The Wild City"? What are you working on currently and your next film?
While Amsterdam and Singapore might on the surface appear to be very different cities they both share a vision of working towards enhancing as much as possible their natural systems. I hope the film will inspire people to look out for the nature in their own cities. Animals and plants don't live isolated from each other but depend on complex interactions with each other. It is these complex web of relationships that we need to foster and preserve – and by doing that we create an environment that benefits humans as well. Am currently working on a film that looks at urban wildlife in a more extreme setting, that of the harbour of Rotterdam – the largest industrial area of Western Europe. Maybe not the first place you would go to to find wildlife but as it happens there is more biodiversity there than in many of our national parks.
Thank you Mark Verkerk for taking our interview!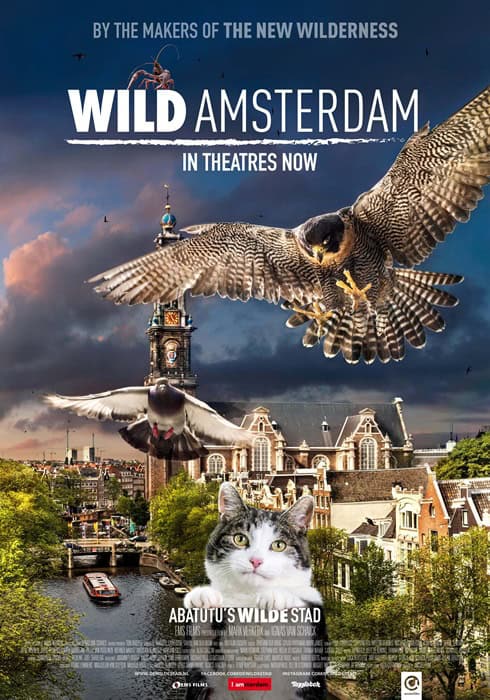 You can catch 'The Wild City' at The European Union Film Festival (EUFF) 2019, to find out more about EUFF and to purchase the tickets, please visit https://www.sistic.com.sg/events/ceuff0519
EUFF 2019 Dates & Ticketing
The EUFF will take place from 10 to 19 May at National Gallery Singapore's Ngee Ann Kongsi Auditorium (Basement 1).
Festival tickets are priced at $12 and are available for sale through SISTIC from 4 April. Purchase of a festival ticket will include one complimentary admission ticket to all exhibitions at National Gallery Singapore. Several participating countries will be hosting prescreening receptions and ticket holders to those movies are invited to join these receptions.
Concessions are extended to National Gallery Singapore members, those aged 55 years and above, NSFs, students, Singapore Film Society members, and group purchases of 6 tickets or more ($1 off per ticket).
To purchase the tickets, please visit https://www.sistic.com.sg/events/ceuff0519
To find out more about the 29th European Union Film Festival and updates, please visit http://www.euff.sg/
Facebook: fb.com/euffsg
Twitter: @EUinSingapore
Instagram: @EUinSingapore #EUFFSG
Good News! Giveaway Alert! 
Thanks to EUFF, we are giving away a family package of 4 tickets for you to bring your family and or friends to watch the film, 'The Wild City' (PG13) at the iconic National Gallery Singapore on 19 May, Sunday at 4pm.
Here's how to win the giveaway:
1) LIKE and FOLLOW Our Parenting World Facebook Page and European Union Film Festival in Singapore Facebook Page
2) FOLLOW our Instagram at @opwmedia  and @EUinSingapore
3) LIKE, SHARE and TAG at least 5 friends or more to share this Facebook Giveaway Post  
* Please set your profile to public and indicate your instagram handle at the Facebook Comment Post and check that all the steps are entered correctly to be eligible for the giveaway 🙂
Hurry, giveaway will close on 9 May 2019 at 23:59Hr.
Thank you and Good Luck! 🙂
Giveaway is closed, winner has been announced and notified, for winner's announcement, please visit this LINK. 
Terms and Conditions
Entry into the giveaway contest will be deemed as acceptance of these terms and conditions. The rules of the giveaway contest and how to enter are as follows:
1) The prize is as stated, subject to change and fulfillment by the sponsors. Winners are not allowed to change the prizes. The prize will be non-transferable, non-refundable and non-exchangeable for other products/dates/times. The sponsors reserve the right to amend the giveaway contest, substitute any prize or with another of equivalent value without giving notice.
2) All participants have the opportunity to win as long as you have completed and fulfilled all the steps/requirements specified on the giveaway contest. Please make sure your likes and shares are set to public for verification purposes. Incomplete entries and fake accounts will be disqualified at the discretion of the organisers.
3) Winners of past giveaways in the last one month will not qualify for this giveaway, please wait till after one month from the date that you have won to participate in the current giveaways. You are welcome to participate in the coming giveaways after one month from the date that you have won. 
4) Giveaway contest is open to all Singapore residents with a valid Singapore mailing address
5) The organiser (ourparentingworld.com) is not responsible for inaccurate prize details supplied to any entrant by any third party connected with the giveaway contest and by the sponsors.
6) Winners will be notified by email /Facebook/Instagram after the contest has ended. If the winner cannot be contacted or do not claim the prize, we reserve the right to withdraw the prize from the winner and or pick a replacement winner. 
7) The organiser reserves the right to cancel the contest if circumstances arise outside of its control.
8) The sponsor's and the organiser's decision in respect of all matters to do with the giveaway contest will be final and no correspondence will be entered into.
9) Other terms & conditions apply.