The Front Row (TFR) 2021 – Singapore's definitive virtual fashion festival in collaboration with Raffles City, helps "Style That Look" this season with two virtual styling workshops led by its Creative Director Daniel Boey and Class95 deejay Yasminne Cheng. These workshops feature iconic post-pandemic chic and weekend luxe styles, where viewers can pick up a tip or two on how to put together versatile pieces for a more relaxed sense of chic and learn more about making mindful fashion choices.
Our Parenting World Media editorial team speaks to Daniel Boey, also known as Singapore's Godfather of Fashion. He is the Creative Director of TFR 2021 where he shares more about the latest post-pandemic fashion trends, post-pandemic chic and weekend luxe styles and more.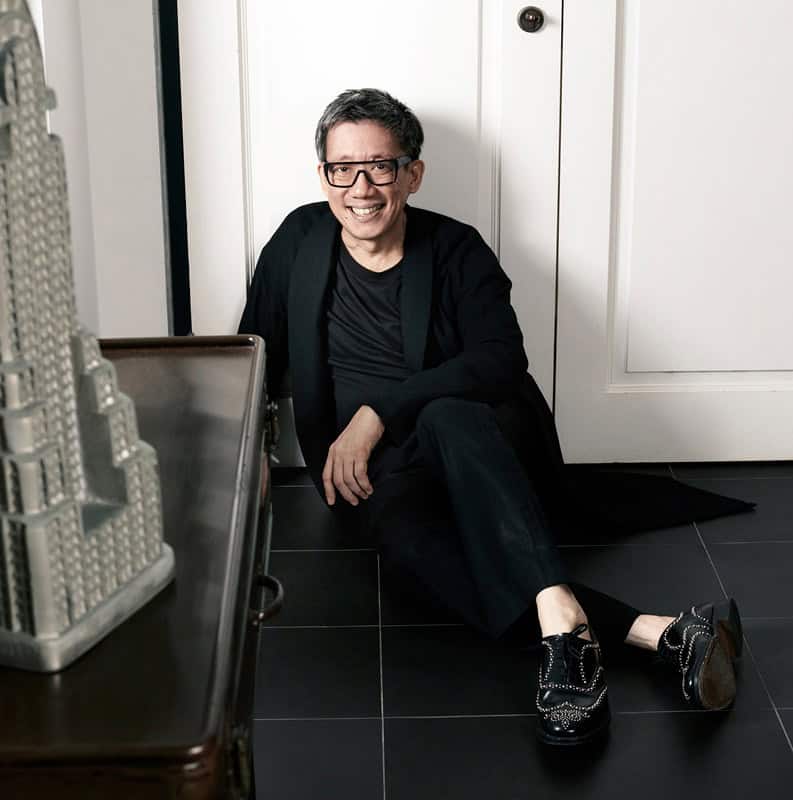 Daniel Boey, Creative Director of TFR 2021
Photo Credit: Raymond Lee @rayleegoodpictures from Capsule Productions
Exclusive Interview with Daniel Boey, Creative Director of TFR 2021
1. Please share with us more about your involvement with The Front Row 2021?
Daniel Boey: The Front Row is pretty much my baby! The 1st edition was launched last year in response to growing market demands to transform the industry and bring it into the future, as the pandemic raged on. In 2020, when we were planning the festival, creatives, labels and tech companies were all reacting to the pandemic. Most of us were in the process of pivoting and there was a lot of uncertainty, but I wanted to create a platform that aims to bring together like-minded fashion creatives and businesses, shaping The Front Row up to be an important collective site to discover underground, cult, or exciting new Singaporean designers and international designers of Asian descent.
Using all the lessons we have learnt as well as the new skills that we have all picked up over the past year, we saw a more confident programming for The Front Row 2021. This year's The Front Row is also definitely more focused on conscious consumption and inclusivity compared to the first. My vision for this 2nd edition was to showcase a future of fashion that is responsible, inclusive and seasonless, by bringing on board more local and regional fashion labels that share the same ethos and business practices.
It takes a village to raise a child, and The Front Row wouldn't have been such a great success without my team at Daniel Boey Creatives who are involved in the curation of creatives and brands, styling and programme planning, as well as our tech partner AP Media who is behind the cinematography of our fashion films and the amazing 3D metaverse on www.thefrontrow.style
2. What are some of the latest post-pandemic fashion trends?
Daniel Boey: Fashion is looking beyond the pandemic. 
"The pandemic has caused a shift in the way people engage with their clothing," according to fashion psychologist Shakaila Forbes-Bell. "The need to not only be physically comfortable but psychologically comfortable in what we wear will likely remain as people have come to realize that clothing can be used as a tool to aid cognitive processing and general wellbeing."
Consumers, more than ever, are looking at their social media feeds as a source for inspiration, rather than fashion trends.
Looking beyond the pajama-inspired separates, cashmere hoodies and elevated sweatsuits, post-pandemic fashionistas are looking for elevated, easygoing wardrobe essentials that are chic enough for a day in the town yet comfortable enough for cocooning on the couch. Its chic without being too formal or uncomfortable.
There is also a commitment to sustainability, and more shoppers are embracing the circular economy.
3. What constitutes post-pandemic chic and weekend luxe styles?
Daniel Boey: Expect brighter mood-boosting colours or classic prints, paired with minimalist, casual-cool dressing. We see comfortable, cozy silhouettes balanced with structured accessories like totes or chunky jewellery to counter the softer silhouettes.
Brighter, endorphin-inducing colors like yellow, orange, green, pink, red and blue are injected into ensembles. Elevated loungewear in bright colours have trans-seasonal and cross-category appeal and meshes chic with coziness for the post-pandemic age. 
Athleisure elements seep into fashion pieces, with some fashionistas wearing every conceivable style, pattern and fabric at once, like a skirt-and-sweatpants combination. More comfortable footwear options like sneakers, espadrilles, slingbacks, and loafers remain crowd favorites, but pumps and medium heels heights will make an appearance too.
Accessories are an easy and affordable way to add fun to a wardrobe. Generally, there is a blurring of lines between weekend casual chic and WFH fashion.
4. How have fashion retail brands evolved during these pandemic years?
Daniel Boey: Over the course of a rather reflective pandemic year, the fashion industry has seen to a growing appreciation for slow seasonless fashion pieces that are more responsibly and ethically made. There's also a shift towards more practical, comfortable fashion, and brands are adapting and adjusting their designs to accommodate this – even luxury labels are creating more practical yet beautiful collections. Hence the rise in athleisure, resortwear and tuned-up loungewear collections these days.
Moving forward, digital channels will continue to be at the forefront of change in the fashion industry, with many brands accelerating their digital strategies in order to provide compelling online experiences with a human touch, for a rapidly growing base of consumers who have turned to digital devices to shop – livestreaming, virtual live customer service, online concierge services, etc. Brands are now reaching their audiences locally and globally via digital streams and shoppable runways, making their collections accessible directly to consumers. Our collaboration with Raffles City is one of the ways that the retail mall is spotlighting their brick-and-mortar brands that have taken a hit from the pandemic, bringing their collections directly to the consumer in a fun and engaging way through our digital platforms and TikTok runway shows.
5. How do you make more conscious fashion choices?
Daniel Boey: I won't go into too much detail but I'm sure most of us are aware of the downsides of shopping from fast fashion brands. It is great that more consumers are shouting out about sustainability on their socials but a truly conscious and responsible fashion consumer expects more – supply chain transparency, fair wages and opportunities, conscious production practices, environmentally-friendly and sustainably-sourced materials, just to name a few – and this is where slow fashion labels come in. Slow fashion pieces are more thoughtfully created and more carefully and ethically made. So aside from shouting out about the cause, it would help to choose labels that believe in these key aspects of conscious consumption and keep an eye out for brands whose ethos align with yours.
6. Lastly, what would you like to say to our readers who are new to The Front Row 2021 and what's your next plan/project if any?
Daniel Boey: Get cosy and curled up because you're in for a long ride! Aside from all the existing virtual fashion shows, hybrid fashion events, fashion podcasts, talks and workshops which are still available for viewing on www.thefrontrow.style, we also recently collaborated with Raffles City to spotlight retail brands that have taken a hit from the pandemic. Viewers can get the inside scoop and discover fresh new looks from brands at Raffles City, with virtual themed style workshops and exclusive TikTok styling videos that feature models from TFR2021 and Miss Universe Singapore 2021.
As the fashion industry is constantly evolving, we can't be too sure about what our next The Front Row project will encompass. But I do believe that inclusivity and diversity in fashion is now a movement and more work needs to be done to see it through. In the words of Pierpaolo Piccioli, who directed Valentino's haute couture show that broke the glass ceiling for diversity in luxury fashion some years back: "It's my fantasy of a world where we can all live together." When inclusivity and diversity in fashion becomes the norm, that's when we'll know we made it.
There's no better time to shop at Raffles City than in October! From 1 – 30 October 2021, spend S$300 in a single receipt at any of the 85 participating fashion and beauty brands at Raffles City to receive a $25 eCapitaVoucher. Head down to Raffles City to shop, find out more at www.rafflescity.com.sg