Recently, our team embarked on The Giant Egg Hunt featuring 60 eggs which were hand-painted by local and regional artists from The Affordable Art Fair as well as local students from Temasek Polytechnic's School of Design, CHIJ Primary School (Toa Payoh), Park View Primary School, youths from Focus on Family's FamChamps, for the first time!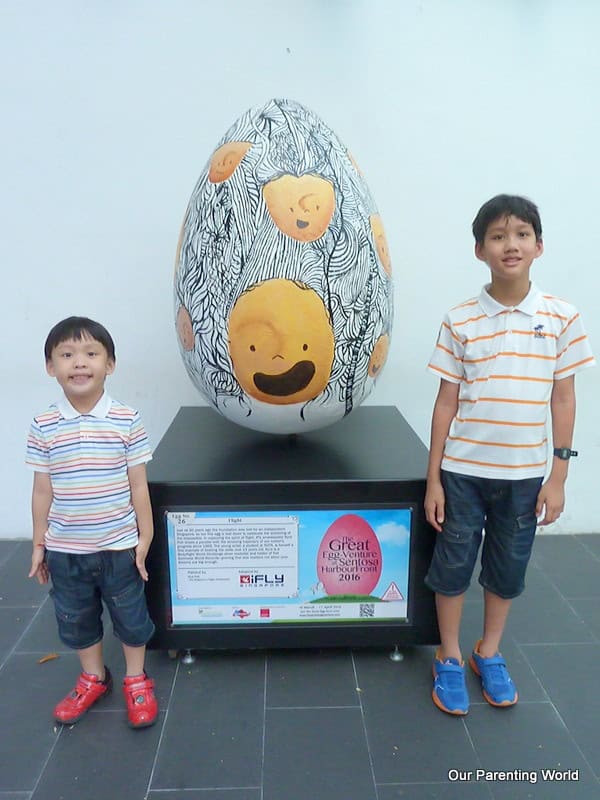 This year, the theme for The Great Egg-Venture at Sentosa HarbourFront 2016 is "A New Beginning" where participants translated their vision for Singapore's future for the next 50 years into works of art. Each of these hand-painted giant egg is 1.8m tall. 
Singapore's biggest Easter Fiesta organised by the Sentosa HarbourFront Business Association is back for its third installment from 10 March to 17 April 2016. 
Come and join us, let's embark on the adventure to hunt the eggs!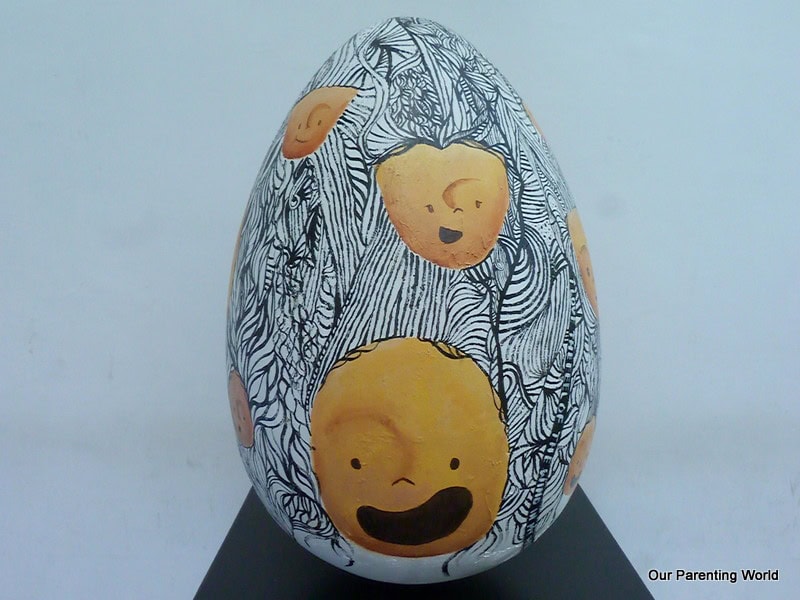 The above egg, titled "Flight" is placed at iFly Singapore and is painted by 13 year old Kyra Poh.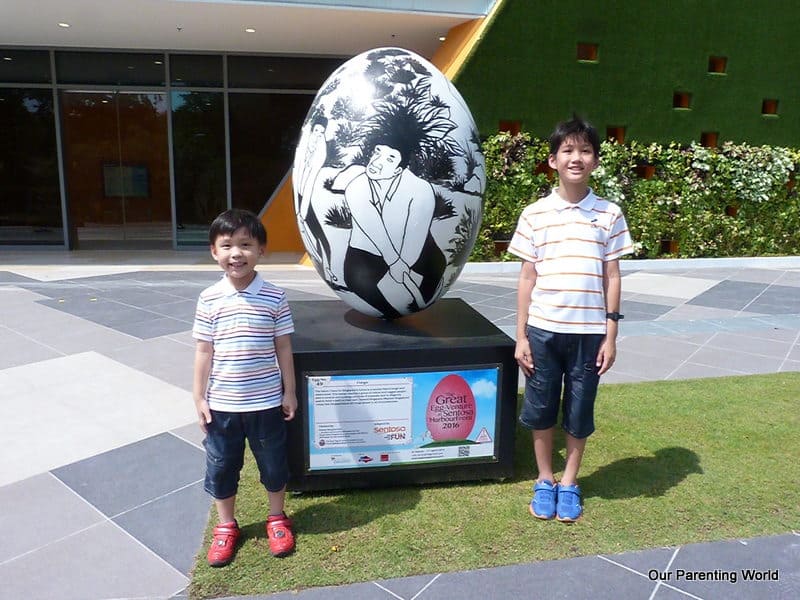 This egg, titled "Forge" is placed just in front of KidZania and is painted by Ezekiel Wong Kel Win.
This egg is placed at Mövenpick Heritage Hotel Sentosa, it is located besides the lobby. We love the beautiful egg which is decorated with colourful flowers patterns.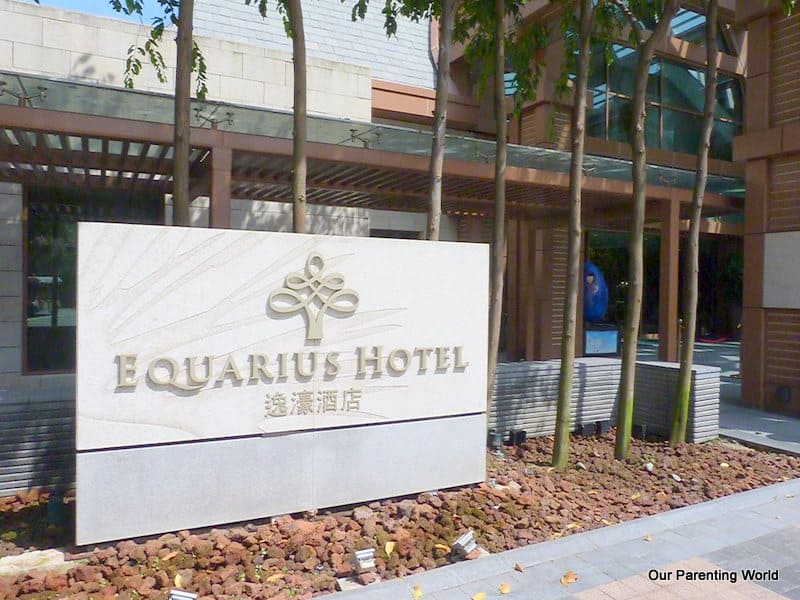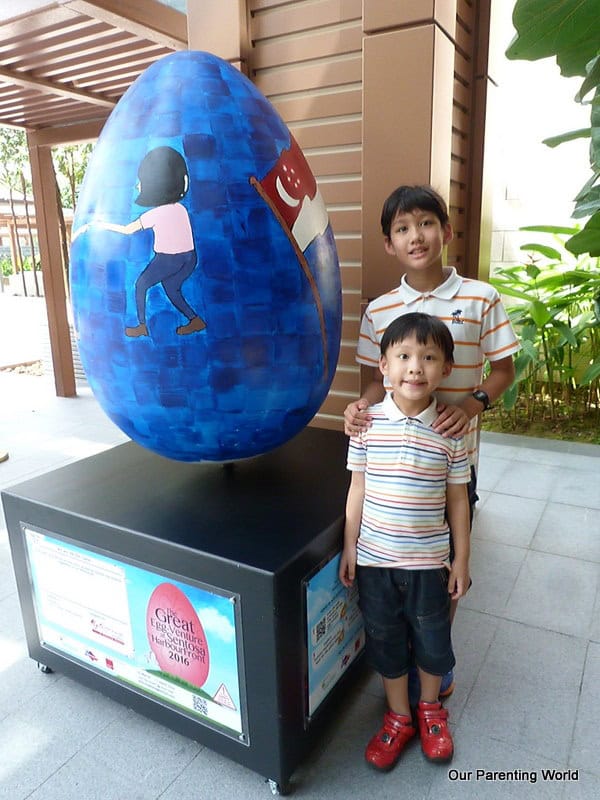 We located this egg just outside Equarius Hotel, RWS. This egg is painted with beautiful shades of blue and the striking part to us is the Singapore Flag.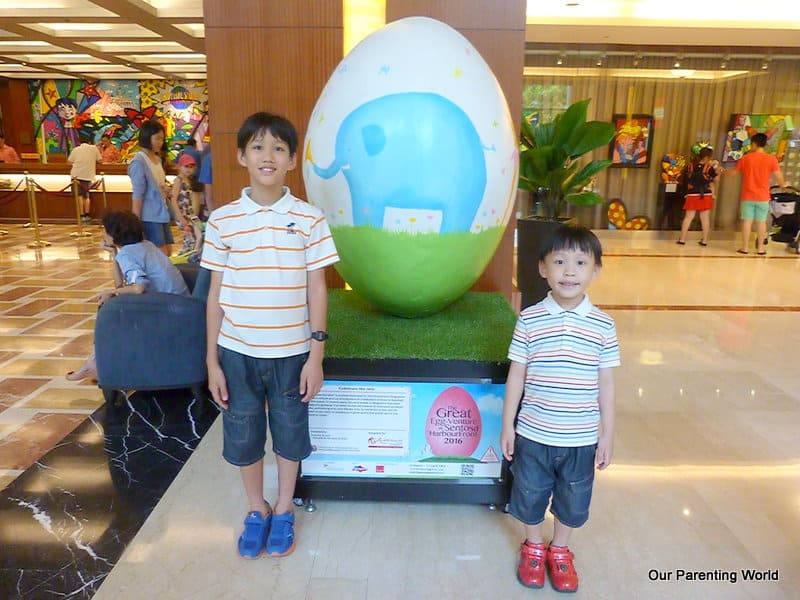 We found this egg at the lobby of Festive Hotel, RWS. This egg titled "Celebrate the Arts" is very cute with painting of a blue elephant right in front.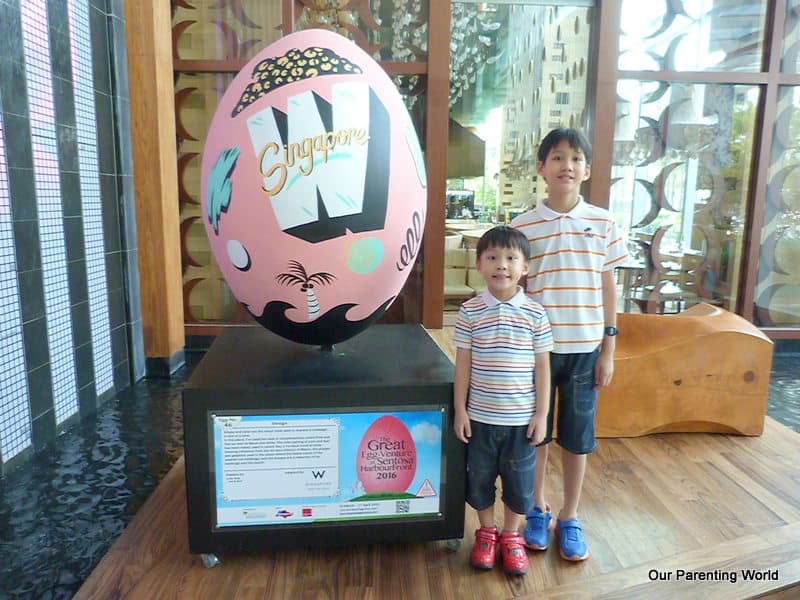 This egg with a big "W" word is found at W Singapore – Sentosa Cove with the title "Design" is painted with complimentary colors of pink and teal as well as black and white.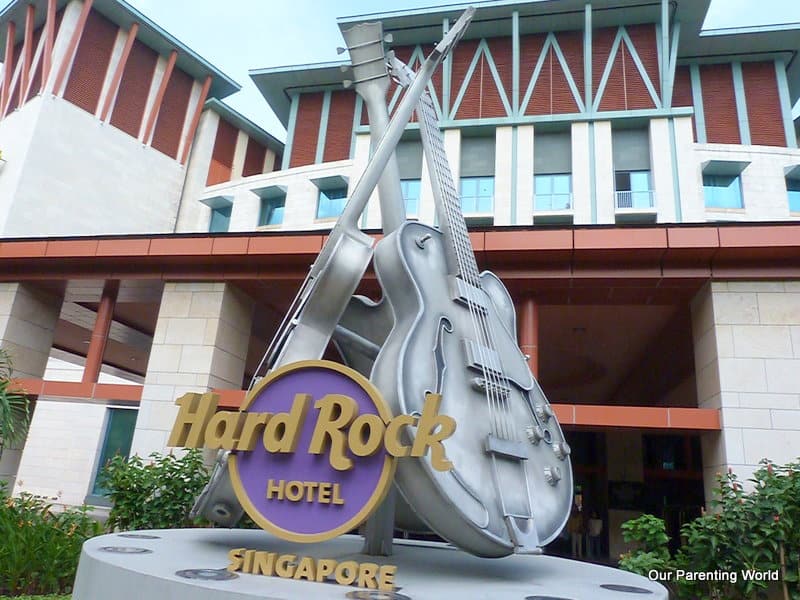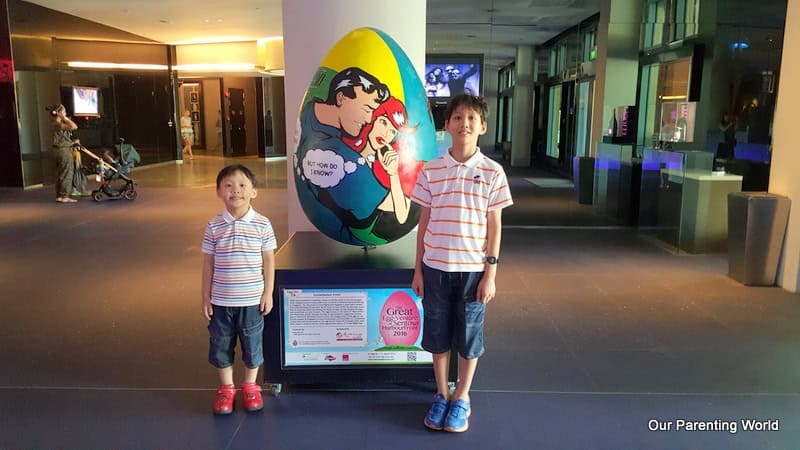 The egg, titled "Exclaimation Point" by Deborah Loh is located at the lobby of Hard Rock Hotel Singapore, RWS.
Bring your family and friends and have fun embarking on Singapore's Greatest Egg Hunt and win attractive prizes! 
There are a total of 60 eggs all located at the public places. First locate the egg, take a selfie and upload your photo by taking advantage of [email protected] on the island. Once you have found 40 eggs, you will qualify for the first tier of lucky draws. 
To participate in The Great Egg-Venture at Sentosa HarbourFront 2016, please register at www.thegreateggventure.sg from 10 March to 17 April 2016. 
Additional Information:
The Great Egg Hunt for the first time will features weekly draws, a grand draw, as well as a special category for tourists. In total, prizes worth more than S$50,000 are up for grabs. The Great Egg Hunt will commence at 5.00pm on 10 March 2016, and end at 11.59pm on 17 April 2016.
How to Play?
All players must first register on Sentosa HabourFront Business Association's "The Great Egg-Venture 2016" Contest App in order to participate in the Giant Egg Hunt Contest. Once registered, participants can proceed to the Sentosa HarbourFront precinct to start on the Giant Egg Hunt. Clues to the Giant Egg locations can be found on the event microsite (www.thegreateggventure.com) or on the map of The Great Egg-Venture brochure.
All Giant Eggs have been tagged with geo-location. Participants need to go within a designated parameter and take a selfie with the Giant Egg found to complete the process. Participants will be automatically directed to the "Egg Found" screen. This process has to be repeated for each egg for all 60 Giant Eggs. Each Giant Egg can only be hunted once.
Prizes
Weekly Draws
The minimum number of Giant Eggs to be hunted in each of the three prize tiers for the weekly draws is 40, 50 and 60 Giant Eggs. Participants will qualify for the weekly draws when they attain the number of Giant Eggs according to the tiers within the stated week.
Participants are entitled to win a maximum of one prize from each weekly draw. E.g. if 40 Giant Eggs were hunted for in Week 1 and another 20 Giant Eggs were hunted for in Week 2, the Participant will stand to win the prize for the 40 Giant Eggs tier in Week 1 and the prize for the 60 Giant Eggs tier in Week 2.
Grand Draw
Participants who complete the hunt for all 60 Giant Eggs during the Contest Period will stand a chance to win from the three prizes in the Grand Draw.
Tourist Category
Tourists can participate in a separate category – Tourist Category, and stand to redeem the prize stated for every 10 Giant Eggs hunted during the Contest Period.
To qualify to participate under the Tourist Category, participants must have a minimum stay of 2 nights in Singapore with proof of travel. Redemption is limited to the first 5 tourists daily.
For more information on Easter activities throughout the precinct, please visit www.thegreateggventure.com or visit www.shba.org.sg.