Many of us are familiar with the well-known Chinese folktale of The legend of Meng Jiang Nü. The story was set in the Qin dynasty, where Meng Jiang Nü's husband was pressed into service by the Imperial Officials to build the Great Wall. She travelled far and wide to search for him only to hear that he has died. Upon hearing the bad news, she wept bitterly that part of the Great Wall collapsed to reveal her husband's remains. 
No wall too tall.
No journey too long.
The legend of Meng Jiang Nü.
In The Great Wall: One Woman's Journey adaption of the legendary Chinese folktale is produced by a exciting new company, Glowtape Productions. This musical is a brand new production written by acclaimed Singaporean playwright Jean Tay and produced by Grace Low.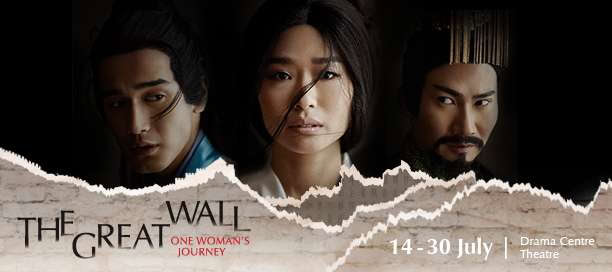 Audience can look forward to a star-studded cast of The Great Wall Musical comprising of Meng Jiang Nü played by Korean actress, Na-Young Jeon, Emperor Qin Shi Huang by George Chan and Meng Jiang Nü's husband, Fan Qi Liang by Nathan Hartono. 
The 3 main leads did not disappoint with their outstanding delivery of their respective roles. Na-Young Jeon has done a soulful portrayal of Meng Jiang Nü's courage, her search and longing for her husband, her bravery to face and confront Emperor Qin Shi Huang with powerful impact that touched the audience. 
George Chan's triumph on his role as the first Emperor of the unified China with strong and impressive portrayal of the ruthless and aggressive Emperor. Nathan Hartono brought his role as Fan Qi Liang to life with his melodic vocals and demonstrated great chemistry with his leading actress. Audience were touched and drawn into the deep, loving relationship between Meng Jiang Nü and Fan Qi Liang.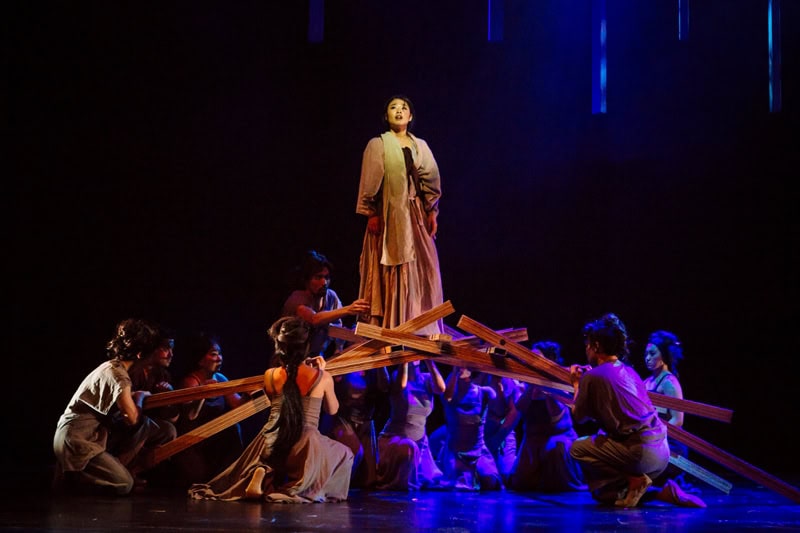 Audience can look forward to enjoy a spectacular display of the beautiful settings against the backdrop of the Imperial China as they followed Meng Jiang Nü on a one woman's journey across China.
Be in awe as the set changed as we watched Meng Jiang Nü travelled and encountered many incidents including crossing a rushing river. This scene is interesting and unique as you can see the cast working in perfect co-ordination carrying wooden planks to act as a bridge to support and enable her to walk over. We are certainly impressed with this creative scene!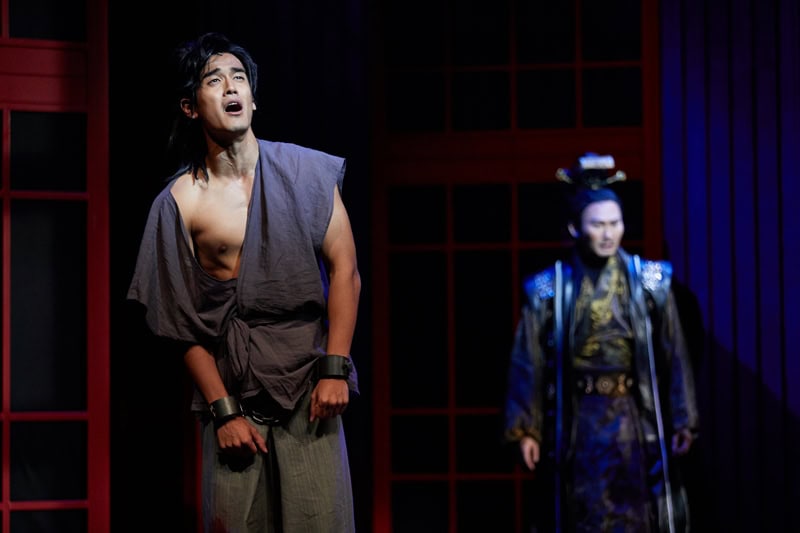 All the above images credit to Crispian Chan
Overall the cast of The Great Wall musical gave strong performances on stage, the story is beautiful and touching. You can enjoy great singing from beginning till the end of the musical. Feast your eyes and ears to this amazing production and let your heart be touched!
Bravo to Glowtape Productions for coming up with such a brilliant musical! 
This is definitely a must-watch musical, don't miss this brand-new moving tale now showing till 30 July 2017! 
Join the phenomenal Na-Young Jeon's Singapore debut, multi-talented George Chan and homegrown singing sensation Nathan Hartono as they team up this July for The Great Wall: One Woman's Journey.
To find out more about Glowtape Productions, please go to: