The highly-anticipated annual NTUC Income Kite Festival Singapore is back for the sixth year! Even before reaching the venue, we saw the colourful kites that were flying high up on the sky against the beautiful Marina Bay backdrop.
Gor Gor is so excited as this is the first time he is attending the Kite Festival and he will get to make his very own kite.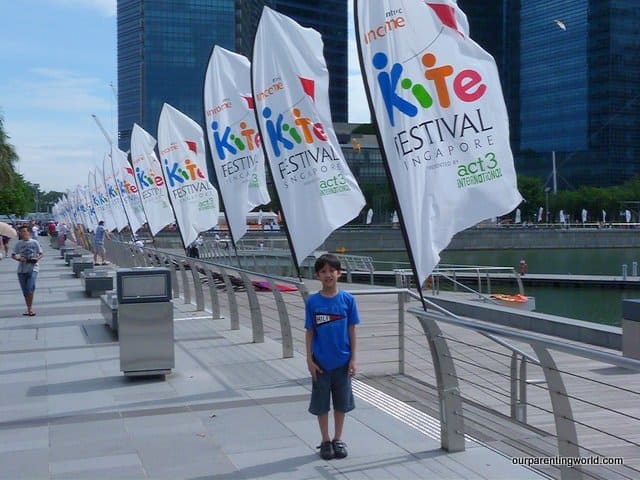 The annual NTUC Income Kite Festival Singapore presented by ACT 3 International is set to thrill the public with an exciting line-up of kite and lifestyle related activities.
Visitors can expect a fun-filled weekend today 23 August till tomorrow, 24 August 2014 of thrilling kite performances from professional kiters, kite making workshops and arts performances.
The public is welcome to fly their own kites. You can bring your own or purchase a kite at the Festival Kite Shop.
Some of the highlights of the Festival include Giant kite exhibition by Italian kite flyer and maker Arnaldo Mazzetto.
Photo Credit: NTUC Income Kite Festival Singapore
Arnaldo Mazzetto specialises in 3D kites and creates geometrical and colourful giants that range from 10 to 12 metres in circumference. These require 200 to 400 hours of labour to complete and the results are always astounding. In particular, his 'Multiflare' kite is a noteworthy example, spanning 12 metres in circumference and made with 9000 metres of nylon over 490 hours. For this year's festival in Singapore, he will be showcasing ten giant kites.
Catch Arnaldo Mazzetto and his giant kites for photo-taking opportunities.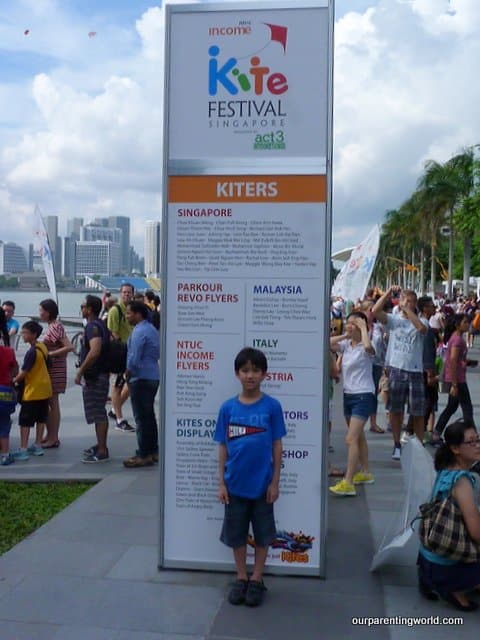 There will also be invited kiters from Singapore, Malaysia and Europe. Kite enthusiasts and public can look forward to kite flying showcase where these kiters will showcase their inimitable skills and technique in manoeuvring and flying kites.
The ever-popular giant inflatable kites will be flown as well. There will also be up to 30 rokkaku kites will be in the air at any time, painting a gorgeous picture in the sky. It will be a beautiful and spectacular sight!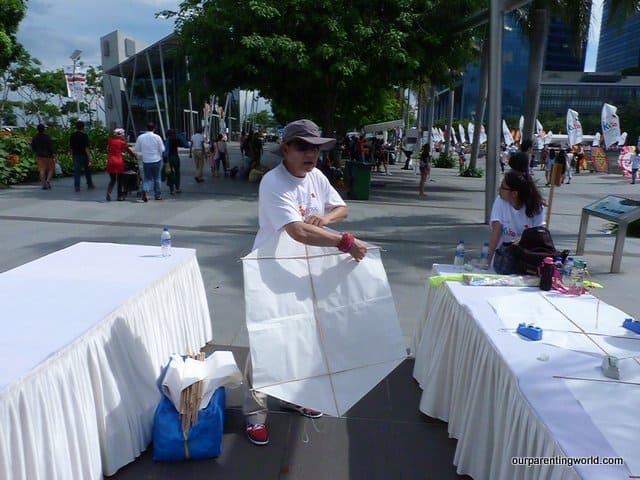 We made our way to our kite workshop where we were taught by kite master on how to make our very own kite.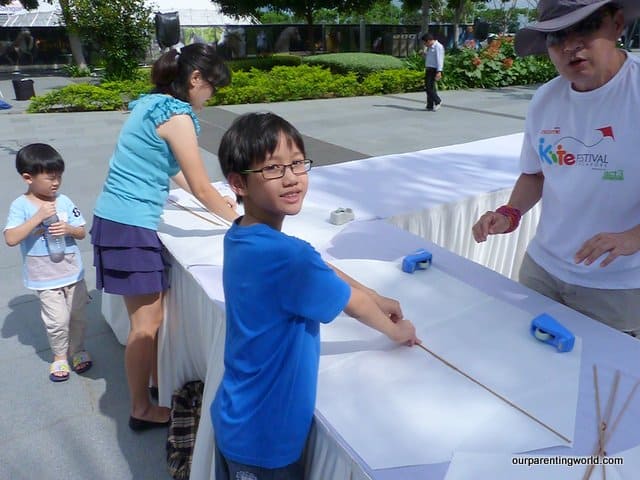 "I am making my kite now with the help of the friendly kite master, I can't wait to fly my own kite!"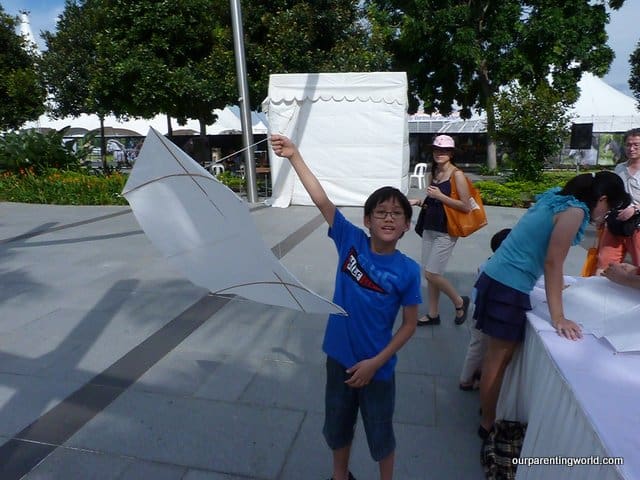 "I have finished doing my kite and I can't wait to fly it high up on the sky!"
Look out for the Free Kite Making Workshops and don't miss this chance to make your own kite taught by expert kite masters from Singapore, Italy and Austria.
These free 45-minute workshops offer the public a hands-on opportunity to make their own kites, as well as express their creativity through this art form. This year, the public can learn how to make pocket sled, origami and train kites.
Schedule and location: Concurrent sessions at 4pm to 4.45pm, 5pm to 5.45pm and 4.30pm to 5.15pm, 5.30pm to 6.15pm, both days, along the Boardwalk.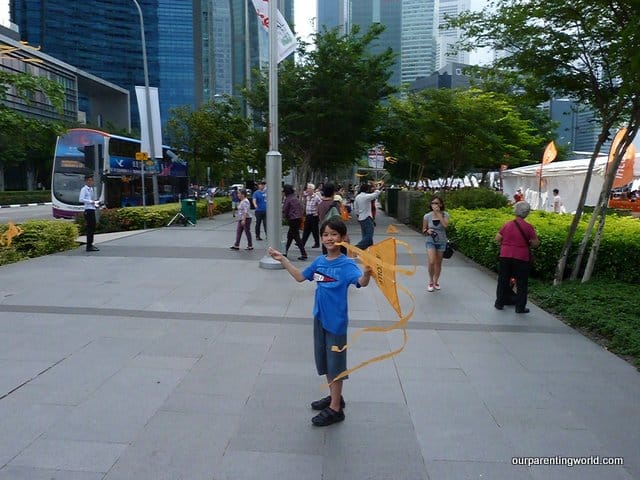 "I love kites, I enjoy the thrill of seeing my kite soars up in the sky."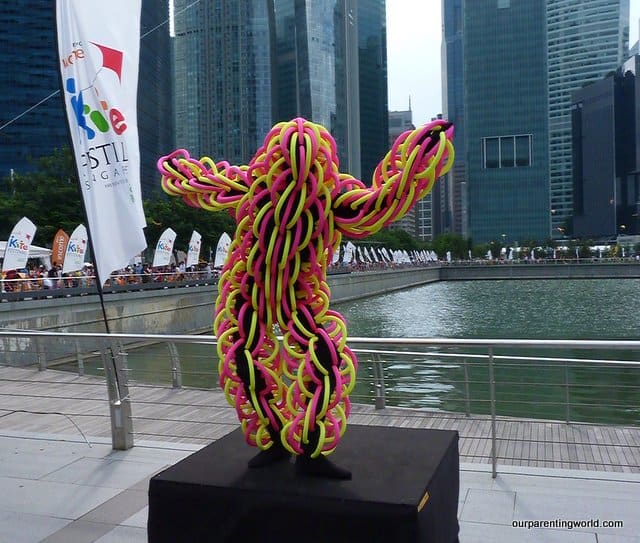 At the Kite Festival, public will get to see award-winning 'living statues' from Europe. 15 'living statues' from countries such as the Netherlands, Portugal, and Russia with some of them had performed at the renowned World Statues Festival in the Netherlands.  These 'statues' never fail to entertain with surprising gestures and posture changes. 
Besides the above highlights that we have mentioned, the Kite Festival also bring new highlight known as Parkour and kite-inspired graffiti. It is an exhilarating sight as parkour is a fast-paced activity that involves the propelling of practitioners' bodies over obstacles namely by climbing, swinging or jumping.
Schedule and location: 5 minute performances at 4.50pm, 5.50pm, 6.50pm, both days, near the Boardwalk
Local graffiti artist Atomic Jojie has been commissioned to produce a 8m by 2m wall of kite-inspired graffiti.
Using only spray paint and a wildly creative eye, he will offer a new perspective of kites! In addition, he will also be present during the festival to work on two 2m by 2m blank canvases to illustrate the kite festival through his eyes. 
For more information go to http://atomickaboom.darkfolio.com/about/
In addition, back by popular demand, the festival will feature over 15 street artists from around the world such as jugglers, magicians and acrobats which is one of the biggest showcases in Singapore.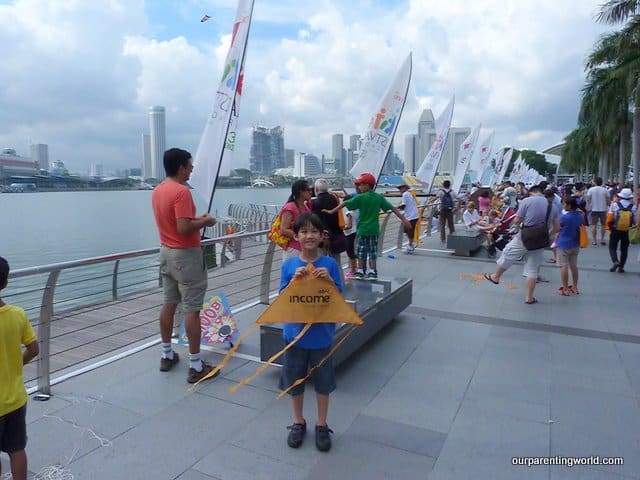 "Come and join us at NTUC Income Kite Festival Singapore, it is a great way to spend your weekend!"
Additional Information:
Name of event: NTUC Income Kite Festival Singapore 2014 presented By ACT 3 International
Dates: 23 and 24 August 2014 (Saturday and Sunday)
Time: 4 to 8pm
Venue: The Promontory @ Marina Bay, 11 Marina Blvd, Singapore 018940
Price: Free
For more information: (65) 6735 9986 or www.act3international.com.sg