The Lion King, the world's best-loved musical has returned to the Sands Theatre at Marina Bay Sands now showing till Sunday, 23 September 2018!
The musical is based on the world-wide hit, 1994 Disney animated feature of the same name about the adventure of a young lion by the name of Simba, he is the heir of his father Mufasa, the king of the Jungle however Simba's wicked uncle, Scar plots to get Mufasa's throne. Scar manages to trick Simba by luring him to the massive herd of wildebeest resulting in Mufasa getting killed while trying to save Simba from a stampede of wildebeests. Simba feels guilty and felt responsible for his father's death and ran away. He met two outcasts by the name of Timon and Pumbaa and learn to embrace their ways of 'Hakuna Matata' which means "no worries". When Simba grew up and became an adult, he met his childhood friend, Nala. He learnt that he must return home to stop his evil uncle and regain his rightful throne to become the King.
Ntsepa Pitjeng as Rafiki
If you have watched the movie, you will love this stunning, award-winning, hit Broadway musical that is brought to you by Michael Cassel Group in association with Disney Theatrical. This musical is a winner of over 70 major international theatre awards that has been watched and enjoyed by more than 90 million people around the world!
Needless to say, this spectacular musical is backed up by an impressive creative team and stellar cast. The show is directed by acclaimed director Julie Taymor, with a global crew and cast of members from 19 nationalities and artists from around the world. 
The whole musical is full of memorable songs like Circle of Life wonderfully sang by Ntsepa Pitjeng who plays the role of Rafiki. She has performed the role in the USA, UK, Brazil, and Switzerland productions. We were blown away by her performance!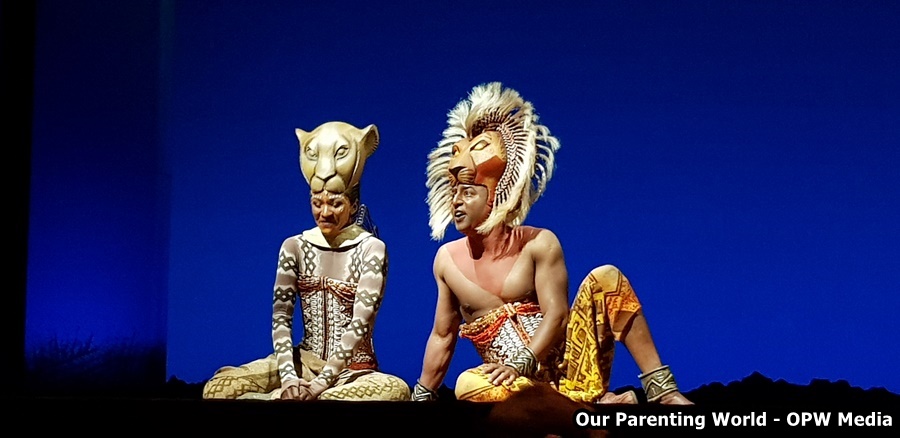 Noxolo Dlamini as Nala (L) and Jonathan Andrew Hume as Simba (R) 
We are so glad to know that Jonathan Andrew Hume is back to reprise his role as Simba after his last performance in Singapore in 2011. He is still as good as ever playing this iconic role. He is brilliant in portraying Simba's progression, struggles to become who he is supposed to be and finally regain his throne to be the King. The South African up-and-comer Noxolo Dlamini played the role of Nala, Simba's childhood friend and lover. They had such great chemistry together! We were captivated by their performances especially when they both sang one of the most famous and classic songs, "Can You Feel The Love Tonight". This is the most romantic part when Simba and Nala fell in love.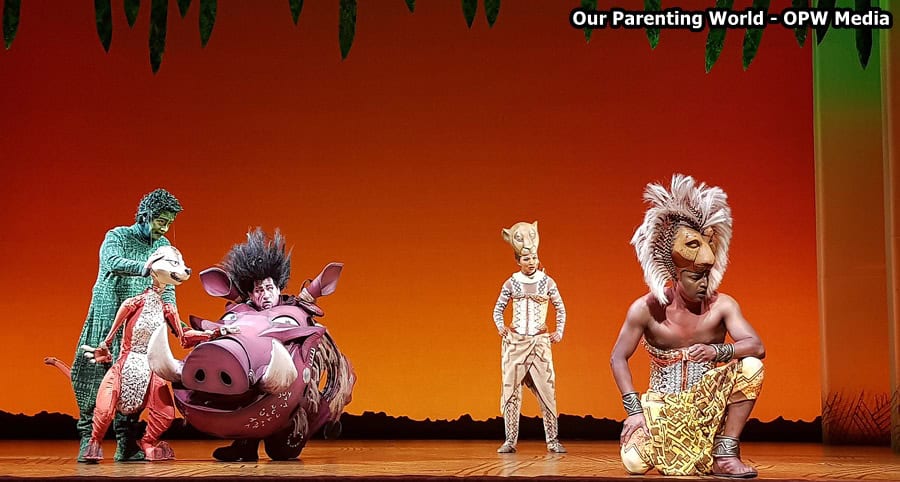 Jamie McGregor as Timon and Pierre van Heerden as Pumbaa 
We were also tickled by the charismatic New Zealand-born performer Jamie McGregor who plays 'Timon' and South African favourite Pierre van Heerden returns as 'Pumbaa', just like in the movie the two are hilarious and watching them provide comic relief to this well-loved story. Other noteworthy performances include Mthokozisi Emkay Khanyile playing Mufasa, direct from London's West End production, UK music theater performer Antony Lawrence as Scar, Australian actor André Jewson as Zazu and talented cast that makes this musical truly a masterpiece and a must-watched musical of all time!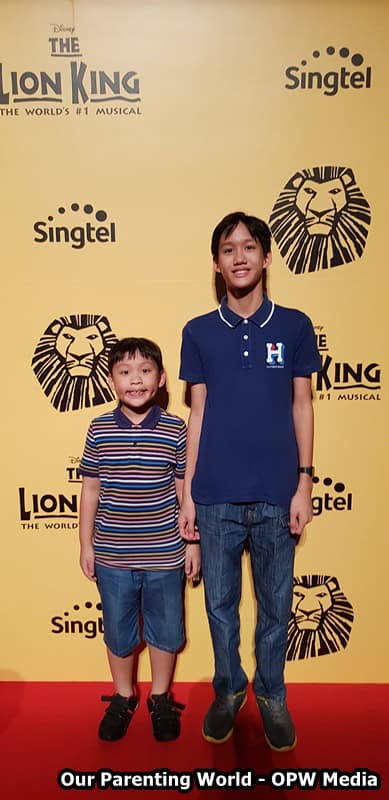 Our kids have watched the movie, The Lion King and are all so familiar with the story. They have been waiting in anticipation for the musical to come to Singapore and they thoroughly enjoyed the show. It is an unforgettable experiences for them to see their favourite movie comes to life! 
The Lion King is an amazing production with stunning costumes, elaborate sets with life-sized animals, wonderful performances by the cast, fantastic music and catchy songs. Special mention to the talented conductor, we were watching him bringing and keeping all the things together throughout the show, remarkable!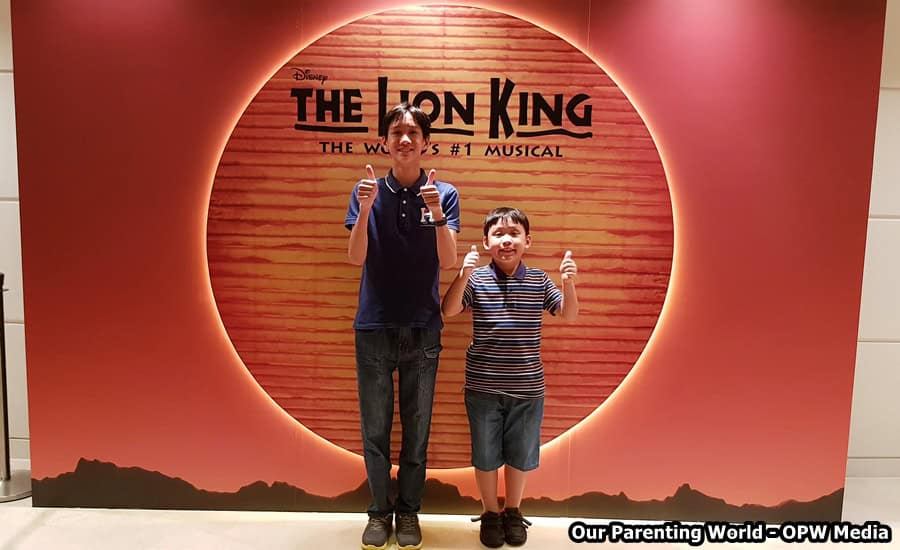 Thumbs up for this outstanding family-friendly production! The Lion King will be showing at the Sands Theatre at Marina Bay Sands till Sunday, 23 September 2018! Don't miss it! 
Show Dates and Time: 
Wednesday, 27 June – Sunday, 26 August 2018 
Tuesday – Friday: 7.30pm
Saturday: 2pm & 7.30pm
Sunday: 1pm & 6pm 
Sands Theatre at Marina Bay Sands
VIP Reserve : S$230
A Reserve : S$195
B Reserve : S$165
C Reserve : S$135
D Reserve : S$105
E Reserve : S$85
F Reserve : S$65
VIP Box (For 4 seats): S$920
C Reserve Box (For 4 seats): S$540
D Reserve Box (For 4 seats): S$420
To find out more and to purchase the tickets at Marina Bay Sands, please visit https://www.marinabaysands.com/entertainment/shows/the-lion-king.html#AGR2jvQcDAkx7hAg.97