The Manhattan FISH MARKET, a great place to have fine seafood has launched four flaming platters for a limited time till 30 November 2016. Our Parenting World team has earlier tried out the August's Super Shiok Flaming Platter launched island-wide in celebration of Singapore's 51st birthday. Please click HERE to read about our earlier review. 
When we sat down to order, we were served a refreshing welcome drink! That's so thoughtful of the restaurant.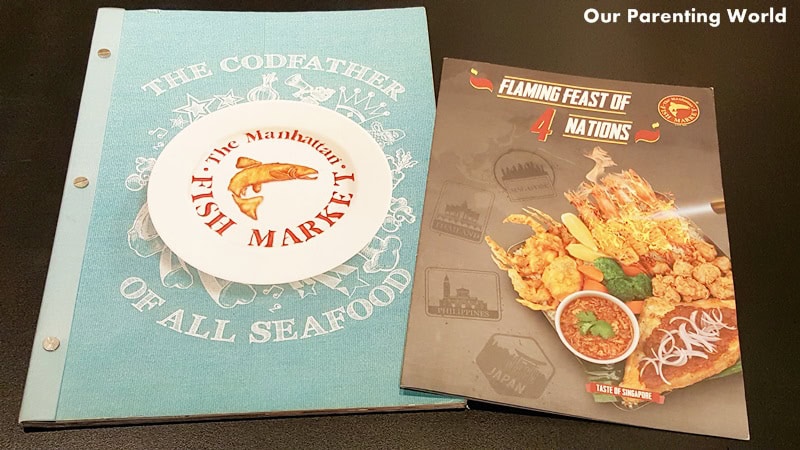 Since August onwards, The Manhattan FISH MARKET has introduced new flaming platters that are inspired by local favourites from 4 nations. These platters are Super Shiok Flaming Platter, $38.95 in August, Sawatdee Flaming Platter, $38.95 in September, Oishi Ne Flaming Platter, $59.95 and Masarap Flaming Platter $38.95. It is a good opportunity for diners to try out well-known dishes and ingredients from these four countries.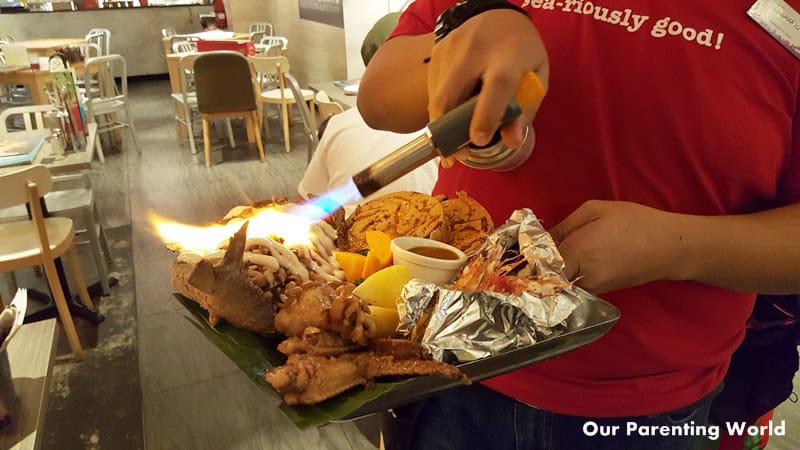 We tried out the new Flaming Platter, Masarap Flaming Platter $38.95 which is inspired by Filipino cuisine. We always enjoy dining at The Manhattan FISH MARKET, the food is good and the services is impeccable! The staff is always friendly and helpful.
When the platter was served, the food will be lightly torched to bring out its flavour and aroma. It smells so good that we can't wait to dig into our Masarap Flaming Platter!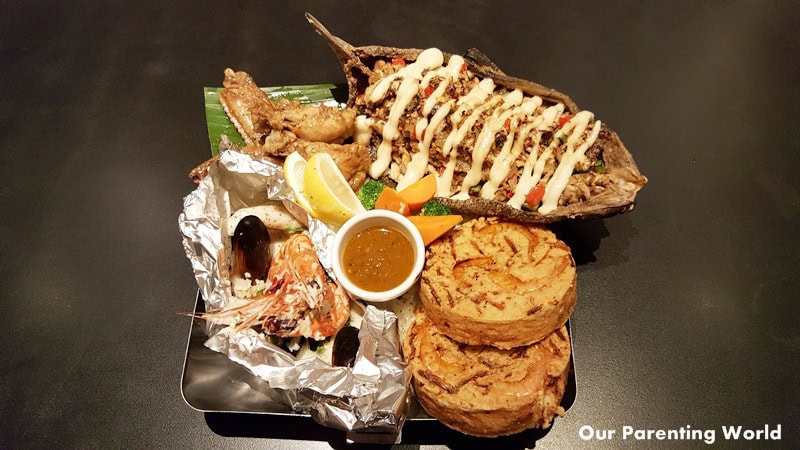 Filipino cuisine has been inspired and influenced by many countries like Spain, United States and Asia, that has integrated into the pre-colonial indigenous Filipino cooking practices. 
Masarap Flaming Platter consists of the following:  
1) Spicy Baked Coconut Bicol Express Seafood, it is a rich and spicy Filipino dish made of long chilies, creamy coconut sauce and with seafood. If you like rich, hot and spicy food, you should try this!
2) Braised Chicken Adobo, this flavorful braised chicken dish is popular in Philippines and now you will have the opportunity to try this classic dish.
3) Prawn Fritters are freshly deep fried till golden brown and loaded with shrimps. Prawn fritters also known as Okoy is a popular native Filipino dish originated from the province of Laguna. You can dip the fritters into the spicy seafood sauce for the added flavour! 
4) Flaming Milkfish Flakes Sisig with Capsicums & Chili padi. We like the platter especially the Flaming Milkfish Flakes Sisig with Capsicums & Chili padi, this is the first time we tried Milkfish Sisig which we find it unique. Sisig is very popular coming from Pampanga, the culinary capital of the Philippines. The fish is deliciously fried, easy to eat as the meat is deboned and flaked. It comes with generous chunks of fish meat with capsicums and chili padi and flamed to further enhance the taste. Milkfish Sisig is healthy as it is lower in fat and cholesterol. 
Masarap Flaming Platter at $38.95 is value-for-money as you can try popular Filipino dishes and treats all in one platter that the whole family and or a group of friends can share and enjoy.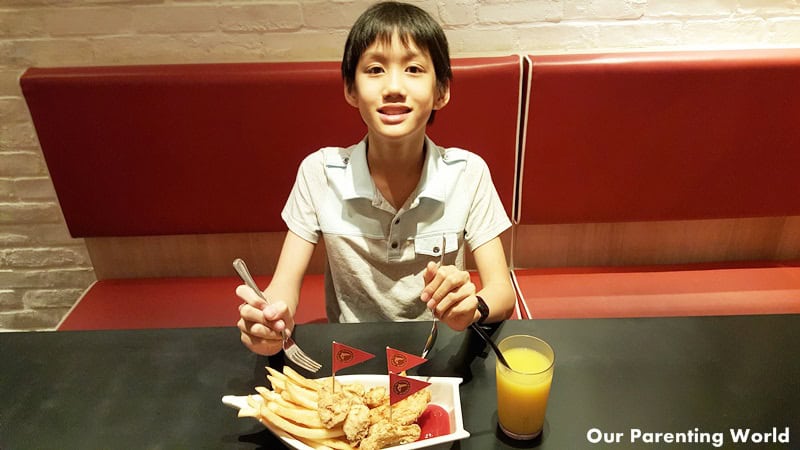 In addition, kids can look forward to enjoy Manhattan Junior Menu! 
Choose from six exciting dishes from Wacky Dory, Octo-ghetti Attack, Pirates Surf 'n Turf, Choc-O-Pancake, Chicky Mac And Cheese, and Crabby Fish Burger. Each meal is specially handcrafted, its Manhattan Junior Menu promises to be as tasty as it is healthy, giving your children the all-important brain food that they need! Each meal comes with a choice of Orange Juice, Coke, Sprite or Iced Lemon Tea at $7.95.
The new Flaming Feast of 4 Nations are available at all The Manhattan FISH MARKET's 15 outlets at the following locations:
1.  Bedok Point, #03-05-07/40

2.  Causeway Point, #02-34/K1

3.  Century Square, #01-31

4.  Changi City Point, #01-39/40

5.  City Square Mall, #04-12/13

6.  Hougang Mall, #04-10/10A

7.  JCube, #04-10/21

8.  Bishan Junction 8, #01-22/30

9.  Marina Square, #02-183

10. Northpoint, #02-06/07

11. Plaza Singapura, #06-07

12. Suntec City, #B1-134

13. The Star Vista, #B1-10

14. Kallang Wave Mall, #01-09

15. Jurong Point, #01-32
It will also be available at Changi Airport Terminal One from 1 September 2016 to 30 November 2016. To find out more, please click HERE.