Daddy ate probably the most expensive roti prata in the world (or roti canai in Malaysia) recently. It does not look as tasty as the usual roti prata you get from your neighbourhood mamak stall, and it is not as tasty as the neighbourhood mamak stall too.
Where do you think this is from?
The answer is : Singapore Airlines Business class meal.
Our advice to Singapore Airline, please do not offer this as it is really very far off from your usual 80 cent per piece prata. How much is this prata? SGD $8,200, inclusive of business class return ticket to London.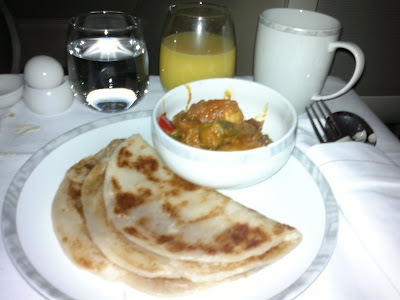 Roti prata is served with orange juice, coffee and fish curry