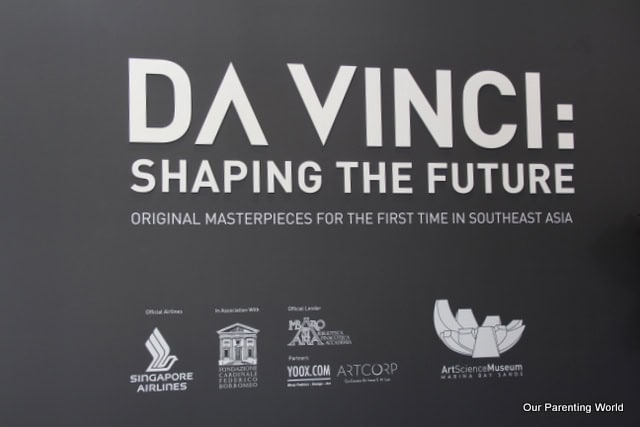 Do you know who Da Vinci is? Most of us have heard of Leonardo da Vinci. We know of him as the famous artist who painted what we considered the most well-known painting in the world, the "Mona Lisa" portrait. You may also heard of Da Vinci from this action thriller movie "The Da Vinci Code" in 2003.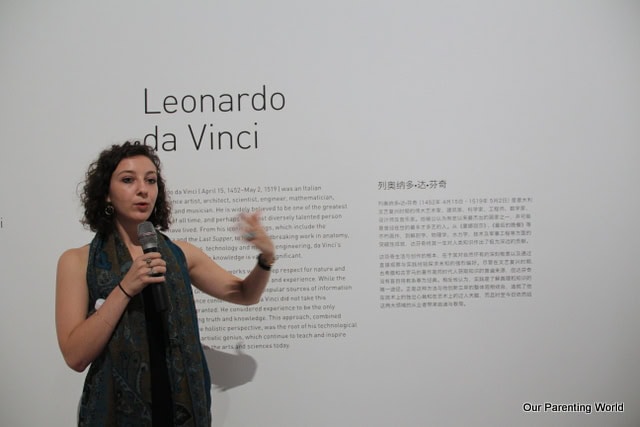 However, few of us actually know him as the amazing multi-talented person, one who is a painter, sculptor, architect, musician, mathematician, engineer, inventor, anatomist, geologist, cartographer, botanist, and writer.
[slideshow_deploy id='8393′]
Overview of Da Vinci Exhibition
Now you can actually view the original works of Leonardo Da Vinci debut at our ArtScience Museum at Marina Bay Sands. Da Vinci: Shaping the Future is a major exhibition which explores the life, work, and legacy of the history's most well-known artist and scientist.
Catch the opportunity to look at and admire the three rare original paintings by Da Vinci at the exhibition. The three paintings are The Virgin and Child, Saint John the Baptist and Virgin of the Rocks.
The Codex Atlanticus is the world's largest collection of writing and drawings by Da Vinci, the exhibition also showcase the ancient cover of the book and its case.
Original pages of Da Vinci's are also on display at the exhibition. 
The Codex Atlanticus (Atlantic Codex) is a twelve-volume, bound set of drawings and writings by Leonardo da Vinci, the largest such set; its name indicates its atlas-like breadth. It comprises 1,119 leaves dating from 1478 to 1519, the contents covering a great variety of subjects, from flight to weaponry to musical instruments and from mathematics to botany and it offers rich insights into Da Vinci's art, science and his fascination with nature. For this exhibition, twenty-six original pages from the Codex Atlanticus will go on display, alongside six paintings in the style of Da Vinci by Renaissance artists such as Andrea Bianchi's copy of Virgin Of The Rocks.
These masterpieces are travelling to Singapore from one of the world's great Renaissance museums, Biblioteca Ambrosiana in Milan, Italy. Working with the Ambrosiana in association with the Foundation Cardinale Federico Borromeo, ArtScience Museum has curated this groundbreaking new exhibition. The exhibition focuses on five key domains of Da Vinci's mastery: mathematics, natural sciences, technology, architecture and music.
Despite a short history since it was opened to the public in 2011, our Singapore's own ArtScience museum has gained a strong reputation in exhibiting well known international exhibitions. Prior to this Da Vinci exhibition, there were among others, the popular "Mummy: Secrets of the Tomb" and "Dinosaurs: Dawn to Extinction" exhibitions. This Da Vinci: Shaping the Future certainly ranks as well as its predecessors exhibitions.
We know that the first flight was performed by the Wright Brothers slightly more than a hundred years ago, but Da Vinci already drawn out similar flight designs more than 500 years ago. You can see some of his flight designs in this exhibition too.
There are also numerous interactive games throughout the exhibition for children and adults for them to use their knowledge they learned to play these games. This exhibition is suitable for all.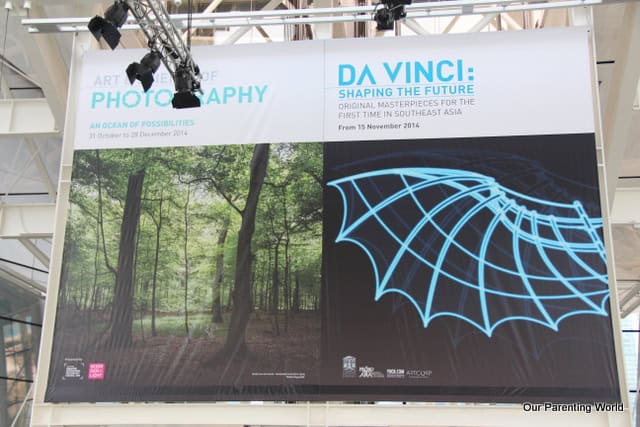 Come and celebrate the genius of Da Vinci in this exhibition. Over the course of the exhibition's six-month run till May 2015, six paintings and 26 pages of the Codex Atlanticus will be on show. Three paintings and 13 pages of the Codex will be on show for the first three months, and then from February – May2015, three new paintings and 13 new pages of the Codex will be presented. This not only gives visitors the opportunity to explore the depth of da Vinci's work through new content and refreshed programming but more importantly, allows these delicate historic pieces to be preserved appropriately.
Tickets to Da Vinci: Shaping the Future is currently on sale. In particular, the Season Pass allows for unlimited visits to the exhibition, which will have a content refresh at the three month mark. Tickets are available through the Marina Bay Sands ticketing portal, ticketing hotline, box offices and all SISTIC channels. Terms and Conditions apply.
Da Vinci: Shaping the Future

Standard ticket

 

Singapore

 

 

resident ticket

 

 

 

 

 

 

 

 

 

 

 

 

 

Adult

S$25

 

S$19

 

 

 

 

 

 

 

 

 

 

 

 

 

Senior

S$23

 

S$17.50

 

 

(65 years and

 

 

 

 

 

 

 

 

above)

 

 

 

 

 

Child

S$15

 

S$10.50

 

 

(2 – 12 years)

 

 

 

 

 

 

 

 

 

 

 

Family Package

S$68

 

S$51

 

 

(2 Adults + 2

 

 

 

 

 

 

 

 

Children)

 

 

 

 

 

Season Pass

 

S$30

 

 

(Unlimited Visits)

 

 

 
For more information on Da Vinci: Shaping the Future, please click HERE.