We have been to many excellent musicals at the Mastercard Theatres, Marina Bay Sands but this is certainly one of the most unique performances we have seen because it is a live orchestra featuring the many blockbuster movie songs from two world class composers, Hans Zimmer and John Williams! The music is delivered in the form of a live orchestra making up of mainly locals, Singaporeans with lights and lasers and conducted by World-renowned British orchestra conductor, Anthony Inglis.
Anthony Inglis is also well known in the UK for his conducting of the "Classical Spectaculars". Anthony started the show by introducing himself and his affinity with Singapore. His grandfather  (Air Vice-Marshal Inglis) was stationed in Singapore with the Royal Air Force. His father (Squadron-Leader Jeremy Howard-Williams) and his mother met and fell in love at Changi Yacht Club. He told the audience if it is not for Singapore, he wouldn't be here! "Thank you, Singapore!" The audience cheered and applauded excitedly! 
Throughout the show, Anthony Inglis demonstrated his outstanding conducting skills, he is also able to interact, rapport with the audience and keeping the audience excited about the song he is going to conduct. He surprised the audience with many acts like riding a bicycle to the stage with "ET" mimicking the famous bicycle scene from the movie, wearing the pirate outfit pretending to be Johnny Depp for the song, Pirates of the Caribbean, having Stormtroopers appearing on stage for the movie songs from Star Wars to making the audience laugh by trying to rip off his shirt to be Superman before playing the theme song from Superman movie. 
Indiana Jones Theme Song – Raiders of the Lost Ark
If you are a movie fan of Star Wars, Superman, ET, Jurassic Park, Indiana Jones etc, this is one spectacular show you should not missed as you will be entertained by the movie themes from the famous composers and of course conducted by the talented Anthony Inglis.
Last year, the show was titled "The Iconic Film Scores of John Williams, Star Wars and Beyond", also conducted by Anthony Inglis. This year, the show is even better because the songs now include another top composer, Hans Zimmer, who brings in songs from Batman and Superman movies. 
Star Wars – The Imperial March
The movie songs brought us a lot of wonderful memories of the movies, as the show featured movies ranging from classic ones like ET in the 1980s to the more recent movies like the very popular Harry Potter's and Star Wars' movie series. 
We thoroughly enjoy the show, Anthony Inglis is funny, lively and able to capture the audience imagination through his skilful conducting of the orchestra. There is never a dull moment and you will be glued to your seat and enjoy the many wonderful music from the movies you love. The whole orchestra is amazing, able to coordinate perfectly with Anthony Inglis. Audience is also treated with the beautiful and stunning lasers and lights show that go very well with each of the song.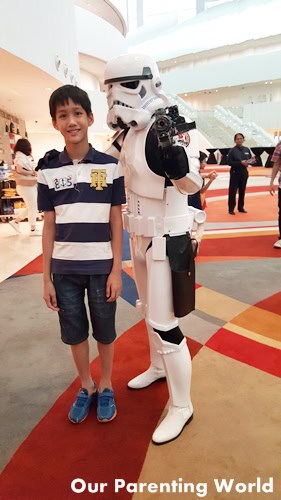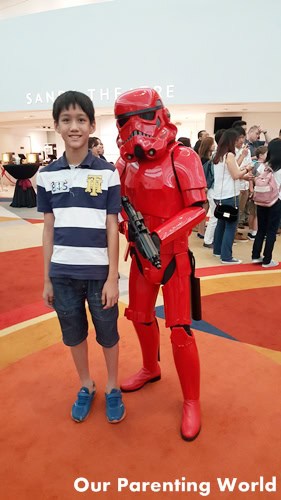 The audience was delighted to meet the Stormtroopers for photo-taking after the show.
We hope Anthony Inglis will return again next year and we are looking forward to watch him conducting. Our impression of live orchestra will never be the same after we have watched this performance! It is a delightful and entertaining show that everyone will enjoy! 
**********
Our Parenting World (OPW) Interview with Anthony Inglis, conductor for "The Music of Hans Zimmer vs John Williams" published on 8 March 2017
Our Parenting World team is excited to meet up with Anthony Inglis, the conductor for The Music of Hans Zimmer vs John Williams today where he leads a live orchestra showcasing some of the most iconic music of Hollywood composers Hans Zimmer and John Williams for an interview to find out more about the show. 
Q1) Can you share with us when did you start to have an interest in being a conductor?
Anthony: At that time I was six years old, I was at my school and I was taken to choir and given a piano, a percussion and I remembered that was the time I decided what I wanted to do, to be a conductor. I can remember clearly from then on that was what I wanted to do in the future.
Q2) Do you play other musical instruments or do you start off straight as a conductor?
Anthony: I played the piano, violin, organ and other musical instruments. I was a good pianist. But I played in order to understand how playing these musical instruments are like so that I know how to conduct. It's a means to the end as I learned these to enable me to conduct an orchestra better.
Q3) Can you share with us about the coming show, "The Music of Hans Zimmer vs John Williams"?
Anthony: There are two composers, Hans Zimmer and John Williams. Last year we did "The Iconic Film Scores of John Williams: Star Wars And Beyond", also at this Marina Bay Sands Mastercard Theatres and it was successful! This year we thought we would come back here again and this time we would include Hans Zimmer too. With the 2 composers, we would have maybe 14 or 15 songs for the event.
Q4) Which is your favourite piece?
Anthony: I would always answer that my favourite piece is the one I am conducting. But if you say to me that if I can only conduct one, which would I choose to conduct? My answer would be it is very hard to choose but probably would be "Close Encounters of the Third Kind" because there are so many styles within that nine minutes piece. It starts off very contemporary, very modern, strange songs from the orchestra, tricky to play, quite difficult to conduct, but interesting and then suddenly this beautiful tune breaks out. It's lovely!
Q5) What are some of the challenges you faced when conducting the orchestra pieces?
Anthony: The difficulty is on the orchestra playing, in particular John Williams. It is loud, very tiring on the lips for all the woodwind instruments, and then on the arm of the violinists. Very tiring for them.
Q6) Who are the members of the orchestra playing in this event? Are they part of your usual group?
Anthony: No, I will only meet the orchestra for the first time this evening. The orchestra is from Singapore. We will have the rehearsals today and the next two days before the event.
Q7) This show, "The Music of Hans Zimmer vs John Williams", has it ever been conducted before?
Anthony: We have conducted twice last year, London and Birmingham. The response has been great. It was very entertaining for the audience, which is why we decided to bring it to here to Singapore.
Q8) Lastly, what would you like to say to our Singapore audience and about the show, The Music of Hans Zimmer vs John Williams?
Anthony: Buy tickets! Because if they don't, they will regret it, especially when they meet people who have seen the show. That I promise. There are all sorts of entertainment going on at the same time. Lights, lasers, I try to be funny. I do things throughout the concert that makes people laugh. 
OPW: Thank you Anthony for taking our interview! We look forward to watch you conduct the show, The Music of Hans Zimmer vs John Williams.
To find out more about Anthony Inglis, please go to http://www.anthonyinglis.com/
The Music of Hans Zimmer vs John Williams conducted by Anthony Inglis, featuring music from Pirates of the Caribbean, The Dark Knight Rises, The Da Vinci Code, Batman Begins, Man of Steel, Gladiator, Inception, E.T., Harry Potter, Jurassic Park, Close Encounters, Star Wars and Superman.
If you enjoy the movies and its music, don't miss The Music of Hans Zimmer vs John Williams coming to Singapore LIVE for 2 days only at Mastercard Theatres at Marina Bay Sands!
It will be a wonderful and entertaining experiences that all movie and music lovers will enjoy!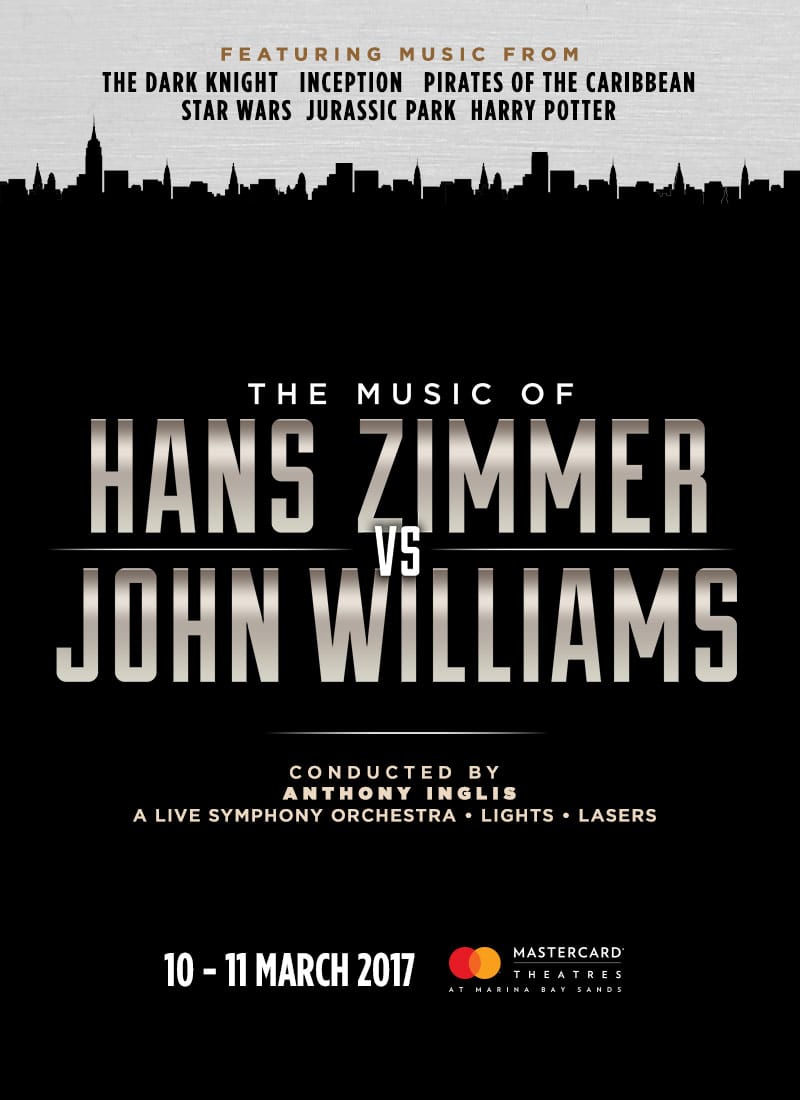 Do you enjoy the many Worldwide Box-Office blockbusters and popular movies like Star Wars, ET, Jurassic Park, Harry Potter and many more?
Now you have the opportunity to listen and enjoy the very best scores from the two greatest film composers of the 20th Century in one fabulous programme accompanied by a sensational lights and dazzling lasers. This fabulous show known as The Music of Hans Zimmer vs John Williams is conducted by Anthony Inglis. 
The Music of Hans Zimmer vs John Williams is opening at Mastercard Theatres at Marina Bay Sands for a limited time from 10 to 11 March 2017! Hurry get your tickets now!
Show Details: 
The Music of Hans Zimmer vs John Williams 
Event Date:
Friday, 10 – Saturday, 11 March 2017
Friday: 7.30pm
Saturday: 2pm & 7.30pm
Venue:
Sands Theatre,
Mastercard Theatres at Marina Bay Sands 
Approximately 130 minutes
(including 20 minutes interval)
Ticket Pricing:
(Excludes Booking Fee)
VIP Reserve : S$165
A Reserve : S$145
B Reserve : S$125
C Reserve : S$95
D Reserve : S$65
To purchase the tickets at Sistic, please click HERE. 
To purchase the tickets at Marina Bay Sands, please click HERE.