Run For Inclusion (RFI) is organised yearly with the aim of fostering integration and cultivating an inclusive environment in Singapore, specifically directed towards individuals with special needs. This event stands out as one of the few running events in Singapore where participants engage in running side by side with fellow runners with special needs. 
RFI hosted by Runninghour, returns for its ninth edition at the Singapore Turf Club (STC) for the second consecutive year. Mr. Chan Chun Sing, Minister for Education, will grace the event as the Guest-of-Honour this year. 
An additional segment has been introduced, known as the Runninghour Signature Blindfold Run/Walk for the first kilometre. Participants have the option to wear a blindfold for the first 500m and partner with a sighted person. Afterward, roles can be exchanged for the next 500m, followed by the remaining route completed without blindfold. Participants also have the choice to complete the entire course without being blindfolded. In situations where participants do not have a partner, the organiser will arrange for a volunteer to partner for the first kilometre.
To find out more about Runninghour, please visit https://www.runninghour.com/.
Event Details
Date & Time: 2 Sep (Sat), 3pm – 8pm
Venue: Singapore Turf Club as "venue sponsor" for the event
Guest of Honour: Minister Chan Chun Sing
Categories:
1. Up to 3km run/ walk
2. 2. 5 km run/ walk
3. 10 km run/ walk
4. 18 km cycle
Singapore Turf Club (STC) began their partnership with Runninghour to jointly build an inclusive Singapore to promote the integration of Persons With Special Needs through sports. Runninghour has relocated their head office and operations to STC, providing the team with a space to better organise and run inclusive sports and outdoor initiatives. This year, STC is hosting Runninghour's signature event, RFI for the second yar. The club will again donate $32,400 to Runninghour. This donation marks a fitting conclusion to their celebratory 180th anniversary milestone. They have anticipated an even grander STC employee and family contingent of over 300 participants, the largest corporate contingent this year, making this engagement event truly memorable.
During the media preview, we were given an exclusive opportunity to go behind-the-scenes to look at this extraordinary event and explore the unique, iconic landmarks at STC. We also checked out the horse racing facilities that are usually closed to the public. Some of the places that we have visited include the following:
1) Grandstand
This remarkable landmark consists of five storey grandstand that can contain 30,000 spectators and facilities including public food courts and private boxes with dining options and a commanding view of our world-class racetracks. Level 5 holds the Judges Box where their Stipendiary Stewards will watch over the races to ensure race integrity and discipline on the tracks. The grandstand is one of the favourite spots for racegoers as they cheer on their favourite jockeys and horses.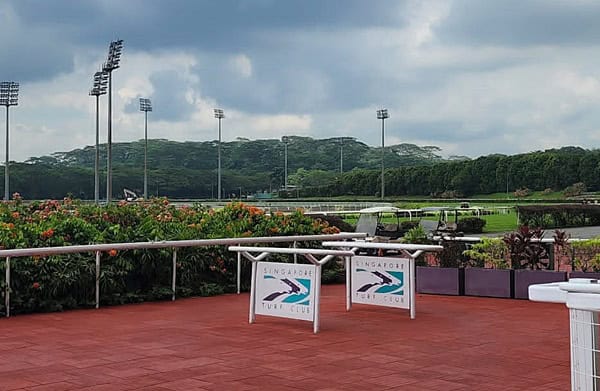 2) Grandstand Forecourt
This place is the closest vantage point racegoers can get to the live action on the tracks. The first horse to race past the wining post is the winner. After each race, the wining horse will be led to the winning barrier for the victory photo together with the winner horse owner, trainer and jockey.
3) Racetracks 
This is the place where the RFI 2023 will take place, participants will be flagged off to the racetracks near the winning post and they will walk, run or cycle around the racetracks. STC is home to seven world-class racetracks that is designed with the latest in-turf innovation and technology.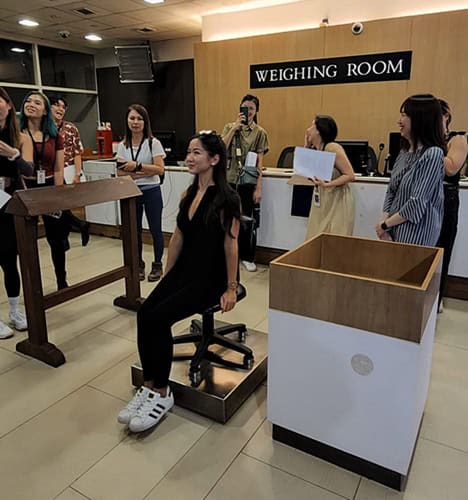 4) Weighing Room
The weighing room serves as the nerve centre of the racing operations on racedays where all jockey changes or stand downs and horse withdrawals flow through the room. Before the race, jockeys will weigh out with their gears as each horse in a race has to carry a certain amount of weight and jockeys has to weigh out to ensure they and their gear are of the right weight. After the race, jockeys will weigh in at the Grandstand Forecourt with all their gear to confirm that the horse carried the right weight so as to make sure the weights are within acceptable range for a fairer race and to uphold race integrity. 
5) Parade Ring
The Parade Ring will be transformed into RFI 2023 race village on 2 September. This is the place where horses completing in a race will meet their jockeys and are paraded in front of racegoers, they can also access the form and function of the horses that are racing. Jockeys will enter the ring 10 to 15 minutes before each race, this is where they will usually meet with horse owners and converse with trainers on race strategies.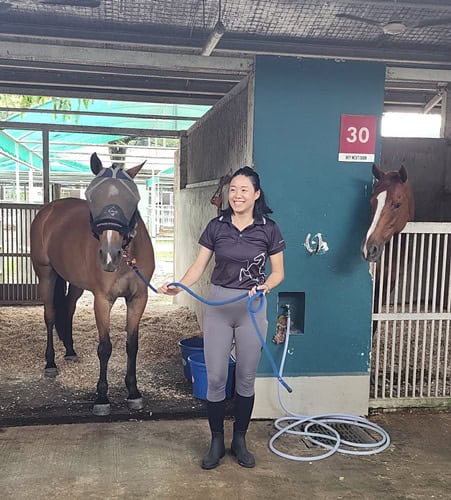 Singapore Turf Club Riding Centre
The riding centre features a covered arena purpose-build for the inaugural Youth Olympic Games for equestrian jumping event. The centre offers a range of equine programmes on horse riding and horse care. 
STC aims to bring people together and build a stronger, more inclusive community through supporting RFI. They introduced Inclusion in a Frame Campaign where RFI participants can look forward to redeem sure-win prizes when they take part in the campaign.
While the Run For Inclusion 2023 has been oversubscribed, the ongoing campaign to raise awareness of inclusivity for inclusion titled #inclusioninaframe is ongoing.
How to take part in Inclusion in a Frame #inclusioninaframe Campaign at RFI2023
STEP 1: SNAP
Grab a friend or a complete stranger and share a selfie along Singapore Turf Club racetracks, along with a caption of what inclusion means to you
STEP 2: TAG
Tag @SingaporeTurfClub and hashtag #RuntoBondwithSTC. Set your profile to public to qualify.
STEP 3: REDEEM
Head over to our booth and redeem your sure-win goodies (consisting of STC x Jellycat Orson, STC x SG Enable Sustainable Series of reusable nano bag, wheat straw lunchbox and cutlery set, and bamboo fibre cup.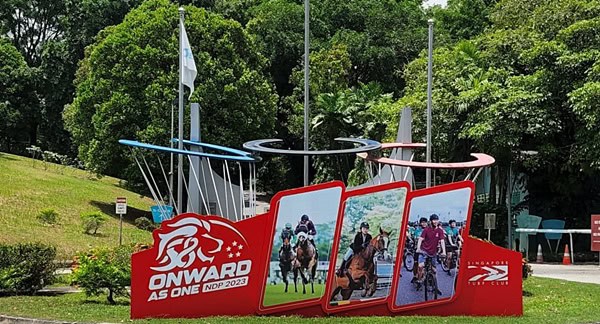 Find out more about Singapore Turf Club at https://www.turfclub.com.sg/