School holidays are here, it's time to start planning how you and your children can enjoy every bit of the fleeting break from school. Presenting an all-day guide to Changi Airport and Jewel – from taking a lovely morning stroll in Jewel's Canopy Park to catching free movie screenings of Trolls, visitors can experience twice (or 7x) the fun at Changi Airport and Jewel this March school holiday with a plethora of great deals and discount.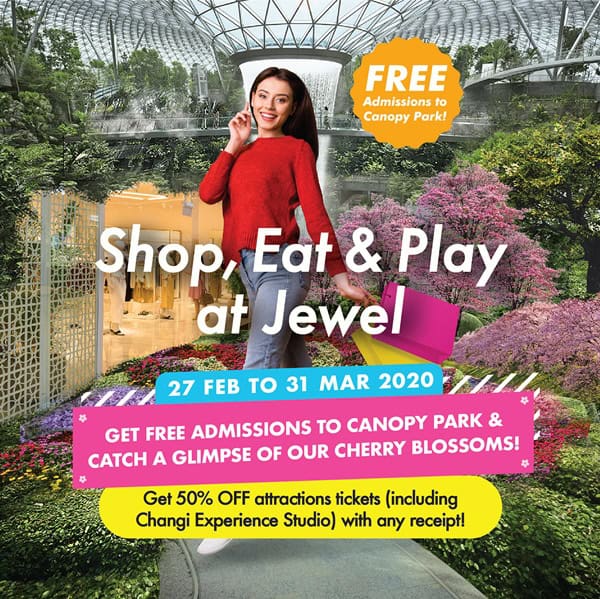 Here is a full day guide to a fun and engaging day at Changi Airport and Jewel:
Morning:
· Begin your day with breakfast, the most important meal of the day. Jewel's range of breakfast places allows visitors to feast at dawn with a meal of their liking. Remember to keep the receipt – you'll need it to get a discount for the Canopy Park attractions.
o For those with a hankering for traditional breakfasts, check out Fun Toast (#04-246) or Toast Box (#B2-231).
o For those who enjoy a variety of cuisines, there are plenty of other options at Jewel, such as Cedele Bakery Kitchen (#B1-259), Café & Meal Muji (#02-227/228/229), Dal.Komm Coffee (#B1-276) or Paris Baguette Signature (#01-200) to name a few.
·  Looking for a calm activity to kick start your morning at Jewel? Head over to Jewel's Canopy Park where you can admire the cherry blossoms in bloom and take a stroll along the lush garden trails to begin the day on the right note. Admission is free until 31 March.
·   Not ready for the fun to end? With the receipt from breakfast, redeem 50% off all Canopy Park attractions, including the Changi Experience Studio, and continue the day's fun!
Afternoon:
·  If you're a fan of DreamWorks Animation's Trolls, head down to Changi Airport Terminal 3 as Trolls World Tour takes over! Featuring the movie's iconic Hot Air Balloon called Sheila B (Terminal 3 Departure Hall Level 2), and a Boombox-inspired retail pop-up selling Trolls merchandise (Terminal 3 Basement 2), step into the musical world of these lovable characters, with a ton of Instagram-able spots to snap some family photos. Shoppers can also redeem a limited-edition Trolls World Tour tote bag with $50 spent at Terminals 1 – 4.
While you're at Terminal 3, check out the PLAY! indoor playground for heaps of family fun. The Cartoon Network themed indoor playground features a Powerpuff Girls interactive game that allows transform players into a Powerpuff Girl character! Two passes to the PLAY! Indoor Playground are up for grabs from 13-22 March and 27-29 March with a minimum of $50 ($80 for supermarkets) spent at Changi Airport. If that doesn't strike your fancy, the Zone X arcade is also giving $20 credit.
Evening:
·     Head back down to Jewel to try out some of the new stores that hit the shores last year. Aside from the ever-popular Shake Shack, why not try dining at other restaurants Jewel has to offer:
o   Tiger Street Lab (#05-205). Situated in the heart of jewel, this is Tiger Beer's first global concept store that allows visitors to explore local food collaborations, taste the fresh and seasonal Tiger Beer brews, and create their own personalized Tiger Beer label.
o   Burger & Lobster (#05-203), where the you can feast on burgers, lobsters, and lobster rolls while enjoying the spectacular view at Jewel's topmost floor.
o   Yun Nans (#02-217), an Asian restaurant that specializes in its signature dish, Steamed Pot Chicken Soup.
o   If you're craving something sweet after, end off your meal with ice cream from Emack & Bolio's (#B2-234), old-school Swiss Rolls from Rich & Good Cake Shop (#01-232), or bubble tea from The Alley (#B2-273).
·  Catch the sunset at viewing galleries located throughout the terminals. Popular with aviation enthusiasts and plane spotters, the Viewing Malls in Terminals 1 to 4 allow visitors to observe aircraft and Changi Airport's ground operations on the tarmac. Sit back, relax and enjoy the airside action.
Night:
After a jam-packed day of fun, it's time to slow things down and relax. Head back to ST3PS at Terminal 3 to catch free screenings of the blockbuster hit, Trolls. Visitors will find 2D Trolls Character cut-outs at ST3PS, where they can snap some pictures while enjoying the movie.
·      Feeling snacky after the movie? Changi Airport has got that covered with an array of supper options available before heading back home.
o   Prata at Mr Teh Tarik Express at Terminal 3 Basement 2
o   Japanese parfait, mochi and soft serve at 108 Matcha Saro at Terminal 3 Departure Hall
o   Korean Fried Chicken at Jinjja Chicken at Terminal 2 Departure Hall
o   Bubble Tea at TP Tea at Terminal 2 Departure Hall
o   Guilt-free desserts at llaollao at Terminal 3 Departure Hall or Terminal 2 Departure Hall
o   Ice-cream at Swensen's at Terminal 2 Arrival Hall
Don't miss out on all the fun this March school holidays!