This September school holidays, come and embark on The Warner TV Escape Room Challenge starting from today till this Sunday, at The Centrepoint.
Do you know Warner TV well enough to conquer escape rooms themed after The Big Bang Theory, Gotham and Lethal Weapon?
The Warner TV Escape Room Challenge is back with more intricate game plays to put your knowledge of your favourite series to the ultimate test! From joining Lethal Weapon's crime-busting duo on an exhilarating mission to planning your escape out of Gotham City Police Department's jail cells, join in for a weekend of fan activities with exclusive prizes to be won!
Venue: Ground Floor, The Centrepoint, 176 Orchard Road, Singapore 238843
Dates: 3 – 9 September 2018
Time: 12 noon – 8pm
Admission is free
Have a look at what you can expect from the event here: https://vimeo.com/284891072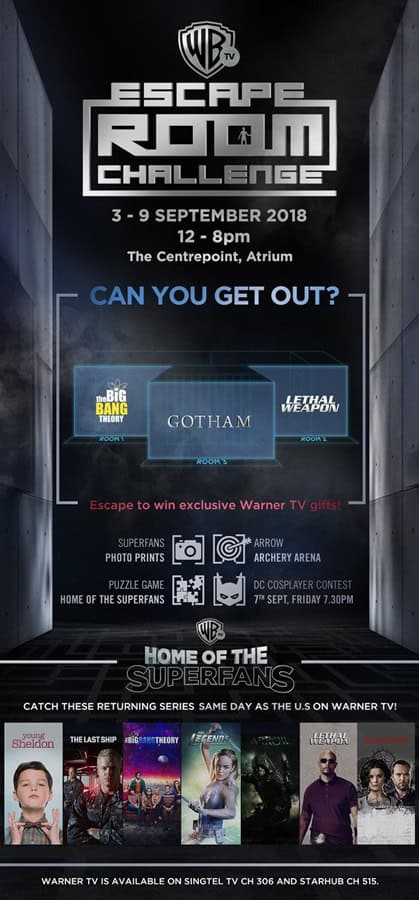 Please refer to the full line-up here:
Escape Room 1
(Difficulty Level 1):
The Big Bang Theory – Help Sheldon Cooper locate his missing comic books!
Escape Room 2
(Difficulty Level 2):
Lethal Weapon – Deactivate the bomb before it hurts hundreds of innocent lives in the Central District!
Escape Room 3
(Difficulty Level 3):
Gotham – Escape Gotham City Police Department's jail cells with your fellow cell mates!
Fallen City Photobooth:
Snap a photo with your friends after a day of fun and bring home a free 4R photo print! Over the weekend, spot fans who are dressed in DC costumes and grab a photo with them!
Home of the Super Fan Puzzle Challenge:
Think you are a Warner TV super fan? Prove it by putting together the Super Fan Puzzle image within a minute!
Arrow Archery Arena:
Test your archery skills against Arrow!
Stage Games:
Exciting stage games every hour and walk away with exclusive Warner TV prizes!
DC Cosplay Contest:
(7 September 2018 at 7.30pm)
The Singapore Cosplay Club will be hosting a DC Cosplay Contest! Do not miss your chance to catch super fans in costumes made by themselves! 
Warner TV Escape Room Challenge
Date: 3 – 9 September 2018
Time: 12pm – 8pm
Venue: The Centrepoint, Level 
To find out more, please visit https://www.facebook.com/WarnerTVAsia/