The Wonderful World of Disney On Ice – Review
As Disney fans, we have been looking forward to watch The Wonderful World of Disney On Ice! This magical show is now showing at Singapore Indoor Stadium from 15 to 19 March 2017. 
The kids are so excited to see their favourite Disney characters coming to live in Singapore!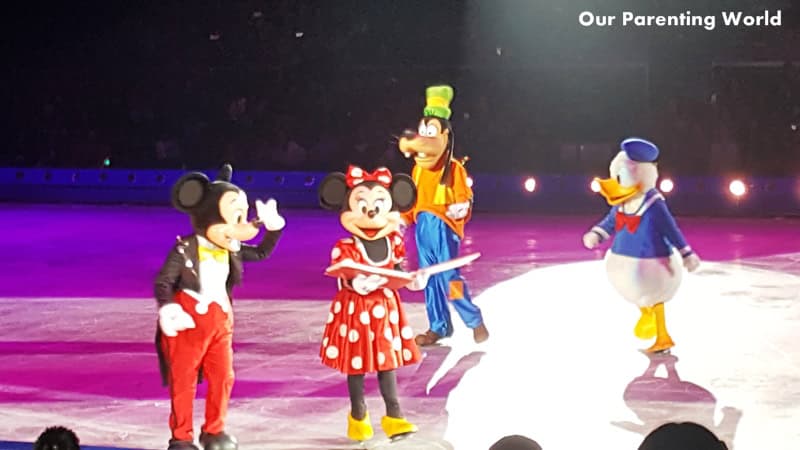 The show started with Mickey Mouse, Minnie Mouse, Donald Duck and Goofy introducing the characters from its hit Disney Fairy tales. The audience are thrilled to see them! Join Mickey, Minnie, Donald and Goofy on a walk down memory lane in colorful celebration of magic, spirit and family fun.
We are immediately transported to a magical world as the story unfolds with the well-known and popular Disney characters coming to live through colourful scenes, lively music, familiar and well-loved songs from Disney movies, dazzling choreography with spectacular and graceful skating movements.
In addition, look out for the special effects like stunning acrobatics, aerial stunts, fireworks and snow that is set to impress and thrill the audience! 
Our Parenting World brings to you some of the highlights of the show of the popular Disney characters that you will simply love: 
Opening segment of the show featuring the well-loved Disney animated film, Lion King. Audience will join in the adventures of the young lion, Simba to take back his homeland from Simba's wicked uncle, Scar with the help of his friends, Timon and Pumbaa.
Be prepared to be mesmerized with many of the popular songs being performed throughout the show including the chart hit song from Lion King, "Can You Feel the Love Tonight".
Dive into the sea with the beautiful Princess Ariel from The Little Mermaid and embark on an adventure in the colourful and magical underwater world together with Sebastian, the faithful red Jamaican crab who watched over Ariel and protected her.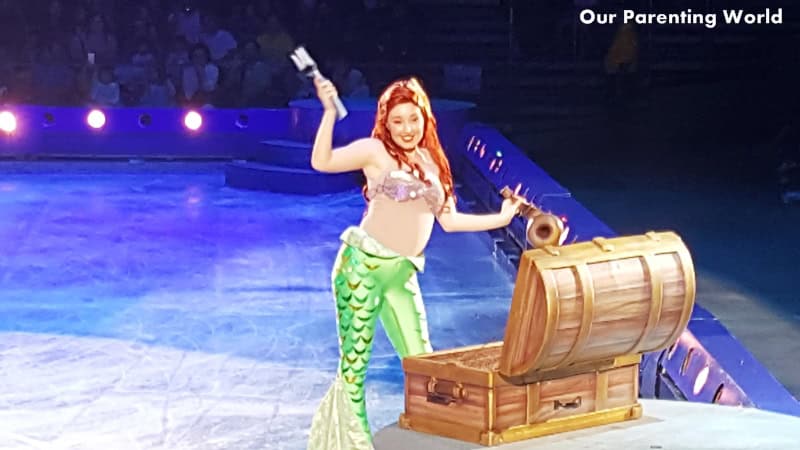 Catch Ariel as she comes up close to be in touch with humans!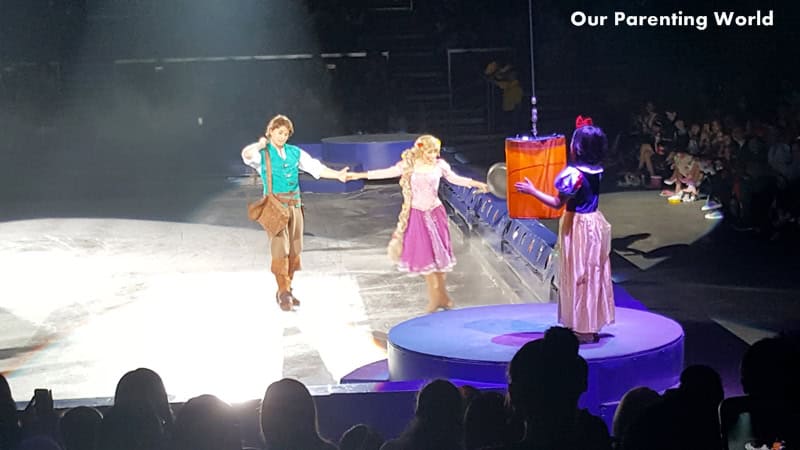 Rapunzel, the beautiful princess with long golden hair from the movie Tangled, join Rapunzel in her adventure as she escaped from the tower where she was held in captivity with the help from her lover, Flynn Rider.
Some memorable parts of the scene including the floating lanterns that were raised on Rapunzel's birthday, a lucky child from the audience gets to light and lift up the lantern together with Rapunzel and Flynn Ride.
Buzz Lightyear, the space ranger, protecting the Universe "To infinity… and beyond!", joining his friends from the blockbuster movies, Toy Story.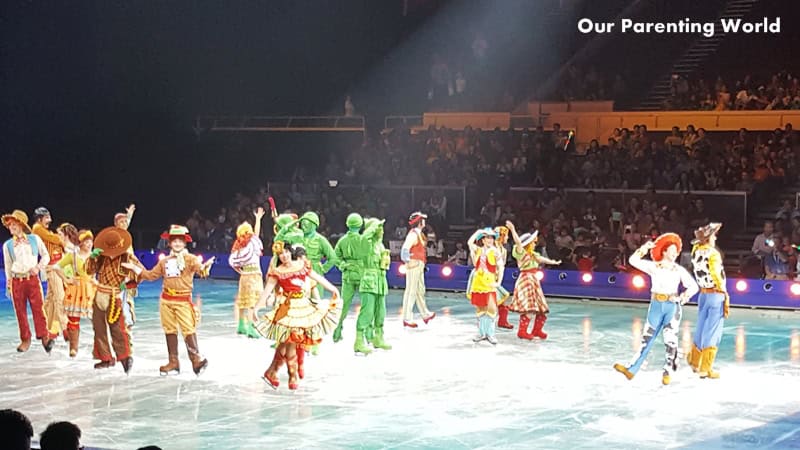 Buzz Lightyear and Woody will have you jumping out of your seat in a foot-stomping showdown. We love the movies series on Toy Story, audience are delighted to see the characters from Toy Story! Join Woody, Jessie, Buzz Lightyear and friends as they bring to you songs and dances in skates. 
The audience cheered and clapped when the most famous sisters of Frozen, Anna and Elsa appeared!
To read our exclusive interview with Julianne DiMura, who plays Elsa in The Wonderful World of Disney, please click HERE. 
This is definitely a special moment for the audience when Elsa performed the very popular and famous song "Let It Go". Many of them were heard singing along with Elsa. Seeing the many girls wearing Anna's and Elsa's costumes at the show, you will know how popular Frozen is. 
During the Frozen segment, look out for special effects like snow and we felt like we are in Winter wonderland as we follow Anna, Elsa, Kristoff and Olaf in their snowy winter adventure. This is definitely a spectacular show that is not to be missed!
Look out for other favourite Disney characters in the show like Snow White and the Seven Dwarfs, Jasmine, Aladdin and Genie from Aladdin and Dory is back along with loved ones, Nemo and Marlin from Disney•Pixar's Finding Dory.
March school holidays are here, watch the highly entertaining and spectacular Disney On Ice Presents The Wonderful World of Disney On Ice that is suitable for the whole family to spend an enjoyable and memorable time together!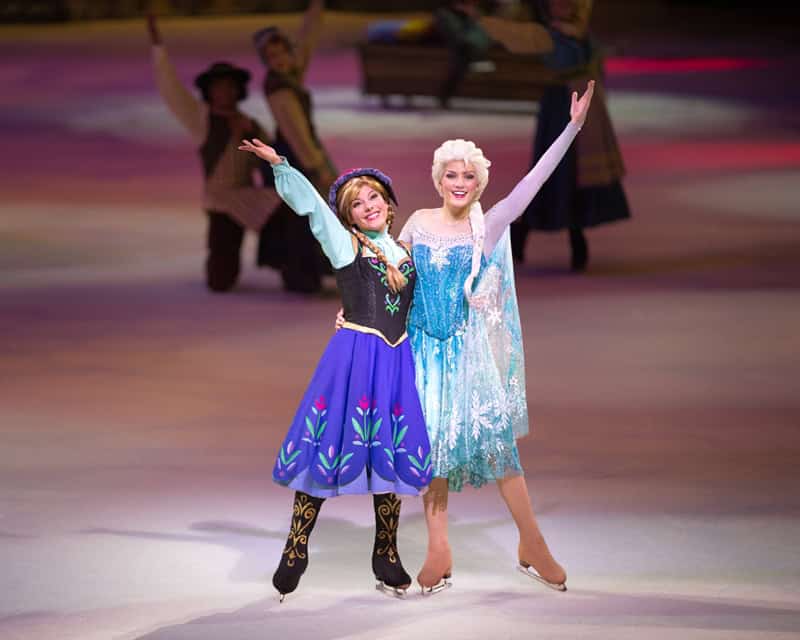 Image credited to Feld Entertainment
Hurry, make a date to catch The Disney On Ice returns to the Singapore Indoor Stadium with your family to create memorable memories together!
The show will end on 19 March 2017, get your tickets now!
Disney on Ice presents The Wonderful World of Disney On Ice and details as follows:
Show Dates: 15 March – 19 March 2017
Duration: Approx 2 hours (including 15 mins interval)
Venue: Singapore Indoor Stadium
Tickets are on sale now and start from S$25 and up.
Tickets for Disney On Ice presents The Wonderful World of Disney On Ice can be purchased online at: http://www.sportshub.com.sg/sportshubtix/Pages/Disney-On-Ice-2017.aspx